Playground Mats vs. Playground Tiles
By Julia Nass Created: July, 2017 - Modified: July, 2021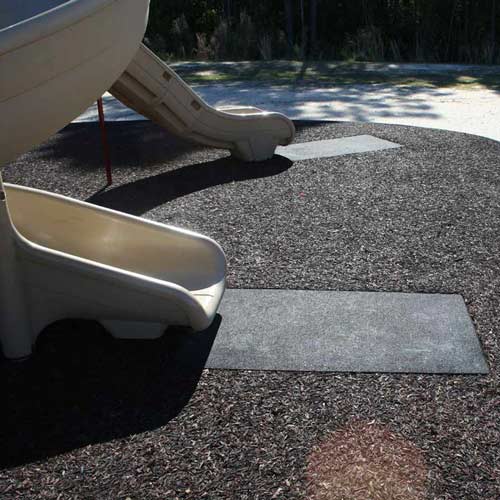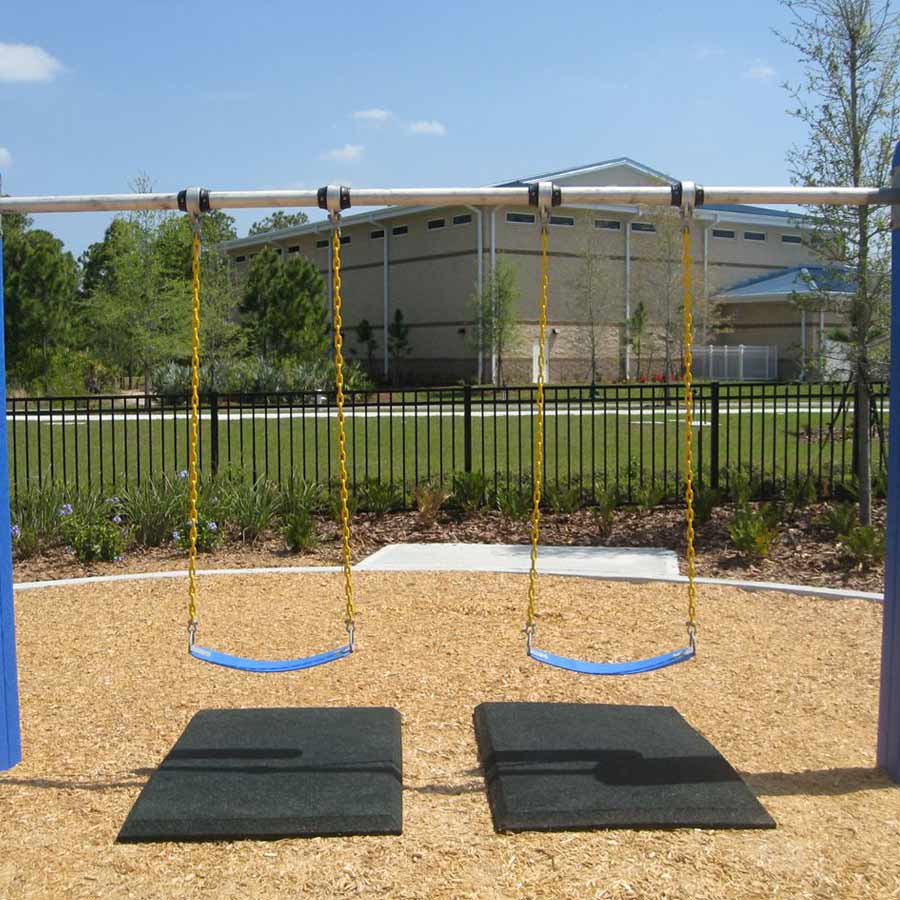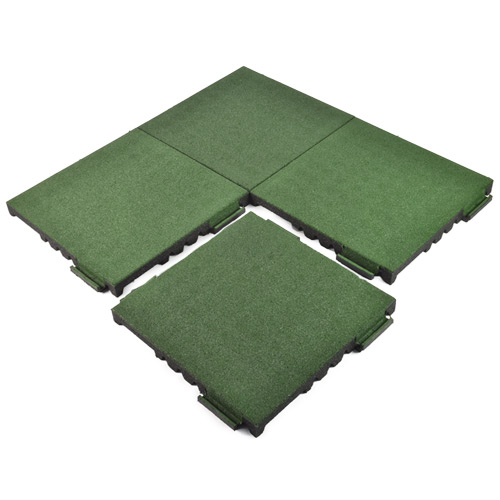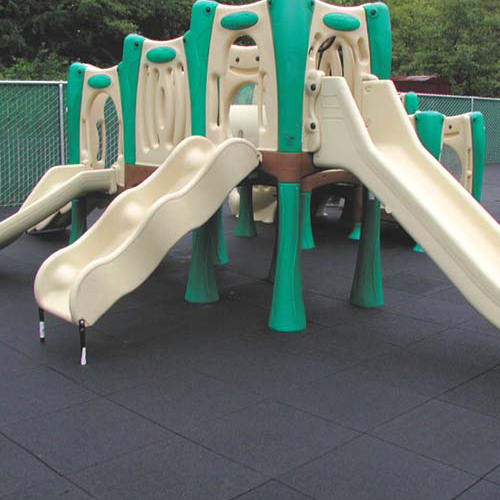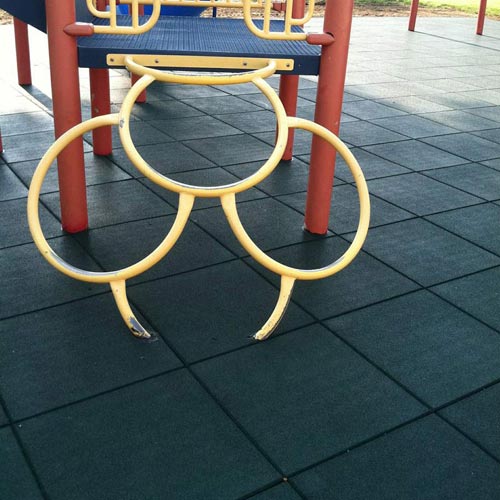 Part of being a kid is falling: on playgrounds, sidewalks... skipping down the hall on the way to the kitchen. When an accident does happen, there's a often a brief moment of stillness as they register what just happened. In that slight pause, one question pervades: will they burst into tears, or will they get up, brush the dirt off and keep playing?
As a parent, guardian or teacher, it's impossible not to worry about your kiddos. You never want to see the fall that turns into tears. On playgrounds, it's almost a given that kids will end up on the ground at some point. This can't be helped. One thing you can control, however, is what cushions that fall. With the right playground flooring, you have the power to keep your kids as safe as you can while they run around and play hard. You can lay a foundation for a play environment where a fall is no biggie and the fun doesn't have to end.
Two of the most popular types of playground flooring are mats and tiles. Learn more about the difference between the two and which one might suit you best.
Playground Mats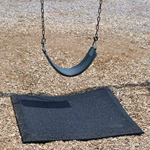 Playground mats are most commonly used as individual, straight-edge pieces placed under swings and slides. These mats are a smart addition to any type of playground flooring. If you already have other ground products such as gravel, mulch or concrete, playground mats are an easy and economical way to add a safety measure. Playground mats provide shock-absorption and cushion on top of any surface. They come in a variety of thicknesses and sizes, so it's easy to match the height of your equipment to the right mat thickness.
Although safety is the most obvious reason for playground mats, there are other benefits as well. Playground mats are an excellent way to keep the ground in good condition. Underneath slides and swings, there is always heavy wear and tear from feet. Loose products such as gravel and mulch shift and reveal unprotected patches of ground. Playground mats can protect these areas. Not only does it provide added protection, but they lessen required maintenance. You won't have to rake or replace materials, which can be time-consuming and costly. Playground mats only need a broom, leaf blower, or garden hose to clean. Further, if any serious damage is done, it's a breeze to replace them, particularly if they are under one of the many warranties offered by companies like Greatmats.
At Greatmats, playground mats for slides and swings are made from eco-friendly, rugged recycled rubber. They are waterproof and mold and mildew resistant, so you don't have to worry about them in weather. They come in several different appealing colors so you can enhance the aesthetic environment for your children.
Playground Tiles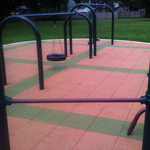 Interlocking playground tiles are an excellent choice for quality coverage of areas both small and large. When it comes to full playground coverage, tiles are a much safer and longer-lasting alternative to gravel, wood/rubber mulch or concrete.
Other playground flooring products are easily displaced, which results in areas without adequate protection. Further, loose material becomes dangerous when children decide to swallow, throw and kick it. Poured-in-place products are not weather-proof the same way rubber playground tiles are. Other products can undergo climatic variation after installation, which makes them unpredictable. Greatmats playground tiles, however, undergo strict testing to ensure tiles maintain consistent quality for years.
Playground tiles offer excellent cushioning, especially with thicker tiles, which means decreasing the severity of accidents. Like playground mats, playground tiles come in a variety of thicknesses and sizes. Different thicknesses have different ASTM (American Standard Test Method) fall height ratings, so you can find which one works for your equipment. At Greatmats, rubber playground tiles exceed both ASTM and CPSC (Consumer Product Safety Commission) guidelines.
Another awesome feature of playground tiles is the ease of installation and maintenance. While its generally a good idea to have them professionally installed, you and your team can install playground tiles yourselves. Other materials require the extra cost of contractors coming in to install, but you don't have to dish out that extra money with playground tiles. Greatmats offers both interlocking and straight-edge tiles.
The process of creating the highest quality playground tile starts with the materials. Greatmats uses premium materials provided by the best in rubber and polyurethane industries. Each tile undergoes strict quality control of all materials to ensure longevity and durability.
Another reason tiles are such a great choice is because of the freedom they allow you to create your ideal ground coverage. Tiles come in a variety of thicknesses, sizes and colors. Some thicker tiles can provide critical fall protection from up to a 10 ft fall height, according to ASTM standards. Colors include standard, 50/50 high color and 100 percent high color options. Standard colors are available in the most economical playground tile options. With tiles, you have the capability to lay them anywhere and any way you want.
There's no better place than a playground to let your kids run around, roughhouse and play as hard as they want. Letting kids be kids means accidents are inevitable. Choose the right playground mats to make sure those mishaps are ones you and your kids can shake right off.