Ring Mat for Equine 5/8 Inch x 3x3 Ft.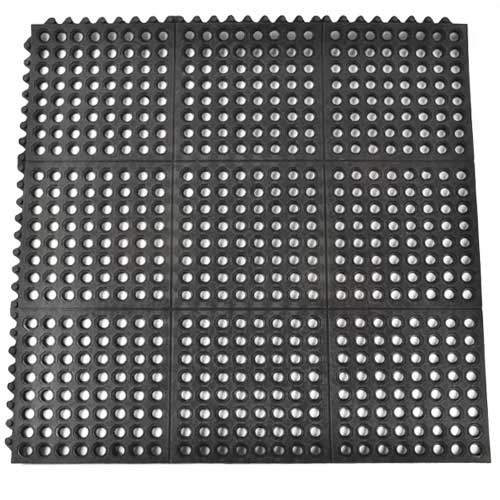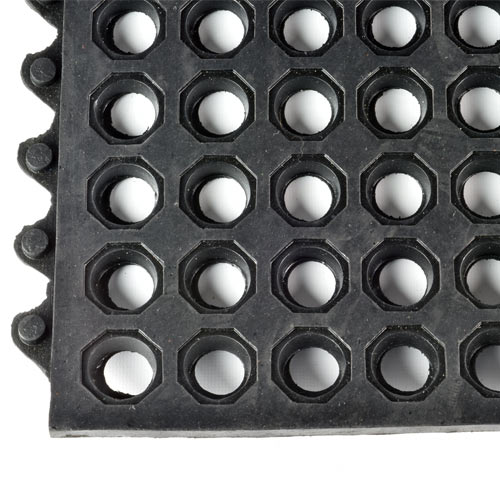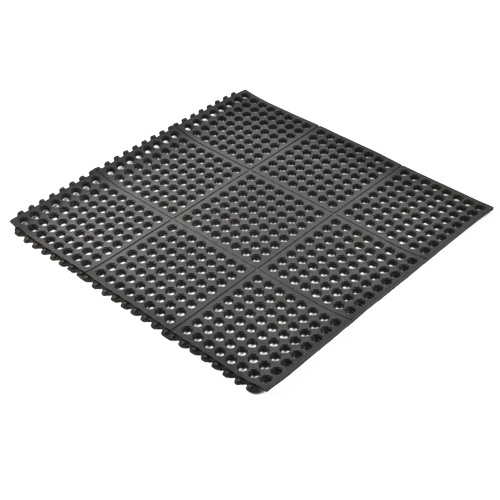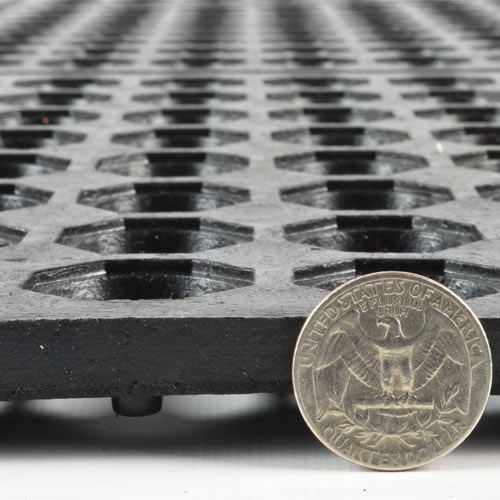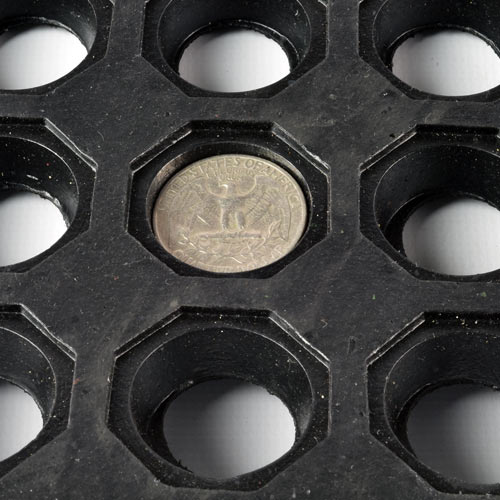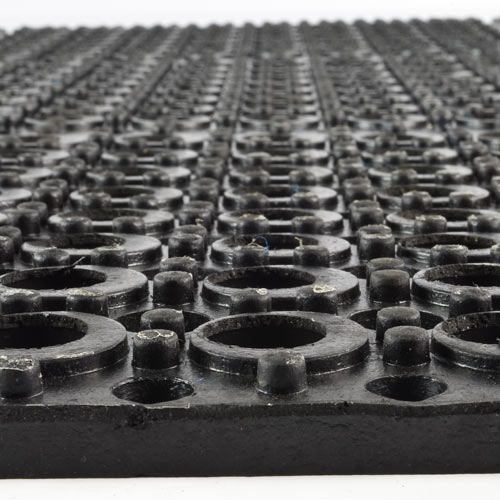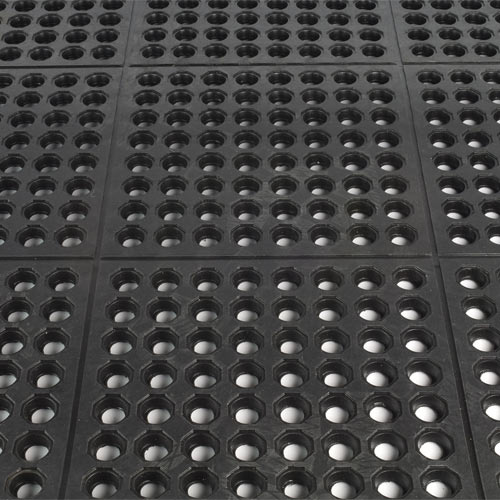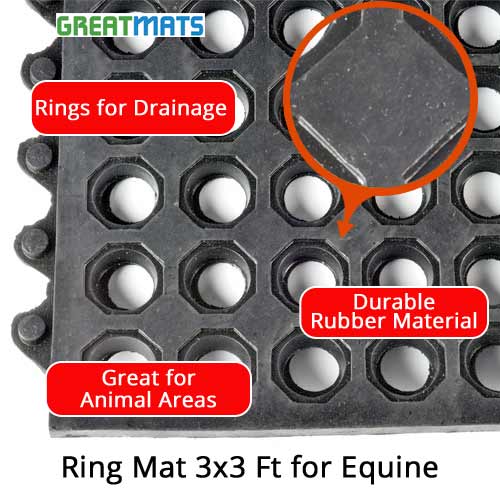 Durable rubber material
Great for animal areas
Waterproof material
$35.93
/mat
(You Save 19%)
Call for Better Price on Volume Orders
(6 Reviews )
Ships Out: Estimate 1-3 Working Days

Black
Please Call for Sample Options
VIDEOS
Horse Stall Ring Mats Features and Benefits Video
How to cut rubber horse stall mats video
TOP FEATURES
Durable rubber material
Great for animal areas
Waterproof material
Rings for drainage
Use indoors and outdoors
Use Types
Kennels, Wash Bays, Wash Stalls, Drain Through Floors, Wet Areas, Dog Kennels
NOTE: This item is a custom order and is not returnable.
Rubber Stall Mats With Holes, Horse Wash Stall Mats
When seeking high quality rubber ring mats for use with horses, our Ring Mat 3x3 Feet for Equine will serve you well for many years.
Our versatile interlocking ring mats are durable, anti-fatigue, and feature an anti-slip surface. Each mat measures 3 by 3 feet and is 5/8-inch thick, making it ideal for industrial or equine applications.

These wash bay mats for horses are perforated with holes that allow water to flow through without compromising the integrity of the mats. At 5/8-inch in thickness, these mats can stand up to a lot of weight. Each mat carries a 1-year limited manufacturer's warranty.


Use Cases

These rubber ring mats are ideal for kennels, wash bays, kitchens, bars, drain through floors, and any other wet areas. Many of our customers choose to use them as horse wash stall mats, although they'd also work for bathing almost any type of animal, large or small, or for use in an industrial setting where a drain-through floor is needed. The rubber surface on the ring mat provides a sturdy surface with some grip for both the animal and the handler.

When trying to determine whether rubber mats with holes are a good solution for your area, think about the coverage you'll receive. Each rubber ring mat measures 3 by 3 feet, which yields 9 square feet of coverage area. The mats have an interlocking edge, but because of the way they fit together, you won't lose any coverage area as you do with some other types of interlocking mats.

With the perforations in these rubber ring mats, we they are best designed for use in indoor and outdoor areas that may have a lot of water on them that needs to leak through. If you're looking for a rubber mat option that will not allow water to run through, we offer many other options for rubber horse mats designed for this purpose.

Although some people prefer to use a concrete floor with a drain in a stall wash area, concrete can become slippery when wet. That's where our Ring Mat 3x3 Feet for Equine option can help. By placing these mats over the top of the concrete floor, both the animal and the handler will have a rubber surface with a sure footing available. And the water used in the washing will drain through the perforations in the mats.
Installation Ideas
Before beginning the installation, understand that each Ring Mat 3x3 Feet for Equine tile weighs 25 pounds. One person may be able to handle moving the mats and putting them in place, but some installations will require more than one person, just to handle the size and weight of the mats in a tight space.
You'll use a dry lay installation with the rubber ring mat pieces, so no adhesive is required. This means you can disassemble and pick up the floor at any time if needed.
Because water will run through the mats, you can choose to install them over a dirt area or over a paved area. If the area beneath the rubber ring mats is not flat and sturdy, water could collect beneath the mats, so you may want to place a layer of gravel between the mats and the dirt to create a flat drainage layer.
We must mention that these rubber stall mats with holes present a higher smell rubber flooring option. This product is not recommended for small rooms indoors with poor ventilation or for individuals sensitive to odors. This product should be primarily used as a horse stall mat outdoors or in a large barn area indoors with plenty of airflow.
If you need to cut these mats, you can score them with a utility knife and a straight edge. Some people also choose to cut these mats using a jigsaw or other power tool. Keep in mind the rubber material may generate more friction against the blades of power saws.
Benefits of Rubber Ring Mats
When installing interlocking rubber ring mat tiles for use around animals or in an industrial setting, you'll receive a host of benefits.
Cleanliness: Cleaning and disinfecting rubber mats works better than many other types of materials. With the perforations in rubber ring mats, muck and other small solids can be washed through the holes in the mats. Vulcanized rubber is non-absorbent, which ensures that the rubber ring mat material will not encourage the growth of mold or mildew by retaining water.


Durability: Rubber horse ring mat options stand up to repeated rough treatment better than other types of options. If you're washing your horses on a dirt floor, for example, you'll be creating a muddy area where ruts will eventually form, leaving the ground uneven and unsafe. A rubber mat will hold its integrity and shape even after becoming wet.


Easy installation: Because installing our rubber ring mats requires no adhesives or special preparation of the ground, creating a rubber horse floor is a relatively easy process. Depending on the type of installation you're performing, you may not even need to cut the mats, which interlock together quickly.



Grip on the bottom: Although our rubber ring mats are not reversible, the rubber coating on the bottom of the mat does have a purpose, as it keeps the set of tiles tight to the ground, ensuring they won't slip around as people and animals walk on them.


High quality construction: You can count on our products to be of a high quality construction. The thickness of the mat will be uniform within accepted tolerances, which is an important feature in a rubber mat designed for horses. Our Ring Mat 3x3 Foot for Equine product won't buckle and fold under stress because of manufacturing imperfections, which can happen with cheaply made rubber mats that have wildly differing thickness levels.


No gaps: With an interlocking design in the rubber mats, you'll be sure that the seams of the mats won't pop up and cause a potential tripping hazard. This can be especially important in areas of wetness where footing is less than ideal.



Non-absorbent: Rubber flooring will not absorb water, urine or other liquids. This makes our rubber ring mats a great option in a wash stall. This also makes rubber a far better option than straw or bedding.



Surface with some give: Unlike hard concrete or dirt floors, a floor using a rubber ring mat surface will provide a little bit of give for the animal. This means our rubber flooring works as an anti-fatigue type of surface for the animals, which can be safer for the horse's joints over the long run, rather than standing on a hard floor with no give.


Thermal layer: Rubber reduces transfer heat and cold from the ground beneath it. So if you're washing horses or other animals during winter time when the ground is cold, the animal will be more comfortable when standing on the rubber mats.

Picking the Right Size
With a rubber ring mat that you'll be using in a wash area, you likely won't need quite as much coverage area as you'd need in a stall area where the animal would be spending a lot of time. In a wash area, it's likely that the horse will only be in the wash stall for a short period of time.
You'll most likely want to make sure the rubber ring mats extend across the entirety of the stall from wall to wall. You will not want to leave a gap between the edge of the mat and the walls of the stall to prevent the horse or the handler from slipping off of or tripping on the edge and suffering an injury.
However, some customers do choose to create an island installation with the ring mat tiles when they're creating a wash stall in a wide open area where they want to allow more space for drainage. In these cases, be sure that you have plenty of space with the rubber mats for the handlers to stand safely next to the animal and to be able to work.
Good Value
Our perforated rubber mats offer a good value and a good price per square foot of coverage versus some solid core rubber mats. You won't have ongoing maintenance costs with these rubber flooring tiles as you do with some other types of flooring.
The 5/8-inch thickness of our wash bay mats works well for horses, as it's just slightly thinner than the standard thickness that you'd use in a box stall where the horse would spend a lot of time. Although some horse stall mats are up to 2 inches in thickness, the most common thickness is 3/4-inch, so our rubber ring mat is slightly thinner. Because the horse will only be spending a limited amount of time in a wash stall on this type of mat, a slightly thinner mat works well, while saving you a bit of money and effort for installation versus a thicker option.
When you're ready to select our perforated rubber mat for your wash stall for your horses, contact our customer service team. Our friendly personnel will help you figure out how many pieces your need for full coverage, and they can help you understand the best shipping options for your needs.
Shipping
This Product Ships UPS Ground, FedEx Ground and/or Freight.
Please review our shipping disclaimer.
ANSWERS
Product Questions:
Q: Do they offer any cushion? How soft are they?
Q: Are the mats suitable for the entrance to a stable on top of earth
A: Yes these ring mats can be used outdoor and on top of earth.
Q: Will the mats interlock? my stalls are 12x12. Will take 16 per stall and I have 15 stalls.
A: This is not really a stall mat per say, these are designed for outdoor use or for wet areas. We recommend solid surface interlocking mats for stall, we also have kits. Please contact customer service.
Q: could these mats be used for portable stall mats such as at shows that have concrete floors ?
A: Potentially, and we have better portable stalls mats here. http://www.greatmats.com/stall-mats/portable-horse-stall-mats.php
Q: What is the diameter of the holes?
Q: I am using these mats over stone dust for my horse stall with shavings on top. This is because I need optimum drainage in my stall. Will this still provide enough comfort for my horse?
A: Yes this is a very good installation method and will provide comfort to the horse.