Martial Arts Inspiring Story - Brian Black - San Kil Tang Soo Do
By Created: July, 2017 - Modified: August, 2019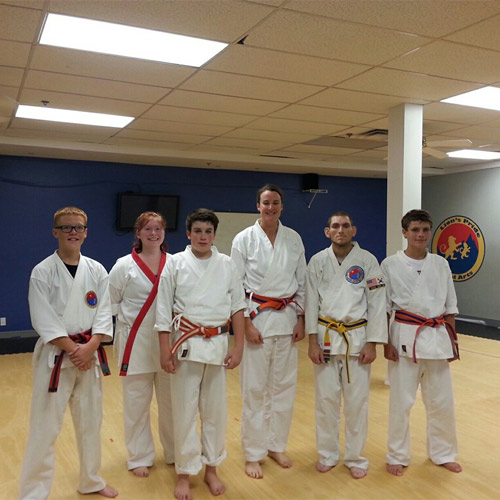 My name is Brian Black and this is my story.
Growing up, I was like every other kid I knew, on the outside at least. Being born with multiple internal defects my parents had to make a choice, me wear diapers or a colostomy bag for the remainder of my life. I adapted best I could to the bag, but looking back, now I am able to see just how large an impact it had on my physical and, more so, emotional well being.
Wanting to ''fit in,'' I naturally pursued athletics, but found that a kid with my condition was quickly turned away for fear of me getting hurt. Out of curiosity, my mother took me by a local karate studio, I sat watching the others while my mother spoke with the instructor. A few days later I was an official Shotokan Karate-ka, thus planting the seed for my love of martial arts.
I was making friends, gaining self confidence, and most importantly having fun. ... Then we moved.
My teen years were rough to say the least. Terrified and self conscious, I found it almost impossible to be ''normal.'' I suffered severe anxiety and depression that medication had little affect on. As if that wasn't enough, I began a routine of sickness and pain accompanied by drastic weight fluctuation that doctors couldn't diagnose.
I graduated high school and attempted college but missed so much that I fell behind and eventually dropped out. My employment history was similar, I remember one of my bosses saying, ''Brian, you're a hard worker, but it doesn't matter how hard you work if you're not here.'' That became who and what I was until last year.
12-22-14 - I was sitting in pre op at UK preparing to undergo surgery for the third time in a year. I had finally been diagnosed and, to remedy the issues I was having, a total proctocolectomy with end ileostomy. My colon had been slowly shutting down, causing intestinal blockages resulting in tearing of my intestinal walls, hence the extreme pain and weight gain/loss. About 10 hours later, I was in recovery, waiting for an open room that I would be confined to for the next 4 weeks.
I cannot really recall much from my stay except pain, using crude sign language or a notebook to communicate, and tubes everywhere. Christmas then New Years came and went. Weeks passed and I was finally discharged.
Physically and emotionally exhausted I sat at home recuperating and doing a lot of thinking.
Ever since I had quit studying Shotokan as a child I had kept the idea of resuming martial arts study in the back of my mind. A mere three months after surgery I began studying San Kil Tang Soo Do at Lion's Pride in St. Nicholasville, Kentucky.
Since then,
I have seen changes in my physical and mental state that can only be attributed to my participation in martial arts
. I have made new friends and improved my strength and flexibility. Most of all I've gained self confidence. Whether it's breaking a board, preforming a technique I thought too difficult, or competing in tournaments, martial arts continue to help me see and unlock potential within.
It's never too late. There's no disability too great. Just excuses. We are the creations of our mind.
Vote here by ''liking'' or ''commenting'' on the photo
Brian Black
San Kil Tang Soo Do at Lions Pride Martial Arts
Nicholasville KY 40356