Drew McCurdy 4-Time AKF Grand Champion
By Brett Hart Created: June, 2017 - Modified: July, 2021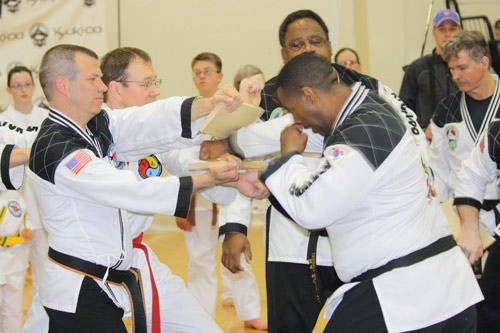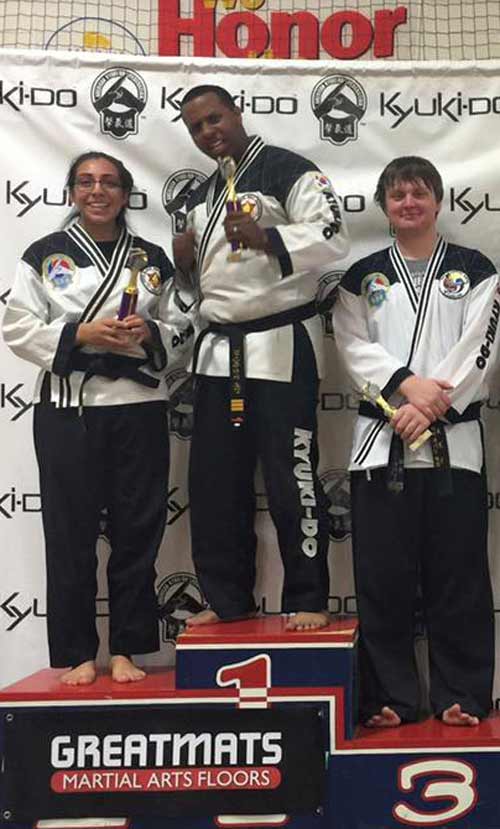 Becoming a black belt has been a lifelong dream for Drew McCurdy, and in May of 2001, he began that journey when he walked in the doors of Kim's Black Belt Academy in Elgin, Illinois.
''I thought a place with black belt in their name was a good place to start,'' McCurdy said.
Now a third-degree black belt in Kyuki-Do, McCurdy has expanded his martial arts repertoire to include Muay Thai, Brazilian Jiu Jitsu, Judo, Jeet Kune Do and Kali techniques.
With years of training and a multitude of disciplines under his belt, McCurdy's list of instructors is equally as long, including the likes of Rick Steinmaier, Jeff Kim, Rick Bjorquist, Christine Bjorquist, Chris Koffenberger, Lloyd Holden, John Canton, Reggie Madrigal and Yolanda Morales, among others.
McCurdy has been putting his training to good use at American Kyuki-Do Federation tournaments where he recently claimed his fourth Grand Champion title at the 2017 Spring Tournament of Champions.
''It's an honor every time,'' McCurdy said. ''I compete for my academy and the kids around Kyuki-do.''
McCurdy won both his sparring and breaking divisions while claiming second in forms and weapons, leaving it as no surprise that sparring and breaking are his favorite events.
''Sparring really tests some of the actual applications and techniques,'' McCurdy said. ''There's no substitute for knowing a mistake could cost you a shot to the head. Breaking really tests your physical and mental limitations as well, especially now that it's at the end (of the tournament). Do you still have what it takes to break these boards after two hours of vigorous activity?''
The Area Director at Apex Fun Run For elementary schools in Illinois and Wisconsin, McCurdy currently does his martial arts training at Kyuki-Do Martial Arts of Elgin (formerly Kim's Black Belt Academy) and Fusion Fitness MMA in Elgin.
With all he's accomplished in the sport, McCurdy is still most proud of achieving his Kyuki-Do black belt.
''Looking back, I can't believe the amount of work I put into it,'' McCurdy said.
In similar respect, he views winning his first grand championship as one of his biggest achievements.
''It took quite a few tournaments before I achieved one,'' he said. ''I almost thought it wouldn't happen.''
Great competition from colleagues such as Nikki Holden, Reggie Madrigal and Joe Moniot help keep McCurdy motivated to continue competing.
''It's about growth,'' he said. ''There's no animosity before or after.''
His passion for martial arts has also rubbed off on his family. His wife is now a brown stripe and his oldest child, Devin, is a 5-year-old red belt in Pre-Kyuki-Do.
''My two-year-old doesn't currently train, but in her mind, she is a 12th Dan Master!'' he added. ''Kyukido family is real - not just a saying. If I want to go hard and train hard with adults, I can do that. If I want to my kids to learn discipline self defense and a host of other qualities, I can give them that. If I want to train as a family, I can do that. There are a lot of places where you can only get one of those things.''
''I'd like to thank Greatmats for their continued sponsorship of the tournaments,'' he said. ''The word is still out on Eau Claire (Summer Tournament of Champions) for me, but I will see if I can make it to Nikki Holden's last tournament before master. Plus the competition in Eau Claire is always awesome!''
Learn more about the American Kyuki-Do Federation events and athletes.
Drew McCurdy
Kyuki-Do Martial Arts of Elgin
Elgin IL