AKF Summer Tournament of Champions Brings Competitors of All Ages
By Created: June, 2017 - Modified: August, 2019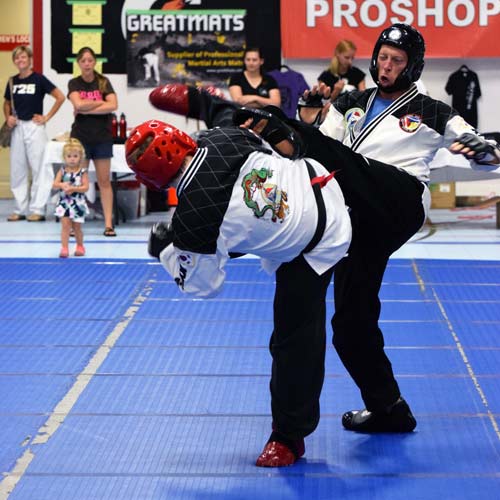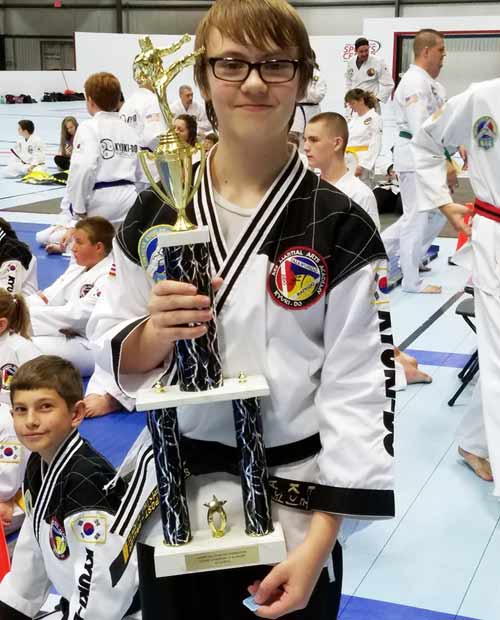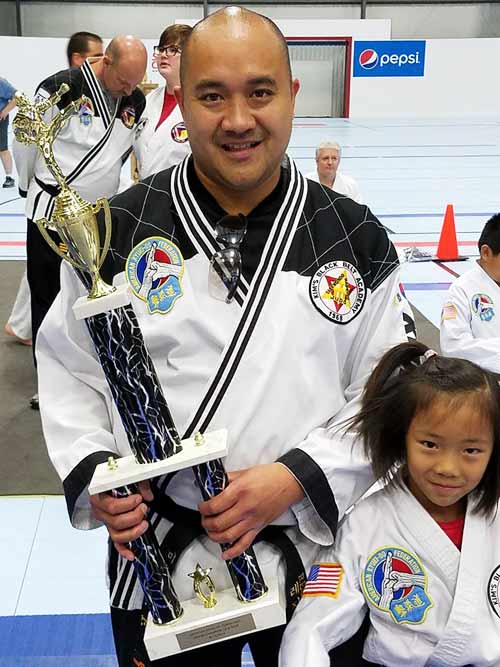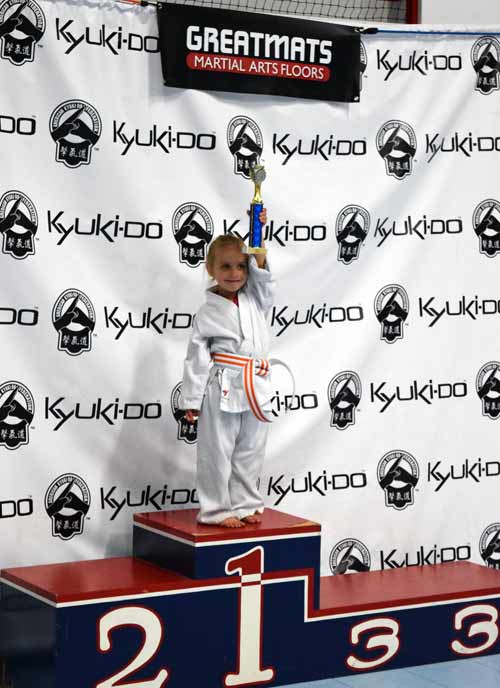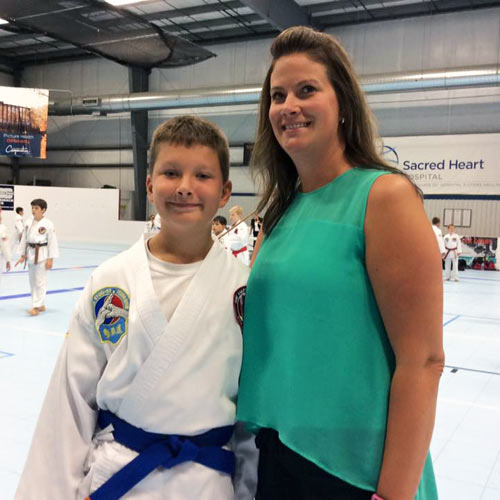 Aug. 17, 2016 - As approximately 130 martial artists flocked to the Eau Claire Indoor Sports Center in Eau Claire, WI, on Saturday, Aug. 13, the American Kyuki-Do Federation, founded in 1979 by Grand Master Ok Hyung Kim, was set to begin its 2016 Summer Tournament of Champions. The family-friendly mixed martial arts tournament brought in competitors and judges from 14 academies across the country to compete in forms, weapons, sparring, grappling, board breaking and even kihapping for the youngest martial arts enthusiasts.
New Richmond shines
The AKF Martial Arts Academy of New Richmond, Wisconsin, boasted the largest number of competitors to enter the Greatmats-sponsored tournament at 31, and produced the 17 and under Junior Grand Champion - Stephen Post-Priller. It also produced the tournament's oldest competitor, Keith Langfeldt, age 72.
Academy Owner and Head Instructor Zachary Hansen said, ''I'm proud of my school and the students that made the commitment to go over there. It says a lot about them.''
It all began with a friendly competition between Hansen and AKF Martial Arts Academy of Eau Claire (Wisconsin) Owner and Head Instructor Chester Gustavson to see which academy could get the most members to compete in the tournament.
Hansen, who competed in his first AKF tournament in 2011, has been so impressed by the quality of people that surrounded him and his family at the martial arts tournaments that he wanted to share that experience with his students. He said once you attend an AKF tournament ''You know you are in the right place, in a safe place. It's an awesome family event.''
So he encouraged his students to attend, do their forms, make some new friends and get a bigger picture of what the American Kyuki-Do Federation is.
''It's a lot bigger than your 10-12 students in class or your 50-100 students in your school,'' Hansen said. ''You get a way better picture of how awesome our Kyuki-Do family really is.''
As the excitement grew, so did the commitment to preparing for the tournament. By the time the Summer Tournament of Champions rolled around, Hansen had hosted a total six tournament prep seminars in his New Richmond and River Falls (Wisconsin) academies, which open to students of all AKF academies.
''I wanted my students to have a successful tournament and feel prepared and confident,'' Hansen said.
Post-Priller Wins Long-Awaited Junior Grand Championship
One of Hansen's students to find that success was 14-year-old Post-Priller, who entered with several near misses in his quest for a junior grand championship in five years of competing as a black belt.
''He finished second numerous times where he's missed out by a point or a half a point,'' Hansen said. ''That's how close he's come, and he couldn't have come any closer that last time.''
Post-Priller actually tied for junior grand championship on Saturday and had to break the tie with a form-off.
''He brought it,'' Hansen said. ''It was his time. He's worked hard every time for it. He preps and practices harder than anybody else leading up the the tournament - that last month or so - both in the academy and at home.''
Even with all of his success in Kyuki-Do, Post-Priller remains grounded.
''He's a very humble student - everything that we expect and train to be as a black belt,'' Hansen said. ''I couldn't be more proud of him.''
Never Too Old
Also hailing from the New Richmond academy was tournament newcomer 72-year-old Keith Langfeldt. Although he started training in 2011, Langfeldt had not been able to compete in any prior tournaments due to ongoing shoulder injuries.
''He could have easily walked away and given up and said, 'I'm just not going to be able to do this,''' Hansen said. ''But he hung in there.''
Langfeldt is viewed by many as the grandpa of the academy and uses his patriarch position to help others. As a member of the certified instructor team, Langfeldt works with a blind student twice a week and is a special olympics coach.
Although still not feeling 100 percent on Saturday, Langfeldt competed in forms and broke through the tournament barricade.
''That's a great example of one of our tenants,'' Hansen said. ''The perseverance of just continuing on through all of the health adversities that he's had and being able to make adjustments to his techniques.''
Or Too Young
At the other end of the age spectrum was 3-year-old Kortney Hart, representing Kyuki-Do Martial Arts Academy of Amery (Wisconsin). Hart was the Kihap Contest Champion and also competed in forms.
Hart's instructor, 3rd dan Tammy Turcotte said, ''I think Kortney is the youngest (competitor) I have ever sent (to a tournament). It takes guts to get out in front of a panel of Black Belts no matter what your age is. When you are only 3, everyone is much bigger than you are. It can be scary.
''Part of what we encourage in Kyuki-Do is getting out of your comfort zone. Some people are comfortable in front of judges, others aren't.
''We weren't sure how Kortney would do. You never know when children are going to pull out their shy card - especially when they are not typically shy). Kortney did her form and the kihap contest with energy and enthusiasm! The excitement on her face when she got her trophy was priceless!''
''That's one of the beautiful things about Kyuki-Do,'' Hansen said, ''It's not always about the physical aspect. It's about the mental aspect of training as well that allows all students to be successful from 3 to 72.''
Leading by Example
Gustavson, a 4th dan,was the highest ranking competitor at the tournament. Gustavson, who's been training in the art since 1991, said everyone's reason for competing at the tournament is different, whether its for fun, trophies, personal challenge, etc. He competes to set a good example for his students.
''You are graded, judged every day,'' Gustavson said, whether at school or work. ''But there's nothing like face-to-face competition.''
In sparring or grappling, for example, you win or lose. It's that simple. And face-to-face competition sheds a true light on how fierce of a competitor you are, Gustavson said. You find out just how deep you want to go.
''Some students participate in the tournament to overcome their fears of performing in front of a group,'' Gustavson said. ''It's a way to check their confidence level. For some individuals like this, just showing up is a win for them.''
Turcotte added, ''When students don't do as well as they think they should - getting a 3rd or 4th or participant ribbon instead of a 1st or 2nd place trophy, I like to ask them how many of their classmates did not participate. They are already further ahead than those who were not at the competition. I also ask, 'Did you do your best and did you have fun? ' That, to me, is the most important thing.''
Other highlights
Topping the field of adult black belts was Grand Champion
Reggie Madrigal
of Kyuki-Do Martial Arts of Elgin, Ill.
Another special highlight to the day's festivities was Jacob Hansen, of New Richmond, winning a Free VIP All Access Pass to this year's AKF Black Belt Extravaganza, which will be held at The Kalahari Resort and Convention Center in Wisconsin Dells, Wisc., Nov. 4-6.
The AKF Summer Tournament of Champions has taken place in Eau Claire for at least 8 years. Included at this year's event were 11 participants from Lexington, Kentucky, and 1 from Oconee, Georgia.
The 2016 American Kyuki-Do Federation Summer Tournament of Champions was sponsored by Greatmats, which encourages tournament attendees to enter its Photobomb Contest for a Chance to win a choice of an Amazon Gift Card or Greatmats Credit. At the end of the year, Greatmats will also award a folding gym mat as a grand prize. Find more details on the contest at
http://www.greatmats.com/martial-arts-mats/greatmats-photobomb-contest.php
.
Learn more about the 2016 American Kyuki-Do Federation Tournament Season.

American Kyuki-Do Federation
Elgin IL 60120