How To Put Custom Graphics On Basketball Wall Padding?
By Lisa Hobbie Created: November, 2022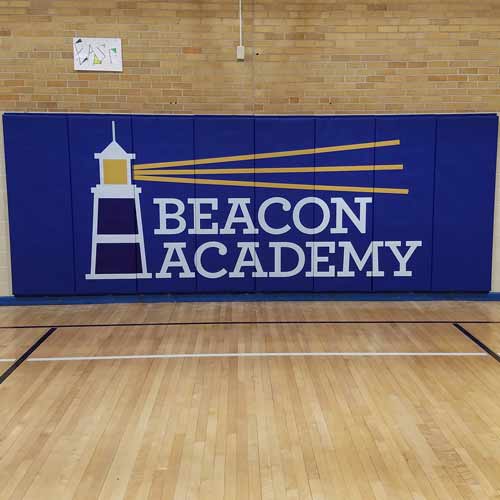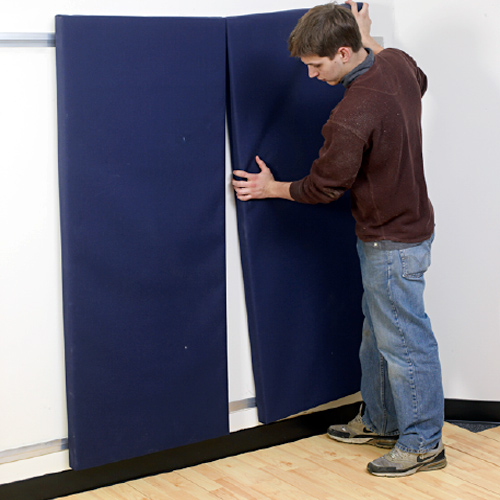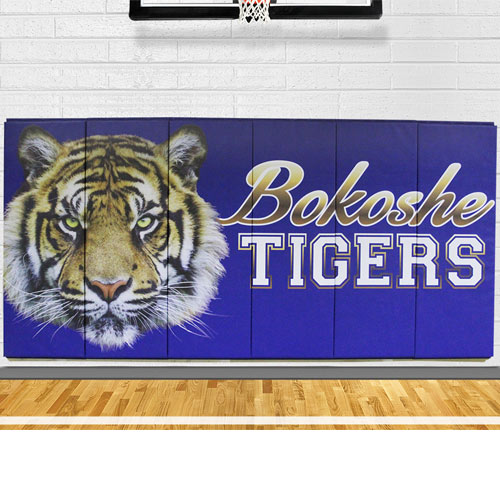 If you're interested in purchasing basketball wall padding with custom graphics, Greatmats offers a great selection of products with an easy way to personalize them.
Once you select a basketball wall padding product that allows for customizable graphics, the requirements are simple. You would simply provide a high resolution file, with Vector or EPS format being the preferred formats. (If you aren't sure if the file you have is a high resolution one, you can simply zoom in super close to the image, and if the lines stay clear, it is likely high resolution.)
You would then email the file to our team after you order your basketball wall padding, and they will provide a proof to you to review before finalizing it.
Now that you know how to put custom graphics on basketball wall padding, you may be interested in learning about the most popular products from which to choose for your customized padding.
Some of the Best Selling Wall Pad Products
If you want to feature your school's logo or mascot graphic in the gym or on the court, you can do so on one of the padding products featured. Each of these products are made of high quality materials and craftsmanship, they are easy to install, and they deliver many features and benefits.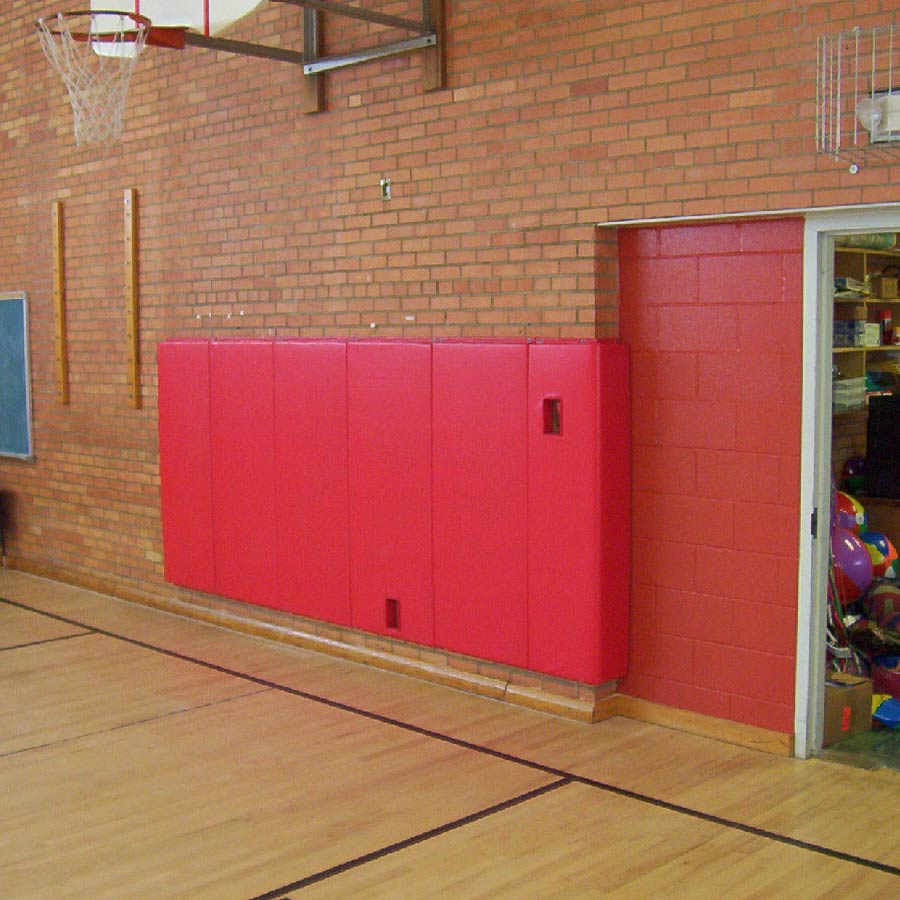 Wall Pad 2x6 ft 2 Inch ASTM Foam WB Lip TB
is a product that is made in the USA with 14 oz. vinyl covers and a 2 inch standard thickness.
These pads are available in custom sizes and cutouts. The product is ASTM 2440-04 impact rated and features wood backing for a direct wall mount attachment method by screwing or bolting it to the wall through the lip top and bottom.
These are very versatile and suitable for school walls, gym walls, safe rooms, home calm rooms, stage walls, sport court walls, martial art studios, and other rooms or spaces needing cushioned protection where people may hit, crash against, or charge at the wall.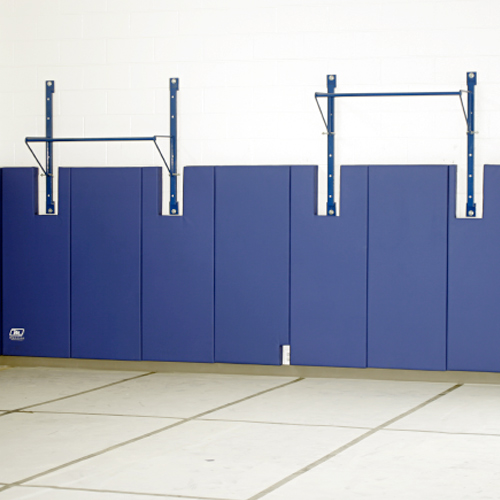 Wall Pad 2x6 Ft WB ZClip ASTM
would work for your basketball court walls, as well as anywhere in your school gym or weight room. These pads attach to the wall using a ZClip installation which allows for quick and easy removal as well.
These pads feature a 2 inch polyethylene foam core and 16 oz. phthalate free vinyl cover that is super robust. The padding is ASTM impact rated and Class A fire rated. It's also puncture and tear-resistant, anti-fungal, and antibacterial.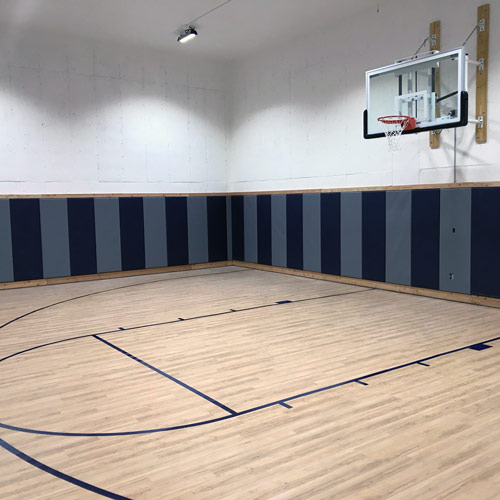 Wall Pad 2x6 Ft WB ZClip Class A Fire
has 6 oz. phthalate free vinyl covers and a 2 inch low smoke polychloroprene latex compound foam filler.
This option is Class A fire rated and ASTM impact rated. The vinyl covers are anti-fungal and antibacterial, and they have a formaldehyde free backer board.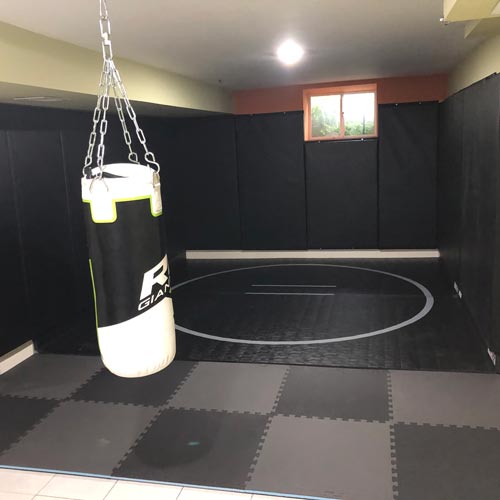 Safety Wall Pad 2x6 Ft x 2 Inch WBLipTB ASTM
is a Certified OSB product made of impact rated polyethylene foam and Class A fire rated PVC vinyl.
This padding has a 2 inch thick foam with an 18 oz covering. It contains at least 60 percent recycled pre-consumer raw material and is anti-mildew, anti-fungal, antimicrobial, and antibacterial. It also qualifies for Leed certification.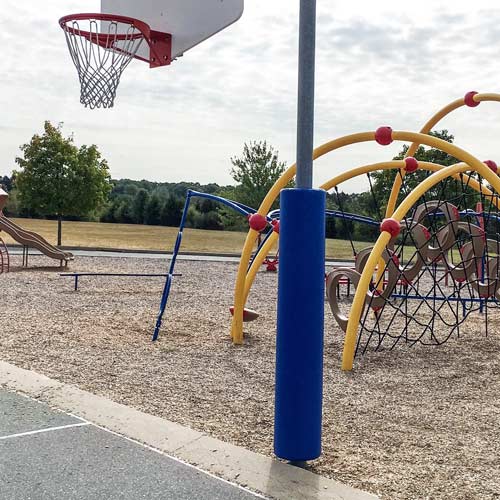 Pole Pads and Post Padding
are available in 3 sizes and are pre-formed to easily fit around any pole or post. They are filled with polyurethane foam and covered by an 18 oz. vinyl coated polyester fabric.
They can be used on an indoor or outdoor post or pole, and they easily snap around the pole or post to close securely with a 2 inch hook and loop fastening flap.
The standard height of this product is 72 inches. They are made in the USA and are available in many different colors.
The Best Basketball Wall Padding Options
Whether you're looking to put your local or state mascot or logo on a pad behind a basketball hoop, on posts that outline goals, or on some regular padding to line a gym, the highlighted products are among the best options to choose from. They are available at an affordable cost, but the finished product will look anything but cheap.
Greatmats offers the best wall padding products available anywhere. If the featured products don't suit your needs and you don't see the product you want, custom wall padding is available. Simply pick up the phone and talk to a Greatmats representative. Chances are, they can have one custom made for you.
They can also help with ordering and make the process as simple as possible. Together, you can decide which wall padding product is the right one for you.