Can Sepak Takraw Be Played On Artificial Turf?
By Paige Cerulli Created: September, 2022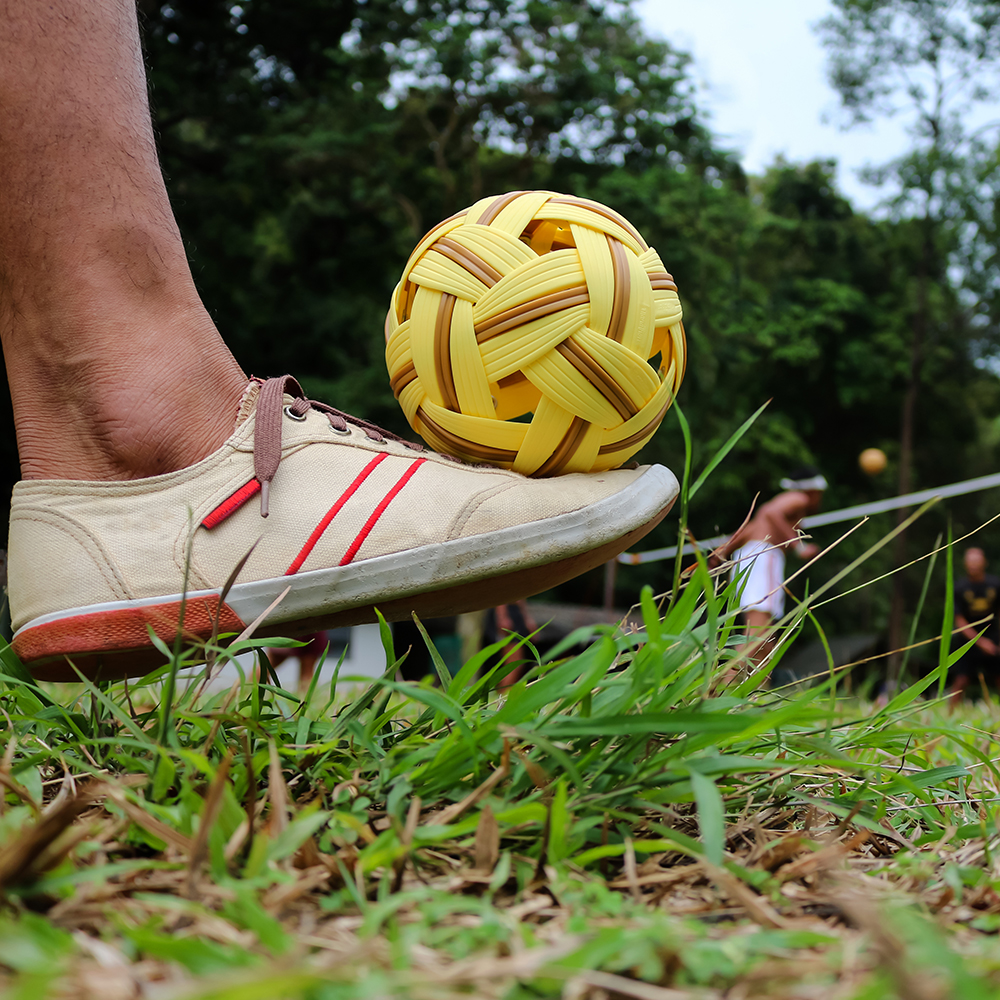 Sepak Takraw, also called kick volleyball, is a fantastic team sport that is growing in popularity. To play Sepak Takraw, you'll need a volleyball-style court. Whether you're planning to install a court indoors or outdoors, artificial turf can make a fantastic court flooring choice.
How to Design a Sepak Takraw Court
A standard size Sepak Takraw court should be about the same size as a double badminton court. Its dimensions should be 44 by 20 feet, and you will need to install a net across the center of the court.
It will be helpful to surround the court with a fence to help keep the ball contained. A high chain link fence can be ideal, since spectators can still watch the game while also being protected against stray balls.
When planning out your court, be sure to think about lighting. It might be convenient to locate it near woods for the shade the trees provide, but too much shade in the late afternoons can cause visibility issues.
If you anticipate wanting to use the court in the evenings, you may want to plan to include full court lighting. Positioning the court near your existing electric lines can minimize the cost of this.
Perhaps the most important decision you will face in designing your court is the flooring that you choose. You can create the court using tennis tiles, which offer shock absorption and traction, but if you want to maximize the court's comfort and aesthetic appeal, you may want to choose a different flooring product altogether.
The Benefits of Artificial Turf for Sepak Takraw Courts
Artificial turf is an excellent choice for your court for many reasons. Rather than choosing a firmer flooring material, this artificial grass creates a softer surface that can help to keep athletes safe and comfortable.
Since artificial turf reacts much like a real grass field, it can help to absorb impacts. That property minimizes the repetitive concussions that athletes' joints experience, and it can also help to take the brunt out of a slip or fall.
At the same time, artificial turf offers a natural performance, maintaining the same ball bounce that would occur in real grass. While offering shock absorption, artificial turf maintains the firmness that athletes will need to run, stand, jump, and suddenly stop and turn.
Since Separk Takraw is a combination of soccer and volleyball that athletes play with their feet, the flooring you choose needs to be durable and free of divots or mounts. It is much easier to achieve this with artificial turf than it is with real grass.
You can also maximize the use of your court by choosing artificial turf over a real grass product or another type of flooring. Artificial turf is designed to quickly drain water away, so your court remains usable even during inclement weather.
While real grass will quickly become soggy and muddy in the rain, artificial turf doesn't have these issues. Your scheduled practices and tournaments can go on without needing to be rescheduled because of rain.
Artificial turf also reduces the effects the hot sun has on the court, particularly when compared to other types of sports flooring. That can be a major advantage when athletes are playing during the hottest summer days.
Compared to real grass, artificial turf will save you significant time and money on maintenance costs. There is no mowing, fertilizing, weeding, watering, or reseeding to worry about, and your court will maintain its appealing aesthetic all year long.
Choosing the Right Artificial Turf for Sepak Takraw Courts
At Greatmats, we have a wide variety of sports turf products for sale, many of which are ideal for your court. Consider the following qualities to help determine which product is right for your needs.
Size
Our turf products are available in many different sizes, including mats that you can dry lay, as well as larger turf rolls. The turf rolls are available in multiple widths, including 12- and 15-foot widths.
These larger turf rolls provide maximum coverage, allowing you to quickly cover the entire court space with minimal seams. They also often offer excellent value and can simplify the installation process.
Padding
While the turf, itself, offers some cushion, some products feature padding that is already attached to the underside. The padding offers extra shock absorption for increased athlete comfort and safety.
Buying a product with padding already attached can mean that you won't have to purchase an underlayment or infill for the installation process.
Durability
Most sports turf products are made of polypropylene plastic, making them supremely durable, and most products intended for outdoor feature UV protection to prevent them from fading. Many are backed by multi-year warranties, so you can invest in the flooring with confidence.
Color
While sports turf is available in a traditional green, you will have plenty of other colors to choose from, too. Options including red, blue, white, brown, and yellow mean you can custom design your court to reflect your team's colors or business colors.
For more on this topic please review our
Sports Turf
product page.