Cleaning Vinyl Plank Flooring
By Lisa Hobbie Created: October, 2021
Vinyl flooring
comes with instructions that can answer the question of how to clean vinyl plank flooring, with deep clean and everyday cleaning methods outlined.
Some products may have instructions telling you that the best way to maintain the floor is to sweep or dust the floor daily and to use a damp mop when a deep clean is needed. Others may or may not instruct you to steam clean the flooring, while others may recommend common household cleaners.
If you're wondering if there's a universal answer to the question of how to clean vinyl plank flooring, a light solution of vinegar and water will likely do the job. Vinegar can tackle dirt without leaving a grimy coat on your floor's surface.
Greatmats offers a variety of resilient vinyl flooring options that are simple to clean, with the following 5 being among the best selling and most popular:
These products are among the best available anywhere and provide manufacturer's guidelines that will answer the question of how to clean vinyl plank flooring. They each deliver some additional features and benefits, as well.
How To Clean Vinyl Plank Flooring Products From Greatmats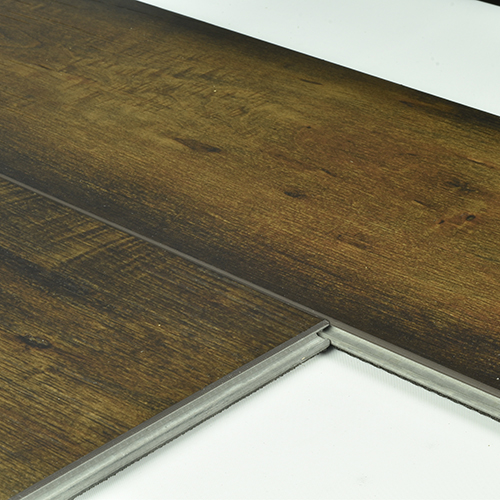 Stock House Laminate SPC Flooring can be swept with a broom or dust mop for routine cleaning. A vacuum with a brush or felt attachment on the head can also be used. For a thorough cleaning process, use a neutral pH floor cleaner product to take care of stubborn soils.
This particular product is water resistant and available in eight warm colors. It features a 30mm wear layer and wire brush texture with painted beveled edges, and it's a suitable option for a home, cabin, cottage, bathroom, or commercial settings.
Commercial Vinyl Plank Flooring Rolls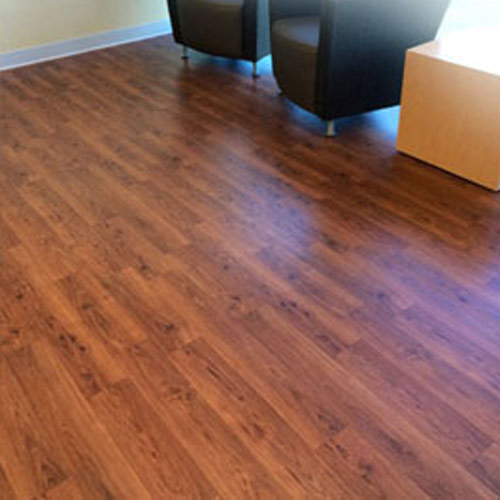 LonWood Madera with Top Seal Commercial Vinyl Rolls can be vacuumed and dry mopped using a microfiber dust mop. For a thorough cleaning, it's recommended to use a properly diluted neutral pH cleaner and a slow speed rotary floor machine or auto-scrubber.
This is a commercial flooring product suitable for schools, museums, institutions, retail spaces, and office spaces. It's a product with low VOC's, and it is good for MR & IEQ credits. It's FloorScore certified, anti-microbial, and made of recycled content. It has a wood grain surface and factory-applied urethane finish.
Interlocking Vinyl Foam Tile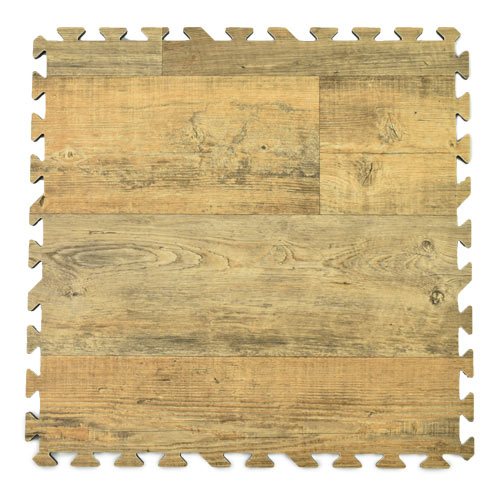 Rustic Wood Grain Trade Show Corner Tile can be cleaned using a damp mop and basic household cleaner or diluted vinegar.
This product can be used in any temporary setting where ergonomic and anti-fatigue benefits are needed, like in a tradeshow booth. It's a portable and lightweight product that is waterproof, non absorbent, and very attractive. There is an optional beveled edge and attractive wood grain finish.
Low Maitenance Laminate Plank Flooring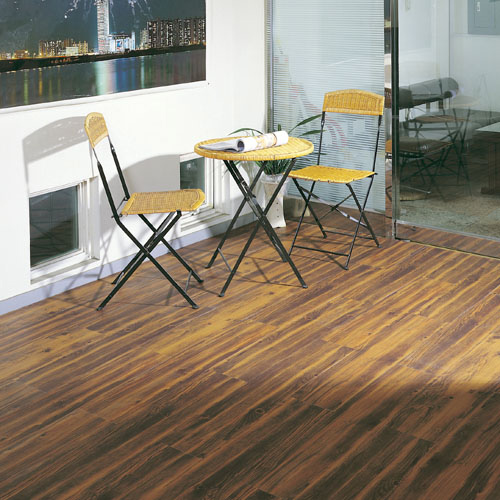 LVP Rustic Wood Laminate is a product that can be cleaned by using a dry mop or a broom. If the dust seems difficult to pick up with these methods, the manufacturer recommends using a microfiber dust mop. If needed, a diluted neutral floor cleaning product can also be used, making sure to replace the dirty mop water regularly to avoid leaving residue on the luxury vinyl plank.
This flooring offers the look of traditional hardwood with the low-maintenance qualities of luxury vinyl plank. It's eco-friendly, non-absorbent, low maintenance, and attractive. The installation method is a glue down one, and it's a suitable flooring solution for commercial or residential applications with many colors to choose from.
Luxury Laminate Plank Flooring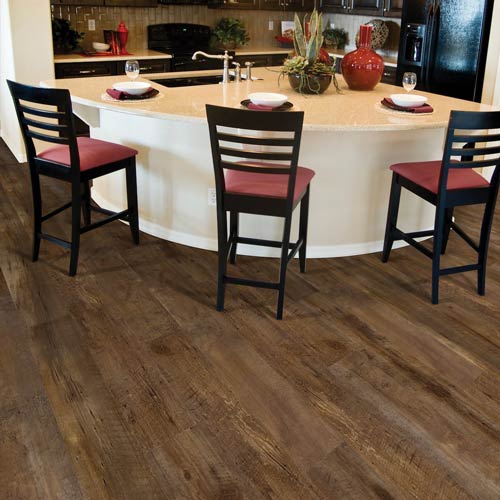 Magnitude Premium Laminate LVP Flooring Planks can be swept as needed with a broom or dust mop to remove dirt and grit. For more thorough cleaning requirements, a damp mop will work well, making sure to avoid using excessive amounts of water to prevent staining.
This product is suitable for home or commercial settings like hair salons, restaurants, shops, and hotels. It features Nanosilver technology that is antibacterial and antifungal, preventing the growth of bacteria and fungi. It's still safe for people and pets, though. To install this product, a pressure-sensitive flooring adhesive is highly recommended.
Greatmats - For The Best Vinyl Products & Answer To The Question - How To Clean Vinyl Plank Flooring
If you have been wondering how to clean vinyl plank flooring, Greatmats provides the products and tools needed to answer that question. Each product comes with specific instructions and guidelines - provided to take the guesswork out of caring for your floor.
If you need any further information about any of the featured products, including how to clean vinyl plank flooring products, just reach out to the Greatmats' staff. They can provide you with all of the information you could possibly need, and even help you place an order when you're ready to make a purchase.