Big Sky One Piece Horse Stall Mat 17 mm x 12x12 Ft.
One piece horse stall mat
Manufactured from 100% clean, recycled rubber
12x12 ft stall mat, popular with Veterinarians
Handling Time Estimate: 4-6 Working Days
How Much Flooring Do I Need?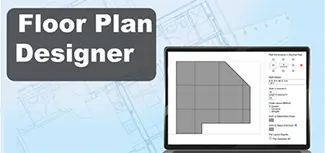 One piece horse stall mat
Manufactured from 100% clean, recycled rubber
12x12 ft stall mat, popular with Veterinarians
No adhesive needed
Available in three sizes
Durable and long lasting rubber stall mats
17 mm thick with the highest traction rating in the industry
No seams with one piece installation
Horse Stall Mats, Stall Aisles, Wash Bays, Treatment Areas.
NOTE: This item is a custom order and is not returnable.
12x12 ft one piece horse mats for veterinary and stalls
Our Big Sky One Piece Horse Stall Mat measures 12 x 12 feet and provides a durable material that's great for use as a horse stall mat, for use in stall aisles, or for use in wash bays and equine medical treatment areas. You don't have to worry about seams or tricky installation problems with these one-piece rolled mats.
Quality One Piece Horse Stall Mat

The 12x12 stall mats are made from 100% clean recycled rubber, which ensures a durable mat that can stand up to rough treatment. Because of the high quality of manufacturing, the solid color of the mat is consistent through the entire mat. It also includes a textured finish that'll prevent you or the animal from slipping while in the stall.

You'll want to rely on 12x12 rubber mat options that make use of the best types of materials and the highest build quality when selecting a mat for a horse that will spend a lot of time in its stall. If the horse only leaves the stall for occasional periods of exercise each day, you want to provide a large stall area for the horse, so it has room to move around. And that means you need a big stall mat to cover that area, like our rubber stall mats 12x12 feet product.

Another consideration is the size of the horse. A larger horse in physical size is going to need a larger stall space than a smaller horse. And the larger horse will need an extremely durable mat that's made from the best quality of materials to ensure the mat doesn't buckle under the greater weight of the large horse. Some poorly made horse stall mats may not use a uniform thickness, for example, which can lead to punctures or buckling of the mat, creating a tripping hazard for the horse. Our one piece horse stall mats feature a uniform thickness of 17 mm, with the thickness guaranteed to be within accepted levels of tolerance.
Uses for One Piece Stall Mats
Equine professionals and veterinarians especially like using our one piece stall mats. This type of flooring works well in any kind of stable setting, because of its great level of traction. With our rubber stall mats 12x12 product, you won't have to worry about slipping while working in the stalls. These large horse stall mats provide options for better grip, shock absorption, and easier cleaning options than other types of mats you can use in animal stalls.
If you have problems with leaking or rotting flooring in your horse stall area, the 12x12 rubber mat is a great solution. This one-piece mat keeps the flooring underneath dry and protected from the elements, lengthening its lifespan. The one piece horse stall mats are able to provide a water tight flooring option, which is important for veterinarian working areas.
For equine and animal husbandry applications, including stalls, washing and grooming areas, recovery rooms, operating rooms, and treatment areas, rubber stall mats 12x12 measurement options are the perfect flooring. They provide water resistance and a sturdy flooring that will stand up to a lot of different use cases involving animals.
Using large rubber stall mats 12x12 feet in dimensions in a single stall can give you the option of splitting the large stall into smaller segments later without having to move the huge mat. For example, if you have a broodmare, the foals and broodmare can share the same large stall area over the 12-by-12-foot mat at first, and you later can use wood or fencing to temporarily split the stall into smaller spaces to support the young animals without having to change the configuration of the mat. Just build the extra stall barriers and doors directly over the existing flooring.
Another area to consider adding a 12x12 rubber mat is a run-in shed for your horses. This type of area is away from the main barn and the main stalls, but it provides a sheltered location where the horses may enter and exit as they need to during the day. By placing a large, durable rubber mat in the run-in, you'll give the horses a solid footing while they wait out a rainstorm, ensuring they won't be standing in mud. With the rubber mat, the run-in area also will be easier to clean than a simple dirt or gravel base.
Installation One Piece Horse Stall Mats
Before installation of the one piece horse stall mats, you need to understand that the rubber construction of the mats does give the product an odor. If you have a horse stall area that offers poor ventilation, you will notice the smell quite a bit at first. The odor is also why we do not recommend installing this type of flooring in a home. The rubber stall mats 12x12 foot in size have a primary use as an outdoor mat for animal stalls.
When receiving this one piece horse stall mat, you'll need a fork lift or a loading dock at the location. Each mat weighs 600 pounds, so the installation process takes multiple people and moving equipment.
With the rubber stall mats 12x12 foot measurements, they'll each cover 144 square feet. No special adhesives are required to install the 12x12 rubber mat options. You can use a dry lay installation. Because of the weight of this rolled mat, you're not going to be able to move it around easily. So be certain about the location where you want to perform the installation before starting.
Even though these one piece horse stall mats carry a great deal of weight, you shouldn't need to have a professional install them. As long as you have a means of moving the rolled mat into place, you can do the installation. Once the mat roll is in place, just unroll it flat across the desired area.
The mat has straight edges that are cut with precision during the manufacturing process, so as long as the mat is squared up when you put the roll in place, it should roll out evenly with the walls of the stall. At a thickness of roughly two-thirds of an inch, you can cut this mat if needed to make it fit properly. However, if you're looking for a smaller mat option, rather than cutting our rubber stall mats 12x12 foot product, we'd suggest considering one of our smaller rubber mats that you can connect or lay side by side to fit a larger space.
Prior to installation, make sure the surface of the horse stall has been worked a bit to be made flat. You may want to place a layer of gravel on the ground of the stall to ensure a flat area. Fill in any holes with dirt. A significantly uneven surface layer could shorten the life of the mat over time as it bears the horse's weight, so the flatter and sturdier you can make the surface before installing the 12x12 rubber mat, the better performance levels you'll receive and the longer lifespan the mat will give you.
Durable, Long Lasting One Piece Horse Mats
With a 17 mm thickness (or 0.669 inches), these one piece rubber horse stall mats have great durability. We offer a 5-year limited prorated manufacturer warranty with the one piece horse stall mats, which means you can count on the longevity and durability of the mat.
As far as cleaning these horse stall mats, you can muck stalls with a shovel as you would if the stall had bare ground. You also can use a large broom on the stall mats if needed. If a more extensive cleaning is needed, use a pH neural floor cleaner mixed with water and a mop.
When you consider that horses often live in stalls that consist of dirt floors or even concrete floors, one piece horse stall mats provide a much safer option. The waterproof nature of the 12x12 rubber mat is great for giving the horse a dry place to stand without having to worry about mud on the horse's hooves for extended periods of time. Horses tend to dig ruts and holes in a dirt floor, which creates potential tripping hazards, as well as areas where water and urine can collect.
A cement floor in a horse stall does provide the kind of durability that one piece horse stall mats offer. But concrete floors can become slippery when they are wet, unlike our rubber mat options, which provide a good grip for the horse. The rubber mat also provides a softer area for the horse to stand versus concrete, making it easier on the animal's joints.
If you believe our rubber stall mats 12x12 product isn't quite what you need for your horse stall, or if you are looking for another type of rubber flooring that will work better for indoors installations, contact our customer service team. We can share information on all of your different flooring options to ensure you find the correct products to meet your needs.
Maintenance
Always use a neutral Ph floor clean on rubber material. Damp mop.
Shipping
Ships via freight delivery only, shrink wrapped on pallets.
This Product Ships Freight Only.
Please review our shipping disclaimer.
| | |
| --- | --- |
| SKU# | SKFLEX1-1212-17-eq |
| In Stock | Yes |
| Product Type | Mat |
| Material Type | Rubber |
| Product Edging | Straight |
| Thickness | 17 mm |
| Width | 12.00 feet |
| Length | 12.00 feet |
| SF per Item | 144.00 |
| Weight | 600.00 lbs |
| Packaging | Shrink Wrapped on Pallets |
| Number of Pieces per Package Type | 1 |
| Non Absorbent | Yes |
| Special Adhesives | No |
| Interlock Loss | 0.00 feet |
| Material Hardness | Shore A 62 |
| Interlocking Connections | No |
| Made In | Canada |
| Surface Finish | Textured |
| Surface Design | Solid color |
| Installation Method | Dry lay |
| UV Treated | No |
| Reversible | No |
| Border Strips Included | No |
| Manufacturer Warranty | 5 year limited prorated |
Product Questions:
Q: How much to ship to the UK please? Address is Beara Farm, Bishops Tawton, Barnstaple, Devon,EX32 0EP, United Kingdom
A: We only ship in the USA, you would have to arrange freight forwarding to your location.
Q: Any way to get it made to a 10x 12? I don't want multiple mats, my guy destroys them, even good quality. Thank you.
A: This product is a one piece 12x12 ft rubber mat
Q: Do you have any versions that have holes in it for drainage?
A: We do. Here is a link to our Ring Mats: https://www.greatmats.com/mats/horse-ring-mats.php
Q: How do these compare to the interlocking system? Do they shift less? Just as much? Do the corners pop up when shavings get underneath them? Can we secure the edges to the stall walls using maybe like a 2x4? Has anyone done something like that?
A: Please reach out to us and we will connect you with a member of our sales team to assist with product comparisons.
Q: I am looking for rubber matting for a livestock barn. Is there a side that is smoother so that I can clean stalls more easily? I don't want raised bumps and traction is not a concern.
A: Please reach out to a member of our sales team regarding this. They will be more than happy to help determine the best mat for your use.
Q: HI I would like to buy a two piece mat for the deck of my boat. Can you make custom sizes? Boat is 18' x 6' wide. I would like 2 mats, one 12' long and the other 6' long...
A: This product is not customizable. However, you may want to consider rolled rubber flooring. The rolls are 4 feet wide and are available in up to 1/2 inch thickness. Some have custom length options, such as the
Rubber Flooring Rolls 1/2 Inch Black Geneva Per SF
product.