Roll Out Gymnastics Mats Comparison - Carpet vs Vinyl Top
By Greatmats Staff Created: July, 2017 - Modified: July, 2021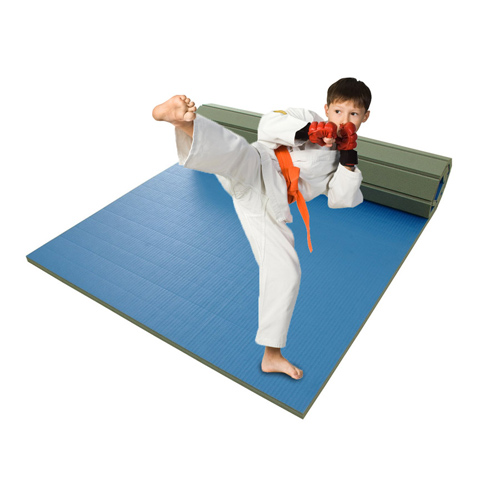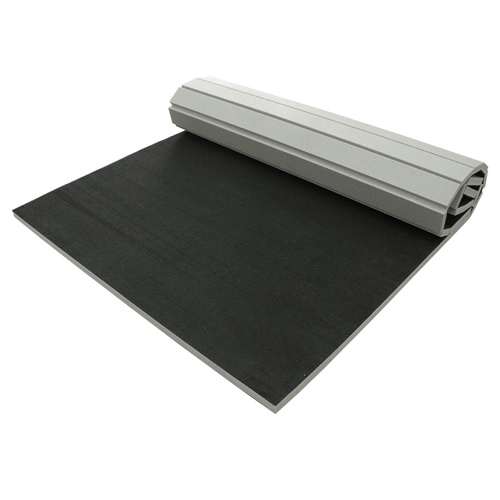 Compare Greatmats home rollout mats with us.
Rollout mats are made for quick and portable installations in athletic areas in need of cushioning.
Greatmats offers home rollout mats of various sizes, thicknesses and surface textures.
Today we'll compare our popular Gmats line of 5x10 foot rollout mats - Gmats Cheer Mats and Gmats Roll Out Mats.
Both feature a cross-linked polyethylene foam base, but offer different hardnesses and cleanability, based on their surface materials.
First, let's analyze their intended uses.
Carpet topped Cheer Mats are intended cheerleading, gymnastics and tumbling training.
Vinyl Topped Roll Out Mats are designed for Wrestling and Martial Arts Training as well as home exercise.
Fall protection and stability and critical for cheer mats, which is why Gmat Cheer Mats offer 1 ⅜ inch of impact absorbing foam and carpet with a hardness similar to that of a gel shoe insole.
The carpet surface surface offers better rebound than foam and proper footing acrobatic sports.
This makes cheer mats and excellent safety accessory for stunting.
Combat sports need grip and cushioning to protect from inadvertent injury.
The tatami textured vinyl material over a 1.25 inch foam base offers a slightly harder surface - more like that of a rubber band, allowing for more output and force from those training on top of it.
As combat sports have a lot of potential for sweat and blood to come in contact with the mat, the vinyl also provides a partially non-absorbent surface that is much easier surface to clean and disinfect.
Both feature a 1 year warranty.