Home Martial Arts Flooring Impact Absorption Test Using Raw Egg
By Greatmats Staff Created: September, 2017 - Modified: July, 2021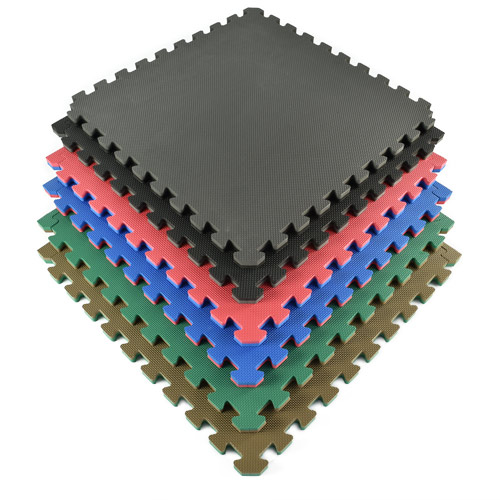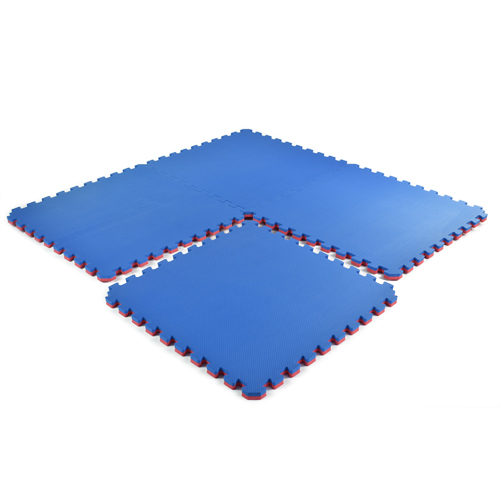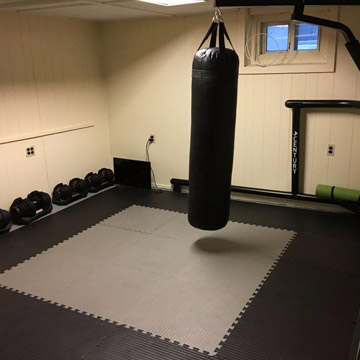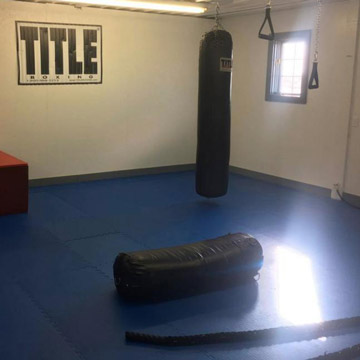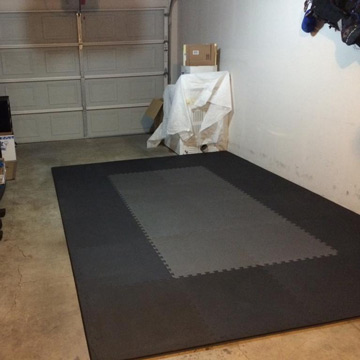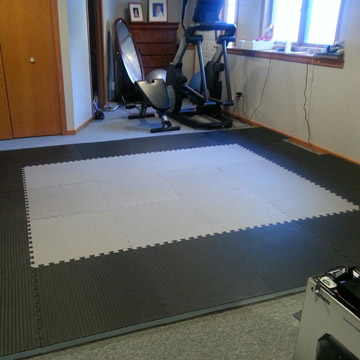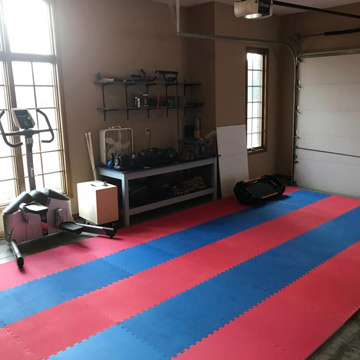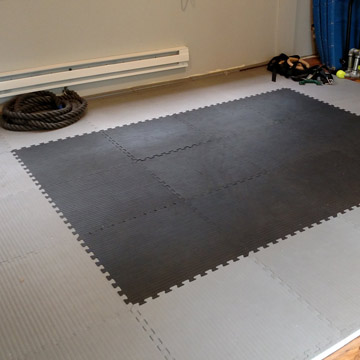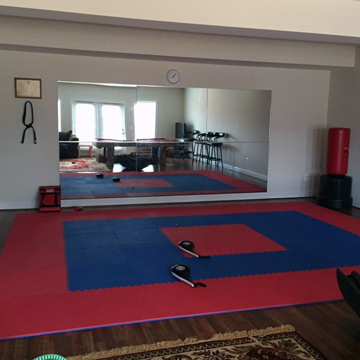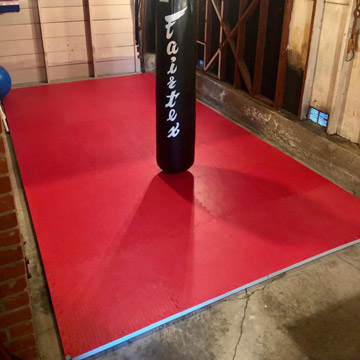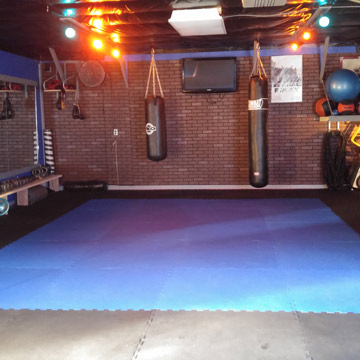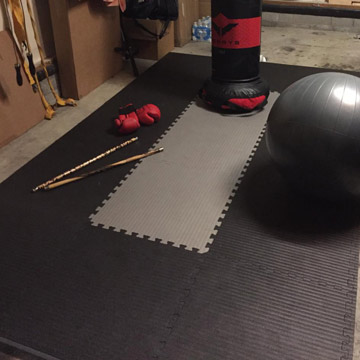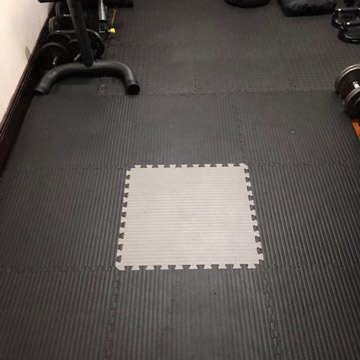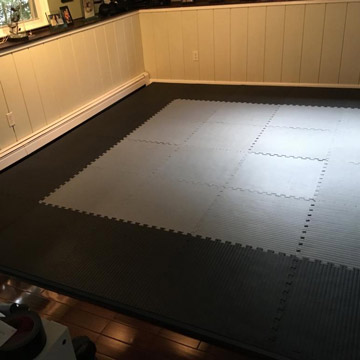 When you're creating a safe place to practice in your own home, investing in quality martial arts impact absorption mats is a key step in keeping yourself and other athletes safe. Specialty martial arts flooring doesn't just provide an ideal surface with appropriate traction. It also provides impact absorption properties that can help to reduce or even prevent injuries during a fall, throw, or jump.
The Raw Egg Impact Absorption Test
Saying that impact absorption mats maximize safety is one thing, but visually seeing it is another. That's why the above video demonstrates the difference in how a raw egg responds to being dropped from the same height onto three of our impact absorption mats:
The Greatmats 7/8-inch thick Home Sport and Play (taekwondo) mats
1-inch-thick home Karate Mats
1 ½-inch thick Home MMA BJJ mats
All three mats protect the raw egg from breaking, but you'll also notice that the thinner striking mats create a little more rebound than the mats intended for ground fighting. This extra rebound is helpful for martial arts workouts where lots of jumping is performed. It can help to minimize shock, reducing some of the jarring landings that can occur while training.
With that said, the greater the fall, the more protection the thicker mats provide. In either case, Greatmats home martial arts mats will help to absorb impact from jumps, falls, and slams. At the same time, they reduce the risk of fatigue and serious injury, providing enhanced protection to your body. You'll be able to practice longer and at a higher intensity, and you'll have the peace of mind knowing that you've taken the steps necessary to protect the students under your instruction.
While the egg drop test lets you see the effects of the impact absorption mats visually, it's also important to understand the other properties and benefits that each mat offers. The brief overview below can help you to choose which mat is right for your studio.
Home Karate Foam Tile 1 Inch
Home Karate foam tiles
are made of lead- and latex-free EVA foam. Measuring one inch thick, they're easy to install, thanks to their 2 by 2 foot size. These tiles are designed for use with bare feet, and they provide cushion suitable for athletic use. The tiles are also waterproof, so they can be used in sports areas, martial arts studios, playrooms, and more.
While these tiles provide enough cushion to help absorb impact, they also create enough firmness to support athletes while they train and practice. These tiles are a great flooring choice for martial arts use, particularly if you want to create a studio in your own home. This is the softest of the options listed here.
Home BJJ Mats 1.5 Inch
These 1.5-inch-thick
home grappling mats
are suitable for home BJJ, MMA and Jiu Jitsu floors, and for grappling. They're both strong and durable, but they're also flexible enough to provide cushion and shock absorption for athlete safety. These mats are used in professional studios across the country, thanks to their protective qualities.
The mats are designed to provide plenty of protection for takedowns and throws, and they're rated to prevent head injuries in falls from up to four feet. They also feature a tatami surface texture that provides the grip you need for footwork and rolls, but without causing scrapes or rug burns. They are also designed to be firm enough to prevent sinking dangerously far into the mats, which could cause injuries such as twisted knees or ankles.
These mats are also completely waterproof, so they're easy to clean.
Home Sport and Play Mat ¾ Inch
These
home taekwondo mats
are made of EVA foam and are firm enough for use with martial arts. Both waterproof and stain resistant, the mats are easy to clean. Their double color and reversible design means you'll get plenty of use out of the mats, and you can even reverse some of them to create a pattern or design.
The mats feature a tough surface that resists scuffs, and that's durable enough for use with athletic shoes. They can also be used with bare feet, and they will absorb shock and help to keep athletes safe.
Choosing Your Home Martial Arts Flooring
These martial arts impact absorption flooring options are ideal for home practice studios and training spaces. All of these mats offer valuable impact absorption, and they're suitable for use with a variety of martial arts disciplines.
More importantly, these mats offer an easy DIY installation. They're lightweight and conveniently sized, so it's easy to carry them into your home. They're waterproof and highly durable, so they can be installed in areas like garages and basements, where moisture may be an issue for other types of flooring.
These mats also offer the benefit of being easy to trim if needed. You can cut them to fit a wall-to-wall installation, and because they come with border pieces, it's easy to create a clean, finished edge.
Ultimately, the martial arts mats that are best for you will depend on the type of training you'll be doing and the level of protection that you want. The egg drop test demonstrates how effective these mats are, and how much they can contribute to your safety. If you're considering training for martial arts at home, then these mats make an excellent investment in your safety.
Which Martial Arts Mats Are Right For You