Home Gym Flooring - Staylock Tiles Best Over Carpet
By Julia Nass Created: July, 2017 - Modified: May, 2020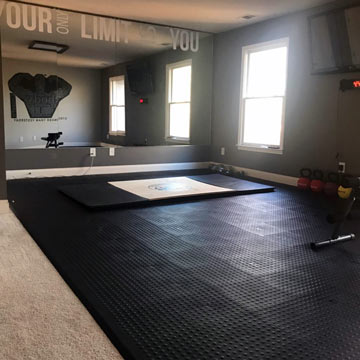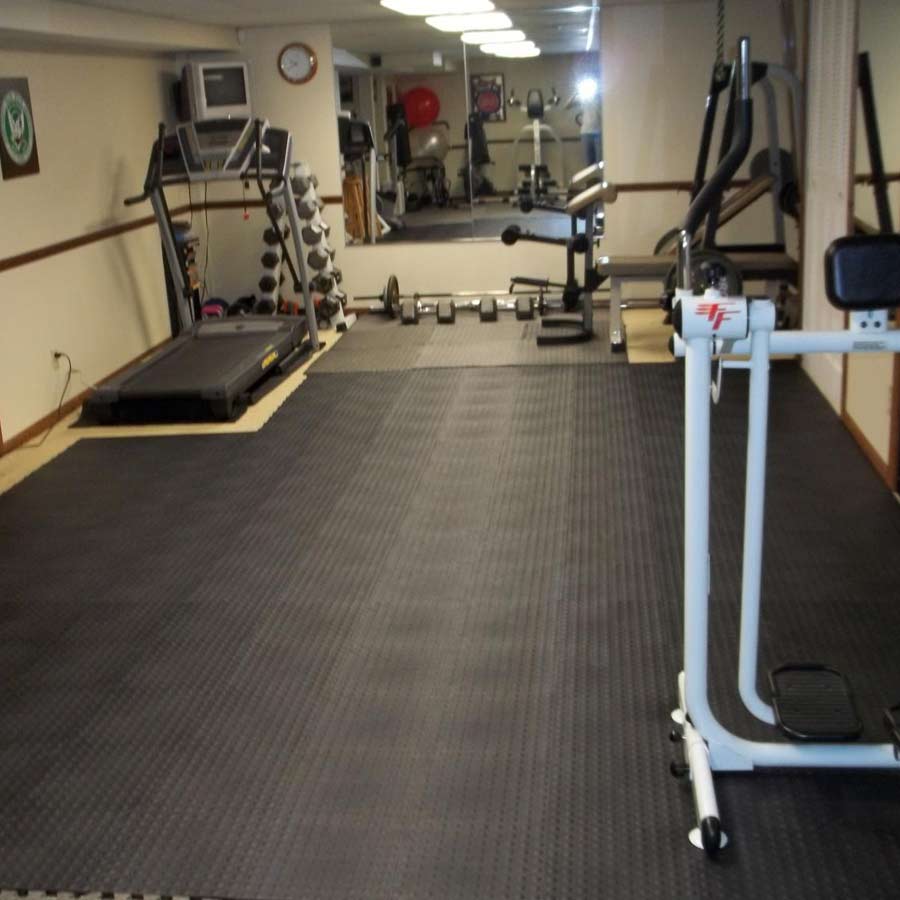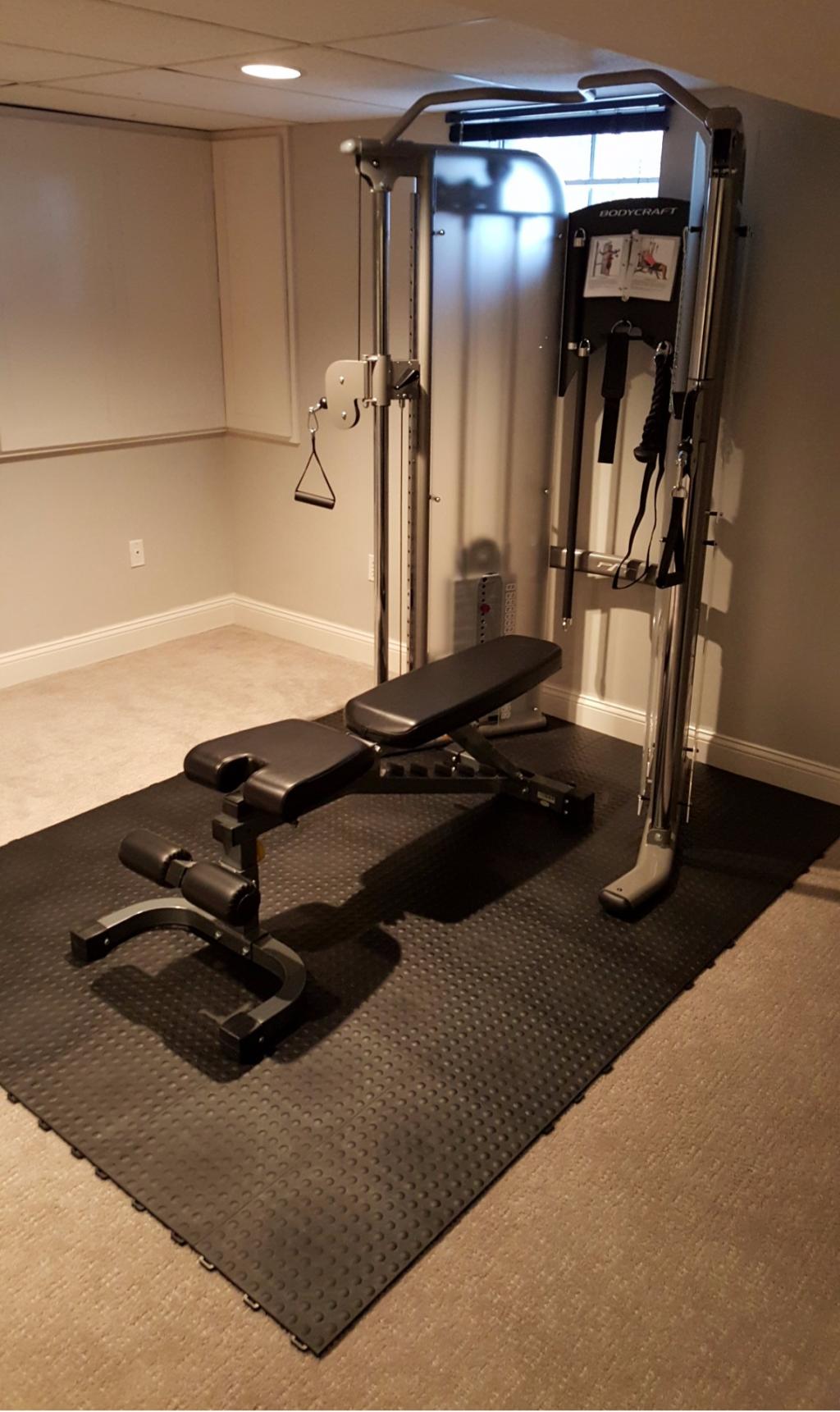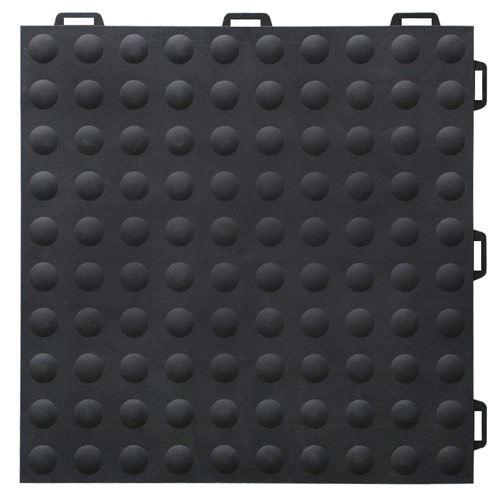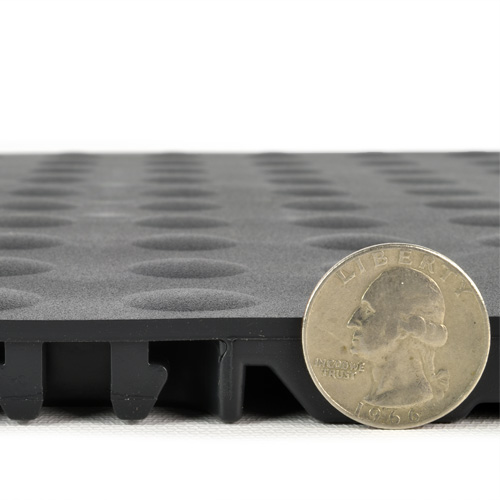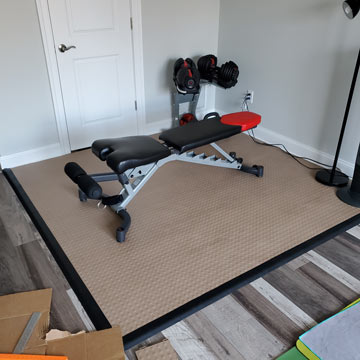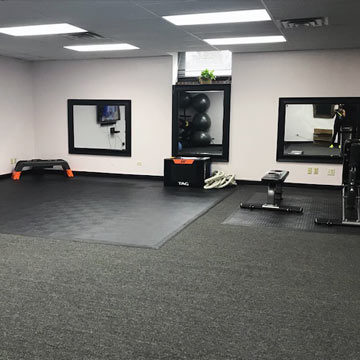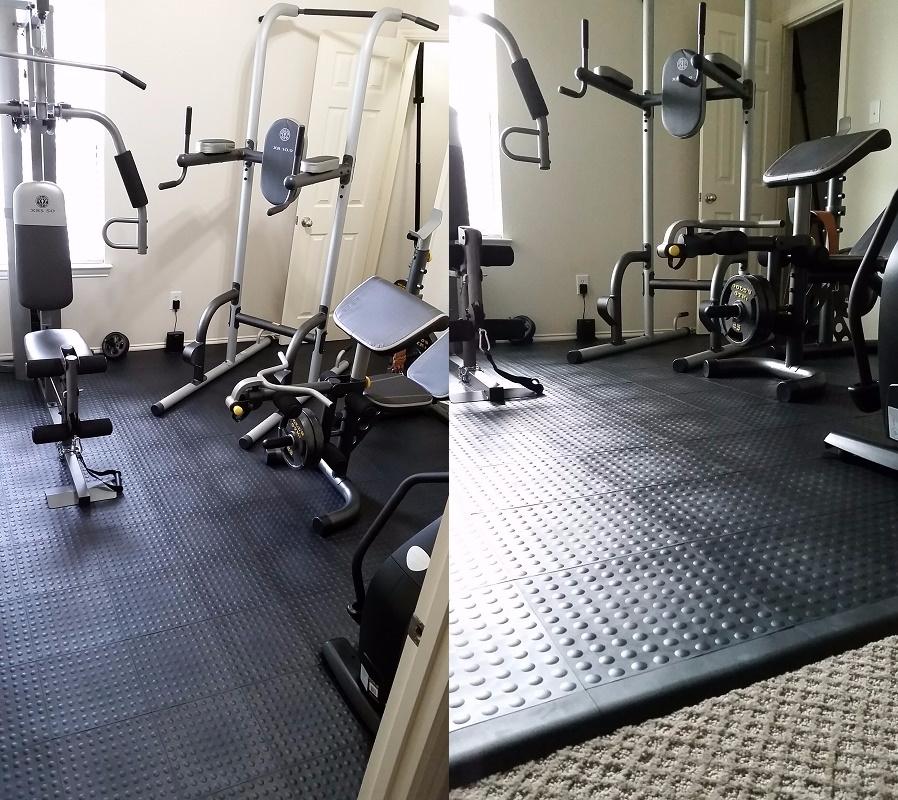 StayLock Bump Top Tiles are a well-loved Greatmats product, a claim backed up by rave 5-star reviews. These ergonomic flooring tiles are made of PVC and are designed for situations in which an anti-fatigue floor is desired. For example, this type of flooring has the best results in environments in which people stand for long periods of time, rooms that see heavy foot traffic and exercise rooms. That being said, Staylock Bump Top Tiles have been used by customers for a variety of purposes. Greatmats took customer feedback about StayLock tiles and compiled the following. Read on to get to know these popular fatigue flooring tiles better and find out some of the reasons users give them a 5-star rating.
Suitable over carpet or concrete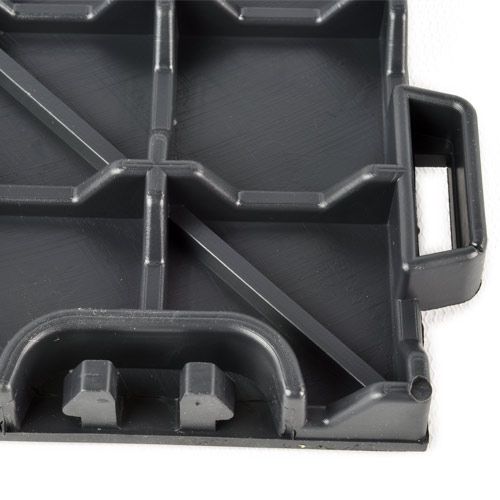 Staylock tiles can be installed over carpeting, concrete, wood or any other flat surface. Flooring interlocks together with an efficient, tight-fitting loop and tab connection system that does not allow tiles to shift or separate. There are many types of athletic modular flooring tiles that are not recommended to be used on top of carpet because of the tendency for slippage. However, unlike other types of fatigue flooring tiles on the market, Staylock tiles remain supportive and sturdy no matter the sub-floor. Take it from Antonio from Ohio, who wrote, ''My 'fitness' room is all carpeted floor. This product has just enough give to bend and not break due to the unevenness of the carpet, yet strong enough to keep my equipment elevated and level.''
Great for basements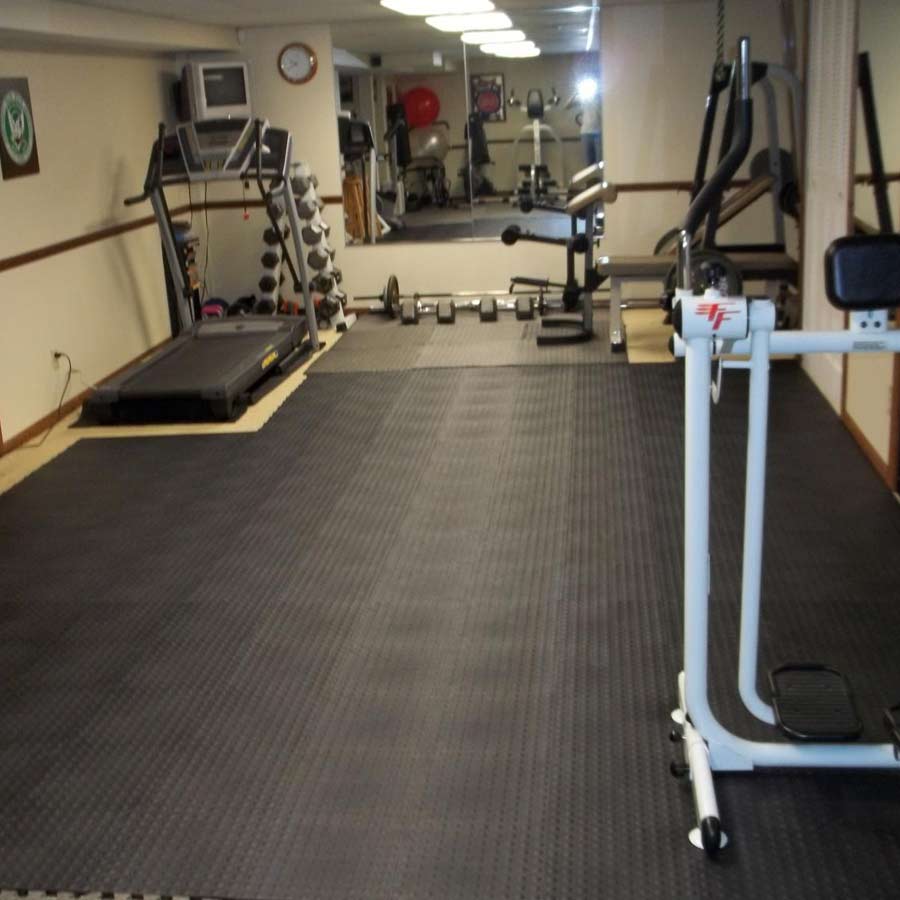 StayLock tiles are raised and easy to install, two reasons customers love them for basement rooms. Tiles can be locked together by hand without the need for any adhesives. Once installed, tiles allow air to flow underneath them, which helps prevent moisture build up. This is especially important in basement rooms where moisture levels tend to be higher. There are optional border and corner ramps available, so island installations can maintain a clean and finished look. Otherwise, tiles can be installed wall to wall and cut down if needed. As Edin from NYC wrote about Staylock Bump Top Tiles: ''Easily installed and wears great. Endless dimension options and the borders make it trip free.''
Ideal for HIIT workouts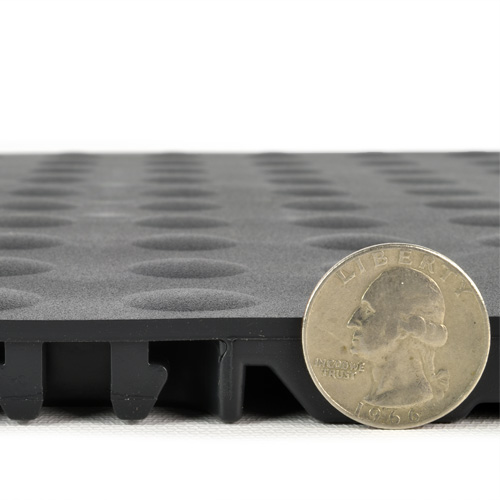 Tammy from Oregon describes her experience with StayLock tiles: ''The StayLock Bump Top mats proved to be the perfect foundation for my new home gym. I wanted something that would protect my carpet from sweat, yet provide a solid platform for riding my bike, lifting weights, and jumping around doing HIIT training. These StayLock mats meet all of that criteria while elevating the look and feel of my home gym to that of a professional one.''
Even without underlayment, Staylock ergonomic flooring tiles provide supreme cushion and bounce support, which makes them perfect for high intensity interval training (HIIT) workouts. With a similar cushion to foam tiles with the durability and support of rubber, these aerobic flooring tiles are designed to help reduce strain in the body during workouts. What's more, tiles come in several different designer colors including tan, brown and black.
Perfect for Plyometrics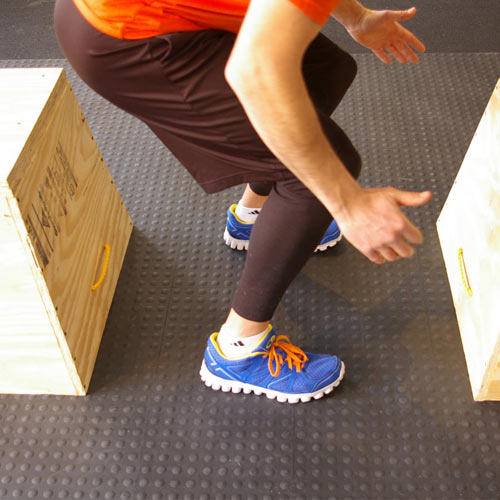 The bump top surface of tiles create just the right amount of traction for the safe execution of plyometric exercise. These aerobic flooring tiles are completely waterproof and maintain traction even when damp from water spills or sweat. Overall, tiles are extremely easy to maintain. All they need to become fresh as new is a damp mop with a common household floor cleaner (avoid bleach).
Martin from New Jersey states, ''Durable product, easy to install, and excellent customer support in finding what product would be best for me. I am using this product over the plyo rubber for working out and it provides great impact resistance for working out, plyometrics etc. Fast shipping too! Highly recommend this product and this company.''
Wonderful for Weightlifting
Users discover StayLock tiles to be an awesome floor weightlifting as well. These ergonomic flooring tiles easily withstand the dropping of lighter free weights. What's more, the efficiency of tiles are never compensated while bearing the weight of exercise equipment. This durable fatigue flooring tile has a lifespan of 20 years or more.
Mark, who used StayLock Bump Top tiles for weight weight training says, ''I installed this over carpet (that has a carpet pad underneath) and it has a functional trainer on top of it on one end. No problems with the tiles staying together even where there is a 200+ pounds on/around the seams. I would buy this product again.''
Want to Learn More?
If there's one thing in particular that almost all customer reviews for every product has in common, it's the continual praise for Greatmats' customer service. So if you want to learn more about StayLock tiles or any other flooring product, don't hesitate to get in touch. You'll find out why customers so often compliment the efficiency, helpfulness and kindness of the Greatmats team.