Half Axe Throwing Lanes Equipped with Greatmats Rubber for Safety
By Brett Hart Created: July, 2019 - Modified: July, 2021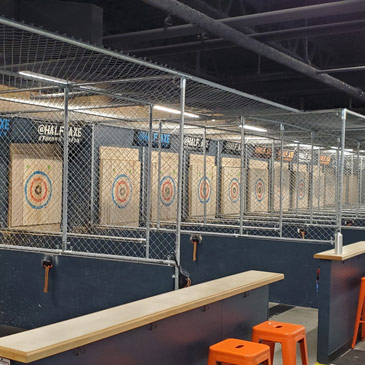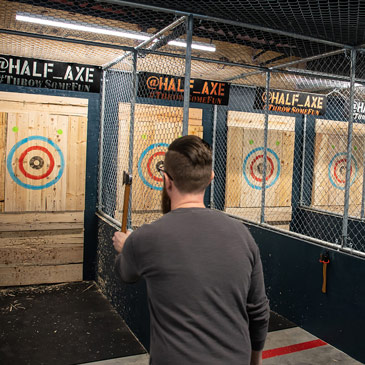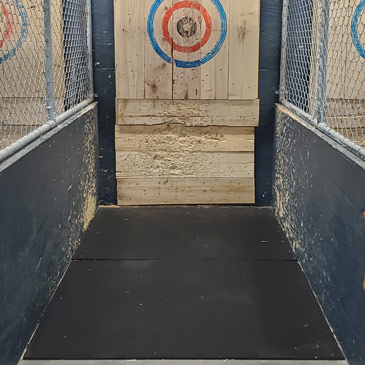 In the quickly-growing sport, of axe throwing "there will always be inherent risk of injury," according to Derek Johnson, owner and operator of
Half Axe Co
in Marlborough, Massachusetts.
"We try our best to mitigate that risk at every turn, which I'm proud to say we do incredibly well," he said.
A big part of that is due to his company's use of Greatmats'
3/8 inch thick rolled rubber
in everything from flooring to "netting" above the targets.
"The matting prevents bounces from mis-thrown axes, bad ricochets, and more while also protecting the flooring from the sharp metal," Johnson says. "We also use other smaller pieces hung above the targets to act as a rigid "net", catching bad throws and preventing damage to the areas above the targets."
About Half Axe Co.
Having a background in video game development, Johnson fell in love with axe throwing on a visit to Canada, where the sport was already popular.
Then about a year and a half ago, he decided to bring the sport to New England where he developed a premier indoor axe throwing establishment that has coached some of the best axe throwers not only in the nation, but the world.
"Our coaches are among the best in the industry, teaching each and every person how to properly throw our regulation hatchets while promoting a fun, exciting time for all our customers," Johnson said.
Why 3/8 inch rubber for axe throwing protection?
Looking for a material with excellent shock absorbing qualities and a lack of elastic bounce, Johnson consulted Greatmats' staff to determine what would be the best option to protect his concrete floor and safeguard against bounces and ricochets.
"We took great care and did much research to ensure these qualities were there with the rubber," he said. "The mats are great! They're resilient, don't tear, and are heavy enough to stay in place, preventing additional hazards such as tripping. They're also very easy to clean and sweep, allowing us to maintain a high level of cleanliness in our facility."
He was equally as pleased with the service he received from Greatmats ranging from help determining the proper product to accommodating unique delivery requirements.
"Overall, we're incredibly happy with Greatmats and our rubber mats," Johnson said. "For everyone looking to try out axe throwing, we are centrally located in Marlborough, Massachusetts off of I-495. For information or to book a lane to throw, please visit halfaxe.com or give us a call at 508-251-2815! #ThrowSomeFun."
Derek Johnson
Half Axe Co
Marlborough MA 01752