How Thick Should a Gymnastic Mat Be?
By Paige Cerulli Created: May, 2018 - Modified: March, 2020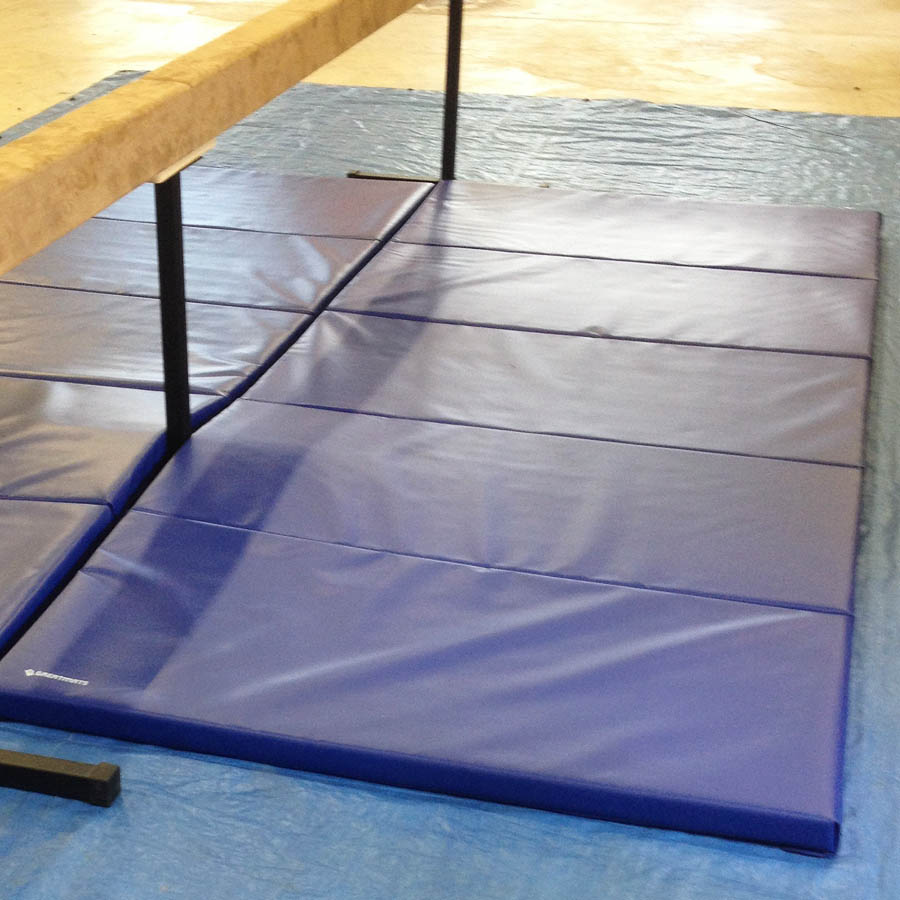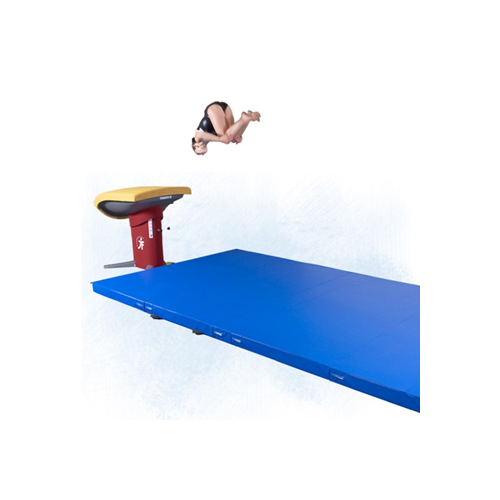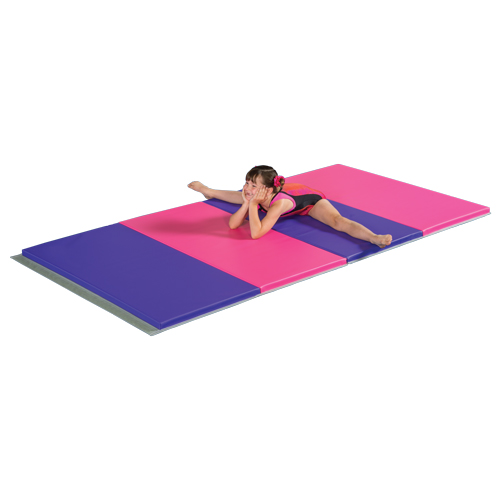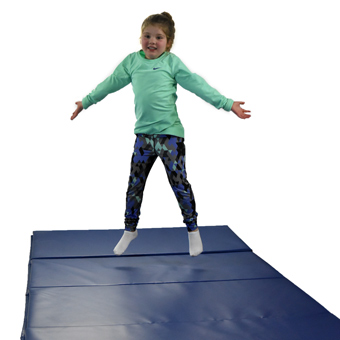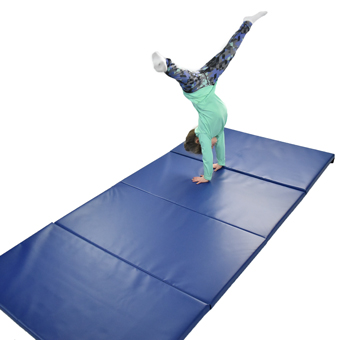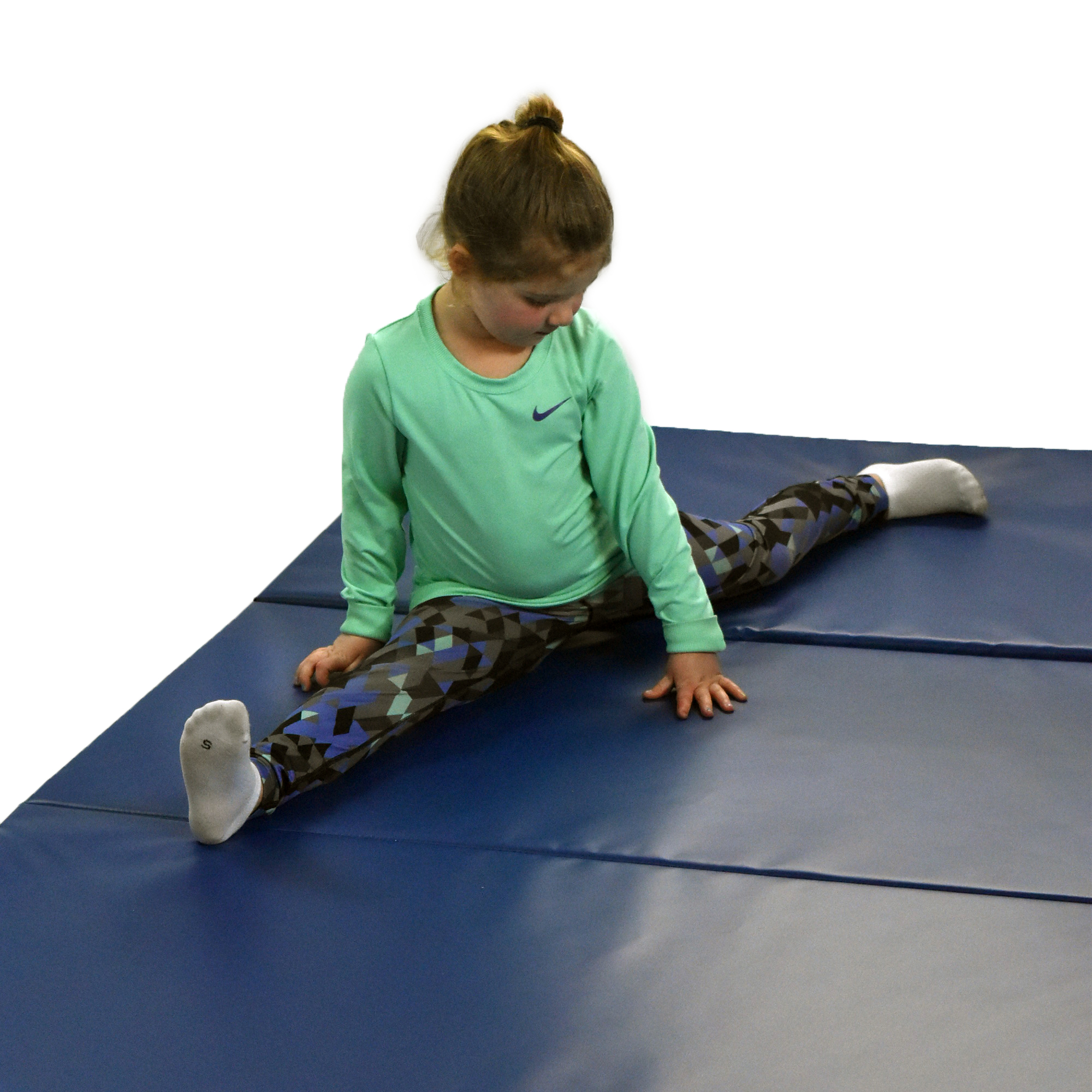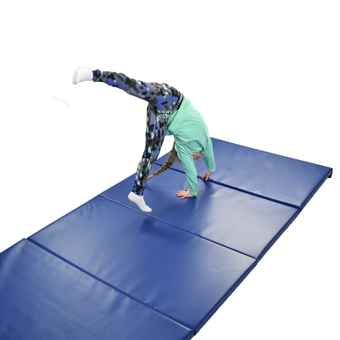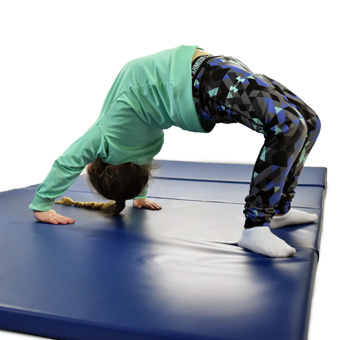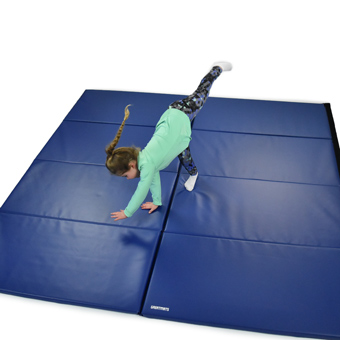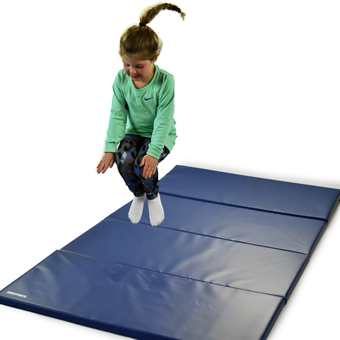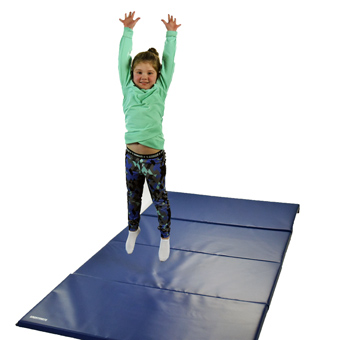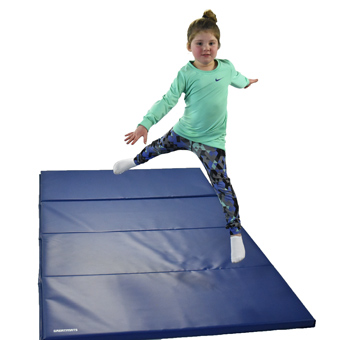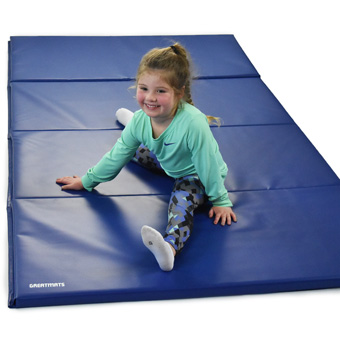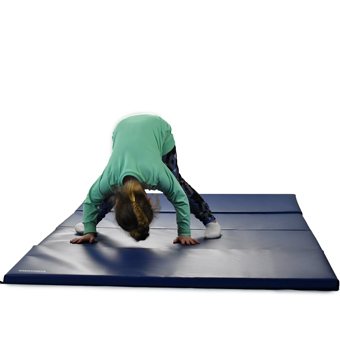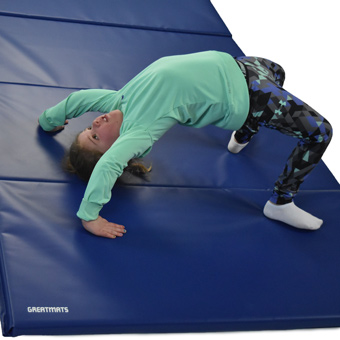 When it comes to buying mats for gymnastics, you'll find that you have many different choices to make. You'll need to decide on the style of mat that's right for your use, as well as the appropriate mat size and thickness.
Thick gymnastics mats
are highly useful in helping to prevent injuries, but these thicker mat options aren't suitable for all gymnastics activities. In short, it's important to choose the mat that's right for how you plan to use it.
Here are a few considerations when choosing the appropriate thickness of a gymnastics mat.
The Purpose of Gymnastic Mats
Gym mats are designed to provide valuable shock absorption to keep gymnasts healthier and safer. Various mats serve different purposes, from creating a forgiving surface to absorb the impact of cartwheels and flips, to thicker gymnastics matting options that offer the extreme shock absorption needed after a dismount from the balance beam or the uneven bars.
Gym mats help to reduce the shock and impact that a gymnast's body must sustain. Quality mats can help to keep gymnasts more comfortable, while also creating a surface that has the right amount of firmness so that gymnasts can perform to the best of their ability. These mats can help to reduce the chance of a significant injury by creating an ideal landing surface.
It's important to realize that even the best gym mats can't always prevent injuries. When you're doing gymnastics, injuries are always possible. But with the right mats, the chance of injury is reduced.
How Do You Plan to Use the Mat?
You'll need to buy mats made specifically for the activities that you'll be doing. Different activities, like tumbling or dismounting from the uneven bars, will mean different amounts of impact on a gymnast's body. Because of this, you'll need gym mats of various thicknesses throughout your gym.
You'll also want to think about the heights that your gymnasts will be using equipment from. If you're teaching young gymnasts, they won't be up on high equipment like more advanced students will be. This means that thinner mats can offer them the shock absorption that they need. However, if your program serves many different skill levels, then you'll need thicker mats especially around higher equipment.
Greatmats offers a variety of mats suitable for many different uses, and they're all available in different thicknesses.
Folding Gym Mats
Perhaps the most versatile mats in any program, folding gym mats can serve as an ideal surface for tumbling runs and practices. They can be partially or fully folded up to offer skill building assistance, and can even be mounted on walls to protect athletes in case of a collision.
Our folding gym mats are available in a variety of colors, sizes, and thicknesses. We offer some custom-made mats so that you can choose your colors and sizes, but if you need a mat in a hurry, we also have a number of choices in stock in our warehouse, ready to ship out. All of our folding mats are equipped with a durable foam core and a 6P compliant vinyl cover. They're made right here in the USA, and are suitable for both home and school use.
Choose from thicknesses of 1.5, 2, and 2.5 inches. The 2.5-inch-thick mats offer the most shock absorption, but the thinner mats are still suitable for lower-impact programs and activities. All of our folding gym mats help to absorb shock, but they're also firm enough so that athletes don't sink down into them and can still get the traction they need for tumbling.
Competition Landing Mats
While our folding gymnastics mats are versatile, they don't offer the shock absorption that you need for higher-impact or higher-risk activities, like the balance beam or vault. That's where our competition landing mats come in. These mats are available in thicknesses of 4.7 and 7.9 inches, and offer superior shock absorption. These mats offer a mid-range cushion, and combine both shock absorption and footing.
Our competition landing mats have a crosslinked layer of polyethylene foam, which is then laminated to a bottom layer of custom formulated polyurethane foam. This combination ensures maximum shock absorption while also making the mat sturdy.
Skill Cushion Mats
For skill development, we offer a line of skill cushion mats in varying thicknesses. These mats are designed to act as crash mats, giving gymnasts soft landings as they hone their skills.
- Toddler Rooms: Our thinnest skill cushion mats measure 4 inches thick and are intended for preschool and toddler rooms. Because toddlers and young gymnasts won't be performing from the heights other kids will, these thinner mats are a great option that can save you money.
- Tumbling Practice: The next step up into our 8-inch-thick cushion mats are suitable for many tumbling programs. They're versatile and are a great starter mats for gymnastics schools where gymnasts are starting to work on more complex tumbling moves.
- Thick Mats: Our 12-inch-thick skills mats are essential for gymnasts who are working on more advanced moves. These thick gymnastics mats can provide a bit of firmness to ensure a 2-foot landing in a foam pit.
- Softy Mats: For the ultimate in protection and shock absorption, our Soft Mats are available in thicknesses of 16 and 18 inches. These mats provide a soft landing for dismounts from equipment.
What Is the Mat Made Of?
Most gym mats are made of foam, but foams aren't all of the same quality. Look for a mat constructed of quality polyethylene foam, such as our folding gym mats. This foam offers superior shock absorption, especially when compared to some of the cheaper foam alternatives out there. When you're working with a quality gym mat, a thinner mat can give you the same shock absorption that a thicker mat made of sub-par materials would offer.
The Importance of Choosing the Right Mats for Gymnastics
When you're purchasing gymnastics pads and mats, it's so important to buy a mat that's the right thickness and design for the job. Mats for gymnastics are available in many different designs, with each type of mat being intended for a particular exercise. You wouldn't want to use the same mat for both tumbling and as a crash pad, since they're designed differently and offer specific features for their particular jobs.
If you buy a mat that doesn't offer the shock absorption, cushion, or resistance that you need, your gymnasts won't be able to perform to the best of their ability and will be at risk of serious injury. While no gym mats can completely ensure that a gymnast won't be injured, gym mats that are appropriate for the skill you're practicing can significantly reduce that risk. Never use a mat that's too thin or too thick for the skill just because it's easier or convenient. It's not worth the risk of injury.
A Note About Cheap Gym Mats
Just because a mat is the right thickness for your needs doesn't mean that it's also the right mat for you. Many retailers offer cheap gym mats that seem like a great deal - until you learn a little more about them. The foam in these mats is often of a lower quality, meaning it won't offer the same shock absorption that you'll see in a higher quality mat. Because these cheap gym mats are made with lower quality materials, they don't hold up as well, and may begin to break down or fall apart far sooner than you would expect.
At Greatmats, we're committed to providing you with quality gym mats. We've carefully selected the mats that we offer, and here you'll find top-quality mats that are used in elite training and competition all over the country. Our mats are available at a variety of price points, with some more affordable options suitable for home use, and some top-quality mats that are designed specifically for professional facilities.
Cheap tumbling mats and cheap gym mats aren't worth the safety risk that they pose. At Greatmats, we offer a variety of quality mats available at affordable prices.
If you have any questions about which mats you need, please call our customer service team. We would be happy to help you determine which thin or thick gymnastics mats your athletes need, and can help you to choose the product that's just right for your program.