Incline Wedge Folding 28 x 72 x 16 Inches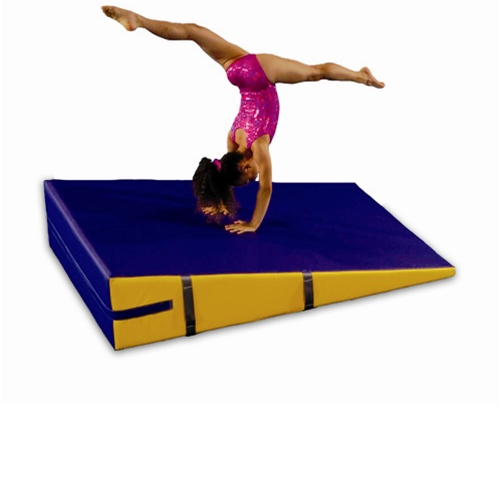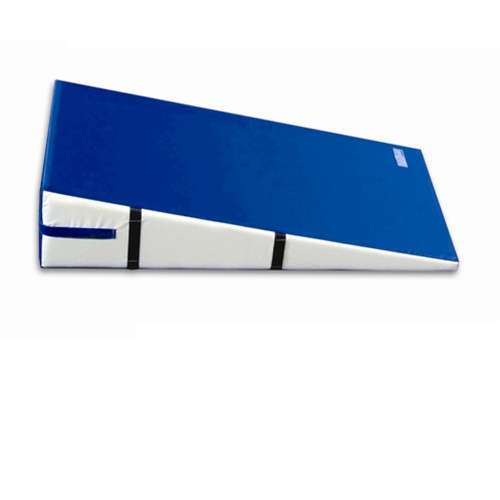 Versatile progressive skill builders
Order in one or two colors
Other sizes available
Ships Out: Estimate 2-4 Weeks on Average

Black

Forest Green

Kelly Green

Lime Green

Maroon

Gray

Navy Blue

Orange

Pink

Purple

Red

Royal Blue

Sky Blue

Tan

White

Yellow
VIDEOS
TOP FEATURES
Versatile progressive skill builders
Order in one or two colors
Other sizes available
Use Types
Gymnastic Training, Skill Building Tool, Incline Wedge Mats
NOTE: This item is a custom order and is not returnable.
Incline Wedge Folding 28 x 72 x 16 Inches are the most functional and versatile progressive skill builders for your gymnastics or cheer program. Used as a training tool for all skill levels, they can be found in 'Mommy and Me classes and recreation centers across the country. They are also used by elite athletes training for international competitions.
For a versatile gymnastics mat that helps with skill building, count on the gymnastics incline mat from Greatmats. With a slight incline, beginners are able to work on skills like walkovers with the help of gravity and the angle of the mat.


The high-quality design and materials ensure a long-lasting piece of gym equipment that protects athletes in case of falls. This wedge mat is foldable for storage as well.


Size and Shape Options

This gymnastics incline mat is a medium size, measuring 72 inches in length, 28 inches in width, and 16 inches in height at the tallest end. The pad's angle then creates a downhill slope that finishes almost even with the ground.

For those who need a large gymnastics incline mat, we offer multiple other sizes. We have mats measuring up to 144 inches in length, up to 72 inches in width, and up to 22 inches in height on the tall end.

When viewed from the side, this mat looks like a wedge of cheese, which is why some people refer to it as a cheese mat.

As a folding mat, the short end of the wedge folds into the tall end, creating a box shape that's perfect for storage. Instructors also can fold this versatile pad for use as a box mat for landings after dismounting from gymnastics equipment.
Material Options
Our gymnastics incline mat consists of durable materials. We obtain these mats from a manufacturer in the United States, which means our customers can trust the quality of the materials and the manufacturing process.
Each mat has a vinyl covering with a segment of foam inside. The vinyl gives the foam extra stability and helps the cheese mat maintain its desired shape. It also protects the foam from punctures. The vinyl is 6P compliant for phthalates and lead-free, while meeting California Proposition 65 requirements.
The foam is ideal for impact sports and workouts. When the gymnast lands on the foam, it compresses quickly to absorb the energy of the impact. It then returns to its original shape quickly, too, ensuring stability.
This is the best option for providing protection against falls for gymnasts or cheerleaders as they do their conditioning and skill-building exercise sessions.
Pattern and Texture Options
The vinyl on the gymnastics incline mat provides a bit of traction for the athletes using it without the need to add a textured pattern to the surface of the mat. This traction is helpful for avoiding slips while working on particular skills.
We offer the vinyl in the mat in a variety of colors. Some mats make use of two colors, while others can have a single color throughout all the vinyl. Because the vinyl completely covers the foam on all sides, the color is an important consideration, as only the vinyl is visible.
Select one color for the main body of the mat and select another color (or the same color) for the edges of the mat. Colors available in our gymnastics incline mat include:
Black

Navy blue

Royal blue

Sky blue

Gray

Forest green

Kelly green

Lime green

Maroon

Orange

Pink

Purple

Red

Tan

White

Yellow
We also offer custom colors that customers can order, if desired.
Common Use Options
Our gymnastics incline mat is available for use at home or at a gymnastics or cheerleading studio. However, children should not use the mat on their own for practicing skill building without the proper supervision.
These ramped mats are an ideal selection for gymnastics studios offering classes for extremely young children, such as Mommy and Me classes. The younger athletes can use the incline to simplify the process of learning somersaults and walkovers.
For older gymnasts seeking to learn advanced skills, this mat can help with uphill vaulting, transition training on bars, basic floor tumbling, and more. With the larger-sized mats, consider folding them for use as spotting tables or mini-pits.
Installation Options
Our mats do not need any specialized installation processes. Just carry or drag the mat to the desired location, and it is ready for use.
The vinyl cover has enough tackiness to hold it in place without the need for vinyl tape or adhesive.
After finishing a particular skill practice session, instructors can move the mat to a new location for another session. After finishing all practice sessions, fold the mat to create an easy-to-handle box shape and place it in storage.
Cleaning and Maintenance Requirements
To clean these vinyl-covered ramp mats, just wipe them with a clean rag to remove dust. Customers can use a damp rag or a rag with a little bit of disinfectant on it to remove sweat or other types of grime.
Should the vinyl suffer a tear or a puncture, we offer vinyl repair kits that can help. The vinyl repair kit is easy to use as a DIY job to restore the mat.
Do not place these mats outdoors. The vinyl does not have UV treatment, so it will not stand up to constant sunlight. The mats do not offer waterproof capabilities, either.
Shipping
Ships via ground service or freight delivery.
Please review our shipping disclaimer.
SPECIFICATIONS
| | |
| --- | --- |
| SKU# | GM2872-Incline-Fold |
| In Stock | Yes |
| Product Type | Mat |
| Material Type | Vinyl covered Foam |
| Product Edging | Straight |
| Width | 2.33 feet |
| Length | 6.00 feet |
| SF per Item | 14.00 |
| Weight | 25.00 lbs |
| Packaging | Bags |
| Number of Pieces per Package Type | 1 |
| Non Absorbent | No |
| Special Adhesives | No |
| Interlock Loss | 0.00 feet |
| Interlocking Connections | No |
| Made In | USA |
| Surface Finish | Smooth flat |
| Surface Design | Solid color |
| Installation Method | Layout flat |
| UV Treated | No |
| Reversible | No |
| Border Strips Included | No |
| Manufacturer Warranty | 1 Year Limited |
HOW TO'S
RELATED PRODUCTS