Home Dog Training Flooring - Steve Powell - Wheeler, WI
By Brett Hart Created: August, 2017 - Modified: November, 2022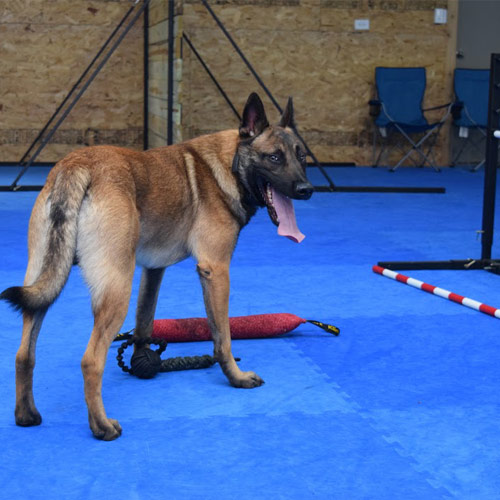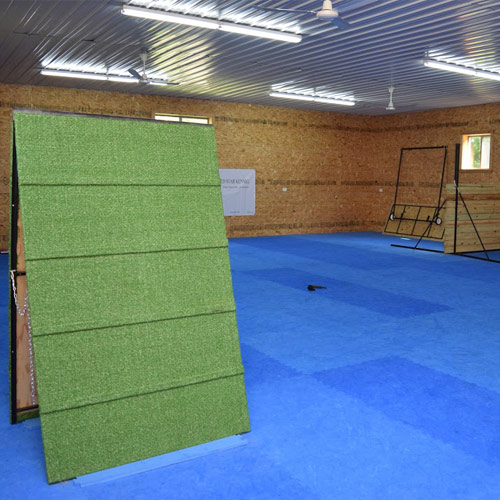 What's in a man cave? For Wheeler, Wisconsin, resident Steve Powell, it's an indoor area with a padded floor where he can train his sport dogs. ''Everybody's got a yard,'' Steve said. ''I thought it would be cool to have somewhere we could come out to (train in a consistent environment).''
Pursuing his vision, Powell converted the back half of his pole shed into an approximately 900 square foot insulated training area, complete heat and ceiling fans. And after a lot of online research and discussions with others in the dog training business, Powell came to a Facebook page for Greatmats, a Wisconsin based specialty flooring company, where he found his
ultimate man cave accessory - interlocking foam dog agility mats
. Aside from getting recommendations from reputable trainers, what attracted Powell to the interlocking dog agility tiles was the comfort value for both him and his dogs - the cushion, the non-slip surface and the fact that the tiles are double sided and reversible.
''We do jumping. We do obedience, bite work - a little bit of everything. I needed something that the dogs could land on, and it wouldn't hurt their legs,'' Steve said, noting that his man cave wasn't just for training purposes. ''Sometimes we come out here just to play around.''
After nearly two years of using his rural private facility, Steve can't help but rave about his decision to build this place of fun and relaxation with Greatmats dog agility flooring.
''It hold up extremely well,'' Steve said, adding that he hasn't even come close to utilizing the double-sided feature yet. ''There are very little scratches on the floor. It was easy to put in. ... I am totally happy with the product, and I don't know anybody else who wouldn't be.''
Steve Powell
Home Dog Training Facility
Wheeler WI 54772