StayLock Orange Peel Floor Tile Features and Benefits Video
By Paige Cerulli Created: August, 2017 - Modified: April, 2021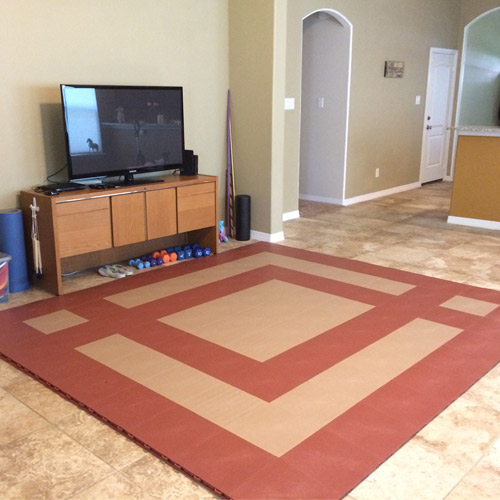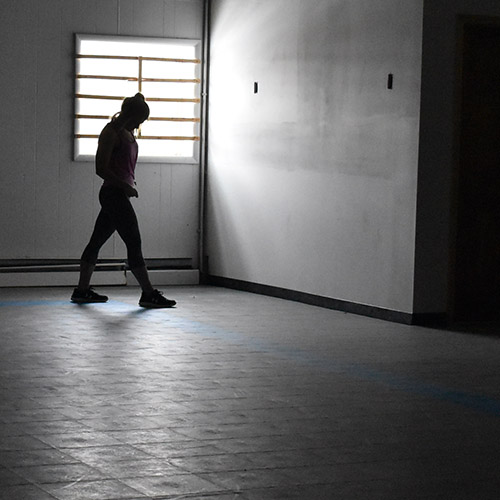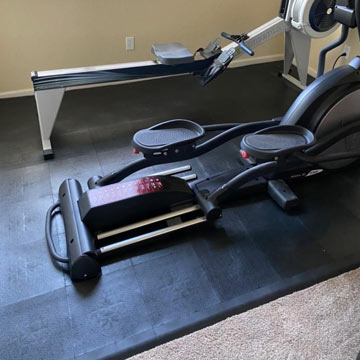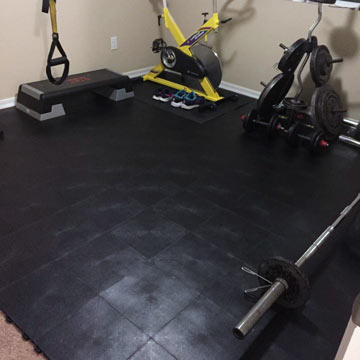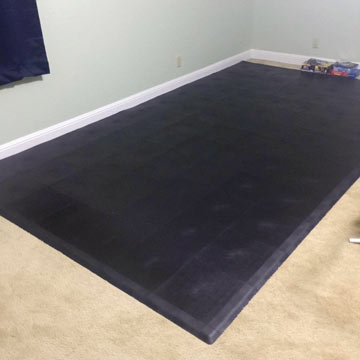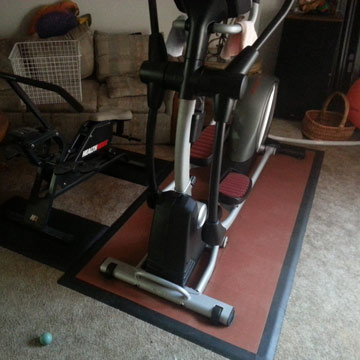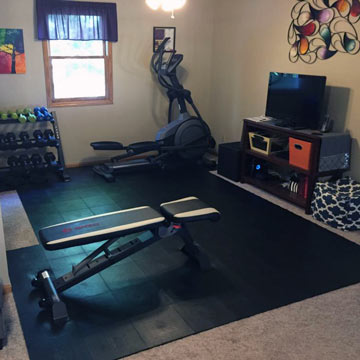 Staylock Orange Peel Floor Tiles are a versatile option for use in home gyms, as aerobic room flooring, and more. These cushioned tiles are made of a flexible PVC for maximum comfort, and they offer an easy installation that makes them an appealing option for residential and commercial use.
Choosing Quality Aerobic Room Flooring
If you're looking for a quality aerobic room flooring, the Staylock Orange Peel Floor Tiles are an excellent choice. These tiles feature an American Society for Testing and Materials fall height rating of 20 inches, helping to maximize athlete safety in the chance that a fall does occur. A slightly textured layer provides just enough traction, especially if you're using the tiles in an area that's prone to moisture, like in a basement.
There are plenty of other reasons to choose these tiles. They have an upscale look and are made right here in the USA with recycled content. They offer a foam-like cushion for maximum fatigue benefits, helping to keep you and others comfortable during long days on your feet. The tiles are also waterproof and resistant to oils and acids, making them ideal for basements and other areas where other types of flooring would be damaged.
One of the major benefits of these tiles is that they provide such great cushion without sacrificing durability. Their durability is similar to what you would see with a rubber flooring product, but you still get the forgiving cushion, too. These tiles offer you the best of both worlds, simulating a foam and rubber tile for a truly unique performance ideal for aerobic room flooring. Their shock absorbing properties are particularly helpful for high-intensity workouts that involve repeated exercises and lots of jumping.
They're even available in multiple colors, including black, brown, green, and grey. You can easily create patterns or designs by choosing tiles of multiple colors.
Cleaning the tiles is easy. You can use vinegar and baking soda with hot water as needed for cleaning.
When the tiles do reach the end of their life cycle, they're completely recyclable. If you're considering them for a commercial installation, they can contribute LEED points to your construction project.
Uses for Staylock Orange Peel Floor Tiles
Staylock Orange Peel Floor Tiles make a great aerobic room flooring. They can be used in home gyms, basements, to create an ergonomic or fatigue floor, and as cushion tiles to add comfort and safety to a room. They're suitable for both residential and commercial installations, thanks to their durability.
While these tiles are ideal for aerobic flooring, their ergonomic properties are beneficial in other settings, too. Consider using the tiles in factories, lab settings, or retail spaces where staff need to stand for the whole day. Increased comfort can boost staff morale and performance, and these tiles can also contribute to important staff safety.
Installing Staylock Orange Peel Floor Tiles
This aerobic room flooring can be installed on any hard, flat surface, including over concrete and over tile. In some instances, you can install the tile over carpet, as long as the carpet has a low pile and creates a firm enough surface. The tiles have an active locking design that create a secure closure that won't shift while they are in use.
There are no adhesives needed, and you can push the interlocking tabs together as you install each tile. These modular tiles are raised and waterproof, so both air and water can flow beneath them as needed.
You can install these tiles in wall-to-wall or in island installations. When performing a wall-to-wall installation, you can cut the tiles as needed. Use a sharp utility knife and a straight edge to guide your cuts, and make shallow, repeated scores to gradually work your way through the tiles.
If you're performing an island installation, you may want to use border edge pieces to create a clean, finished edge. These border pieces create a smooth transition onto and off of the tile surface.
If you should need to remove the flooring in the future, you can pull up the tiles and separate them again. It's easy to separate and store the tiles, reinstalling them in the future.
Because there's no adhesive required for the installation, if a tile becomes worn or damaged, you can replace that one tile. This can save significant money and time over the cost of replacing an entire floor, and it ensures that your flooring stays functional and aesthetically pleasing.
What types of gyms are these tiles suitable for?
You can use Staylock Orange Peel Floor Tiles in many different home and commercial gyms. They're ideal for cardio, aerobics, and other workouts that require repeated or high-intensity exercises.
How long do these tiles last?
These tiles are highly durable, combining a cushioned feel with significant strength. They have an expected lifespan of 20 years or more, so your investment will be a long-lasting one.