Best Coin Top Garage Floor Tiles - Features and Benefits
By Kyle Schurman Created: June, 2017 - Modified: June, 2021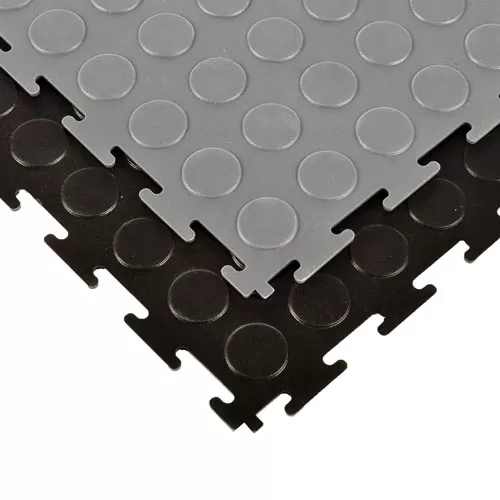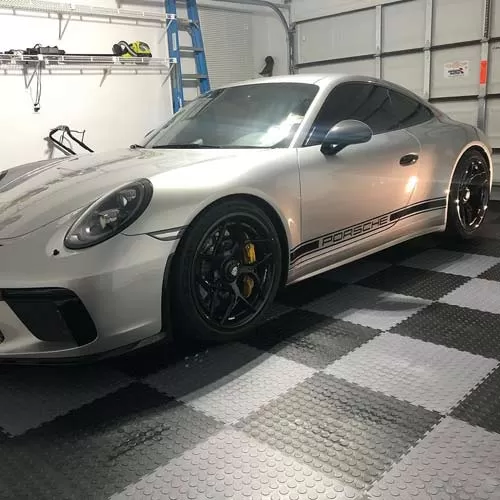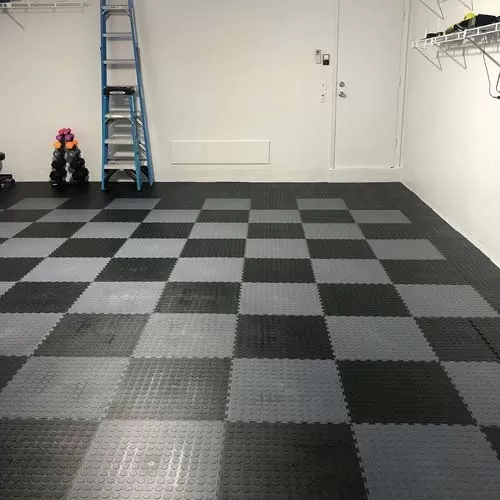 When creating a sharp-looking flooring over the concrete in a garage, making use of a raised coin textured garage floor surface is a smart idea.
A
coin style garage floor
will be extremely durable to support the weight of vehicles, while also having a high-quality look.
Installers have the option of using gray and black colors of the same model of flooring, allowing for a checkerboard pattern. When sticking with one model of tile, the interlocking edges all should fit together, regardless of the color in use.
What Are the Advantages of Garage Floor Tiles?
These tiles have a number of advantages, including the following.
Improved traction. Whether selecting a coin top surface in the raised garage floor or a diamond pattern surface, these models deliver excellent traction in wet conditions. When the vehicle drips rain or snow in the garage, the raised surface reduces the chance of slips.



Waterproof design. These flexible plastic tiles will even stand up to a flood of water. They do not soak up any amount of water, so just allow them to air dry. These models even have small grids on the underside that raise them ever so slightly off the cement subsurface, encouraging drying.



Gray and Black colors. This type of tile will provide a significant advantage over a rubber mat, because it creates a whole new look and design for the garage. Use of these tiles will create a complete conversion for the garage space. Professional garages and car dealers often use these tiles in a showroom setting.



Durability. These tiles consist of a PVC plastic material, which is extremely durable. They can hold several thousand pounds of load rating.



Temperature stable. Widely varying temperatures don't affect them. The construction method used for these pliable plastic tiles ensures they will not shrink or expand in any meaningful way during extreme temperature changes. They stand up to hot and cold weather easily.



Covering imperfections. If the concrete floor has cracks in it, raised garage floor products will create a level surface again - assuming there is not a significant elevation change on either side of the crack. There's no worry about seeing cracks that can collect debris. This can reduce the amount of dirt and moisture that tracks into the house too.



Reasonable cost. Expect to pay less than $4 per square foot for these interlocking tiles. This is an inexpensive way to create a safer surface in the garage that also looks great. It's cheaper than repouring a new cement floor or using a poured rubbery coating over the top.
What Makes Diamond Plate Flooring Texture Good for Garages?
Having a diamond pattern texture on the surface of garage tiles, such as with the
Garage Floor Tile Diamond
product, works well for a number of reasons.
First, the diamond pattern provides excellent traction. Each 1-by-1-foot tile has nearly 200 small diamond shapes on it. These small, raised shapes ensure that the person walking on the surface of the tile will make contact with dozens of diamond treads with each step, providing maximum traction.
Second, the manufacturer groups these diamond shapes in threes, using alternating orientations of vertical and horizontal shapes. The triple diamond pattern provides excellent traction, as a person's shoe will make contact with diamonds in different orientations with every step.
Third, the diamond texture pattern only extends a fraction of an inch over the top of the tile, meaning it won't create a stumbling hazard.
Finally, the diamonds deliver a sharp-looking pattern that will enhance the design in the garage. Versus a random pattern in the surface of the tile, these groups of three diamonds will give the entire flooring a feeling of symmetry.
The diamond plate tread isn't the only option for garage flooring when seeking to add some texture to reduce the possibility of slipping. Some people prefer a round texture that resembles coins on the surface of the tile.
How Portable Is a Raised Garage Floor?
This is one of the best selections for those seeking to build a portable flooring in the garage. Raised garage tiles are still relatively thin and lightweight. They will pop together and pull apart many times without suffering damage on the interlocking edges.
There is no need to add adhesive to the cement subfloor when making use of these tiles. Once interlocked, the layout of the tiles will stay in place nicely without sliding around.
The floors generally measure less than 3/4 inches in thickness. Some, like the
Garage Floor Tile Coin Top
, measure only 1/6 inches in thickness. This simplifies stacking the tiles for hauling to a new location.
Most of these tiles will weigh 1.5 pounds per square foot of coverage or less. A single person easily can move them into place, pressing the interlocking edges together to create the tight fit.
Greatmats has multiple tiles available to create a raised garage floor. Our models are easy to install, and they offer multiple levels of traction and colors. Contact us for help with finding just the right tile for the space.