Mark Lund - Car Show Garage Floor Tiles - Eleva, WI
By Brett Hart Created: June, 2017 - Modified: May, 2020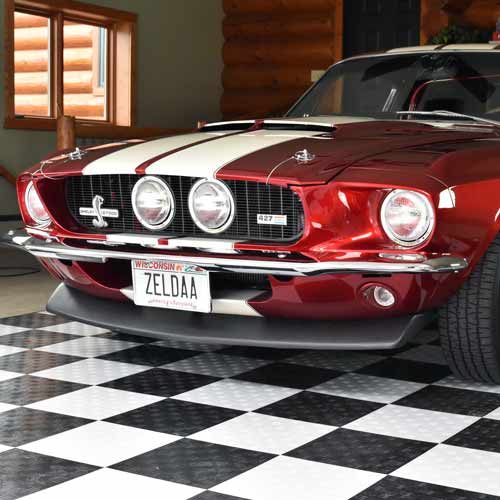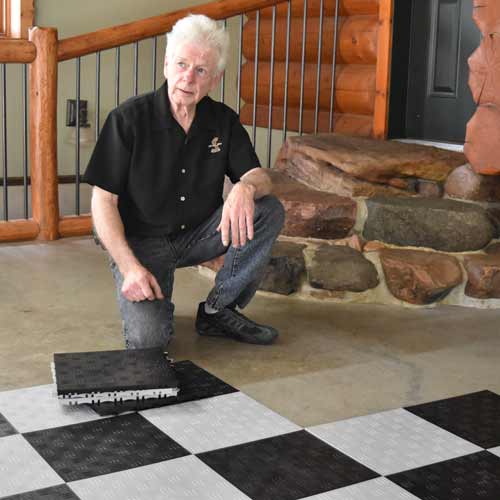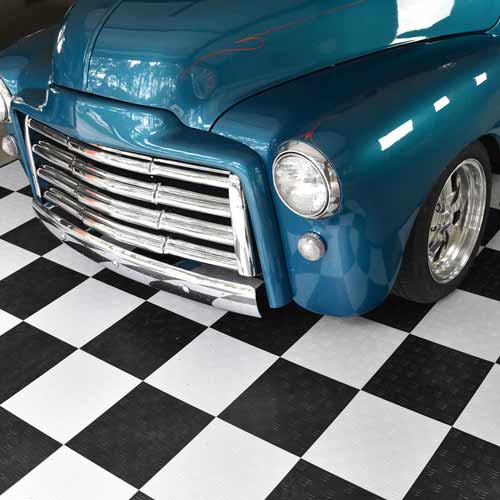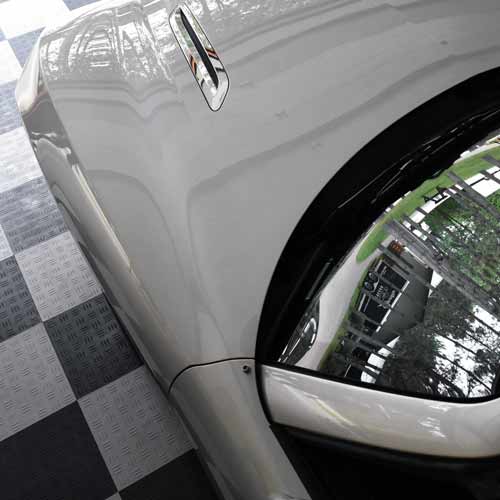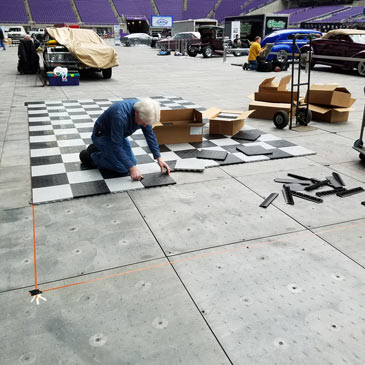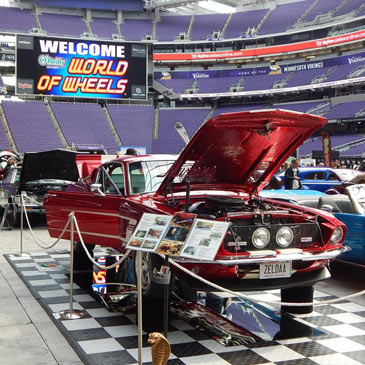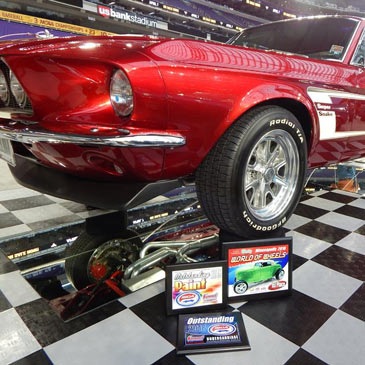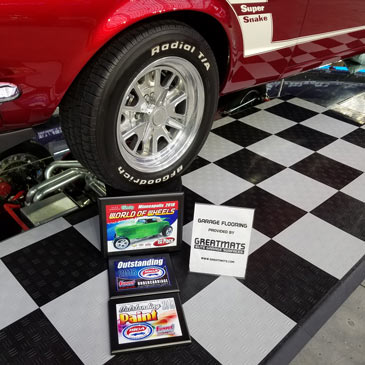 A cancer diagnosis brought a lifelong career of auto-body and collision repair work into extreme focus for 66-year-old Mark Lund of Eleva, Wisconsin.
In June of 2013 Lund was diagnosed with esophageal cancer and was forced to undergo chemo and radiation treatment as well as a surgery to remove his esophagus and part of his stomach. Providing him comfort and purpose in his time of recovery was his friend Zeldaa, the disassembled remains of a 1967 Mustang 289 Automatic Fastback he had purchased six years earlier.
Zeldaa was essentially a pile of rusted out, non-functional parts, but she ''urged'' Mark to rebuild her into the crown jewel of Mustangs. By 2016, Lund had replaced or custom built nearly every part of Zeldaa, who he had equipped with vented fenders, an exhaust through rocker panel, 4-link rear suspension and a 427 Tri-power engine.
Why Zeldaa?
''I wanted a name to differentiate my car from the famous 'Eleanor,' from the movie 'Gone in 60 Seconds'. My car may look somewhat like Eleanor, but she is a one-of-a-kind.''
Wanting his fellow car buffs to see what he had done for his baby, he decided to start showing Zeldaa at local and regional car shows. Garnering 5 best of shows in local Chippewa Valley car shows, Zeldaa began to draw a lot of attention.
So under strong suggestion by other car enthusiasts, Mark upped his game and entered five larger shows in Wisconsin, Minnesota and Michigan. Each time, Zeldaa turned heads and claimed Best of Show honors.
In addition to Best of Show, Zeldaa was also snatching up trophies for Designated Class, Best Paint and Participants' Choice.
Judges were amazed by the workmanship of the car, saying they ''have never seen a perfect 500-point car before.''
Mark and his wife, Candy, who recently retired from education, found attending the car shows a perfect getaway, and Candy decided to show another of Mark's projects alongside Zeldaa, a 1932 Ford Coupe. The '32 5-window coupe held its own at the shows as well, winning awards for Best Antique, 1st in Class, People's Choice and Best Rendition.
The couple recently traveled as far away as Sevierville, Tennessee, to enter Zeldaa in the ''2017 Ponies in the Smokies'' where she took on 280 other Mustangs and emerged with another Best of Show performance.
In addition to his vehicles, Mark has begun upping his display game as well, starting with 2017 Invitational Custom Auto Show in La Crosse, Wisc., - Zeldaa's first indoor car show.
''At indoor shows, convention center types of shows, the display is critical,'' Mark said. ''Some people have as much money into their display as they have in their car.''
Mark and Candy borrowed a worn out black and white checkered dance floor which just may have had a similar history as Zeldaa. After hours of cleaning, they got the floor in reasonable shape for use in his display and earned ''Best Display'' award in both class and show - in addition to the usual Best of Show, 1st Place in Designated Class, Best Paint in Class and Best Interior in Class awards.
Always a perfectionist, Mark was frustrated by the bulkiness and clumsiness of the dance floor, but felt he was on the right track for look. He knew he didn't want to use the carpet or linoleum rolls he had seen others use because they leave distracting dirty, rolled up or raw edges.
That's when he discovered
Greatmats Garage Floor Tiles
with a diamond patterned top. The snap together modular tiles are lightweight, fast and easy to assemble and easy to create the design he wanted in his display floor.
They also provide the professional look he wanted to accompany Zeldaa.
''I'm sure glad I found this floor,'' Mark said. ''I know what the heck to do now when I go to these indoor shows. By golly, this is going to be slick. ... I'll have the perfect floor. Easy - the wife and I can put this up this up in 5 minutes - put it away. ... This is the cat's meow.''
Family Legacy
Mark has been in the auto body and collision repair industry for 50 years, following in the footsteps of his father, who owned a machinery/truck and car sales/salvage yard. Mark has worked his entire life with painting and building vehicles, including pickups and motorcycles.
Combine those skills with an artistic mind, and Mark is the perfect weapon against ''same old, same old'' rebuilt cars.
While he hasn't kept track of just how many vehicles he's rebuilt or restored, he knows of at least 25 he's made for himself or to sell - most of which are Mustangs from the 60s and 70s. Mark estimates each a complete restoration takes him about 2,000 hours (or 2 years).
When not diving into his passion for Fords, Mark has also worked on a number of Corvettes, Camaros and Chevelles in addition to building custom Harley Davidson motorcycles which have been featured in numerous magazines.
Among his motorcycle show awards are Best in Show and 1st Place finishes in the:
- Harley Davidson 100th Anniversary Celebration,
- Chicago's World's Largest Bike Show, and
- Sturgis SD
He's also passed along the family legacy to a third generation - in his son, Andy, who runs his own custom motorcycle shop and parts business just down the road from Mark.
''I'm still waiting for inspiration to get here,'' Mark jokes as he continues to travel the country purchasing damaged vehicles for restoration.
Candy said, ''He just knows what looks good and is able to transform that with his talents of using his hands.''

Mark Lund
Self Employed
Eleva WI 54738