Massage Room Flooring and More - Soft Wood Grain Reversible Tiles
By Julia Nass Created: August, 2017 - Modified: October, 2023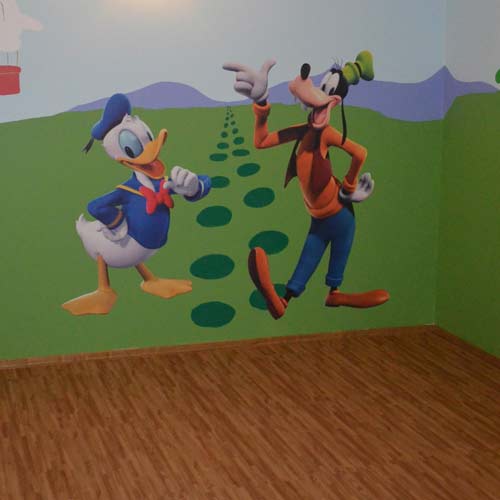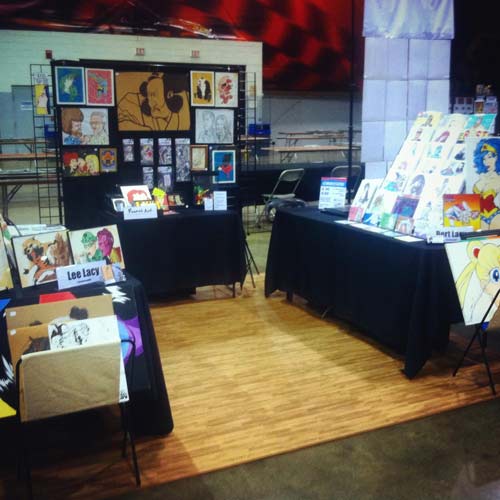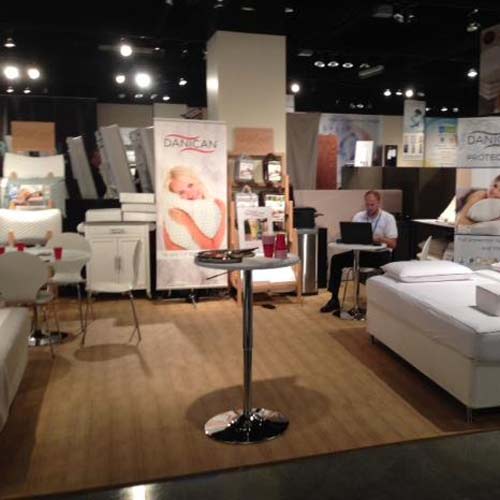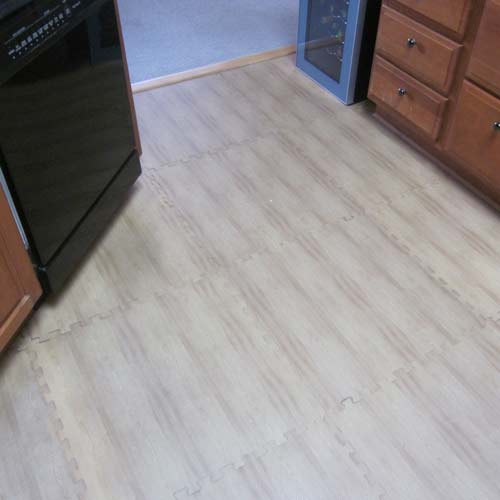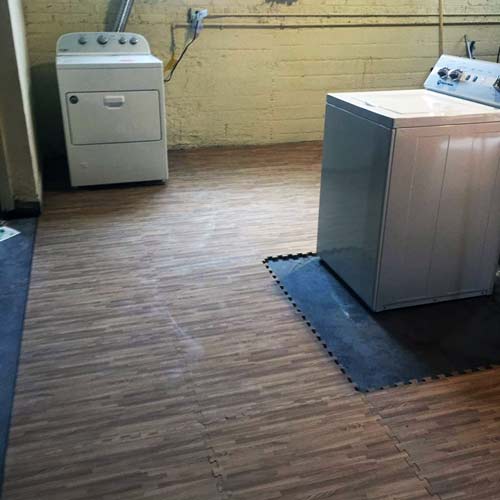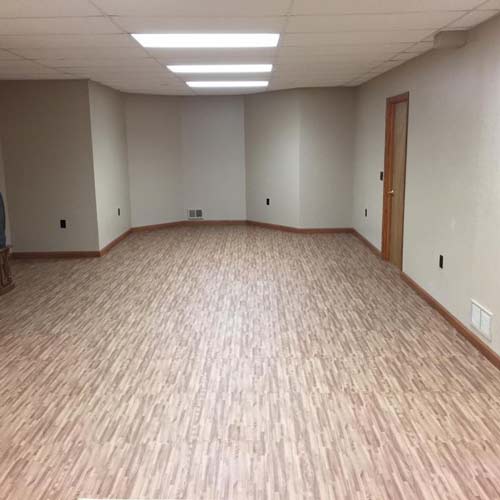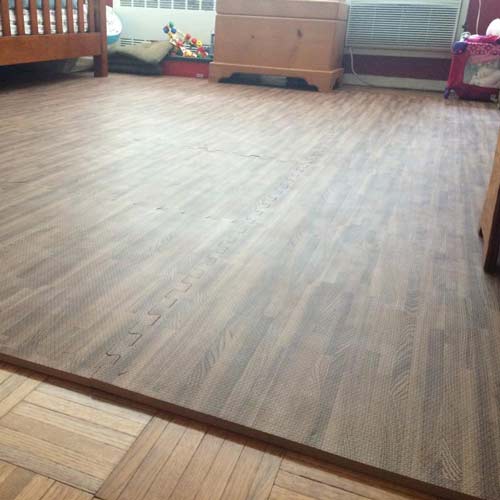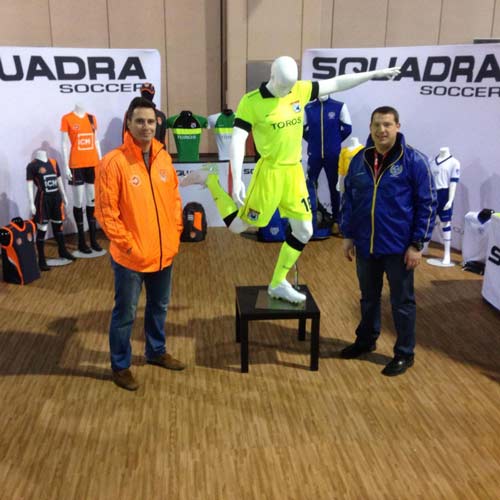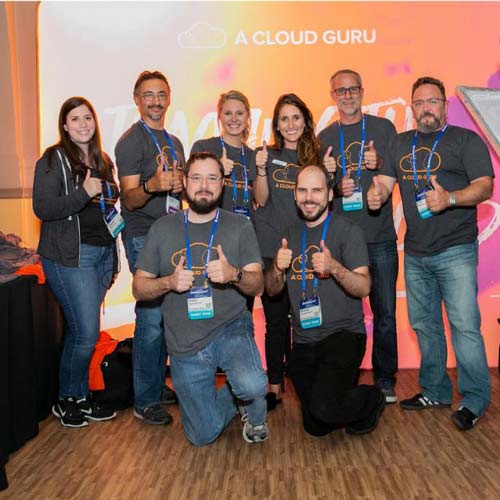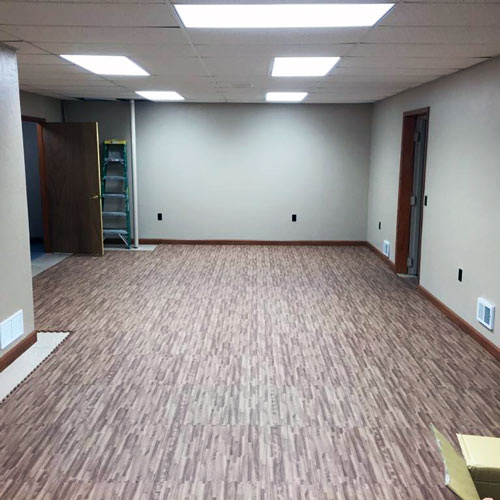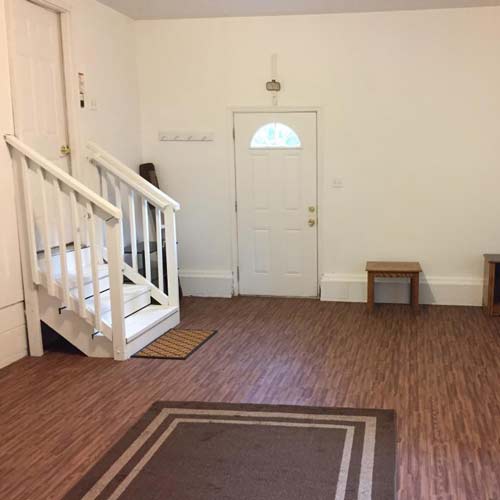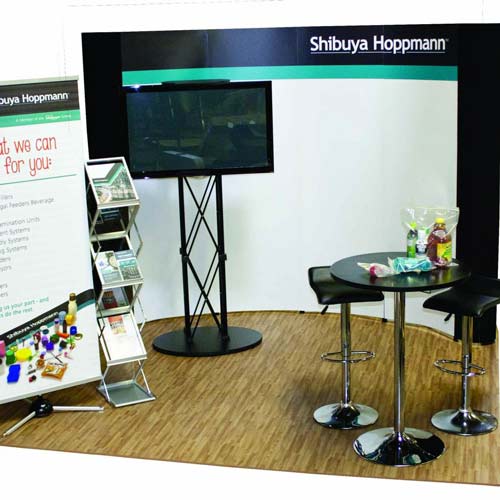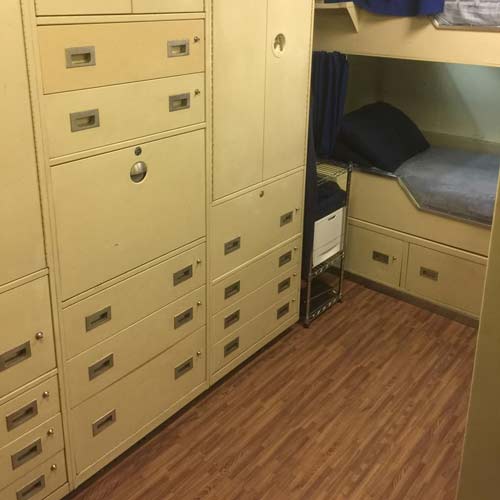 Wood Grain Reversible Foam Floor Tiles
have proven to be very popular Greatmats products for a variety of reasons. First off, these foam wood interlocking floor tiles provide the best of two worlds that are often at odds: serious cushion and classy style. It can be difficult to find products that are created equally for both comfort and design, but these foam floor tiles' half inch of high-quality foam styled with a non-slip, wood-grain surface does just that. Thus, wood-grain interlocking foam anti-fatigue flooring has been a success for customers in their bedrooms, playrooms and work spaces.
Further, customers find installing and uninstalling foam wood interlocking floor tiles to be extremely easy. Tiles connect with a universal interlocking system that intuitively comes together and will not come apart during everyday use. Because of this, wood grain reversible foam floor tiles are also great for spaces that need temporary yet good-looking flooring solutions, like trade shows. This wood-grain interlocking foam anti-fatigue flooring only weighs 1.2 pounds per tile, which makes it very easy to pack up and transport as well.
If you're curious about a specific way these foam floor tiles are used, scroll through the following list. It presents the many ways these wood interlocking floor tiles are used by customers and testimonials detailing those uses.
1. Basements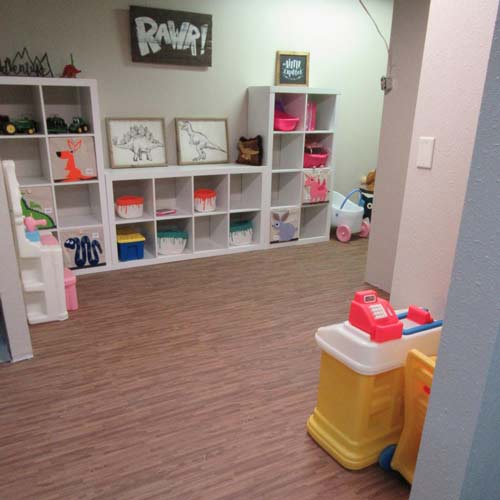 ''This product is amazing (wood Grain reversible foam floor). It was incredibly easy to install and I was able to do it quickly. I ordered this product for my basement as it is at risk of getting water on occasion. When the water issue finally did arise (due to a burned out sump pump) I was easily able to lift the mats, wipe them clean and reinstall. I also have a floor that isn't perfectly level and has minor imperfections. This floor floats over the top of those areas seamlessly. We are still in the process of finishing construction and the floor has held up great with us dragging materials (doors, trim, etc.) in and out of the basement. I recommend this floor to everyone. Its worth every penny. The dark color is what is installed in my basement.''
- Tabitha, Seneca, SD
2. Music Studios
''...awesome basement turned music studio for my son!!! So psyched!!'' - Peter, Norwalk, CT
3. Kids Play Rooms
''I love these mats! Ordered the wood floor looking mats for our boys' play area and they work perfectly!! Easy to clean with suction vacuum or broom. LOVE!!!''
- Suzanne, Farmington Hills, MI
4. Art Studios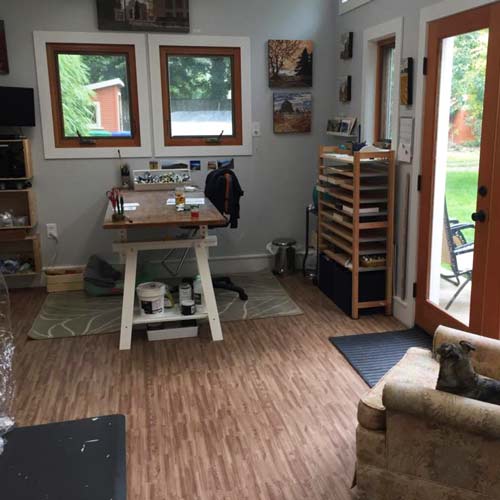 ''Great product, I have it in my studio and have loved the waterproofing on these; they clean off so easy! They are super comfortable to walk on and add some nice insulation to the room too. Really my only complaint would be the effect a lot of direct light does, bowing them slightly - but they return back to their regular flat shape when they start to cool - honestly not an issue.
Wood grain looks great too, love the medium wood color!''
- Renee, Portland, OR
5. Trade Show Booths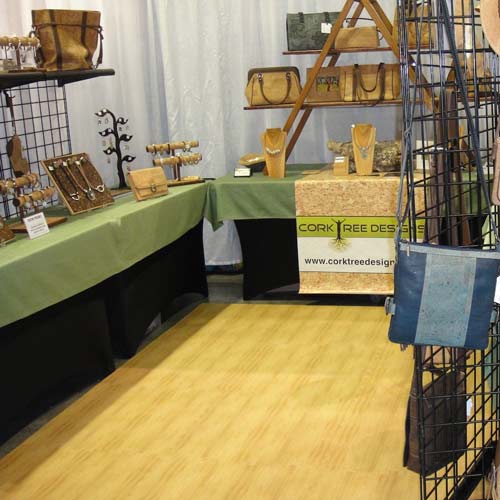 ''I wholesale cork fashion accessories at trade shows in the fashion industry. I was looking to enhance the image of my booth and make the customer experience more enjoyable with a comfortable area to stand while conducting business. I was looking for foam or rubber in a wood grain that could be easily transported and install that would accentuate my products. The solution from Greatmats was perfect.
They were very helpful when I called them and their product is perfect. So easy to install and transport. And it looks great in my booth. I have found this product to be superior to others that I have seen in use. It is more dense and will hold up better than the cheaper brands.''
- Robert, Largo, FL
6. Therapy Spaces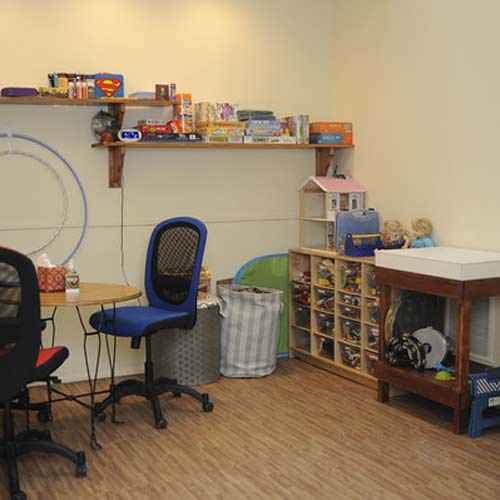 ''I cannot tell you how many people compliment the mats in my space! I am a play therapist who works with children and adolescents, and these mats are absolutely perfect for my therapy space. They are firm enough to feel secure while also have a little cushion for kids to play. Thank you for this superb product! I most certainly will be telling others about Greatmats.''
- Adam, Branford, CT
7. Exercise Rooms
''We absolutely love the product that we bought from Greatmats. The Wood Grain Reversible Foam Floor was the look that we wanted to complement the room. It provided the coverage we wanted as a durable gym floor, but also elegant to match with the floor of the adjacent room which is travertine.''
- Bryan, Sugar Land, TX
8. Daycares
''I love this product. I have a daycare in the basement of my older home. The floor is concrete and was not finished off right - just a rough finish. These mats look very nice and are easy on my feet and back. Easy to clean. I have them in the kitchen of my daycare. I'm going to put them down in the dining room soon.''
- June, Olympia, WA
9. Massage Floor Mats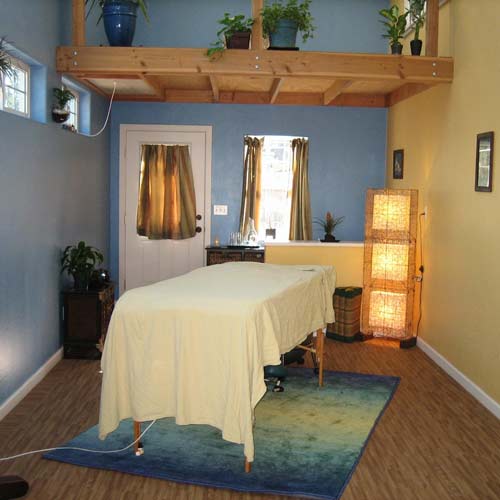 ''I think these EVA foam mats are great. This my third set and the first time I purchased from Greatmats. The quality of Greatmats seem superior to the other two sets I have experienced. Perhaps the industry has improved. I run a massage business and my past mats surface wears out in the area where people walk (the massage lotion I guess effects the surface). This batch seems sturdier and it is nice to have a flip-side option. If you are pricing around other locations, don't be fooled: there are cheaper mats that seem the same, but if you look closer, they have a white base. This means if you get any scuffs or dings in the floor, a white streak will show up. Spend a bit more and get mats where the base is closer in color to the surface texture, like these mats. Great on my body. I stand almost all day and kneel occasionally too. The only reason I don't give 5 stars is because the floor does dent where furniture sits, but this is to be expected of foam.''
- Stephanie, Ashland, OR
10. Bedrooms
''These are great! Easy to install over uneven concrete basement flooring. Turned empty rooms into bedrooms with ease! The kids love them. The wood grain does not line up from piece to piece, but you can't even tell, or at least it did not bother us at all.''
- Gary,Bellingham, WA
11. Workshops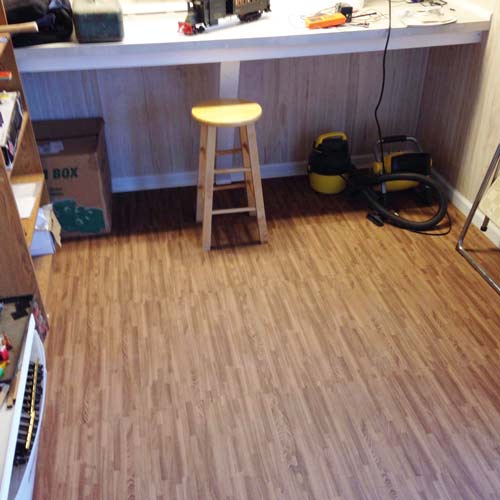 ''Exactly as advertised. Shipment was prompt. Installation was fast and easy for a novice (me). I am very pleased with the result. It is clean-looking, pleasant to walk and work on, and has a great appearance. Fairly east to trim around doorways, etc. I installed mine in my 'depot' that sits next to my garden railroad. It makes a nice floor for the area where I work on models and store equipment and supplies.''
- Roy, Great Bend, KS
For More
If you have any more curiosities about wood-grain interlocking foam anti-fatigue flooring, check out Greatmats.com. If Wood-Grain Reversible Foam Floor Tiles aren't exactly what you're looking for, you can also find a wide variety of foam floor tiles, wood-grain floor mats, wood grain interlocking tiles, and all sorts of other flooring solutions at Greatmats.