Soft Wood Foam Tiles for Kitchens, Workshops, Rec Rooms and More
By Julia Nass Created: August, 2017 - Modified: August, 2020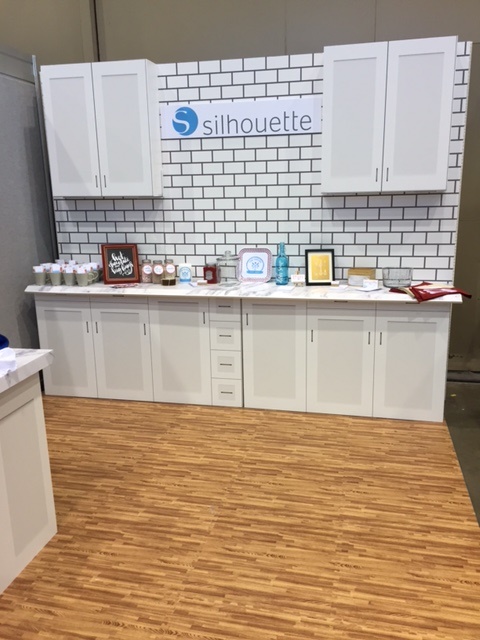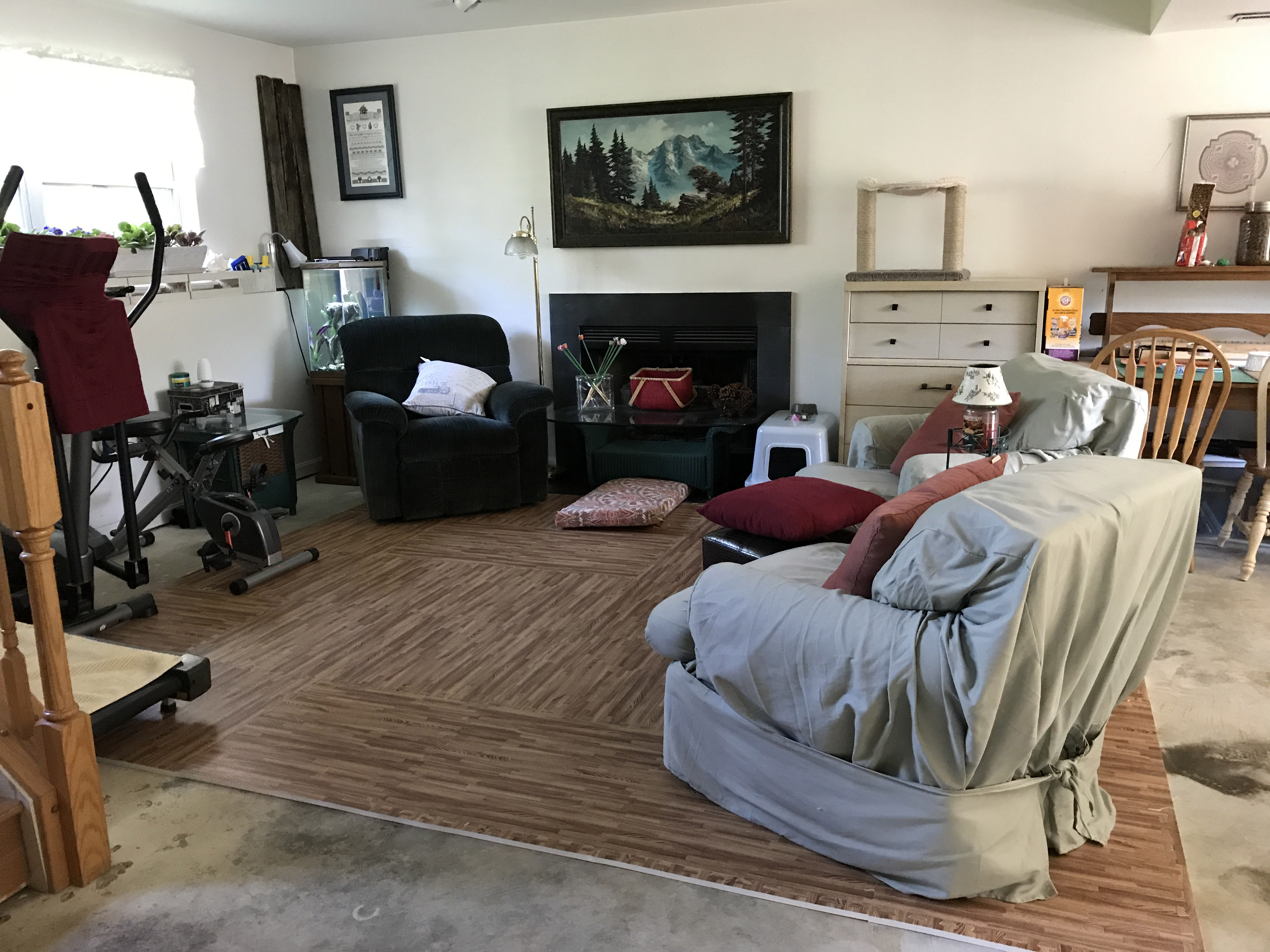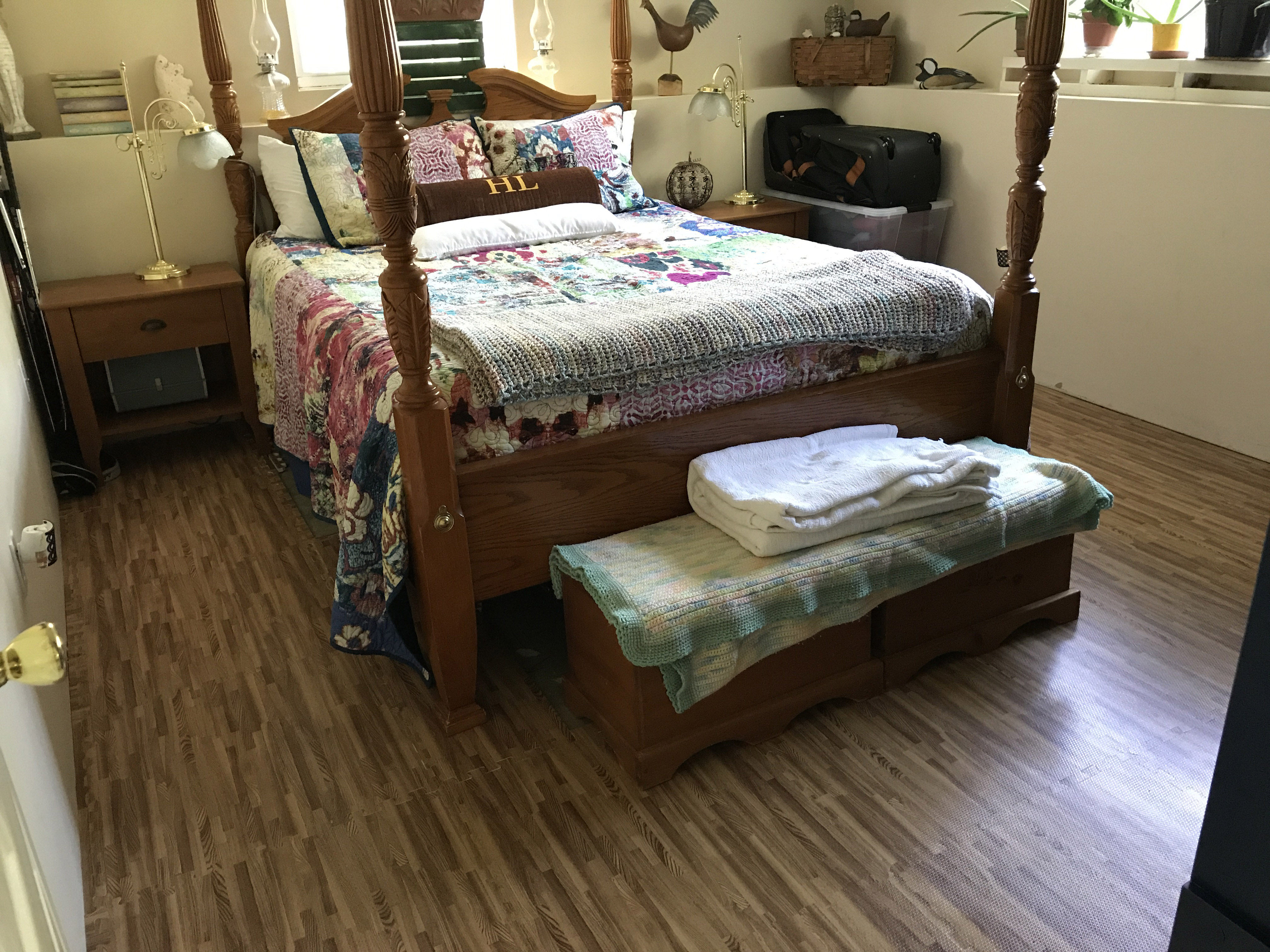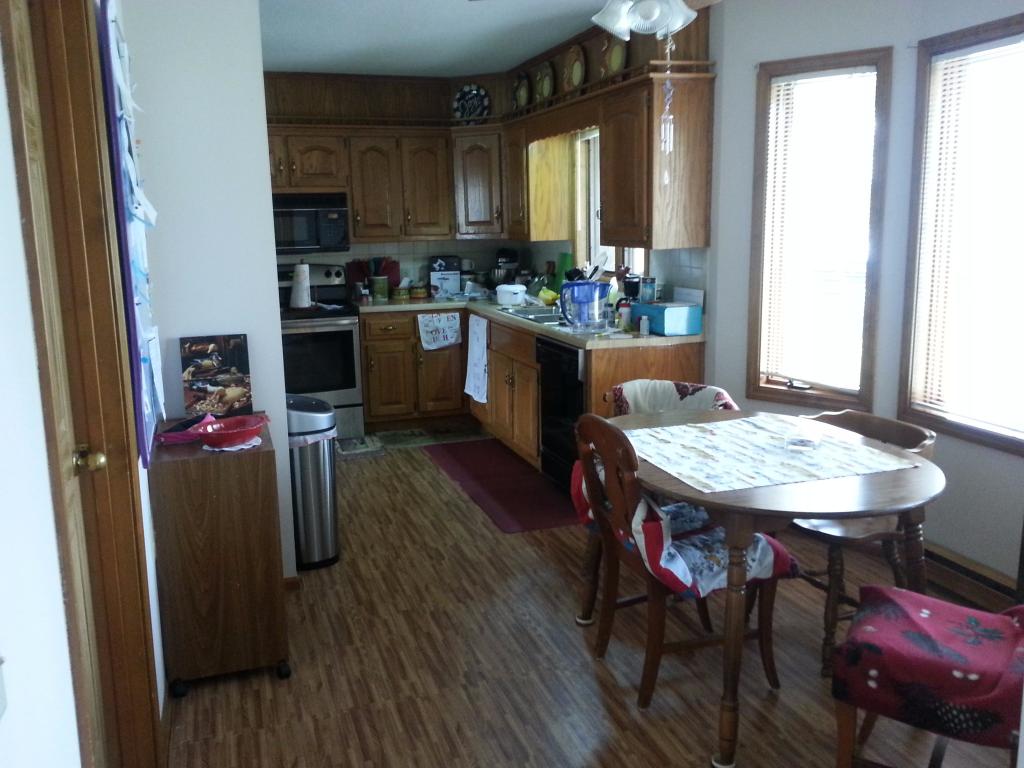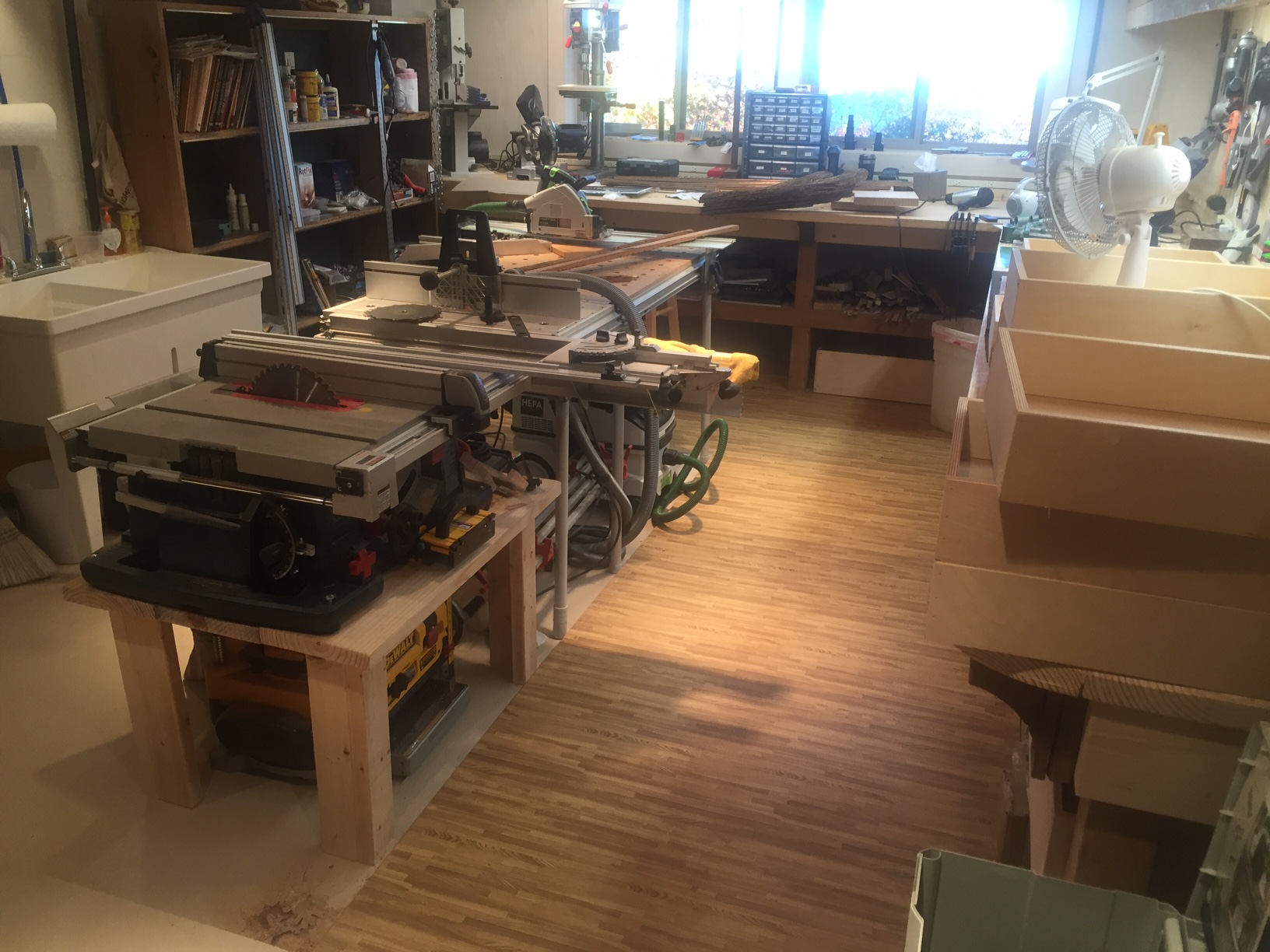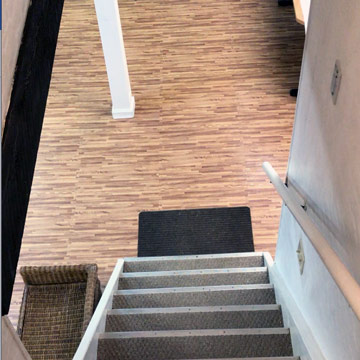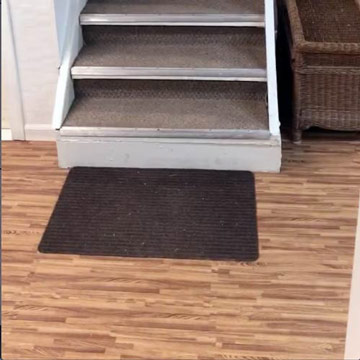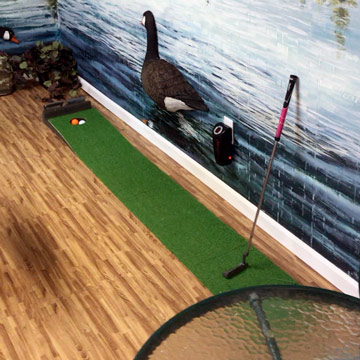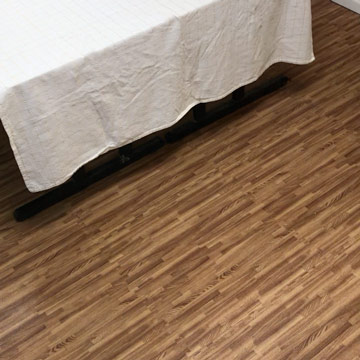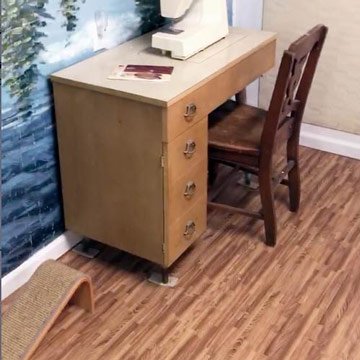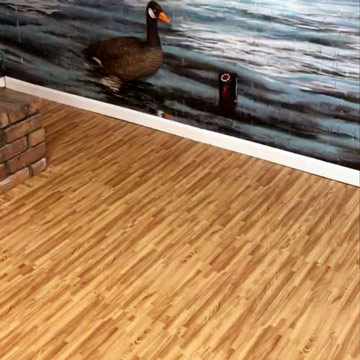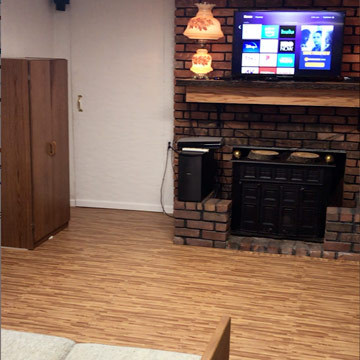 Greatmats customers have used Foam Floor Tiles Wood Grain for at least a dozen different purposes. Discover several
uses for wood foam tiles
below. Each listed use is followed by a review from a real customer detailing their (awesome) experience with wood grain foam tiles.
At a Trade Show
Customer after customer raves about the effectiveness of Foam Floor Tiles Wood Grain for trade shows. Overall, people find these wood foam tiles to save their legs, back and feet from pain after standing for days on end. Plus, tiles are super easy to put down and pack up. Each tile weighs only 1.2 pounds, so they are very easy to transport from show to show.
1. Kitchen Trade Show Booth
''We were absolutely thrilled with our flooring from Greatmats! We attended the International Home+Housewares trade show in Chicago. Our booth was made to look like a kitchen. The wood grain flooring tiles that we purchased from Greatmats were easy to install, priced just right and made our booth look amazing! Many people commented on how great the floor looked! It was very comfortable on our feet because were were standing for 4 days on it. We will definitely purchase flooring from Greatmats again for our next trade show.''
Sarah, Lehi, UT
2. Arts and Crafts Show Booths
''I use Greatmats interlocking light wood floor tiles for my craft booth. It makes it look like a high end store or an art gallery. I get so many comments and refer all inquiries to your website. I love my floor!''
Ed, Boca Raton, FL
-------------------
Work and Workout Spaces
Workshops and studios are another popular use for Foam Floor Tiles Wood Grain. Similar to trade show booths, customers find the cushion of the tiles to be particularly beneficial. At half an inch thick, the high-quality, cushioned foam softens impacts and provides both heat and sound insulation.
3. Workshops
''I love the cushioned mat in my workshop. It really helps my feet and knees as I work on projects plus it enhances the look of the room.''
Paul, Austin, TX
4. Sewing Studios
''I love my wooden foam mats!!! I have them in my sewing studio. I can stand in there all day and my feet won't hurt. Great product!!!!''
Penny, Dallas, TX
5. Home Gyms
''We used them in a home gym/basement area and a guest room. They are super easy to use and clean! The perfect and inexpensive solution to a concrete floor!''
Jill, Annapolis, MD
-------------------
Rooms for the Home
Users find wood grain foam tiles to do wonders from different rooms around the home as well. These tiles are sleek and classy looking, so they provide great aesthetics for every room, from the basement to the bathroom.
6. Basements
''Most excellent! I've had a huge number of compliments on how comfortable these mats are, yet how they enhance the appearance of my basement (where I put them). Wonderful for home gyms, basements, etc. Highly recommended!''
Charles, Medford Lakes, NJ
7. Kitchens
''Absolutely happy with the product. The shipping was 'spot on.' The mats go together super quick and my staff love them... no more backaches! I even had some left over and am using them in my kitchen. A Great Product.''
Lynne
8. Laundry Rooms
''This product is great! It took me about 2 hours to install, but only because I needed to cut five pieces in order to cover my laundry room wall to wall. I was very impresses by the overall quality and will definitely purchase from Greatmats again!''
Catherine, Kingston, RI
9. Bathrooms
''These foam tiles are a great product, perfectly suited to our use. We have installed it in the bathroom of our rural cottage where there was carpet before (for warmth). The tiles are thick, so they are so comfortable under foot. They are a little textured so there is no danger of slipping, even when wet. They are never cold or hot, always body temp. We had a leak so we just lifted the tiles, dried the floor and put them back down...''
Lori, Haliburton, ON
10. Living Rooms
''I Installed it in my living room because is just like our wood floor. I have a problem with my back and my dog has a front leg problem and the mats have been a great help. I love the product even if tears easily.''
Leyda, Miami, FL
-------------------
For the Kiddos
Parents, guardians and teachers have continually been impressed with Foam Floor Tiles Wood Grain. These wood foam tiles protect kiddos from bumps and bruises, so there's less worry and more play.
11. Clubhouses
''I really like the realistic look of the wood grain foam tiles. We set up a decent sized tent in our backyard for our son to use as a ''hideaway/clubhouse'' and these tiles act as a soft but good looking floor. ...''
Larry, Sherman Oaks, CA
12. Kid's Play Room
''Love the wood foam tiles. My toddlers have so much fun playing on them and it gives my husband & me comfort in knowing if they fall down, the foam tiles are so much softer to fall on than our wood floor.''
Jamie, Boca Raton, FL
-------------------
For More
Check out Greatmats.com to read more reviews on Foam Floor Tiles Wood Grain, or choose from a huge variety of other foam tile products. If you have your own use for wood grain foam tiles that you don't see listed here, let Greatmats know. The feedback doesn't just help Greatmats work harder to do more for you, but it helps other customers find their perfect flooring solution.