Foam Workout Tile Uses For Kids And More
By Kif Richmann Created: June, 2017 - Modified: October, 2023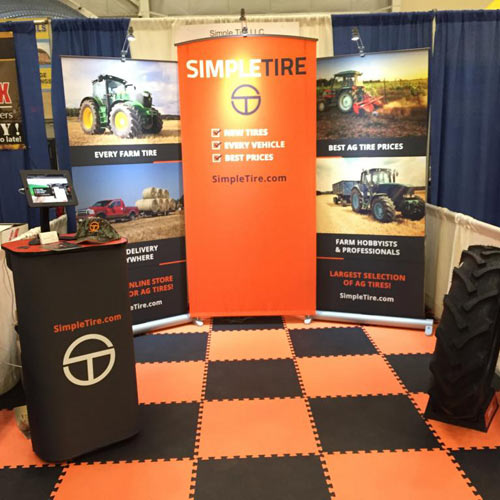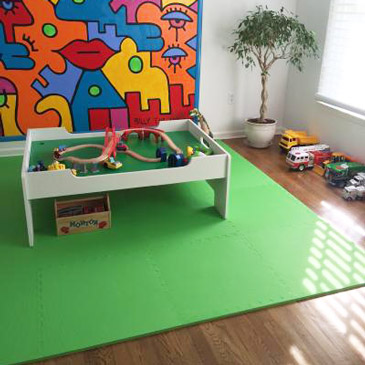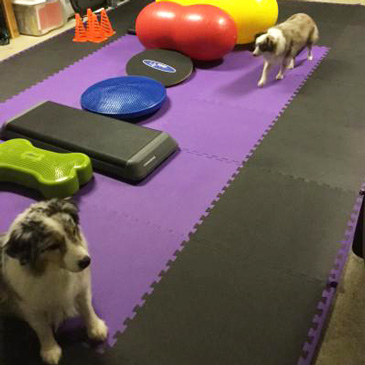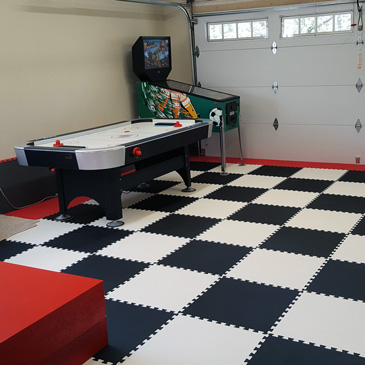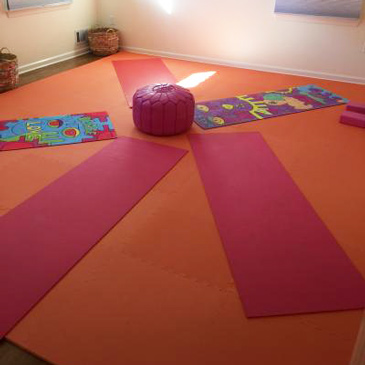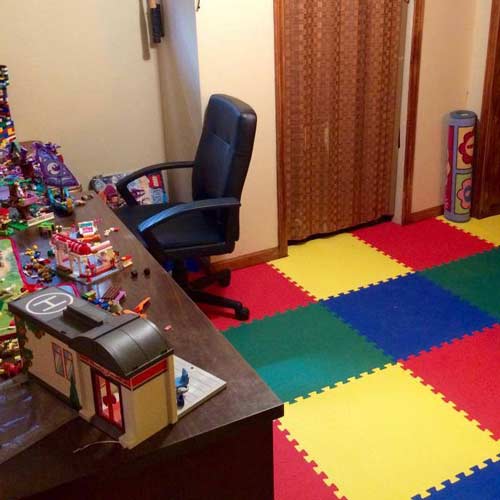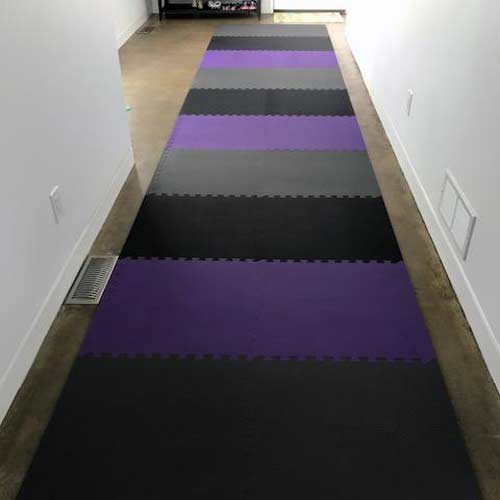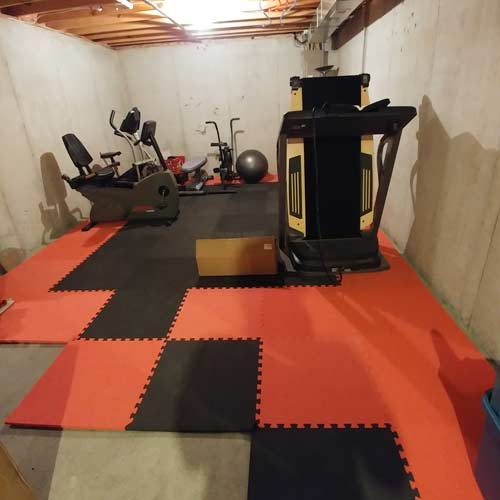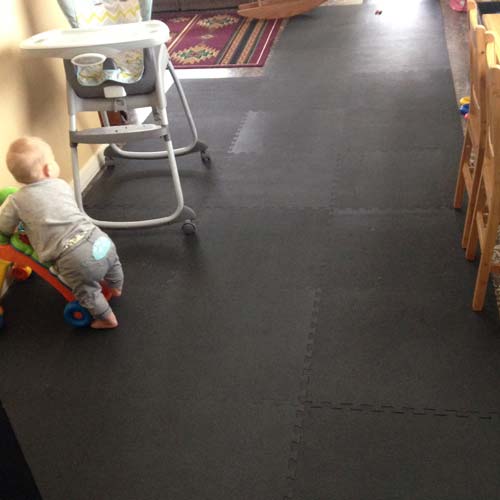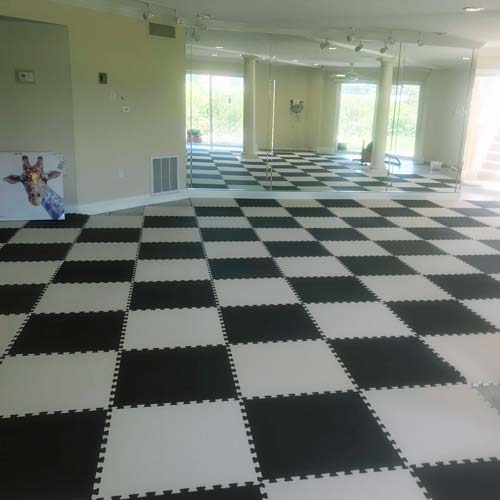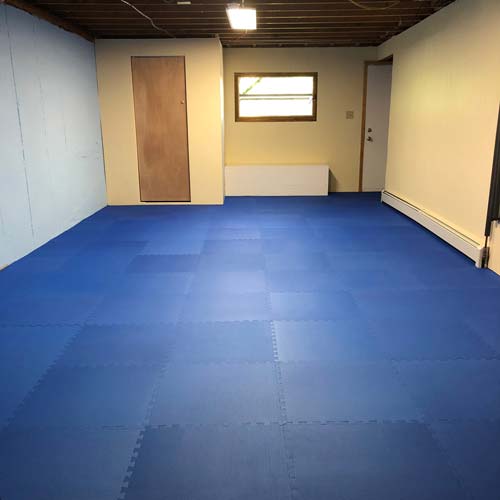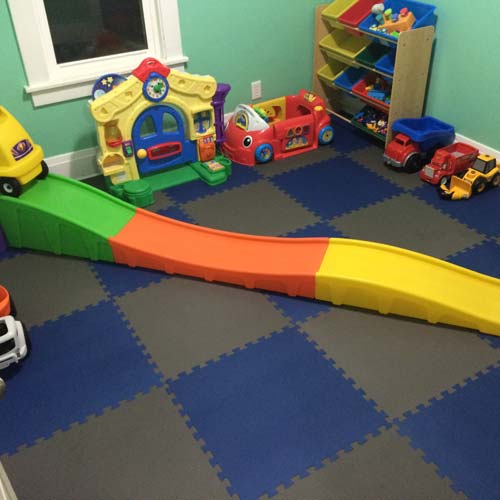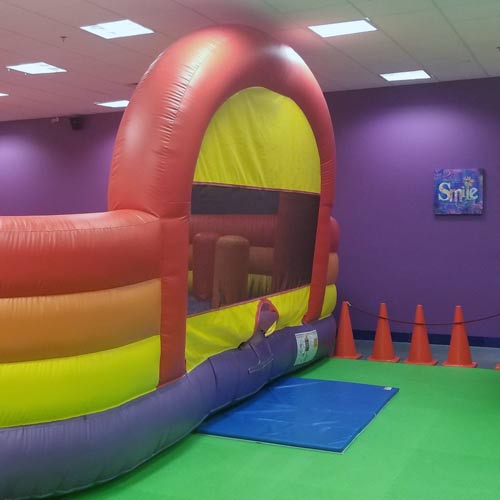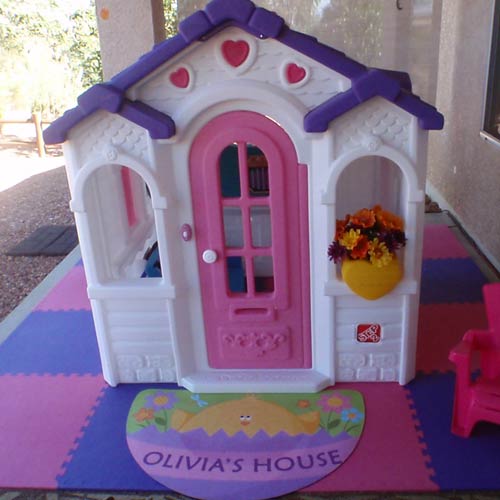 At Greatmats, we are proud to offer a vast variety of specialty surface flooring. From outdoor patio tiles to cushiony indoor workout mats, we have virtually any surface for any purpose.
While some of our tiles are specifically suited to one purpose, others are extremely versatile and can be used for a wide range of purposes.
The
Foam Floor Tiles
5/8 Premium mat is perhaps the best example of versatile interlocking floor mats. Because of their strong construction, easy-to-use connecting edges, and light profile, these mats are used all over the country for nearly limitless purposes.
We'd like to demonstrate the versatility of these mats by showing you some of their most popular uses. As you'll discover, these mats are capable of meeting many different needs...
About Foam Floor Tiles 5/8 Premium Mats
Before we dive into the many uses for our 5/8 Premium flooring, let's take the time to learn about these flooring options so you can understand why this foam mat product is so versatile and so popular.
The mats are made from 5/8-inch thick EVA foam that is soft and cushiony, giving hard floors a safer, more reliable surface. They use a puzzle-lock edge, which fits together perfectly, with no gaps in between the tiles. Although the puzzle-lock edging holds firm, placing them together and taking them apart is fast and easy; basically, if you can connect two puzzle pieces, you can assemble these interlocking foam mats.
One of the reasons that these tiles are so popular is the multiple colors that are available. We offer 12 different color options, including red, green, blue, yellow, black, and white. This full spectrum of color allows you to choose the right foam floor mats for kid's rooms, workout areas, game rooms, man caves, and more.
The Many Uses of Foam Floor Tiles 5/8 Premium
1. Soft Trade Show Booth Display Flooring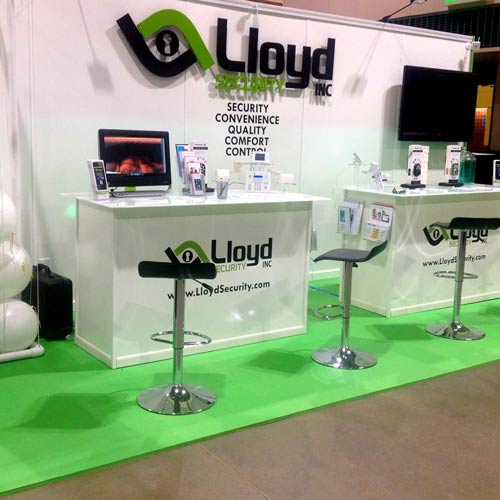 Trade shows are one of the top uses for these interlocking foam mats. Professionals who attend trade shows are always on the move, so they need a durable and reliable flooring surface that they can set up quickly and remove in a flash. When going from one location to another, it helps to have the convenience and versatility of 5/8-inch foam mats.
With so many color options, trade show managers can choose the perfect design to match their brand, and they can even choose multiple colors to create a checkered or striped design.
2. Cushioned Play Room Flooring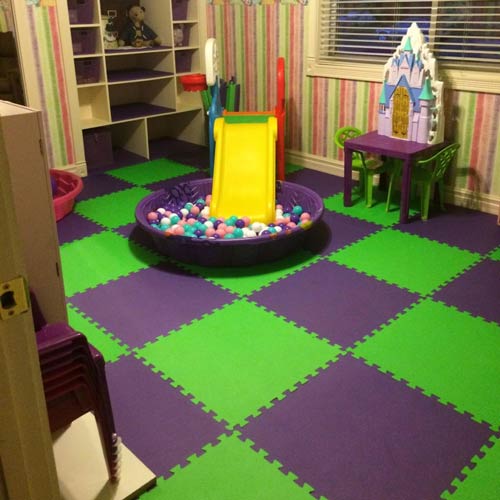 A kid's playroom is a wonderful place to learn, grow, and expand the imagination. By providing children with a separate play space, you give them an area where they can have lots of fun. It's also great for keeping the rest of the home clean, as toys generally stay in the play area. (But, as any parent knows, the toys are certain to find their way to the kitchen and living room!)
Using these foam floor mats in the kid's play room allows them to be rambunctious and playful over a surface that is much softer than concrete, tile, or hardwood. This is especially important if you are creating a play area in an unfinished basement.
3. Soft Floor Tiles for Nurseries
Flooring for a nursery generally needs two traits. First, it need to be soft, as toddlers need a cushiony space to move and practice their crawling and their first steps. Next, floor mats for kids need to be colorful, as kids are drawn to bright, cheerful colors.
This foam mat product meets both of those needs, and they can be assembled quickly. You'll have a soft area where young kids can crawl, roll and walk. When the child gets older, you can simply remove the tiles and store them away or place them in a separate area.
4. Padded Home Gym Flooring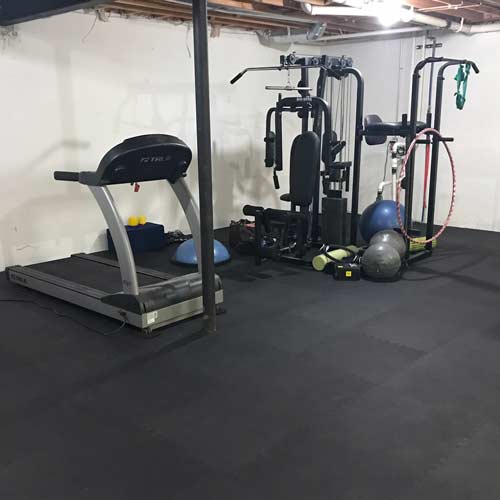 Exercise is extremely important, but all too many of us simply don't get the amount of physical activity that we need. Adding a home gym is a great way to increase your exercise, but you need a forgiving surface, as hard concrete flooring can cause wear and tear on your joints.
Using these foam floor mats in your home gym will give you a reliable surface that you can use for cardio, plyometrics, light free weights and more. You can also add the colors that matches your workout style. If you're into casual workouts, tan or white gives you a relaxed atmosphere, but if you want more intensity, you can choose, red, black, or a combination.
5. Soft Tiles Game Rooms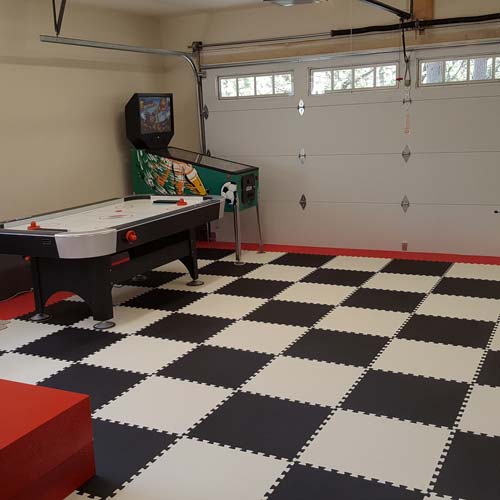 Adding a game room in your home increases the fun and enjoyment for your family and guests. You can add pinball machines, foosball tables, arcade games, and more. One of the best places for game rooms is the garage or basement, but these areas often have hard, bland concrete floors; hardly the surface you want for your exciting game room.
With colorful flooring mats, you add character and liveliness to your floors while giving the surface a softer padding.
6. Interlocking Yoga Mats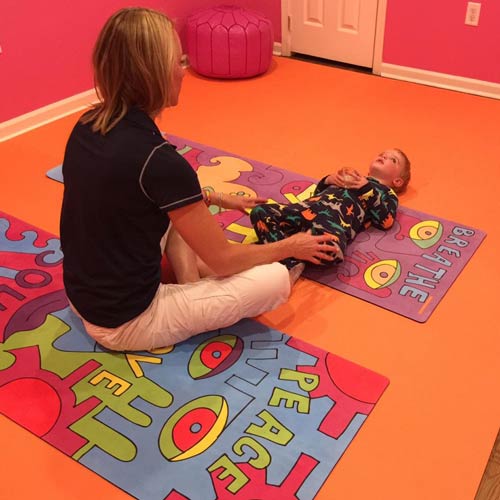 As one of the most popular exercises in the country, yoga has found its way into numerous gyms and homes. It's great for strength, balance, stress relief and flexibility. Some have even claimed it's good for circulation, concentration and wellbeing. There are certainly lots of claims surrounding the activity, but one fact is certain: millions of people love yoga!
If you want home yoga mats or an entire yoga studio, these foam flooring mats are perfect. They give you versatility, mobility and durability, allowing you to conduct all of your poses with comfort and confidence.
7. Cushioned Pet Flooring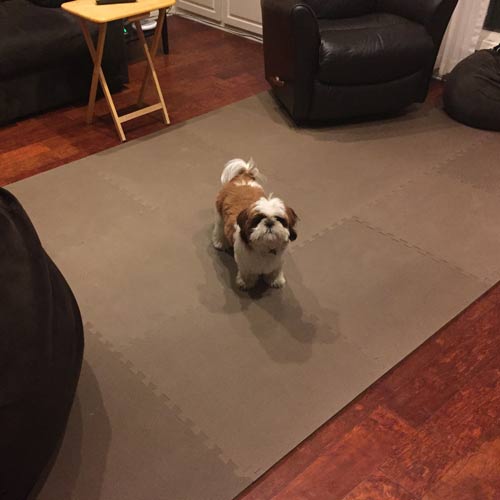 Pets need their exercise too, but sometime they can't go outside to get the running and play they need. In this case, an indoor pet area is excellent for maintaining the health and happiness of our furry friends.
Interlocking foam floor mats are a great choice for pet areas because they are durable, cushiony and non-absorbent. Because they won't absorb liquids, indoor pet accidents are easy to clean, and liquids won't drain into the mats, helping you avoid bacteria and other health hazards.
8. Foam Floor Tiles for Libraries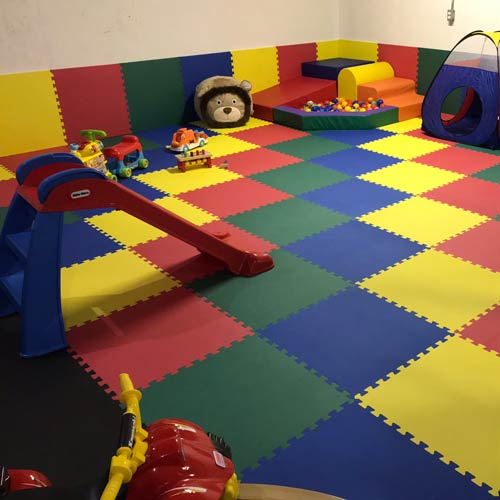 Libraries often have a children's section full of toys and books for kids. These areas usually need a soft space where children can sit down and enjoy a book or story time. Especially when groups of kids come from a school, a large, soft area for them to sit is essential.
With interlocking foam floor mats, you can create a kid's area that is colorful and comfortable. The kids will love the colorful flooring, while the soft surface will create a comfortable area for kids to sit and learn.
9. Soft Pilates Flooring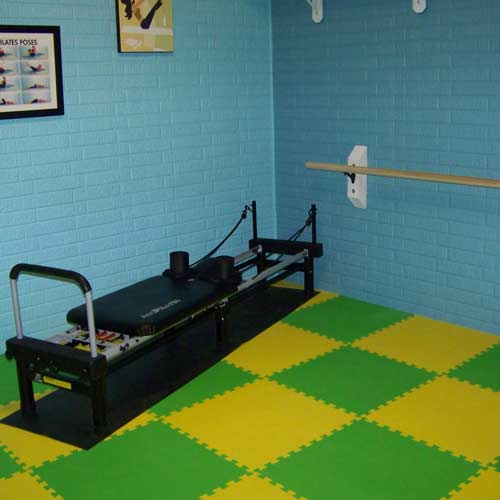 Like yoga, Pilates is catching the attention of workout enthusiasts all across the country. This exercise routine, which is heavily focused on core and abdominal strength, is even used by professional athletes in football and baseball, as well as other sports. Because Pilates does a lot of floor workouts to tone the abs, a comfortable surface is required.
These mats can be laid down permanently or temporarily, giving you a convenient area to do all the ab-shredding moves of a Pilates workout.
10. Padded Flooring for Camping Tents
Camping in a tent is one of the most fulfilling outdoor activities, but the tent's floor, which is basically a thin tarp, won't give you any cushioning.
Fortunately, affordable and lightweight foam squares can be used to create a tent flooring that increase the comfort and enjoyment of your camping trip. Simply lay them out on the tent floor and you'll have a cushiony surface that reduces discomfort caused by the hard ground.
11. Customizable Man Cave Flooring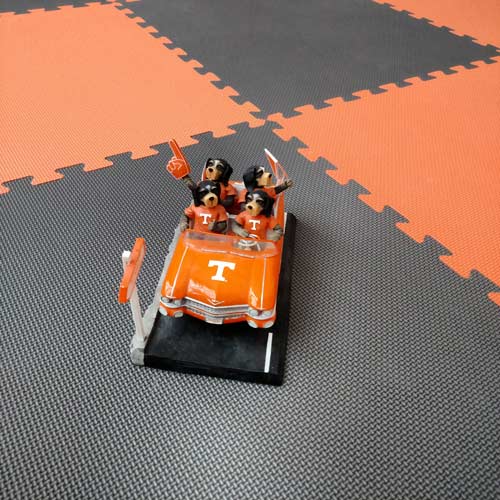 What hobbies do you love? Sports? Hunting? Cars? Whatever theme you are adding to your man cave, these tiles will give you the right design with excellent durability. The foam is strong enough to withstand lots of foot traffic, and you can choose from many different colors.
Got a favorite sports team? You can choose two colors to show your pride throughout the year. Make your man cave a one-of-a-kind area with these foam floor mats.
12. Foam Floor Tiles for Garage Conversion
If you want to turn your garage into a lounge, workout area, or game room, these tiles will meet your needs. They have an attractive appearance that goes well with any theme, and can be placed over hard concrete to give the area a softer surface.
If you use these foam floor mats for a garage, be aware that these tiles are not intended for cars. They are certainly durable, but if you need a garage floor that can be driven over, choose a durable polypropylene or PVC flooring tile.
World-Class Products, Exceptional Service for Any Flooring Need
Do you have a different use in mind for your flooring? Do you have highly specific needs and aren't sure what mats you should use? Contact the Wisconsin-based team at Greatmats and let us know about your flooring needs!
We'll use our experience and knowledge to recommend the perfect specialty flooring. Indoor or out, we have the right flooring products backed by outstanding service!