What Kind Of Flooring Should A Horse Feeding Station Have?
By Paige Cerulli Created: July, 2021 - Modified: August, 2021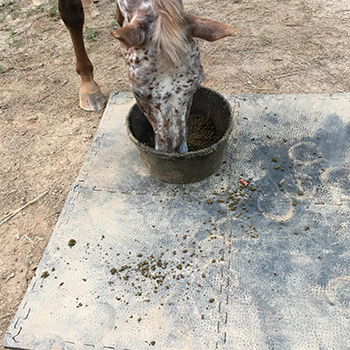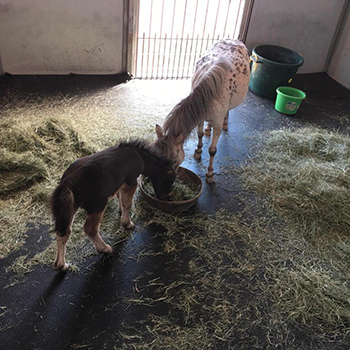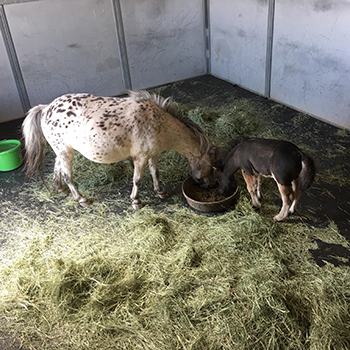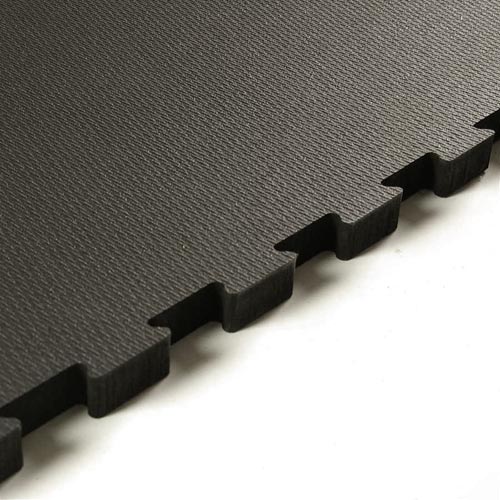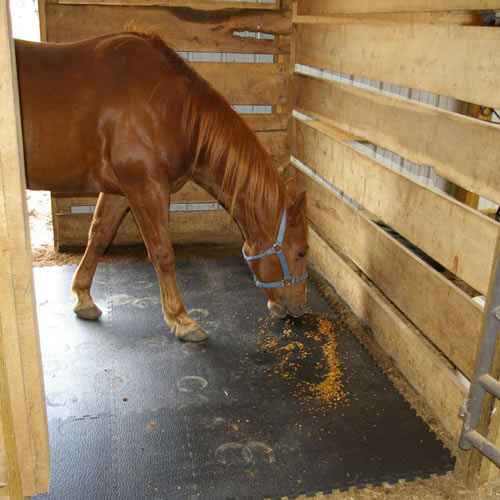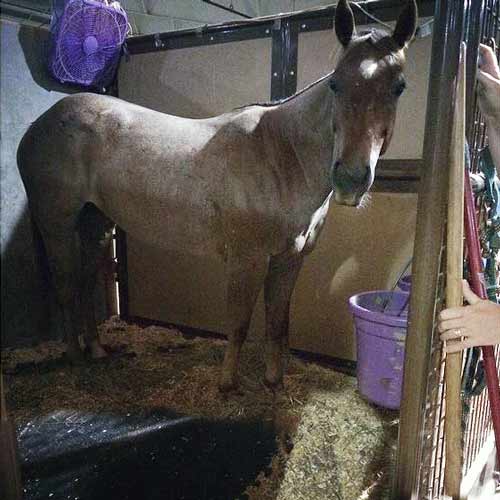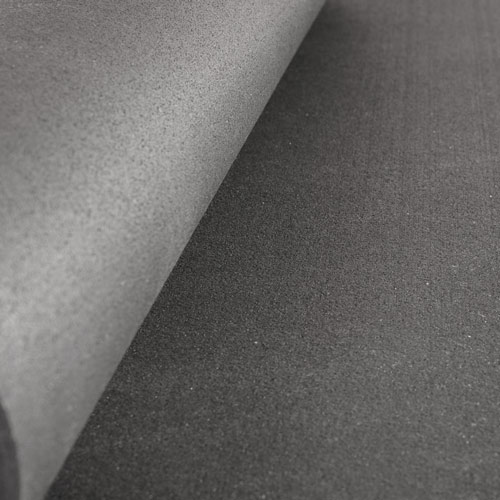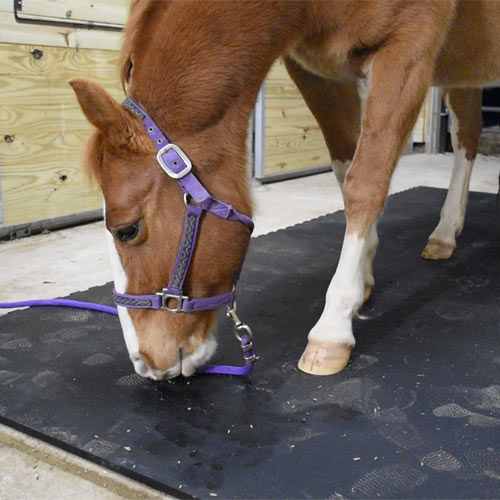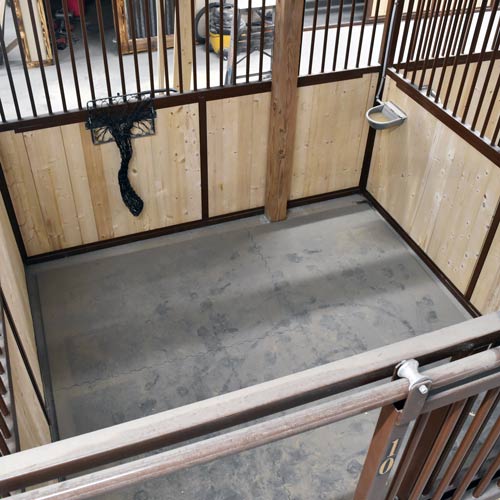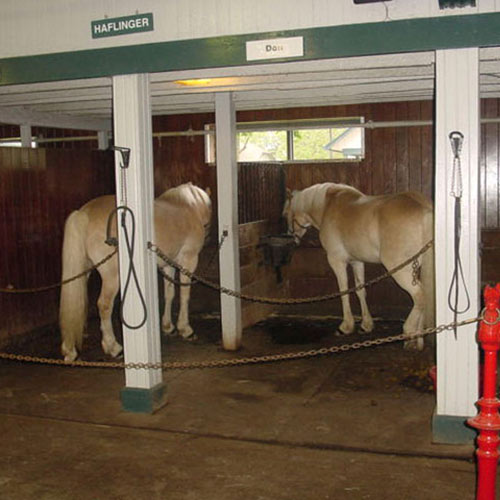 If you feed your horse outdoors, you might be exposing him to all sorts of unnecessary health risks. Creating a horse feeding station can be an ideal solution. From the type of flooring you need to other design considerations, this guide includes everything you need to create a horse feeding station of your own.
What is a Horse Feeding Station?
A horse feeding station refers to an area created to maximize your horse's health and safety while he eats. Feeding your horse from the ground – mainly, from the sand or dirt – can lead to issues. A feeding station helps to prevent that.
Feeding stations don't have to be complicated. They can be as simple as an area with some flooring down that you can easily sweep off.
You can create an outdoor feeding station in the pasture, or make an indoor station within a run-in stall or other shelter.
Benefits of Designing a Horse Feeding Station
Why go through the trouble of creating a feeding station? There are many benefits.
Cut Down on Dust
Feeding your horses from the ground level can increase the amount of dust they breathe in during the process. Excess dust can damage the equine respiratory tract, leading to potential respiratory issues and irritations.
If your horse already has respiratory issues, ground feeding can make them worse.
With a feeding station, you can sweep off the floor and then put hay, grain, grass, or haylage out for your horse to eat. You'll keep it up out of the dirt and minimize the dust that's stirred up.
Help Prevent Colic
A horse feeding station can also potentially help to prevent colic. If your horse eats off of a sandy surface, he can ingest sand.
That sand may be limited at first, but over time, sand can build up in your horse's digestive tract. With too much sand, your horse may become prone to sand colic.
A horse feeding station will help to keep the feed up and out of the sand or dirt. As a result, your horse will ingest less sand and should be at a reduced risk of sand colic.
Flooring Options for Your Horse Feeding Station
Portable Horse Stall Mats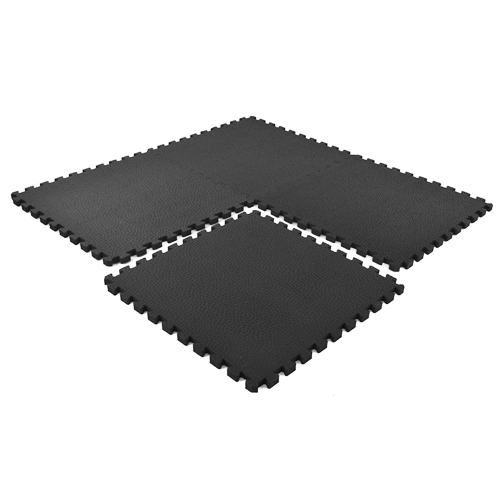 Our Portable Horse Stall Mats are lightweight, easy to carry, and double sided to maximize their life. The mats feature a non-slip pebble top surface texture, and they're waterproof, so they can be used indoors and outdoors.
These mats each come with two border strips, so you can create a clean, finished edge to your feeding station.
Horse owners have already successfully used these mats in feeding stations. D. from Charlotte, NC wrote that she used the four mats to create a feeding station for her horse. "He likes to look around while he chews and ends up with food all around his feed pan. I didn't like him eating the fallen food from the dirt. These have worked perfectly."
Deborah of East Windsor, NJ is also using the mats for a feeding station. She writes that they "seem to be well made and sturdy." She also notes that the "mats arrived in a timely manner and were well packaged."
Horse Stall Mats 10x10 Ft Kit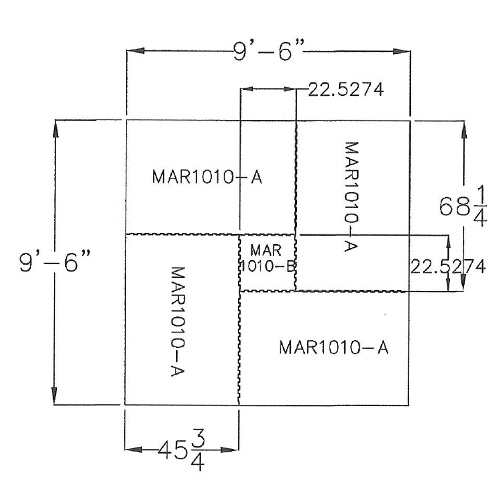 With the Horse Stall Mats 10x10 Ft Kit, it's easy to create a semipermanent square area for your feeding station. The tiles interlock together and won't pull apart, making them easy to clean.
They measure ¾ inch thick, making them heavy-duty options that can withstand plenty of horse traffic. There's no need to worry about cutting any mats with this kit, so installation is quick and easy.
Rubber Flooring Rolls ½ Inch Black Geneva Per SF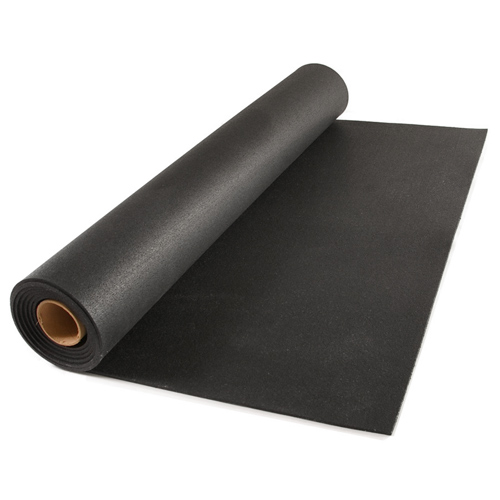 You might also consider using our Rubber Flooring Rolls ½ Inch Black Geneva Per SF for your feeding station. This durable rubber is non-slip even when it's wet, and it's plenty strong enough for horses.
Because you can order this rubber by the square foot, you can get the precise amount that you'll need for your feeding station. This can save you money and help to keep you within your budget.
Additional Tips for Your Feeding Station
When designing your feeding station, try to choose a location that's on higher ground and that isn't prone to flooding when it rains or snows. Consider laying a base of crushed gravel or stone dust and then putting your mats on top of that surface.
If you're designing feeding stations for multiple horses, put plenty of distance between them. This can help to prevent your horses from fighting with each other over feed.
Keep accessibility of the stations in mind, too. It can be convenient to position them close to the barn, making it easier for you to carry out feed.
Don't forget to clean the stations regularly. Remove manure promptly and sweep the stations off daily to maximize their dust- and sand-minimization benefits.