Safety Soft Foot 3x60 feet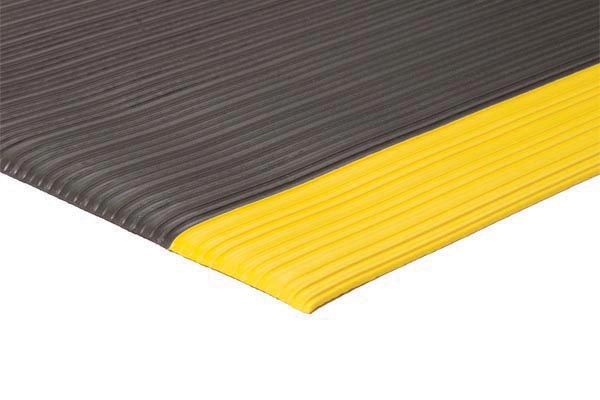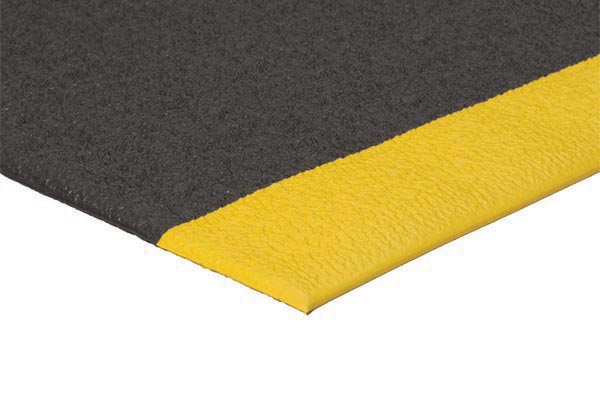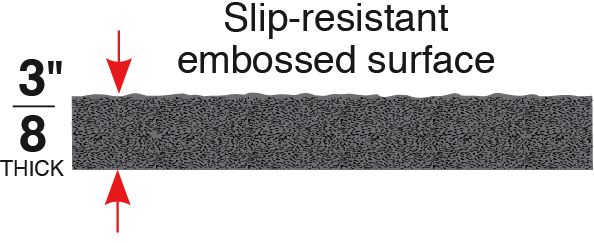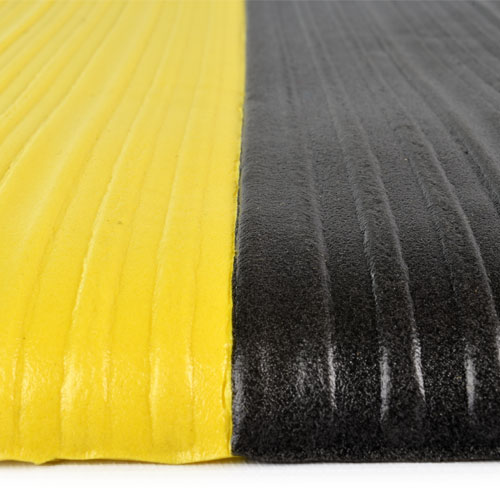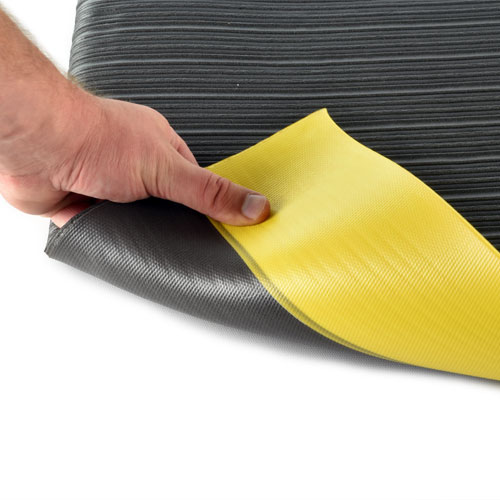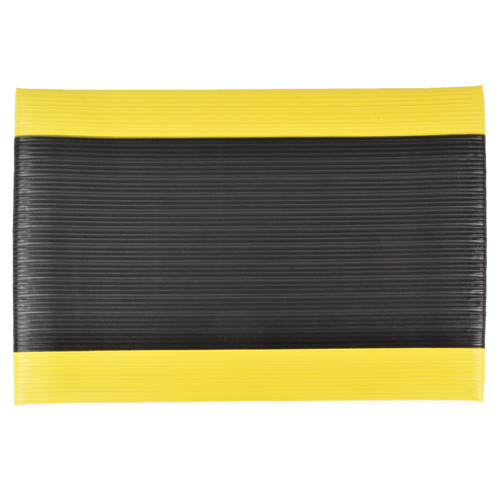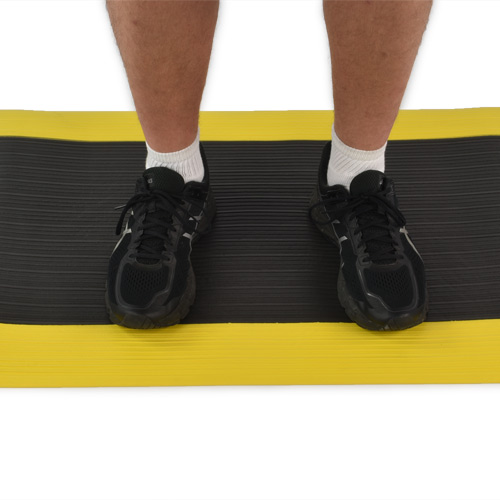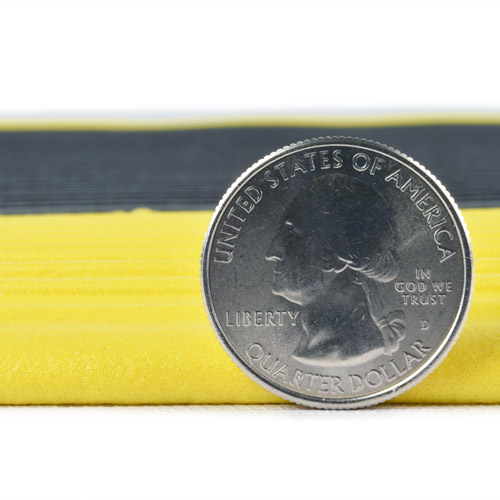 Provides underfoot cushioning
Insulates feet from cold, concrete floors
Bright yellow borders increase safety awareness
Ships Out: Estimate 4-6 Working Days
TOP FEATURES
Provides underfoot cushioning
Insulates feet from cold, concrete floors
Bright yellow borders increase safety awareness
Anti slip
Anti fatigue
Made in the USA
Call for volume discounts
Various sizes to choose
Use Types
Standing Work Stations, Anti Fatigue Mat, Factory Settings, Industrial Fatigue Mats
NOTE: This item is a custom order and is not returnable.
Yellow Border Anti Fatigue Mat, Textured High Visibility Fatigue Mat
Safety mats that contain yellow visibility strips can also give anti fatigue capabilities for employees who must stand to perform their work. And one of the best options to provide safety and comfort is the Safety Soft Foot 3x60 Feet product.
This yellow border anti fatigue mat will give you long-lasting performance that also meets OSHA requirements for yellow borders with high visibility and safety. The yellow stripe increases visibility at the lip of the mat, which will help people avoid tripping over the 3/8-inch thickness of the mat, making work areas safer.

Versatile Mat

Most people will use our Safety Soft Foot 3x60 Feet products as anti fatigue mats. But because these mats are so tough, they can be employed in many different locations, both commercially and in educational settings.
Industrial Settings: This factory safety mat works great in an industrial setting because of the yellow high-visibility stripe on the edge of the mat. Because of the long, thin configuration of this 3-by-60-foot mat, it's perfect for placing along an assembly line where workers must stand for long periods of time, providing the properties you need out of anti fatigue mats. And those walking near the mat will clearly see the edges of the mat, even in a low light setting, thanks to the yellow stripe, ensuring they won't trip over the edge.
Laboratory Areas: Because this mat doesn't absorb liquids, it's a nice option in an educational laboratory setting, where workers may be mixing chemicals at a standing work bench. Should any of the liquids spill on the floor, the mat will protect the sub-floor from damage. The high-visibility yellow stripe on this style of mat can be very helpful in a laboratory where you have to work in low light conditions, because of the compounds or materials in use.
Work Station Areas: This product also serves as an excellent standing work station mat. If you have employees who must enter data into a computer work station while standing, and if the work station is in a common walkway area, our mat's yellow visibility strips will alert those walking past to watch for the lip of the mat. No matter what size of standing work station mat you need for a particular area, you can cut this mat to fit.
Another reason why our anti fatigue mats are usable in so many different situations is because they are available in two different textures, ribbed or pebbled. Even if the factory safety mat becomes wet, the textured surface will help workers maintain a sure footing without slipping.
Using a Mat at Home
Should you want to make use of a cushioning mat in your home, you certainly could use this standing work station mat. Some people like the idea of a cushioned mat in a laundry room, kitchen, or woodworking area, where people will stand for long periods of time continuously. Because you can cut down this mat to any size you want, you can order a large coverage area in this mat and then pare it down to fit whatever area you want.
However, you may not need the high-visibility yellow stripe on the mat in your home, as you would in an industrial or commercial setting. So we'd suggest contacting our customer service team to see what kinds of anti fatigue mats we have available that might be a better option for you to use in your home
Impressive Durability
No matter in which situation you employ this standing work station mat, you can count on it lasting a long time. The rubber foam blend in the factory safety mat can stand up to constant foot traffic. It also will not absorb liquids, giving it the ability to stand up to any spills without damage or excessive odors.
Each of these mats is a Made in the USA product, which means you can be sure that the materials used in the construction are safe and reliable.
With such strong durability, you can feel free to move these anti fatigue mats wherever they're needed in your factory or business. Because no adhesives are required to fasten the Safety Soft Foot 3x60 Feet mats to the floor, you will have the ability to move them anywhere.
We do recommend that you do not use these mats outdoors, as they do not have a UV treatment to protect them from sunlight. And because the ribbed or pebbled texture on the top of the standing work station mat is only on one side, you will not be able to flip the mat over and have people stand and walk on the underside.
Large Size Mat
Our high visibility fatigue mat ships in a standard size of 3 by 60 feet, giving you a coverage size of 180 square feet. However, if you need a smaller size of coverage area, one benefit of our standing work station mat is that it can be cut to any size easily on site. Just use a straight edge and a sharp utility knife, and you can cut through the 3/8-inch thickness of the mat.
Should you want to order a smaller size of this factory safety mat, you also have that option. Just contact our customer service team, and we will help you set up an order for a custom cut length of the mat. (All of these textured high visibility mats ship with a 3-foot width.)
If you will need to move the mat from location to location, it is a heavy product, weighing 126 pounds for the full-size mat that measures 3 by 60 feet. Should you want a smaller mat, you can roughly estimate the weight of the mat as 2 pounds for every 3 square feet of coverage area.
Comfortable Work Area
Anti fatigue mats are an important part of keeping your employees feeling fresh as they perform their jobs during the day. An employee who must stand for long periods of time could suffer from a variety of problems that leaves them feeling tired and sore. Such aches and pains can cause the employees to be unable to complete their tasks safely and properly.
Problems that people may suffer when standing on hard flooring, such as cement or hard tiles, have been well-documented. As workers stand in one location on an extremely hard floor, they tend to not adjust their position, leaving the legs stationary. This causes the muscles to remain contracted, rather than contracting and releasing as they would when you're slightly moving around.
With contracted muscles, the heart must work harder to pump blood into the legs and have it return to the heart. Eventually, blood may start to pool in the legs and feet. This can lead to long-term health problems. It also creates tired muscles and sore joints in the short term, which can lead to workers making errors as the day wears on.
Without a factory safety mat in place, workers may eventually develop a flattening of the foot, which leads to focused pain in the arch and heel.
Employees may end up calling in sick more often, allowing them to rest sore joints. Eventually, repeated problems could lead to the filing of workers compensation claims.
Our safety mat will encourage the worker to move around slightly every few minutes, shifting his or her weight, which keeps the muscles moving and keeps the blood flowing properly.
While a standing workstation mat provides a significant benefit to employees looking to avoid sore and tired muscles and joints, taking regular breaks during the day can also help.
Mats with Proper Support
You certainly can count on the anti fatigue mats to have the proper support for your employees. A mat that is too soft may cause the employee to sink too far into the mat, which leads to sore joints or a loss of balance. Many inexpensive factory safety mat options will suffer from this problem.
The ideal standing work station mat will compress slightly when the person stands on it, but it then will rebound to its proper shape immediately afterward. Our rubber foam blend in the mat ensures a good bounce back capability.
This ability to rebound quickly also gives a factory safety mat its longevity. If the mats do not bounce back to their original shapes quickly, that probably means the materials inside the mats are breaking down, meaning they cannot give you the support you need in anti fatigue mats.
Easy Maintenance
Our customers love our factory safety mat product because it's so easy to maintain and clean. You can sweep or vacuum the surface to keep it free from dirt, gravel, or other dry particles. You also can mop the flooring as needed with hot water and a common household soap. Spot clean any areas that need it with a sponge or scrub brush.
Ordering our Safety Soft Foot 3x60 Feet product is easy, even if you need a length other than the 60-foot standard length. Just contact the our customer service team, and we will give you advice to find the correct length of mat for your needs.
Shipping
This Product Ships UPS Ground, FedEx Ground and/or Freight.
Please review our shipping disclaimer.
SPECIFICATIONS
| | |
| --- | --- |
| SKU# | A110-20-3x60 |
| In Stock | Yes |
| Product Type | Mat |
| Material Type | Rubber Foam Blend |
| Product Edging | Straight |
| Thickness | 3/8 inch |
| Width | 3.00 feet |
| Length | 60.00 feet |
| SF per Item | 180.00 |
| Weight | 126.00 lbs |
| Packaging | Cartons |
| Number of Pieces per Package Type | 1 |
| Non Absorbent | Yes |
| Special Adhesives | No |
| Interlock Loss | 0.00 feet |
| Interlocking Connections | No |
| Made In | USA |
| Surface Finish | Ribbed or pebble |
| Surface Design | Solid color |
| Installation Method | Lay flat |
| UV Treated | No |
| Reversible | No |
| Border Strips Included | No |
HOW TO'S
RELATED PRODUCTS