ArmorStep 3x60 feet Pebble Surface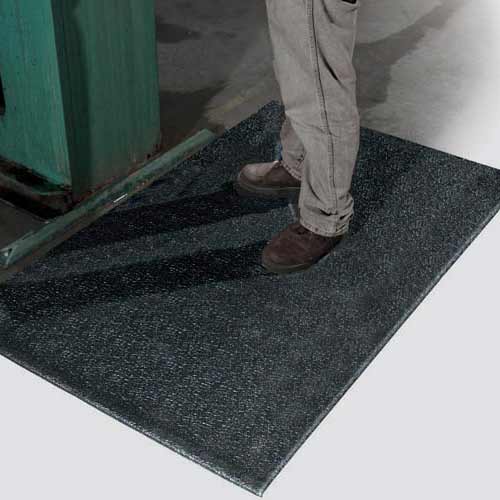 Outlast traditional one layer foam mats 3 to 1
Dual density foam is a great cost effective alternative to other laminated foam-based products
Resists common chemicals and fluids
Ships Out: Estimate 4-6 Working Days
TOP FEATURES
Outlast traditional one layer foam mats 3 to 1
Dual density foam is a great cost effective alternative to other laminated foam-based products
Resists common chemicals and fluids
Limited 3-year warranty against wear and delamination
Made In The USA
Anti-Slip Traction
Wear Resistant
Anti fatigue
Use Types
Anti Fatigue Mats, Shipping and Packing, Workshop, Service Counters, Industrial Mats
NOTE: This item is a custom order and is not returnable.
Extra Tough Anti Fatigue Mat, Workshop Mat, Service Counter Mat
If you're in the market for a versatile type of foam mat, few products can compete with the ArmorStep 3x60 Feet product. This black foam mat will give you several different potential use cases, and it's shipped in a large enough size that you can use it for more than one purpose and still have some foam left over!
This product especially works as an extra tough anti fatigue mat, as it has a nice cushioning to help people who must stand and work for an entire day. But it also has a few other purposes, including as a workshop mat.

Helpful Size

These anti fatigue mats each measure 3 by 60 feet in size, giving them 180 square feet of coverage area. Obviously, most people will not be looking for an industrial standing fatigue mat that is so large. However, one of the biggest benefits of this style of mat is that you can cut it to fit whatever size you require.
We also offer custom cut lengths based off the 3-foot width of this service counter mat. Just contact our customer service team to determine the best means of ordering the length of mat that you need.
The 3x60 fatigue mat weighs 180 pounds when you order the full size of mat. So this is not a lightweight flooring product. Should you be looking to order a smaller length of mat, you can roughly calculate the weight of the smaller mat as about 1 pound per square foot of coverage area.
Cushioned Thickness
At 1/2 inch in thickness, these anti fatigue mats work great in an industrial, retail, or commercial setting for employees who must stand much of the time. The foam we've included in the construction of these mats works well for giving you a bit of cushioning, while also providing the sturdiness and support you need for a comfortable level of performance.
The key to our industrial standing fatigue mat is the two-layer construction we use.
Thin Upper Layer: This mat's extra-tough surface layer provides amazing, long wearing durability. It also contains a pebbled texture on the top that'll give the people standing on it a bit of a grip to prevent slipping.
Thick Lower Layer: With the lower layer in the 3x60 fatigue mat, you'll receive the cushioning properties that help those standing on the mat feel fresher. This foam also bounces back to its original shape quickly after you step off the mat, which gives the mat a long lifespan.
Because of the two-layer construction and the pebble top surface finish, this industrial standing fatigue mat product is not reversible. We also do not recommend using these mats outdoors, as they have no UV treatment to protect against repeated exposure to sunlight.
Excellent Durability
Our anti fatigue mats are a Made in the USA product that carries a 3-year limited manufacturer's warranty, ensuring you have a high level of performance for many years of use.
Having two layers in these anti fatigue mats give them a longer lifespan than single-layer foam mats as well. Our testing shows the dual-layer mat will last three times as long as a single-layer mat.
This industrial standing fatigue mat will work well in a laboratory or industrial setting because it resists common chemicals and fluids. So if you work in an environment where spills are frequent and chemicals are constantly in use, you can count on this style of foam mat standing up to the tough conditions well.
This 3x60 fatigue mat will remain tight to the floor without adhesives. Cheaper anti fatigue mats may curl at the edges over time, causing a significant tripping hazard. As this style of mat does not have any borders or ramped edges, people will have to step over the 1/2-inch thickness of the mat regularly. So you don't want any curling of the edges of the mat, creating a significant tripping hazard.
Potential Use Cases
The most common usage for the ArmorStep 3x60 Feet products is as anti fatigue mats. You can use this mat along a factory line, in a laboratory setting, or in a retail setting at a service counter equally well. Essentially, making use of this mat in any location where people will be standing for long periods of time will give you an excellent level of performance.
Ideally, as you'll find with our 3x60 fatigue mat, you want a material that will give you a clear mix of softness, comfort, and support. If the mats are too soft, people will suffer from leg fatigue. And they could trip as they move, because they'll sink too far into the material. However, our industrial standing fatigue mat has enough support that excessive softness in the material is not a problem.
Some people will even choose to use our mats in a home. This product works extremely well in a kitchen, especially in areas where people must stand in one area to perform food preparation work. As our mats will not absorb liquids, should you have some spills in the kitchen, you don't have to worry about the foam mat collecting a series of odors over time. Additionally, even if the mat becomes wet on the surface, you'll still have a sturdy footing, as the pebbled surface on the foam gives your feet a nice grip.
Other people choose to use these mats in the home in a workshop or in a laundry room, where you'll often be standing and working for extended periods of time. Because this 3x60 fatigue mat can be cut into any shape, you can order one mat and cut it into smaller pieces to use throughout your business or home.
Because of the cushioning properties of our mat, some people even will choose to use it as a packing material. If you have an expensive product that you need to send safely, this foam mat will give a tremendous level of protection. You can cut this foam to any size, which further makes it a valuable option for use with packing.
Benefits of Ergonomic Mats
If you aren't making use of anti fatigue mats in your workplace yet, the benefits of these products to your employees are well-documented.
Those who must spend much of the day on their feet can suffer from a variety of problems when they're working on an unforgiving style of flooring, such as cement or hard tiles.
When standing on a really hard type of flooring for long periods of time, people can have blood begin to pool in their legs and feet. The hard flooring doesn't encourage the person to shift his or her weight occasionally, which results in the pooling of the blood. As this occurs for long periods of time regularly, people may suffer from pain and swelling in the legs, muscle fatigue, and joint compression.
As workers have tired legs and suffer from pain, they're more likely to make mistakes while they work. Eventually, if such problems are not addressed, employees will end up requiring sick days where they miss work entirely or potentially filing workers compensation claims over their leg fatigue injuries.
An industrial standing fatigue mat can help with all of these problems. With this type of mat, the person standing on it sinks into it just slightly. This encourages the person to shift his or her weight regularly, ensuring a proper flow of blood through the legs and reducing stress on the joints.
Common Ergonomic Flooring Materials
Our anti fatigue mats consist of a dense foam, which is a popular choice for this type of product. Other options for the materials in an industrial standing fatigue mat include rubber and PVC plastic. Some mats may make use of multiple types of materials in the same mat.
Foam gives you a good level of longevity, although it won't last as long as a rubber mat. However, foam mats have a lighter weight than rubber mats, which means you can more easily move the foam mats from location to location, should your needs change.
When compared to a PVC style of industrial standing fatigue mat, a foam 3x60 fatigue mat will weigh a little bit more. PVC plastic does a great job of resisting all types of chemicals and oils, while foam mats will resist some chemicals and liquids.
Maintenance and Ordering
The ArmorStep 3x60 Feet product doesn't require a lot of work to keep it in top working condition. To clean and maintain the mat, just vacuum or sweep it on a regular basis, removing any loose particles like dirt and gravel.
You also can mop the mat's surface with hot water and basic household soap as needed. To remove a stain on the mat, you can spot clean with a scrub brush or a sponge.
Just contact our customer service team when you're ready to order this comfortable and long-lasting foam 3x60 fatigue mat. As mentioned earlier, if the 60-foot length of this 3-foot wide mat will be too large for your needs, we will send you a custom length of the product. Our customer service personnel can help you calculate the perfect length for your needs.
Shipping
This Product Ships UPS Ground, FedEx Ground and/or Freight.
Please review our shipping disclaimer.
SPECIFICATIONS
| | |
| --- | --- |
| SKU# | A150-47-3x60 |
| In Stock | Yes |
| Product Type | Mat |
| Material Type | Foam |
| Product Edging | Straight |
| Thickness | 1/2 inch |
| Width | 3.00 feet |
| Length | 60.00 feet |
| SF per Item | 180.00 |
| Weight | 180.00 lbs |
| Packaging | Cartons |
| Number of Pieces per Package Type | 1 |
| Non Absorbent | Yes |
| Special Adhesives | No |
| Interlock Loss | 0.00 feet |
| Interlocking Connections | No |
| Made In | USA |
| Surface Finish | Pebble |
| Surface Design | Solid Color |
| Installation Method | Lay flat |
| UV Treated | No |
| Reversible | No |
| Border Strips Included | No |
| Manufacturer Warranty | 3 year limited |
HOW TO'S
RELATED PRODUCTS