Anti Fatigue Mat - Wearwell ErgoDeck Comfort Solid Tile Video
By Paige Cerulli Created: August, 2017 - Modified: September, 2023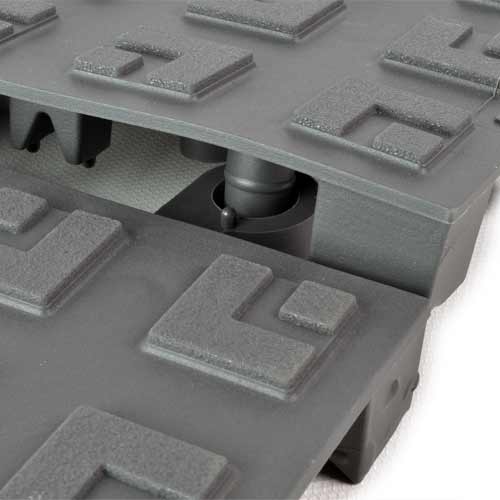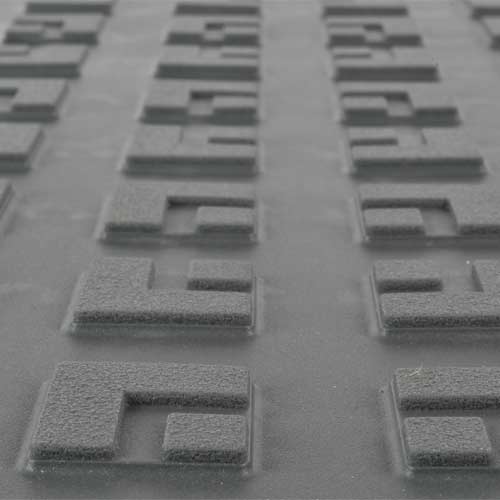 Anti fatigue flooring can make any workspace more comfortable, but automotive and manufacturing workspaces are particularly harsh on flooring. If you're looking for a quality commercial flooring that can withstand the chemicals present in a garage or factory, then ErgoDeck Wearwell Comfort Solid Tiles are an ideal solution.
These
Wearwell tiles
are made of a silicone-free PVC that provides fatigue benefits to workers who have to stand for long hours. This mat option is ideal in areas with heavy foot traffic but limited or no cart traffic. The tiles are designed with a softer material compound and a spring-back underside, allowing the tile surface to compress and rebound. The result feels similar to rubber flooring.
These tiles connect together tightly, so there is no gap left in the seams. The connectors hold the tiles securely together, but you can also remove the tiles as needed.
Each tile is equipped with an anti-slip texture, thanks to raised areas. This raised surface also makes the tile more flexible and comfortable underfoot. Tiny squares with grooves create an appealing design on the floor while enhancing worker safety.
Installing ErgoDeck Anti-Slip Tiles
ErgoDeck Anti-Slip Tiles are designed for an easy installation, and there's no professional help needed. The tiles measure 18 by 18 inches, which allows them to quickly cover larger areas, ideal for large workspaces.
Each tile is equipped with six female connectors on two sides, and hidden male connectors on the other sides. Connecting the tiles is as easy as fitting the male connector side over the female connector side of another tile. Then, press down on the seam and the connectors will pop together, creating a tight and secure closure.
These tiles can be dry laid over a hard, flat flooring, and there's no need to worry about installing an underlayment or using adhesive. The tiles weigh just 5.5 pounds each, so it's possible for one person to perform the entire tile installation.
Because all ErgoDeck tiles use the same installation system, you can pair these tiles with other types of ErgoDeck tiles to create a unified floor with different properties in different areas. This allows you to truly customize the floor to your needs.
If needed, you can cut these tiles to fit a wall-to-wall installation. It's important to only make a cut every three inches vertically or horizontally, which will keep the interlock system functional. The ability to cut these tiles lets you install them in hallways, rooms, and even entire garages where people will be working. Use a sharp utility knife or industrial shears to cut the tiles, and be sure to wear heavy-duty gloves to avoid injuries. A band saw or circular saw can also be helpful when cutting tiles.
Since you're working with a tile system, you can replace any tiles that become damaged or worn. This can save you money over having to replace an entire section of floor, and it makes it easy to keep the floor in the best possible condition.
Reasons to Invest in ErgoDeck Anti Fatigue Flooring
ErgoDeck tiles offer several distinct advantages over a traditional anti fatigue flooring mat or tile. ErgoDeck flooring is highly durable and encourages your workers to move slightly, which can help to keep them using their leg muscles and improve circulation. Some anti fatigue flooring can be so soft that it's difficult to stand on, possibly causing workers to trip.
ErgoDeck strikes the perfect balance between firm and forgiving flooring. It encourages those subtle muscle movements while also being firm enough underfoot to create a secure feel.
This flooring's springy underside provides valuable anti-fatigue benefits, but the tile remains highly durable because it contains no silicone. The tiles are backed by a limited lifetime manufacturer warranty. They're non-absorbent and contain at least 80% recycled materials, so you can feel good about investing in them for your facility.
Anti fatigue flooring has many benefits for both workers and a business. As a business owner, you'll know that you're giving your staff a safe environment to work in, and that you're prioritizing their wellbeing. By investing in anti fatigue flooring, you can keep workers more comfortable. This can lead to improved worker morale and productivity, and a happier and healthier workforce, overall.
How thick is anti fatigue flooring?
Anti fatigue flooring can vary in thickness, depending on the product that you're considering. ErgoDeck Comfort Solid Tiles measure 7/8 inch thick, so they can be laid on existing flooring without adding too much bulk.
How long do anti fatigue mats last?
ErgoDeck tiles are extremely durable. They carry a limited lifetime manufacturer's warranty. Their overall lifespan will depend on where they are used and how much traffic they are exposed to.
Can you cut anti fatigue flooring?
Yes, you can cut ErgoDeck anti fatigue flooring. It's essential to cut the tiles perfectly straight so you can preserve the connector system. You can cut the tiles every three inches while still allowing them to be connected together.