What Are the Easiest Gymnasium Floor Tile Options to Install?
By Kyle Schurman Created: February, 2021 - Modified: August, 2022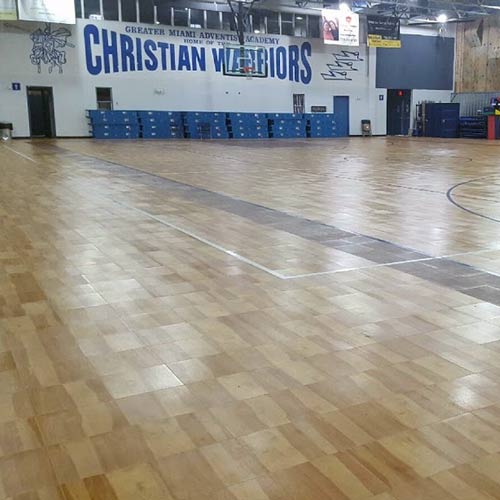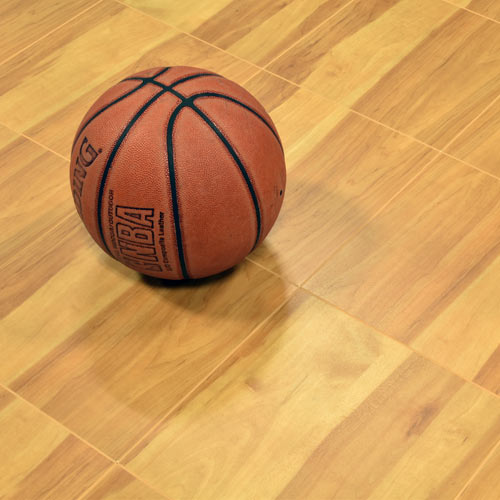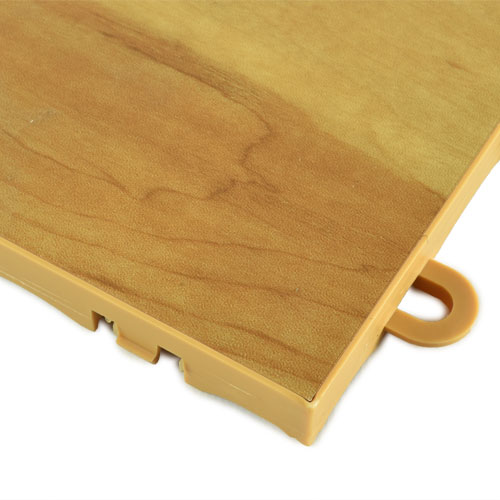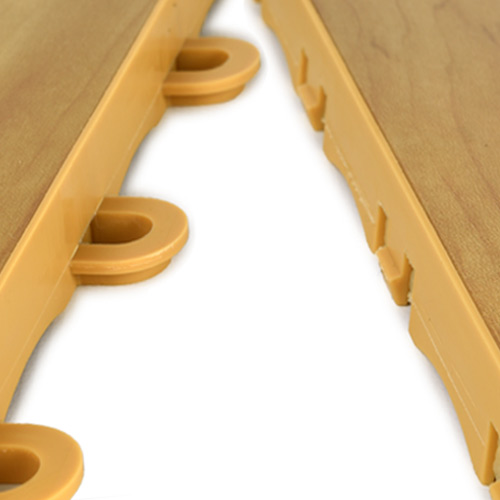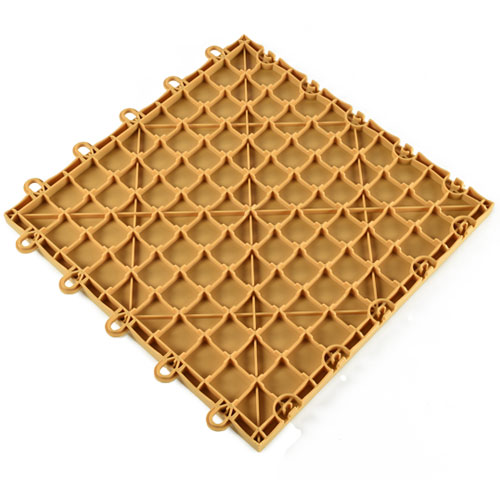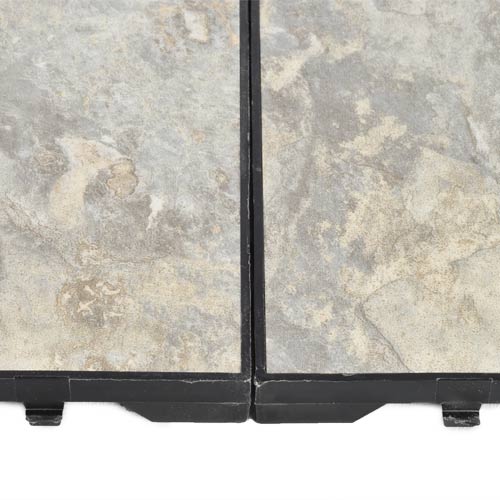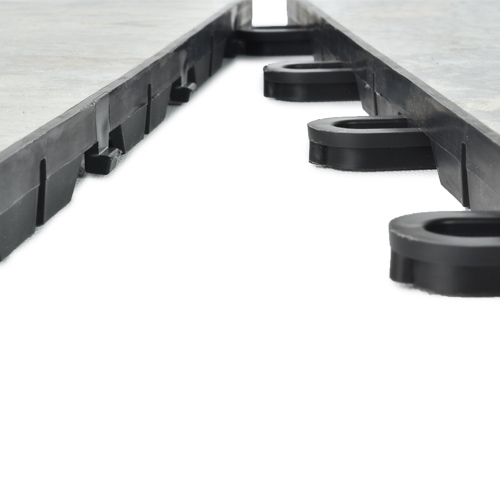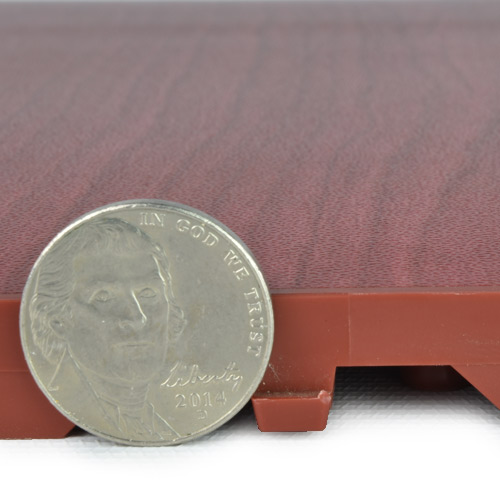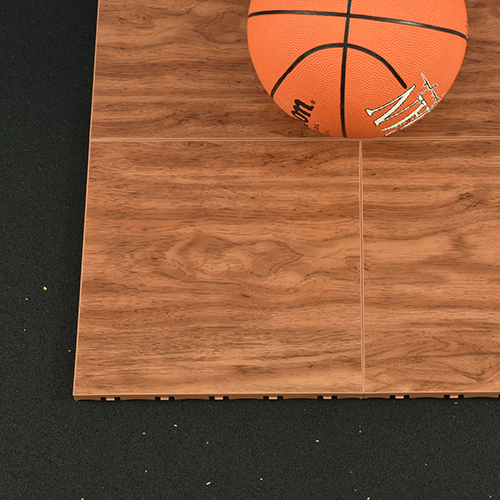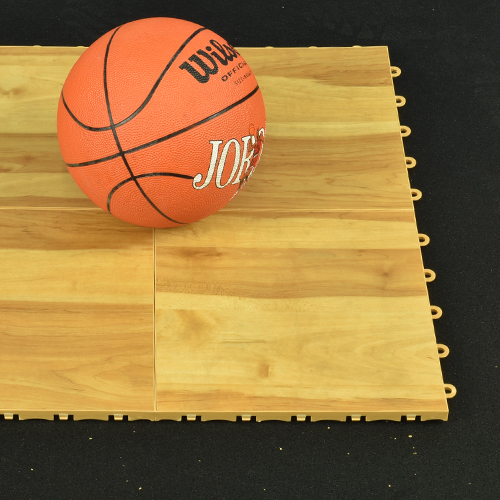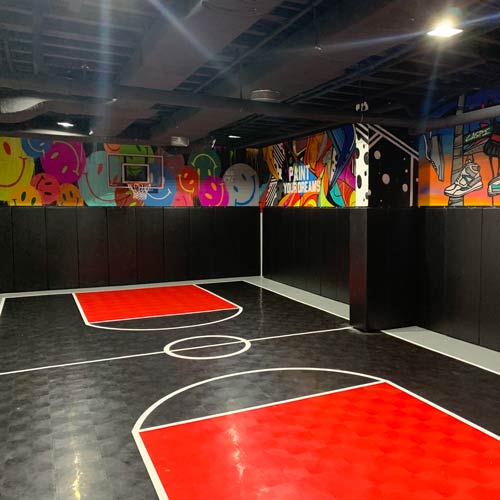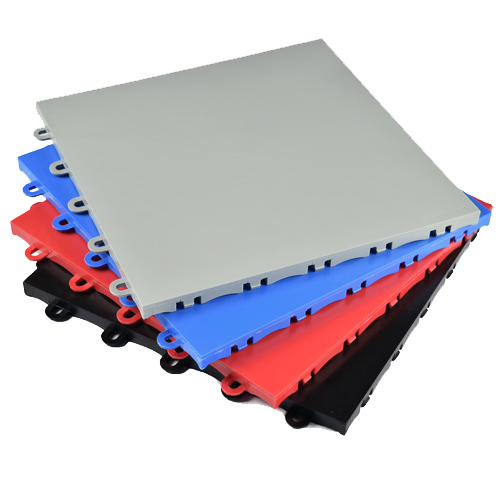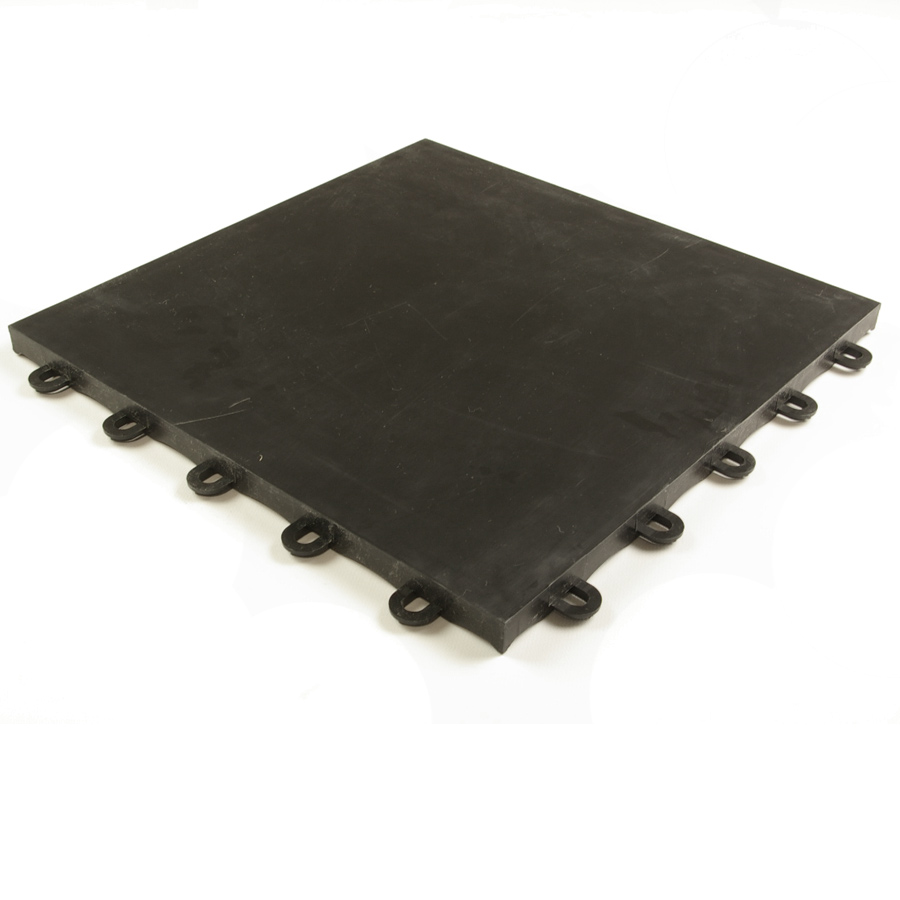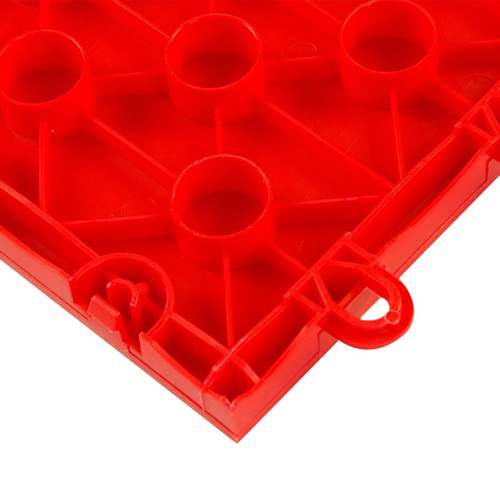 Gymnasium floor tiles have many different installation methods available, but the easiest tiles to install for a high school, a middle school, a rec facility, a church, or a home will be those with a reusable interlocking design system. Some of the best options for gymnasium floor tiles that are easy to install include:
Max Tile Raised Floor Tile

TileFlex Floor Tile

Basketball Court Tile Gym Floor Pro

Court Floor Tile Flat Top
For those who want the look of a faux wood floor that's also easy to install, consider a vinyl printed layer with a plastic base in the tiles for quick and easy connections.
What Gymnasium Floor Tiles Resemble a Basketball Hardwood Finish?
When creating a flooring that's designed for use in a gymnasium, using a vinyl layer over the top of a plastic base layer creates a system that's incredibly easy to install. The plastic base often will use a hidden interlocking tab and loop system that allows for a clean look in the install that closely resembles actual wood flooring.
Rather than spending the money on an actual hardwood volleyball floor that requires frequent refinishing and the use of covers to protect the finish during non-athletic events, select vinyl topped gymnasium floor tiles instead. These tiles are reasonably priced and allow for a simple DIY installation, which saves even more money versus having to do a professional install.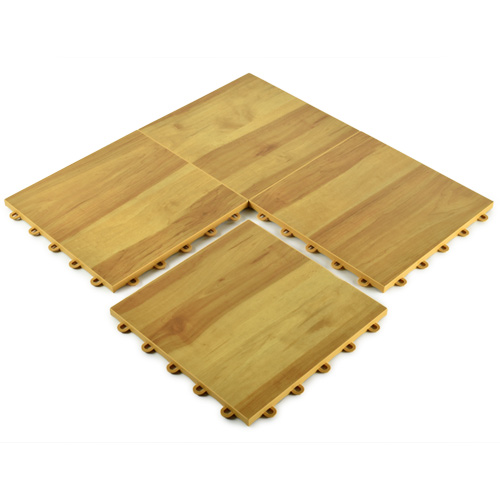 For those seeking a durable vinyl wear layer that resembles hardwood in the tiling, the Basketball Court Tile Gym Floor Pro product offers an outstanding level of performance. Each tile consists of a wear layer with 0.5 mm of thickness that's resistant to stains and scuffs, meaning the flooring will continue to look like new well into the future.
Each tile measures 9/16 inches in thickness and features a hidden interlocking plastic base layer with
tabs and loops
for a secure fit. After finishing the installation, customers can paint court lines on the vinyl surface, creating the perfect layout for volleyball or basketball courts.
To provide noise reduction and offer additional shock absorption, customers should install a thin rubber layer underneath these tiles.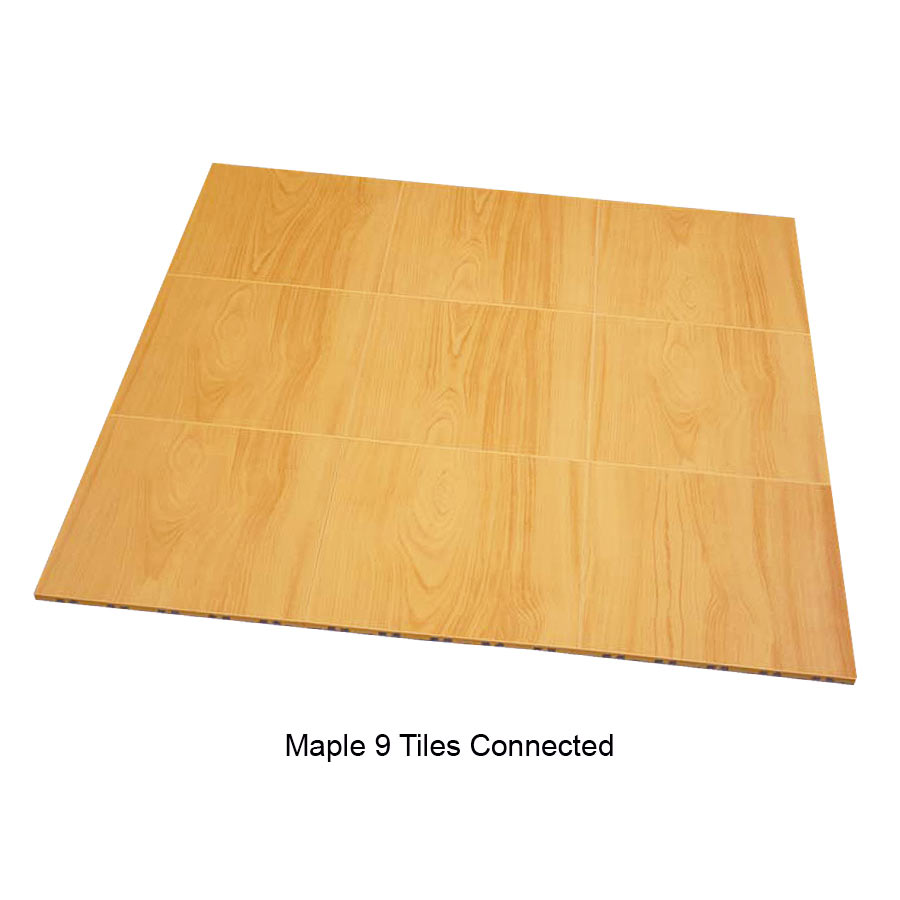 A popular type of tiling for a gym floor is the Max Tile Raised Floor Tile, which consists of a luxury vinyl layer atop an interlocking modular plastic base. This design, measuring about 1x1 feet per piece, has color options that look like read wood.
Each piece measures 5/8 inch in thickness, which provides a layer of air beneath the planks. These wood-look court tiles are simple for installers to handle and assemble. For installers who want to reduce the severity of the lip on these gymnasium floor tiles, ramped border pieces are available that connect to the main tiles easily.
This gymnasium flooring is extremely durable. The long-lasting base layer lifts slightly off the subfloor, allowing for air to flow underneath it, drying any moisture. It snaps together quickly, holding up under any kind of stress, including
basketball
and
volleyball
players making quick cuts or jumping on it.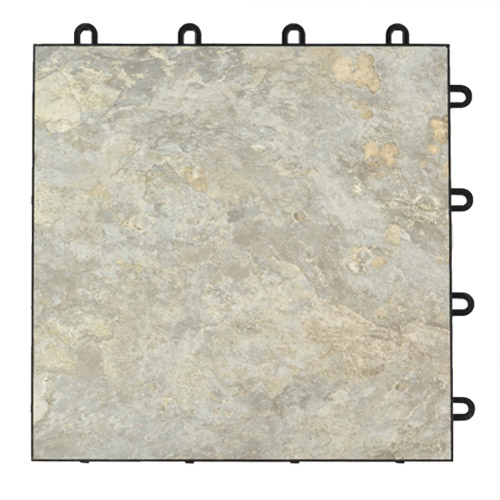 For those who would like a few more options than a
faux wood
basketball floor in the finish for the vinyl layer on the gymnasium floor tiles, consider the TileFlex Floor Tile product. This tile has two different color options including faux granite of beige or gray colors for a unique gymnasium look.
Each tile measures 1/2 inch in thickness and weighs just 1.9 pounds, so it's easy to carry a stack of tiles into the installation area. These tiles use a hidden interlocking tab and loop system, so customers will not see the interlocking system once the installation finishes.
Are There Advantages to Using All-Plastic Gymnasium Floor Tiles?
For those who don't want or need the faux hardwood look in the gym floor tiles, it's possible to save some money on the product by going with an all-plastic model, rather than with a vinyl layer over the plastic base.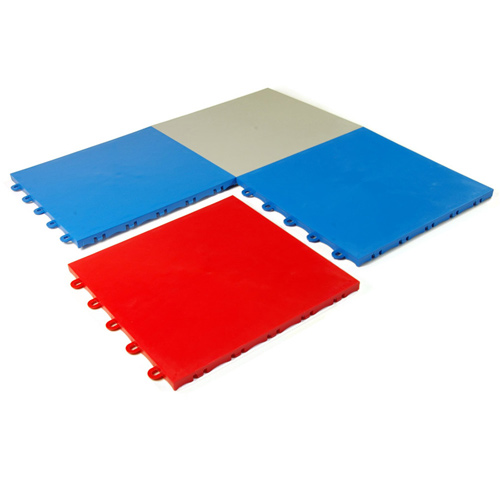 One of the most popular all-plastic tiles for use in a gymnasium setting is the Court Floor Tile Flat Top model. These tiles provide four different color options of:
Installers can mix and match the colors to create a unique look for the gym flooring or to match the colors of the school or athletic organization. Each tile, regardless of the color, uses the same hidden tab and loop installation system, allowing for a clean-looking install. For those who want to limit the effect of the 5/8-inch lip on the edge of the floor, ramped borders are available.
The polypropylene plastic material is extremely firm, providing a sturdy footing for athletes to make cuts for playing sports and working out. As with the above products, installing a 3 mm rubber underlayment layer beneath these plastic tiles can help to cut down on noise.