How to Disinfect Dog Kennel Flooring
By Paige Cerulli Created: May, 2018 - Modified: August, 2023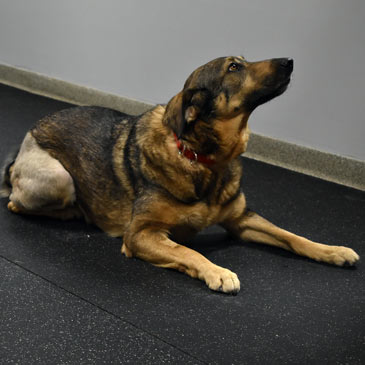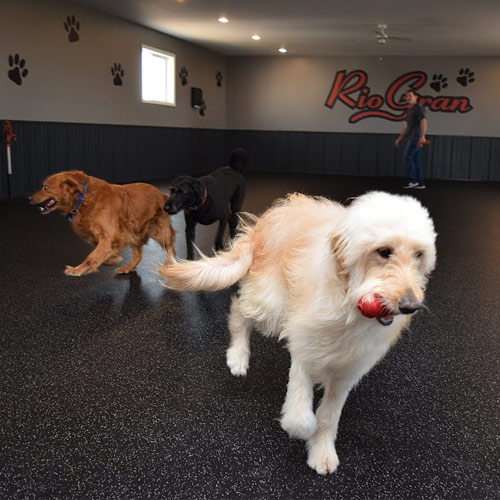 Dog kennels are breeding grounds for germs and bacteria, so regular disinfecting is important to your dog's health. If you own a commercial kennel, doggy daycare, or training facility, then disinfecting both the kennels and the dog kennel flooring should be a standard part of your schedule.
But in addition to regularly disinfecting your dog run flooring, you need to make sure that you're disinfecting the area correctly. Here's what you need to know in order to effectively disinfect your facility.
Materials You'll Need
- Gloves
- Rubber boots
- Long sleeved shirt and long pants
- Scrub brush
- Hose and hot water
- Disinfectant
- Pump sprayer, like those used for gardens
There are many disinfectants manufactured specifically for use in dog kennels. These disinfectants are available as concentrates, in spray bottles, and even in wipes, which make it easy to disinfect all of the surfaces in a kennel.
Be sure to carefully read the directions on the disinfectant and, if it needs to be diluted, to use the proper dilution. Different disinfectants may need to be left in place for different amounts of time in order to be effective.
You will want to make sure you wear long pants, rubber boots, a long-sleeved shirt, and rubber gloves. For commercial kennels where you're frequently disinfecting your dog run flooring, you may want to invest in a specific outfit that any staff can wear while doing this chore. Keep these clothes and items in an area that dogs cannot access. By keeping them on-site, you'll know that they're always on hand when you need them.
Disinfecting Dog Kennel Flooring
Once you've gathered your materials, start by removing all dog blankets, dog beds, food bowls, and other items from the kennel. You will need to discard or disinfect these items separately. Machine wash bedding in hot water, and disinfect dog bowls and toys.
For a thorough disinfecting, you will need to remove your dog kennel flooring so you can access both sides of the flooring, as well as the subfloor. Carry the flooring outside, and make sure not to drag it along the kennel floor, which can contaminate the floor. Place the flooring in an outdoor area that dogs do not have access to.
Because you need to carry your flooring outside, it makes sense to choose flooring for indoor dog pen use that is smaller in size. Modular tiles can be separated for easy transportation, and smaller mats are more manageable than larger, rolled flooring options. When you're running a professional business where you'll be disinfecting the flooring regularly, these strategic choices can make a significant difference in how easy the task is.
You will want to follow the directions on the disinfectant that you're using, but in most cases you will need to spray the disinfectant onto the mats. Leave the disinfectant in place for at least 10 minutes, which gives it time to work.
For heavily soiled mats, you may need to scrub the flooring using a scrub brush, disinfectant and water. Putting a scrub brush on the end of a broom handle can make this task easier if you're disinfecting many mats at one time.
Once you've disinfected one side of the flooring, turn it over and disinfect the other side of the flooring. Then, leave it to dry outdoors while you disinfect the rest of the kennel.
Disinfecting Dog Kennels
Just disinfecting the dog kennel flooring won't do you a lot of good if the rest of the kennel is not also treated. You'll need to disinfect the walls and door, too. Start at the top of the walls and work your way down, so that the disinfectant runs down through the areas that haven't yet been treated.
Next, turn your attention to the subfloor. If you're working with a concrete subfloor, you may need to sweep or hose the floor off before disinfecting it. If your subfloor is dirt or gravel, such as what you may find in outdoor dog run flooring, there's not much that you can do to disinfect the subfloor. For a dirt or gravel area where you're dealing with a contagious illness, your best option may be to dig down about 8 to 12 inches into the material. Remove the material, then refill the area with new material.
For a concrete subfloor, disinfect it the same way that you disinfected the flooring mats. Then, allow the subfloor to completely dry before replacing the mats.
Disinfecting Outdoor Dog Run Flooring
When working with an outdoor dog run space, you'll need to take a few extra steps to disinfect the space. First, remove any dog poop from the area, and take out any toys or bowls for separate disinfecting.
If the flooring is modular and you can remove it, do so so that you can access the subfloor. Otherwise, leave the flooring in place and disinfect it while in the dog run.
You'll need to carefully follow the directions on the particular disinfectant that you're using. Most disinfectants need to be left in place for at least 10 minutes to be effective. Disinfectants intended for use in dog kennels often do not need to be washed off with water.
Because the walls of outdoor runs often consist of wire mesh, theyre more difficult to disinfect. Rather than spraying the disinfectant on, you may have better results by sponging or scrubbing the walls with the disinfectant.
You'll also need to disinfect the floor of the run, if possible. This is easy if you have a concrete floor, but is more difficult with dirt or sand surfaces. If you're working with dirt or sand and are disinfecting the space because of a sick animal, then you will need to dig down 8 to 12 inches into the surface. Remove all of the material and replace it with new material. The same is true if there are areas of grass or turf.
If you're working with concrete, then you can use the disinfectant product. Be sure to allow the surface to thoroughly dry before you replace your dog training floor mats.
When to Disinfect Dog Run Flooring
When it comes to disinfecting your facility, there are a few general rules to follow.
If you're just looking to maintain your dog runs for your home, then regular disinfecting isn't quite as important as it is for a commercial facility that sees many different dogs. Disinfecting your dog's toys and your dog training floor mats in his kennel or run on a monthly basis should suffice in most situations. However, if your dog is sick, or if you have another dog on your property that is sick, you should disinfect the mats immediately, regardless of your schedule.
If you're running a professional kennel, then you should ideally disinfect your dog training floor mats and kennel flooring whenever a dog leaves and before another dog enters the space. This can help to reduce the potential transmission of contagious diseases, like kennel cough.
For a dog daycare or agility facility where you see many dogs in a single day or in a single week, it's impractical to disinfect your dog agility mats or other flooring before another dog enters the facility. However, you should make an effort to disinfect your rubber flooring for dog daycare and your dog agility mats on a weekly basis, at least.
If you learn that a sick dog has been in your facility, then you will need to carefully disinfect any and all areas the dog accessed before allowing new dogs into the facility.
In addition to maintaining a regular disinfecting policy, stressing the importance of vaccines to your clients can help to minimize the chance of dogs getting sick while at your facility. Depending on the type of facility that you're running, you may want to require particular vaccines, including the Bordetella vaccine.
Disinfecting your dog training floor mats and dog run flooring is an essential step in keeping your dog and other dogs safe and healthy. When you're equipped with the right tools and with flooring that is modular and easy to remove, the task doesn't take too long to complete. Plus, it will be well worth the effort if you can keep dogs healthy and prevent the spread of contagious diseases.