What Is The Difference Between Vinyl And PVC Floor Tiles?
By Paige Cerulli Created: September, 2022 - Modified: September, 2023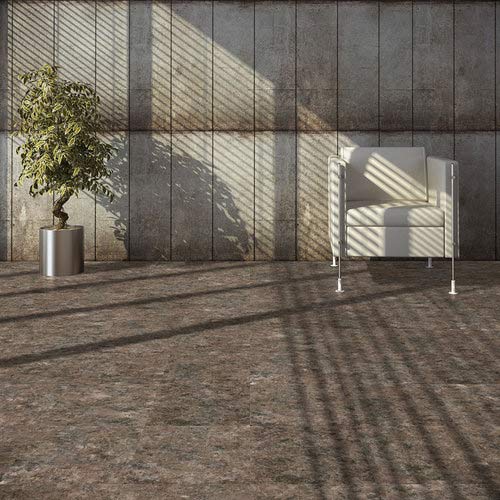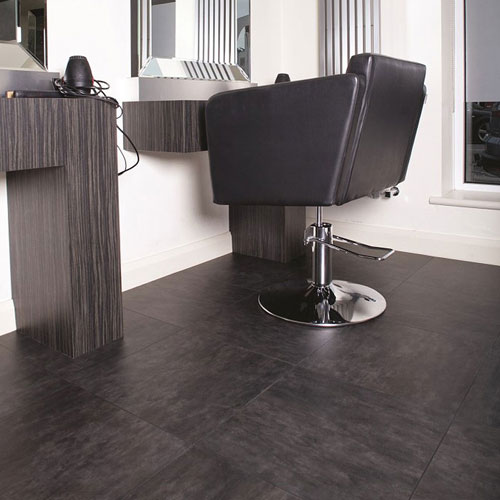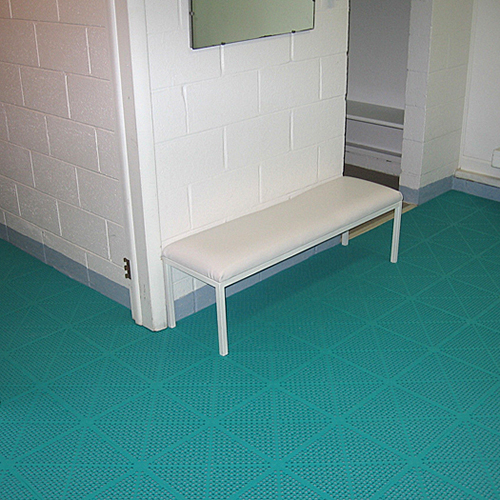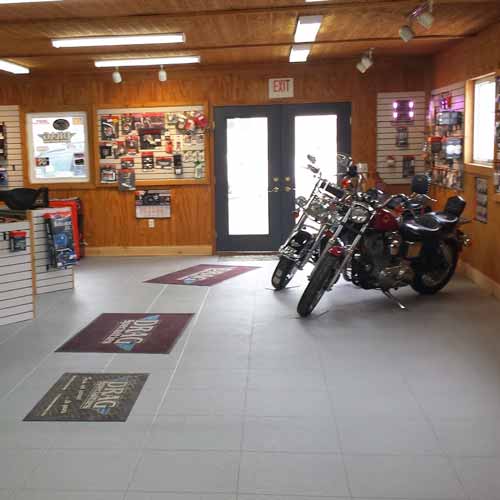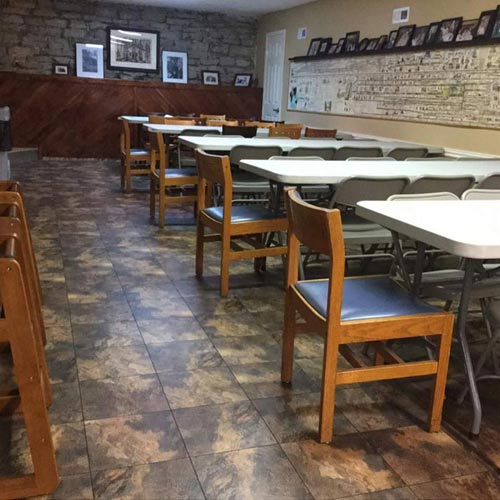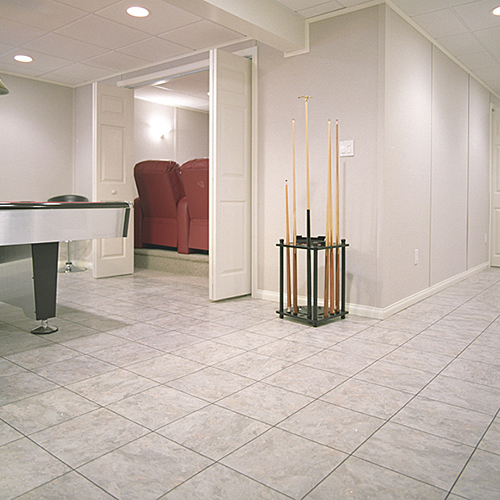 As you shop for flooring, you will discover that vinyl and PVC floor tiles are highly popular choices. They're durable, waterproof, and versatile, but it's important to understand the key differences between these products so you can decide which is right for your needs.
Are Vinyl and PVC Floor Tiles the Same Thing?
Not exactly. While vinyl and PVC are often confused, they aren't the same material.
Vinyl is a functional group that includes multiple ethylene-based compounds. Vinyl is made of carbon and hydrogen.
Vinyl is a strong, durable plastic and can be produced very affordably. It is highly durable and strong, and it can be manufactured in transparent and solid colors.
PVC, or polyvinyl chloride, is a synthetic polymer. PVC is a type of vinyl and consists of carbon, hydrogen and chlorine atoms.
PVC is rigid but can be made to be more flexible by adding plasticizers. It's a widely-produced plastic and is favored because it is both cheap and durable, and it's highly resistant to chemical reactions.
What are Vinyl and PVC Used For?
The best way to understand the differences between vinyl and PVC is to look at the ways that the materials are often used.
Vinyl is often used in building and construction materials. It is in health care, electronics, and automobile materials and supplies, and can be recycled at the end of its lifespan.
PVC is used in a broad array of applications. Since it is resistant to chemicals, you will find PVC in construction applications, including in electric cables and pipes.
PVC is also used in clothing manufacturing. It's included in many toys and in some furniture, too.
Choosing Between Vinyl and PVC Floor Tiles
Both vinyl and PVC are also used to create floor tiles. The material that is right for your needs will depend on the qualities you're looking for in a flooring tile.
Luxury Vinyl Tiles
At Greatmats we offer a wide variety of luxury vinyl tiles. These tiles feature eye-catching, beautiful finishes, and the tiles are often used in both commercial and residential applications.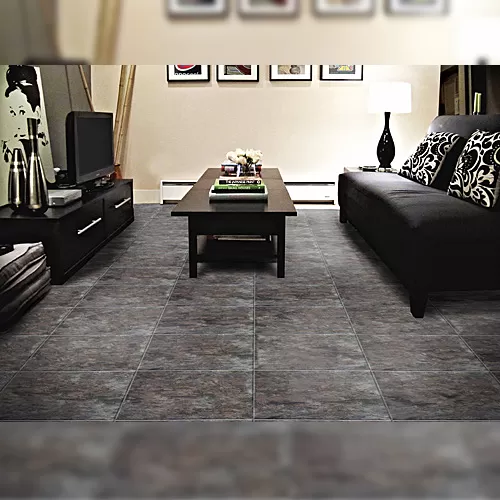 These vinyl tiles can be used in living rooms, kitchens, basements, entryways, schools, and businesses. They are durable and economical, and are capable of withstanding the increased foot traffic that is common in commercial settings.
One of the greatest appeals of luxury vinyl tiles is their finishes. They look extremely high-end, and can resemble luxury materials like woods and stone.
While the tiles may look like those materials, they are more comfortable and more practical. Vinyl tiles are more flexible than wood and stone, and they are more affordable and easier to install, too.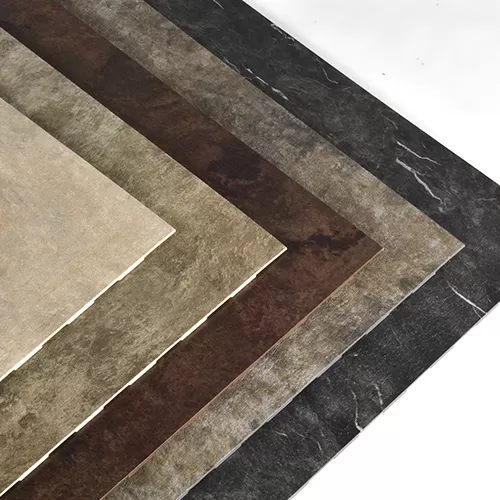 Many luxury vinyl tiles also feature Nano Silver anti-bacterial technology, which can help to protect the room from bacteria, rhinovirus, mold, and more. They are easy to clean and maintain and are a long-lasting flooring investment.
When installing LVT tiles, it's important to start with a level, smooth subfloor. You will need to invest in an underlayment if the tile that you are using doesn't already come with an underlayment backing.
Some LVT products can have thin wear layers which may show scratches, so you will want to carefully choose the product for your needs. If you are installing the tile in a room with large windows that are exposed to significant sun, you will want to make sure that the tiles are UV treated to prevent them from fading.
PVC Floor Tiles
PVC floor tiles are highly versatile products that can be used both indoors and outdoors. These tiles are available at multiple price points, and they are a cheap alternative to vinyl floor tiles.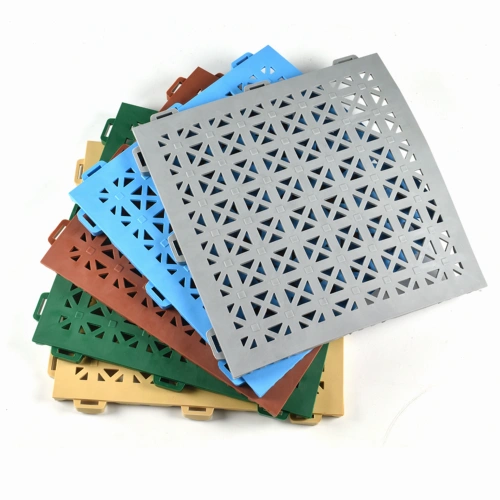 PVC floor tiles create a soft, cushioned surface that is comfortable to walk and stand on. The tiles are available in multiple finishes, including textures that maximize traction to help prevent slips and falls.
If a fall does occur, many PVC floor tiles are fall height rated, meaning they can help to absorb the impact of a fall to reduce the injuries that result.
These tiles also offer the advantage of being waterproof and extremely durable. They are unaffected by heat and cold, and are resistant to many chemicals and oils.
As a result, you will find PVC floor tiles used in a wide variety of settings, including locker rooms and bathrooms, garages, porches, playrooms, pool surrounds, warehouses, and more.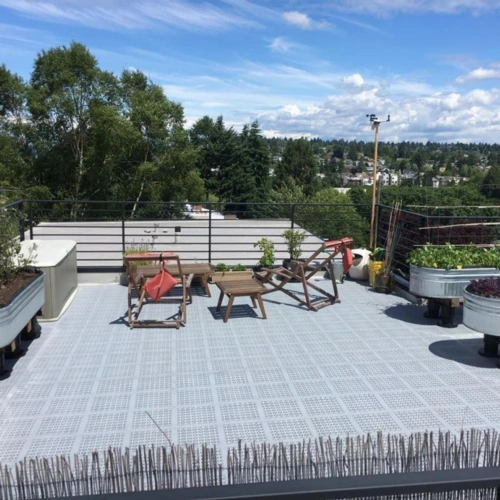 Most PVC tiles feature interlocking edges, making them versatile modular floor tiles. There is no need to use adhesive in most installations, and a single person can perform the installation themselves.
If a tile becomes worn or damaged, you can easily replace that one tile, keeping your flooring looking beautiful without facing the cost of replacing an entire section or room of flooring. Additionally, you can uninstall and reinstall the flooring if needed, such as if you're redesigning a room or only want to use the flooring seasonally.
PVC tiles are available in a wide range of colors, from neutral, reserved tones to bright colors like light blues that are fitting when used around a pool.