Can You Put Rubber Tiles And Other Rubber Flooring Over Carpet?
By Lisa Hobbie Created: February, 2021 - Modified: June, 2023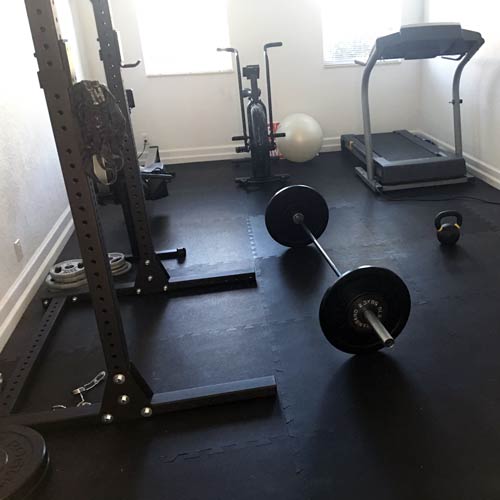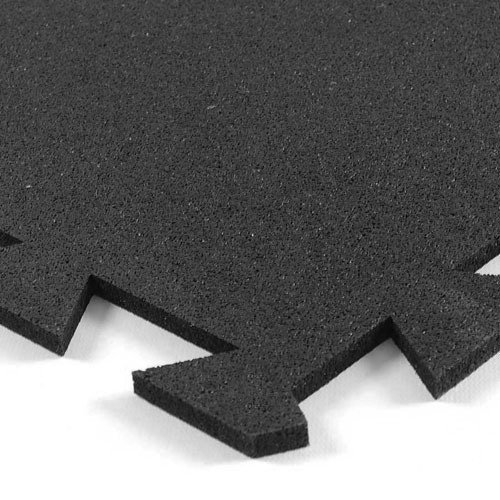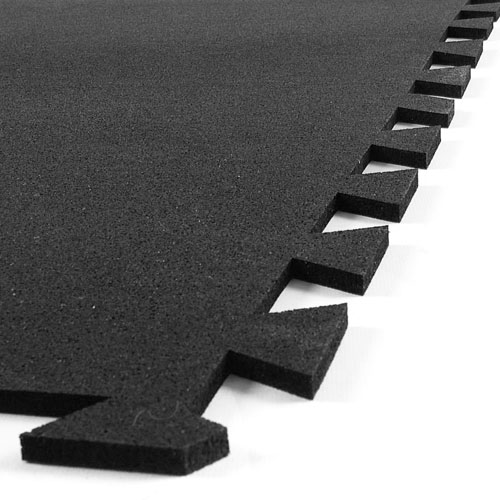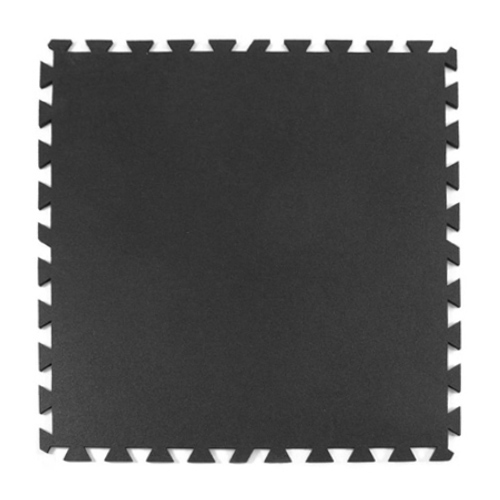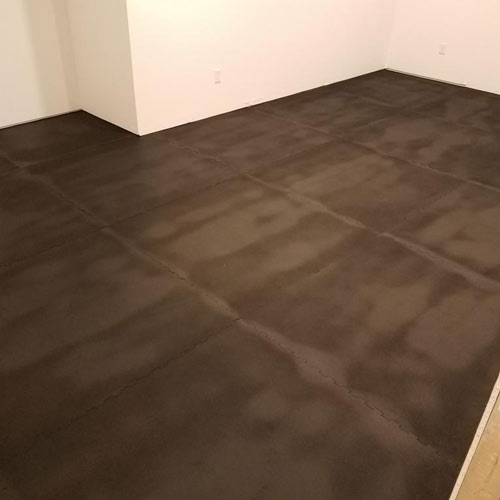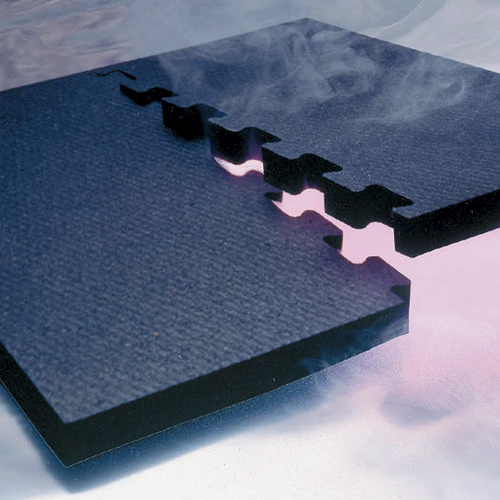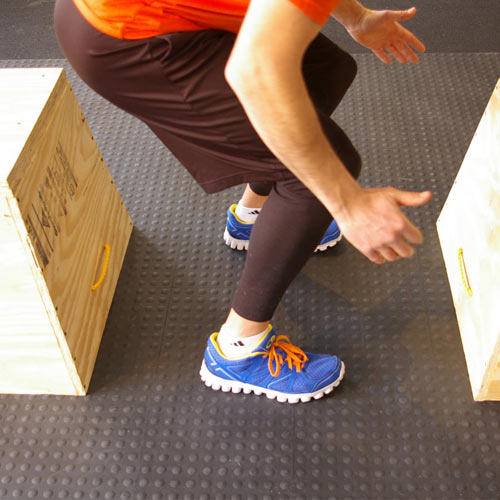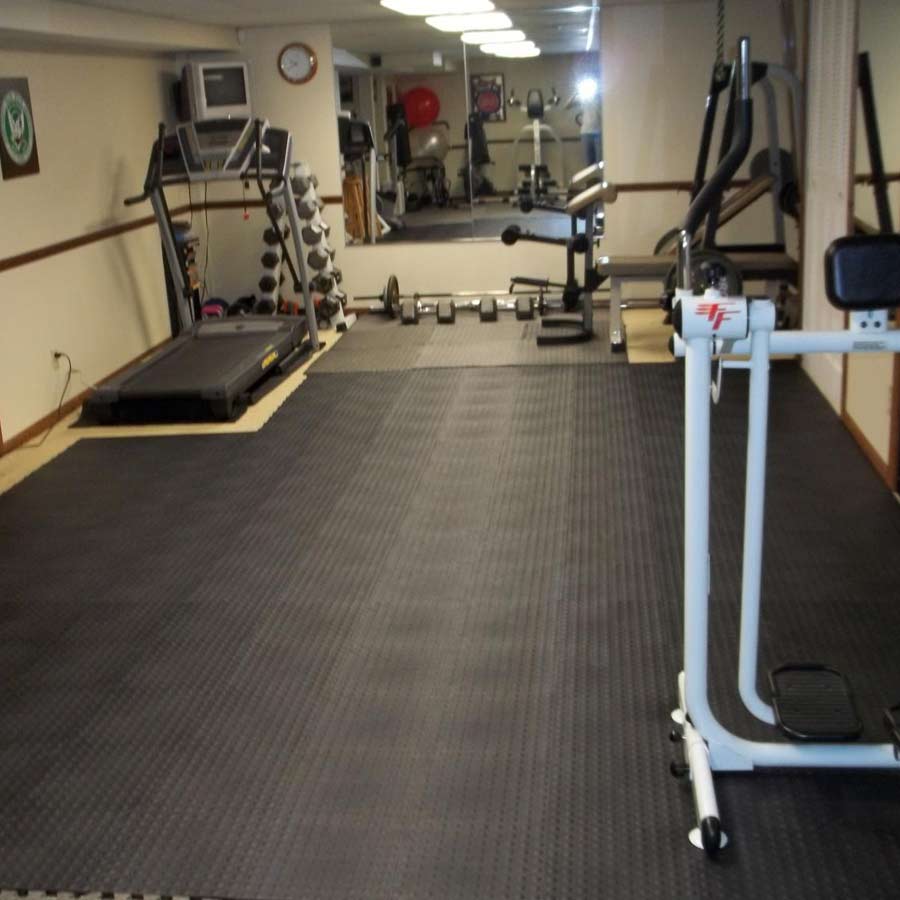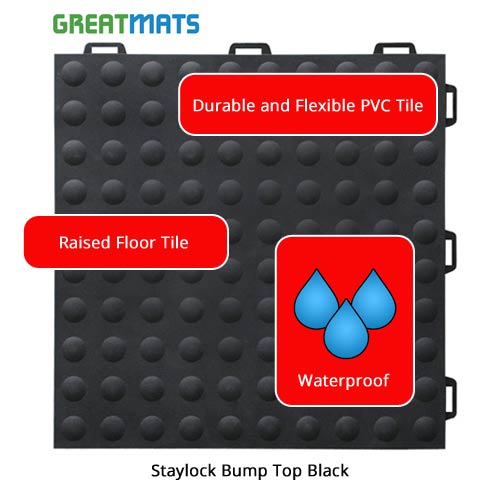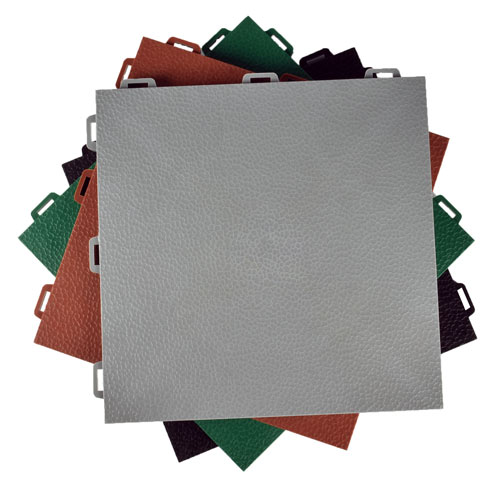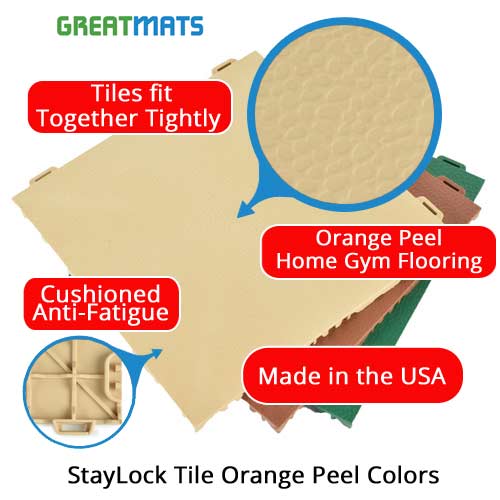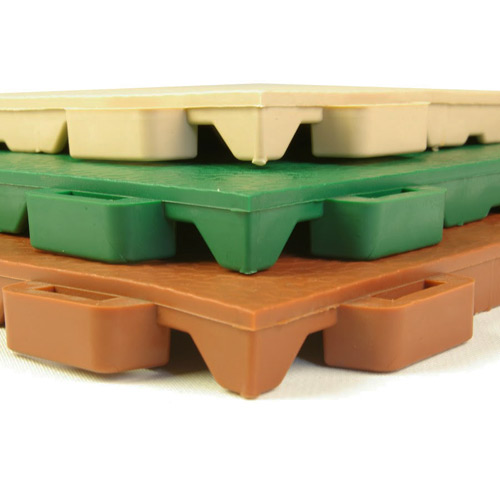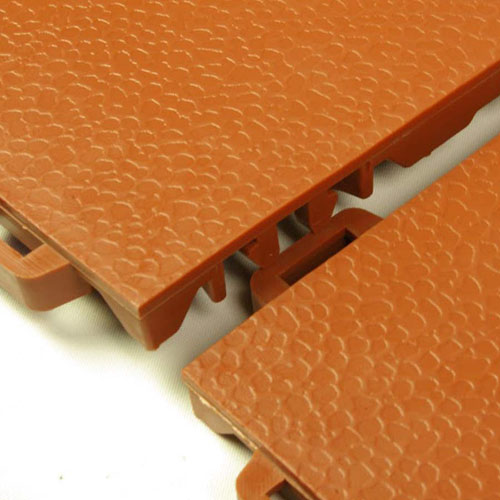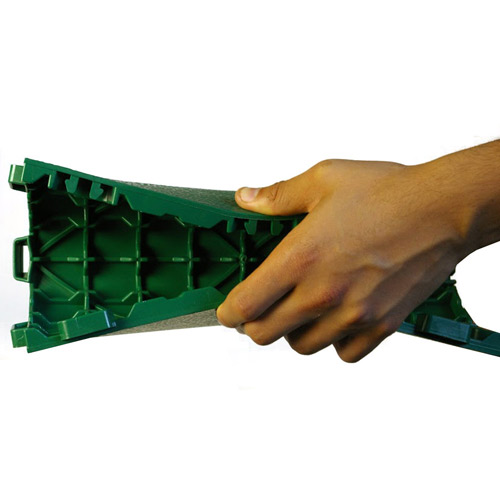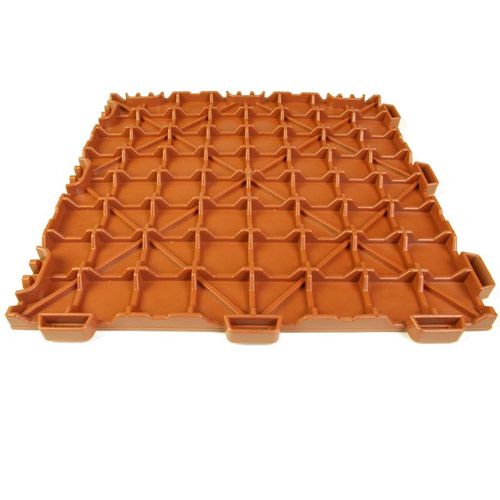 If you have a commercial or home gym, you may be asking yourself, "Can you put rubber flooring over carpet?" Where there are things you can do to make it possible to install rubber tiles over carpet, it can be a bit of a process.
Can You Put Rubber Flooring Over Carpet?
Can you put rubber flooring over carpet? Yes. However, if you're set on doing it while protecting and keeping an existing high pile, plush carpet with thick carpet pad, you will have to place a stable plywood layer over the carpet as an underlayment to the rubber layer. This is necessary, because plush carpet does not provide an even, stable base on which the rubber can rest.
This can cause the rubber tiles over carpet to shift, separate, sink, and move, which results in safety concerns and aesthetic nightmares. Not to mention the fact that the carpeting could become damaged and flattened by the weight of the rubber and gym equipment. Adding a plywood subfloor over the carpet creates a platform that will protect the existing flooring, and your body. Not only is a plywood subfloor effective over a pre-existing carpeted floor, it also works great over cement or concrete to dampen some noise. This is a relatively easy and inexpensive thing to do, it just takes a little extra time and planning.
Can you put
rubber flooring over carpet
that is flat and low pile in a home, office, or transit vehicle? Yes, but you'll still want the plywood.
You can put rubber tiles over carpet of this kind. However, if you really want to protect the integrity of the carpet and the rubber, it would still be a good idea to first install a plywood layer in between. Not only will it protect the carpet, but it will also ensure a stable surface to prevent uneven flooring and separation of rubber tiles, mats and rolls.
How Do You Install Plywood Over Carpet To Use As A Rubber Flooring Subfloor?
Sometimes, keeping a carpeted floor in place makes sense, like if you're renting your space or want to keep your options open while preventing high replacement costs. Also, even if you don't care about protecting your carpet, if you had to remove and dispose of it, it could lead to a lengthy and expensive process. These may be other reasons you'd rather just install plywood over it so that you can effectively use rubber flooring in the space.
Adding a layer of plywood over carpet to create a solid surface for your rubber floor is relatively simple.
Make sure you have all supplies needed, which may include a utility knife, measuring tape, cleaning supplies, and saw for cutting the plywood.
Clean the space. Remove all furniture and objects from the area and thoroughly vacuum the carpet.
Use at least a ¼ inch thick plywood to go over the carpet. (Make sure you will still be able to open and close the door with the thickness of both the plywood and rubber flooring, and adjust, if needed.) If more than one plywood board is needed for your space, be sure to secure them together at the seam.
Why Choose To Put Rubber Tiles Over Carpet?
Obviously, gym flooring, whether in a home or commercial setting, needs to be able to take a lot of use and abuse. A popular choice that works in almost every gym setting is rubber flooring - in a mat format or roll option. Rubber has numerous benefits, which include:
Comfort and safety. Rubber flooring provides impact absorption, which may greatly reduce the likelihood of leg injuries and fatigue. It also provides traction, which prevents slipping and falling that could occur on a solid surface – especially when damp.
Floor protection. Gym goers are not always mindful when dropping weights after a challenging lift, moving exercise equipment around, etc. Hard floors often succumb to cracks, divots, scratches, and more, and carpet can easily get flattened, stained, soiled, and otherwise damaged.
Noise buffer. The movement, dropping of weights, equipment use, and more that take place at a gym are often accompanied by a great deal of noise. Depending on where your gym is, that noise may not be welcomed. Rubber flooring products are good for commercial gyms, home gyms, garage gyms, fitness centers, and more, as they provide an unmatched noise buffer that other flooring options simply don't offer.
Environmentally friendly. Rubber floors are great for gyms, because they are made from long-lasting and durable recycled materials such as reground whitewalls from tires. So, instead of being long-lasting in a landfill, they will provide a long-lasting and protective flooring for your gym.
What Are The Best Rubber Gym Tiles To Use Over Carpet?
Now, you may be wondering what the best rubber tiles over carpet are.
Greatmats specializes in gym flooring, with rubber mat and roll options being among the most popular products. Of these, four rubber flooring solutions would look and perform well over carpet once a plywood subfloor has been placed. These products are:
Although you can use any rubber tiles over carpet once the plywood is in place or you've determined they can be installed directly over flat, low pile carpet, the two products mentioned will give you the best results. Each of these products has a number of benefits and features, and you can't go wrong with any of them.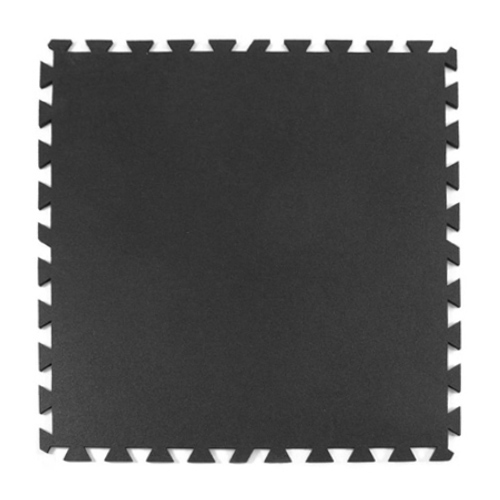 Geneva Rubber Tile
gym flooring is a great option for rubber tiles over carpet in a large space, as each tile is 3x3 feet. This product is made using the highest manufacturing quality and results in a great looking and high performing floor with tight, interlocking seams.
Once installed, these rubber tiles will stay put, lay flat, and not move or curl. They are designed to perform well in a home or commercial gym setting, and they will endure heavy use and abuse. They are made in the USA and have a very low rubber odor. Made of recycled rubber material, this product qualifies for LEED points.
This product is priced at approximately $4.50 per square foot, and carries a 5-year manufacturer warranty, giving you a great value with this option over time that will provide excellent performance for years to come.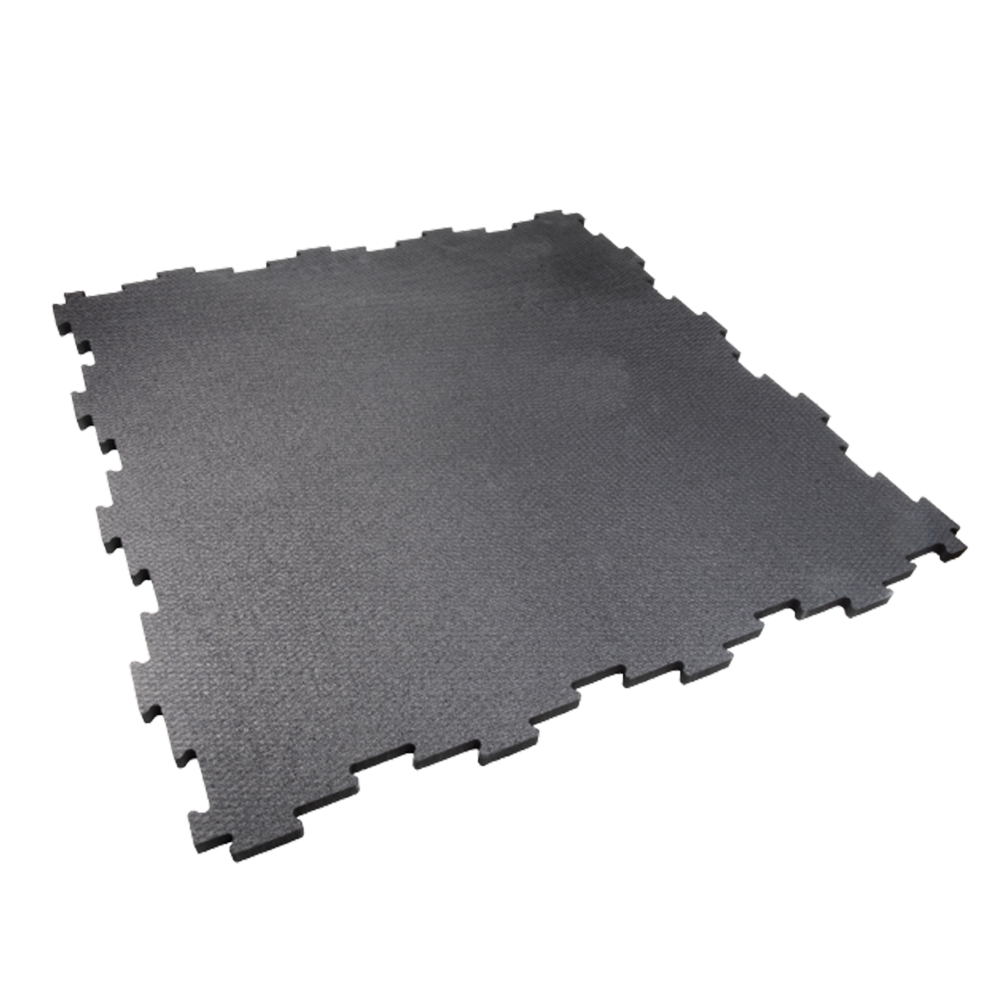 Gym Rubber Interlocking Center Tile
is the product to choose if you're looking for rubber tiles over the carpet that will endure the toughest punishment from weights and fitness machines. Designed to provide superior performance in professional weight rooms and school gyms, this ¾ inch thick flooring with interlocking tabs will not disappoint or underperform.
This tile is made in the USA of 100 percent recycled rubber content. It's a green product with precision waterjet cut interlocking tabs that provide an easy-to-install, no-adhesive-required product. It can be cut for wall-to-wall installations or island installations and is the product to choose when the toughest of interlocking rubber flooring is needed at value pricing.
This option for rubber tiles over the carpet will cost just under $4 per square foot and carries a 5-year limited warranty.
Rubber Flooring Alternatives
If you want to forgo the plywood underlayment process, Greatmats also has a couple of rubber-like gym flooring options that can be installed directly on top of the carpeting without an additional subfloor layer.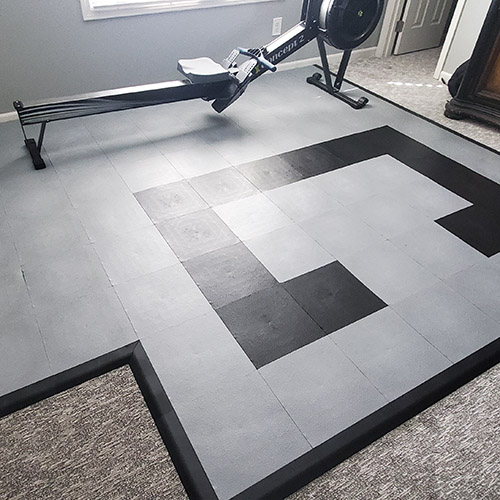 Staylock Tile with orange peel
surface texture is actually made of PVC plastic but is durable like rubber so we're including it as one of the best options to go over carpet.
This product is perfect if you're going to be placing heavy workout equipment on the floor, as it is designed to fit together tightly and never separate and provide support and cushioning.
The pop-together connection system is suitable for gyms or workout rooms in any area of a home or business, as it is waterproof. These rubber alternative mats are durable and versatile, and their orange top surface texture provides excellent aesthetic appeal. It is non-absorbent and made from 100 percent recycled plastic material that will not degrade over time. Its smoothed edge support structure will grip your carpet below, preventing sliding, without damaging the subfloor.
This product is also available in
black
. It is priced at around $6.00 per square foot. You can often get traditional black StayLock tiles at lower price due to increased percentage of recycled material.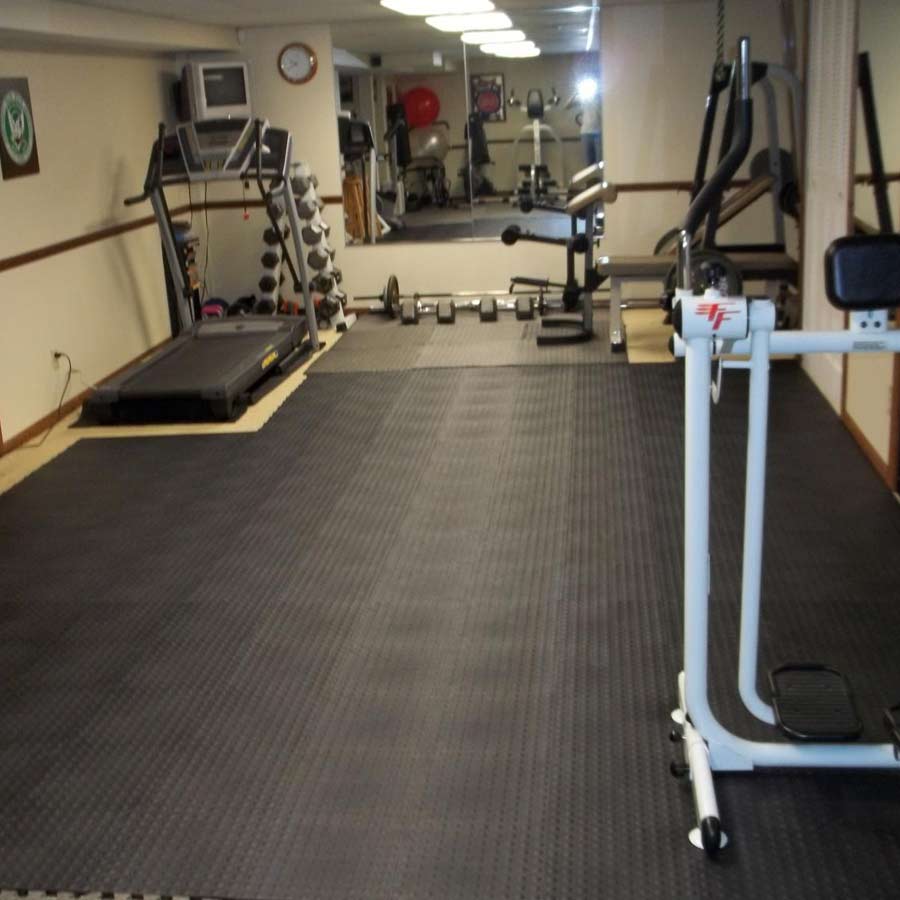 Bump Top StayLock Tile
is another perfect option to go over carpet if you desire a product that is durable like rubber with a cushioning that feels more like foam. This durable PVC tile features a design that will lock together tightly without ever separating over time - even when placed under pressure - and a raised base that prevents it from sliding around. The active locking connector system requires no glue or adhesive and makes for a simply DIY installation.
These rubber alternative tiles provide soft cushioning and superior support for all levels and intensities of workouts or lifting exercises. Its bump top surface top texture provides anti-fatigue benefits and excellent ergonomic features.
These 1x1 foot squares are one of the most durable cushioned gym flooring options, with the ability to support heavy weights and workout equipment! This black flooring product is reasonably priced at less than $4 per square foot. It's also available in a few color options.
Greatmats - For rubber tiles over carpet and more!
Can you put rubber flooring over carpet? Yes - but with special preparation. Whether one of the highlighted options appeals to you, or, if you want to explore other rubber products, Greatmats has unbeatable quality and service with a variety of flooring solutions from which to choose.
Aside from the products mentioned, Greatmats offers a wide variety of rubber mats for carpet that would be suitable for home or commercial gym with plywood over carpet. The different varieties have been installed in hundreds of professional and residential gym settings and provide the best in quality, service, and dependability.
Most products come with a warranty and are designed specifically to take the use and abuse of heavy fitness equipment and weights. Greatmats offers everything from horse stall mats to other types of interlocking mats and materials, as well as rubber gym rolls, if you are curious about other alternatives.
Simply reach out to a member of the customer service team who will gladly go to work for you to help you determine the best flooring solution for your space and help answer questions you have about the installation process.