Can You Install Vinyl Flooring Over Hardwood?
By Lisa Hobbie Created: February, 2021 - Modified: June, 2023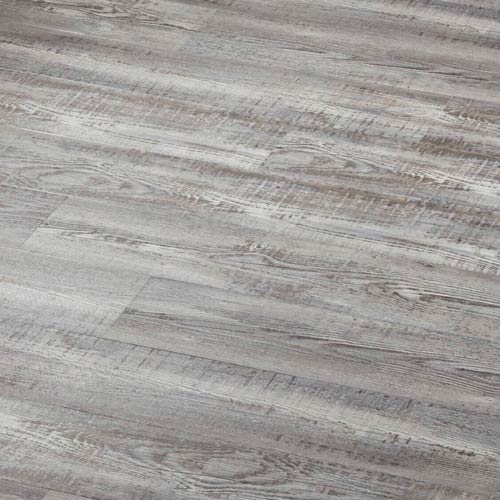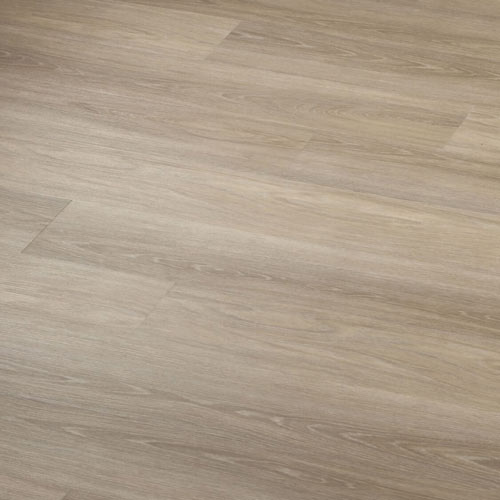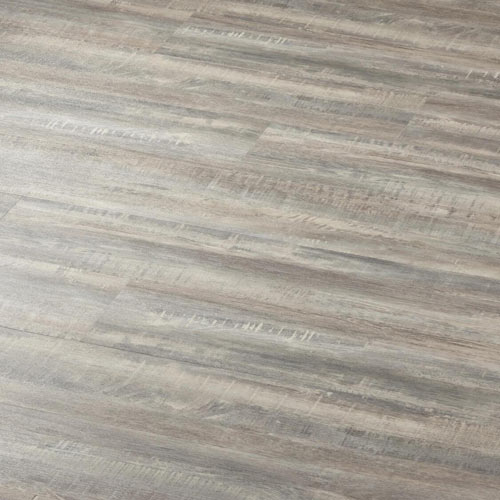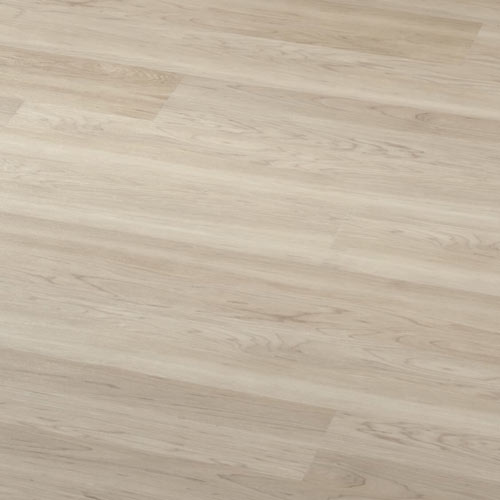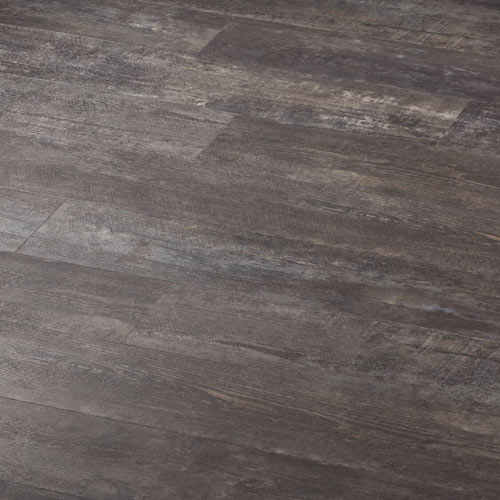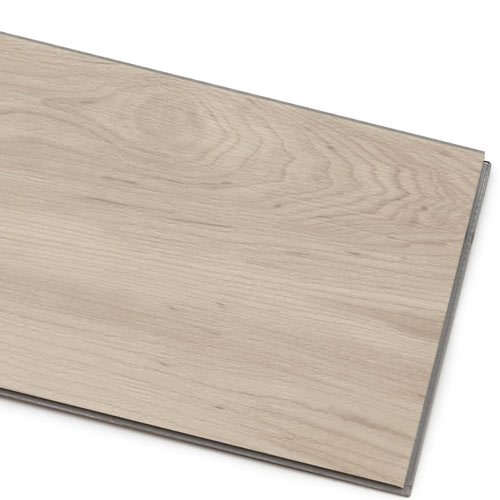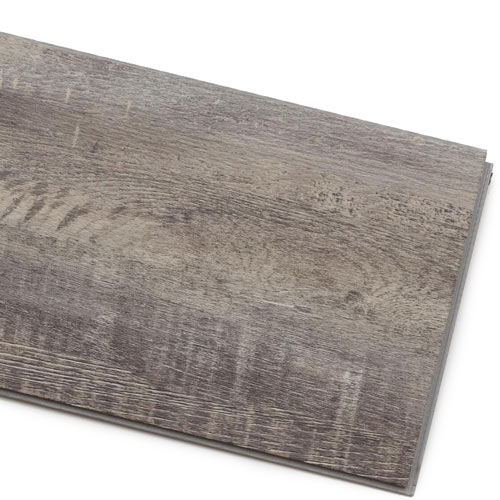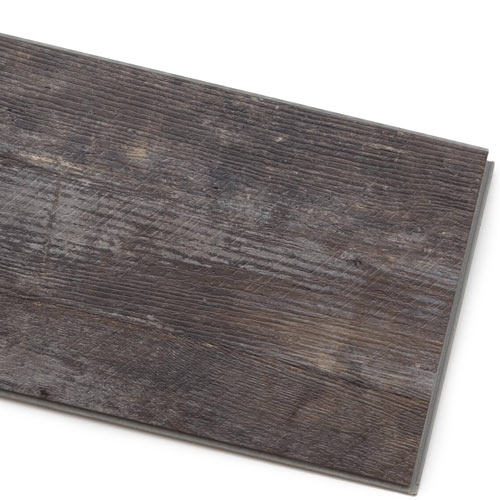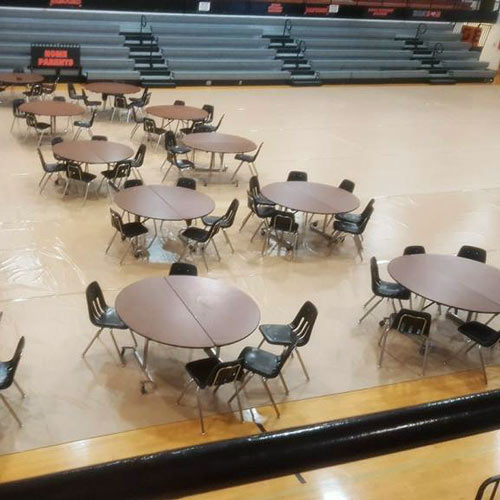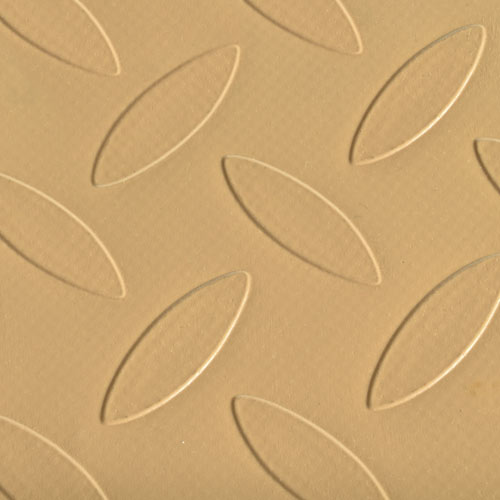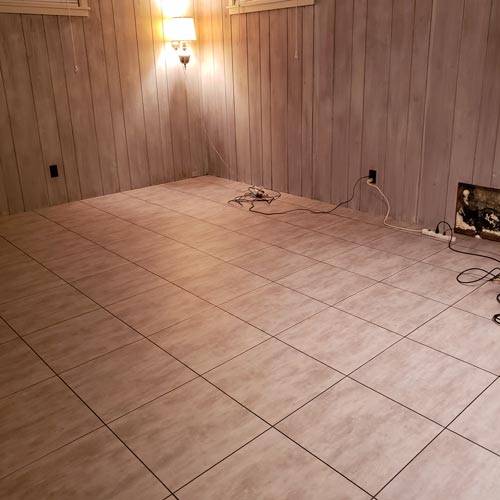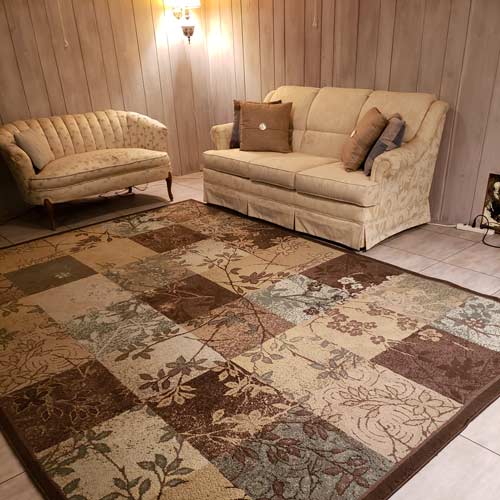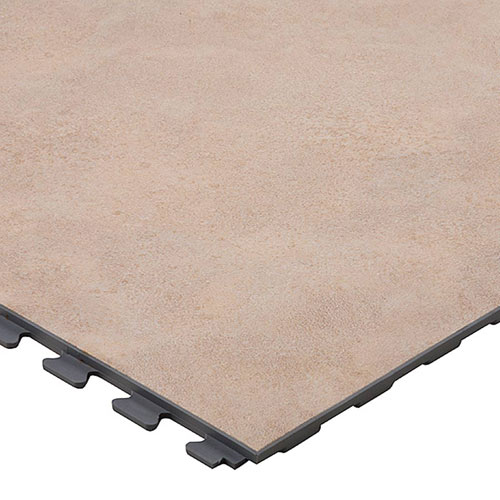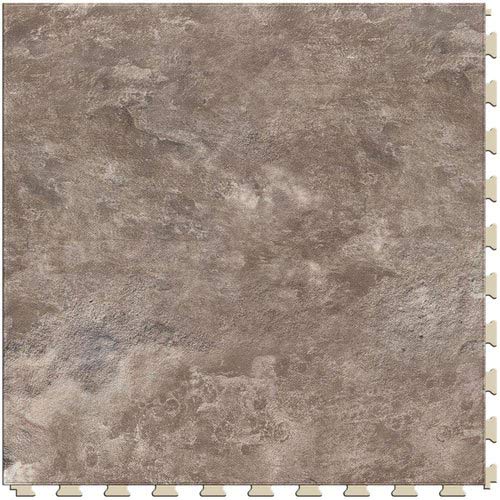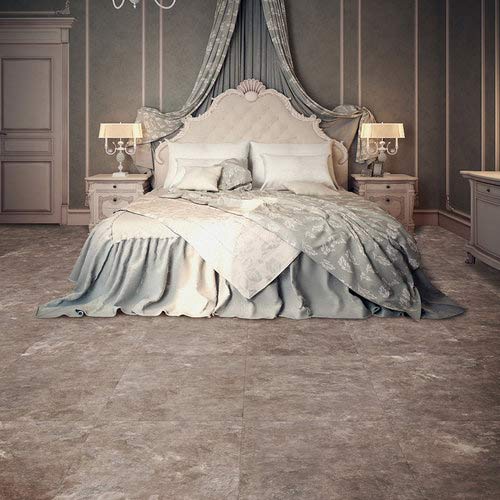 There are many situations when you may be interested in installing
vinyl flooring
over hardwood. Perhaps, you have an existing hardwood floor that is damaged, and you don't want to resurface or refinish it. Maybe, you simply want to update the look of a room in your home or business.
Regardless of the reason why you are considering it, it can be done. Many different types of vinyl flooring can easily be installed over hardwood, from floating vinyl planks over hardwood floors and other types of vinyl flooring over hardwood. The key is simply to select a product that doesn't need to be glued, stapled, or nailed to the hardwood subfloor. You may also want to stay away from most peel and stick products.
There are many different products that you can put over an existing hardwood floor, and Greatmats offers the best. Among the offerings, the 6 most popular products are:
Each of these six vinyl flooring products provide value and aesthetic appeal and are relatively easy to install over an existing hardwood floor. Here, we will highlight the pricing and main features and benefits that each of the six products boasts.
What Are The Best Tile Products When Seeking Vinyl Flooring Over Hardwood?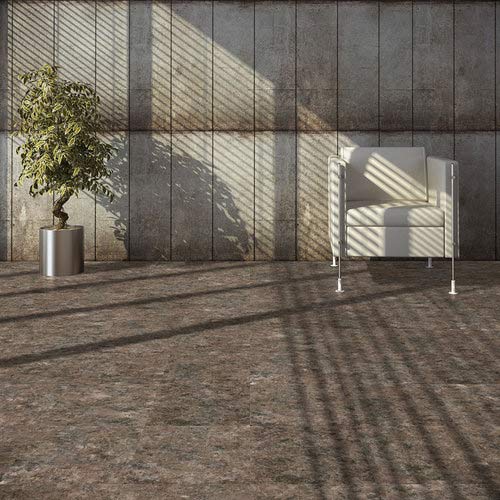 Homestyle Stone Series Floor
tile is an attractive product that presents the look of authentic stone. As a vinyl flooring over hardwood, it is friendly to the existing subfloor. It features an interlocking tile design that is hidden - enhancing the overall appearance of the floor.
These tiles are available in many designer colors. They boast a durable, vinyl top surface texture that looks beautiful and feels warm under foot. It is a very comfortable flooring product that can be installed over old and uneven hardwood floors, and it is easy to uplift and relay, if needed. This product is one that is low profile and sits close to the existing floor. Once installed, it is super simple to clean with a vacuum or damp mop.
This product comes in cartons of 6 tiles that are each 1.66 by 1.66 feet. Each carton will cost about $78, which equates to about $4.70 per square foot. It is accompanied by a 10 year warranty, and will look and perform much longer than that.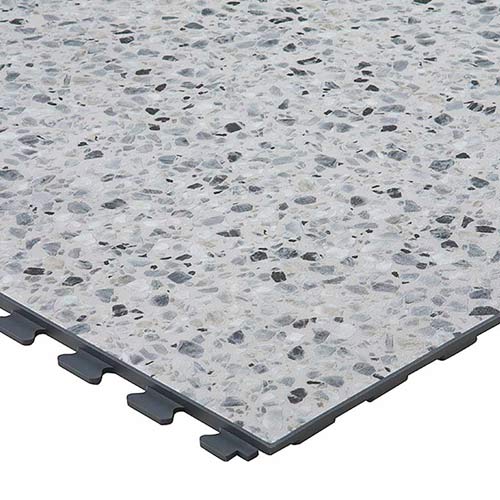 SupraTile Designer Top Vinyl Flooring
over hardwood is a great solution for any place or space prone to things like oils or chemicals as this product is resistant to both.
This top notch product is very easy to install quickly over an existing hardwood floor and provides excellent sound absorption. It is also very warm and cozy underfoot, and many styles are accompanied by an integrated ramped edge for safety and attractiveness.
Available in seven designer finishes and protective topcoat options, this vinyl flooring over hardwood offers it all. With its patented, hidden, interlocking joint system, it will appear that the floor is a traditional slate, tile, marble, or terrazzo solid surface.
The tiles are 1.50 feet by 1.50 feet and cost less than $22 each, which equates to about $9.50 per square foot. It comes with a 20-year warranty, so you can be confident in this flooring investment.
Solid Super Soft Tile
is a product to choose if you want to replace a hard wooden floor with a cushioned tile surface. Offering anti-fatigue properties, this 100 percent PVC flooring product feels like standing or walking on mini trampolines.
Each tile is 12 feet by 12 feet by .75 inches. Featuring Interlocking male/female 'T' tabs with locking teeth offers an installation process that keeps tiles fastened together tightly without moving or shifting. This is a soft vinyl tile over hardwood option.
The tiles are each just under 1 foot by 1 foot and cost less than $15 each, which provides about 1 square foot of coverage. It does come with a 5 year warranty, so you know you will be enjoying this flooring for years to come.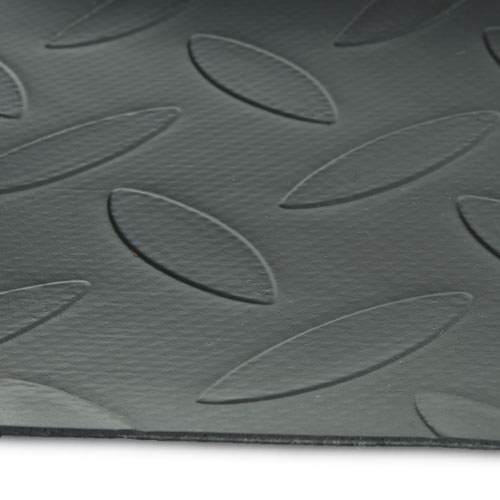 Gym Floor Cover Plus
is the perfect protective vinyl options for over hardwood gym floors. It is waterproof, rot and mildew resistant, anti-fungal, and anti-bacterial, so it will protect the finished hardwood floor.
This ultra durable flooring boasts 3-ply fabrics, PVC coated on both sides with polyester mesh. It's a great solution to go over a school or commercial hardwood basketball and volleyball courts to provide protection from furniture, shoes, and more. Also, its unique raised pattern provides superior slip resistance compared to standard GymGuard surfaces.
There are 5 weights available, and this product can be custom cut for your space. It is very easy to handle with seams that are strong and lay flat and smooth. This product exceeds ADA and OSHA requirements for slip-resistant surfaces, and it is fire retardant to all standard fire codes.
Available in tan and dark gray, this vinyl flooring over hardwood is top notch. It costs just over $1 per square foot, so it offers amazing value and affordability. It also comes with a 15-year warranty, so you just can't beat this product.
What Are The Best Options For Floating Vinyl Planks Over Hardwood Floors?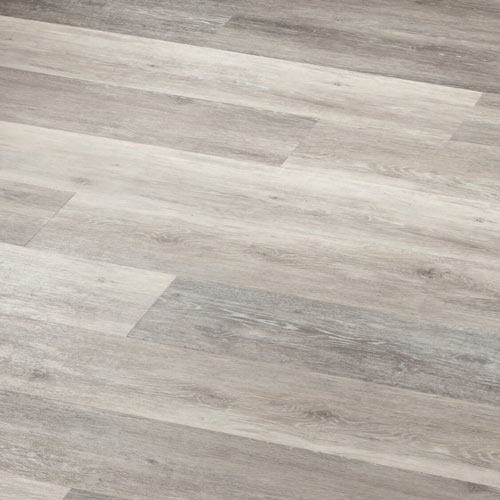 Envee Rigid Core LVT
floating vinyl planks over hardwood floors offer many features and benefits.
They are environmentally friendly, being made from 100 percent recyclable material. These floating vinyl planks are designed to endure heavy foot traffic, and they boast a water- and dirt-tight surface.
The luxury vinyl planks are very attractive over hardwood floors with their imagery that is super high-resolution. It truly resembles real, natural wood, yet, it is slip resistant. This product is mildew and mold resistant, and it provides anti-fatigue benefits. This top notch product is among the best in floating vinyl planks for over hardwood.
When it is ready to be cleaned, just scrub it with a neutral pH detergent or remove all surface soil by vacuuming or dust mopping it.
This product comes in cartons of 8 and will cost about $85, which equates to about $4.50 per square foot.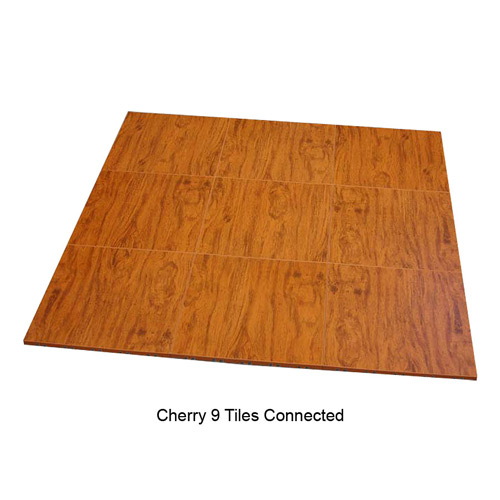 Max Raised Floor Tiles
are another product to consider when looking for vinyl planks over hardwood floors. This laminate product is superior, as it features a clear wear layer with a polyurethane finish, so it is rugged and robust.
These wood-look or slate-look tiles float over a subfloor and provide a thermal break by providing an air gap with their raised base. This helps keep you warmer and more cozy when spending a lot of time on the floor.
This product offers a variety of wood grain designs and slate design from which to choose, and it is suitable for virtually any application with its easy, adhesive-free assembly.
If these vinyl tiles are what you choose over your hardwood, you may want to install an underlayment to prevent scuffing the hardwood subfloor and to reduce potential noise. To clean this product, simply use a damp mop and common household floor cleaner.
This product will cost just under $7 per square foot. These floor tiles will provide years of top notch quality.
Greatmats - For floating vinyl planks and other vinyl flooring over hardwood floors!
Some home and business owners love and cherish a traditional hardwood floor, but others find themselves wanting nothing more than to cover theirs up. Vinyl is a very versatile material that is well suited to go over hardwood. It stands up well to heavy foot traffic, pets, kids, dirt, and soil, making it a great flooring solution for just about any room or setting with less maintenance than hardwood. Installing it over hardwood is an easy, often DIY process that allows a way to enjoy the benefits of vinyl without doing damage to the existing hardwood.
Choosing the best vinyl flooring to go over an existing hardwood floor doesn't need to be complicated or worrisome. Greatmats has the best staff that will help you decide which option will best suit your needs and preferences.
When you're ready to purchase vinyl flooring over hardwood and floating vinyl planks over hardwood floors, any of the options highlighted here would perform really well. Select one of these, or, the many others that would also be suitable applications over hardwood floors.
Greatmats specializes in many types of flooring products, with vinyl flooring and planks among the most popular choices. Aside from the products highlighted, Greatmats offers many other options, with a solution for virtually any space and preference.
Just reach out to the helpful and knowledgeable Greatmats staff who will assist in deciding on the perfect flooring product for your space.