What Are The Best Logo Mats?
By Paige Cerulli Created: May, 2022 - Modified: February, 2023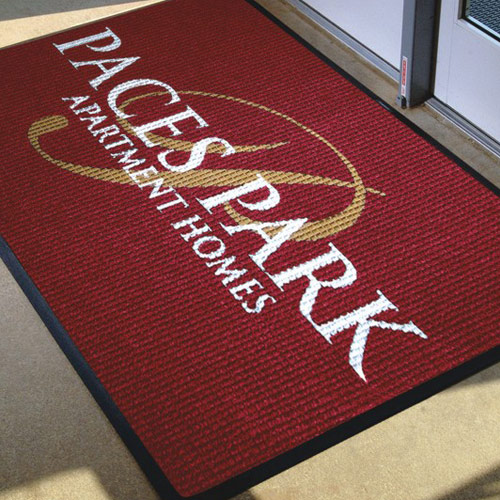 If you're looking for a great way to add a personal touch to a business or commercial space, logo mats can help make that area stand out. These mats are highly versatile and available in many different designs suitable for both outdoor and indoor use.
The Benefits of Logo Mats
Logo mats offer you all of the benefits of regular flooring, but with the added perk of being unique to your business. You'll find mats that are ideal for entranceways, and that pull dirt and water from shoes to keep your building clean.
There are also carpet tiles that are easy to cut, or you might opt for a personalized wall mat to add safety to your gym space.
When you choose a mat that's customized with your logo, you're creating a unique addition that enhances your business' branding. These mats add a traditional touch to any space, and since they're often one of the first elements that visitors see, they make an important first impression.
Logo mats can also create a cohesive look throughout a large building, ensuring that your branding is consistent and present in multiple spaces. They can look impressive in photographs and help to present your business as professional and polished.
The Best Logo Mats
We carry several logo mats that are durable, versatile, and easy to customize right here at Greatmats. Whether you're looking for a wall mat or a door mat, you'll find plenty of options at Greatmats.
Apache Logo Mat Custom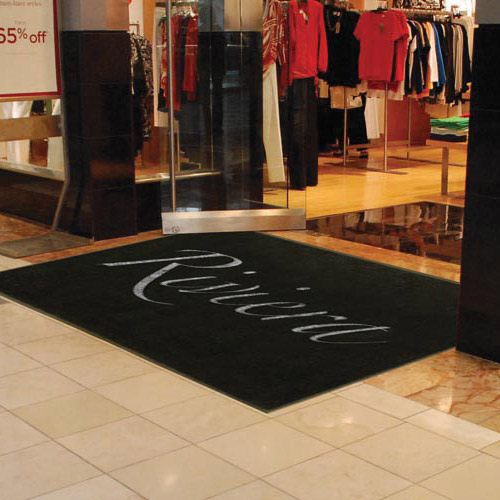 The Apache Logo Mat Custom is a water-absorbent mat suitable for use in high-traffic entrances, like indoor commercial lobbies. Its customizable options mean it can make an immediate impression on visitors.
The mat features a rubber backing for durability. It's wear-resistant and provides plenty of anti-slip traction to help prevent falls.
The mat is available in a wide assortment of dimensions, so you can choose the option that works best for your company or school. There is no artwork or setup charge, so the pricing is upfront and easily understandable.
You can personalize the mat with your logo or graphic, and with 186 available colors, you can get a precise, accurate look that reflects your business' colors.
Wall Pad 2x6 Ft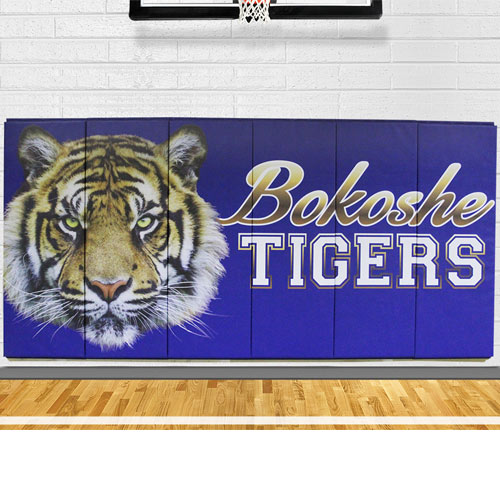 The Wall Pad 2x6 Ft is designed for gyms, fitness facilities, and schools. The pad helps to keep athletes safe in case of a collision with the wall, making the facility a safer choice.
The mat features a two-inch polyethylene foam core for maximum impact absorption. That core is covered with a durable 16-ounce vinyl.
The vinyl cover offers anti-fungal and anti-bacterial properties, contributing to a healthier, safer product. The foam is mounted on a recycled backer board for a professional look and excellent strength.
You can customize the mat with your digital logo, and can choose from 16 mat color options. The personalized mats can make a big impression during games, and are a great way to share your school's branding as well as sponsors' branding.
Classic Impressions HD Logo Indoor Mat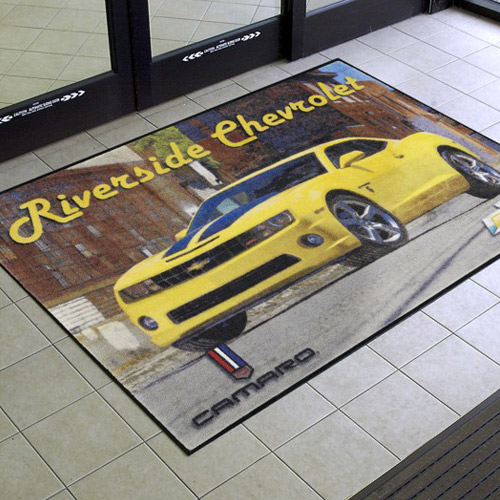 The Classic Impressions HD Logo Indoor Mat is a durable mat designed for use in commercial buildings, including hotels and offices. It features a heat-set nylon face fabric and classic rubber borders.
The rubber backing includes 20% recycled rubber, making it an eco-friendly choice. The mat is certified slip resistant and is made in the USA.
You can customize these logo mats with graphics and logos that contain fine details, artwork, and even photos. There are 150 standard color options available, ensuring a great result that replicates your original logo.
Waterhog Inlay Logo Indoor Outdoor Mat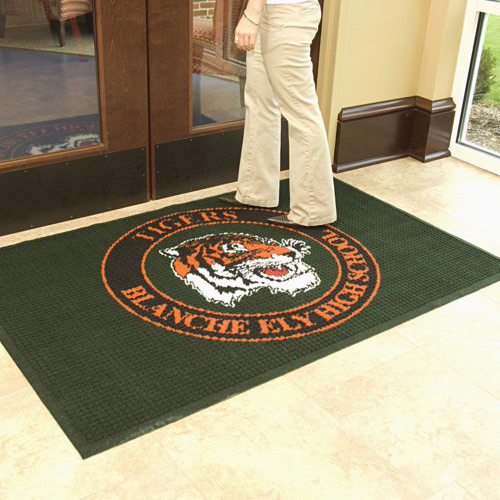 The Waterhog Inlay Logo Indoor Outdoor Mat is a versatile door mat that offers the superior durability you need for high-traffic settings like office buildings and commercial applications. Its molded rubber back resists curling and cracking, and is strong enough to withstand all sorts of weather.
The mat is made of UV resistant polypropylene fabric, and custom designs are then created with an inlay process. The result is a precise, accurate pattern that looks great and that can withstand years of high foot traffic.
With the customization option, you can get up to 19 colors in a single mat with no additional charge, so there's no need to worry if you have a more complex, colorful logo than most.