6 Best Gray Anti Fatigue Kitchen Mat Options
By Paige Cerulli Created: May, 2022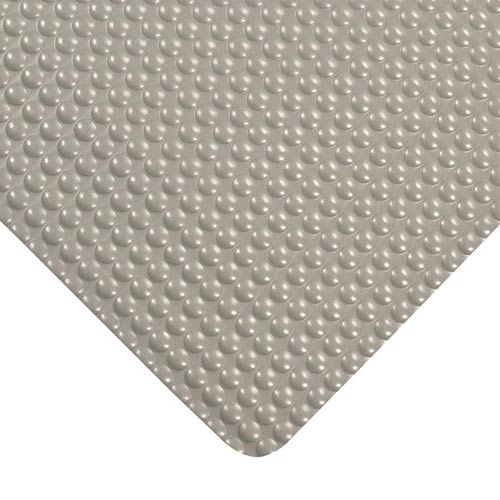 Kitchen staff spend long hours on their feet, meaning anti fatigue flooring is particularly valuable in these areas. If you're looking for a gray anti fatigue kitchen mat, you'll find plenty of options right here at Greatmats.
How to Choose the Right Anti Fatigue Mat for Kitchen Use
When you shop for an anti fatigue mat that you'll use in a kitchen setting, it's important to choose a product designed specifically for that application. Traditional mats aren't always made to withstand the elements and use that they're exposed to in kitchens.
Traction is incredibly important for any flooring you put in a kitchen. Your anti fatigue mat needs to have a non slip surface to help keep your staff safe.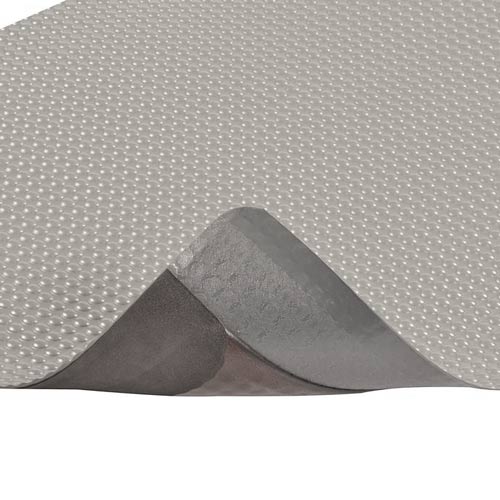 These mats also need to be durable enough to withstand the elements they're exposed to in kitchens. Look for mats that are resistant to grease, oils, and cleaning chemicals, so you'll get the maximum life out of the mat.
Depending on where in the kitchen you plan to use the mats, choosing a mat with a perforated design is also important. This perforated construction lets liquids drain through the mat, so employees' feet stay up and out of the liquids.
It's also important to consider the mat's size and ensure that it's large enough to cover the space without being so large that it doesn't fit in the area. Many mats can be cut to fit, but you should verify this before making a purchase.
Finally, consider the mat's durability. Choosing a product rated for commercial use and backed by a warranty will help you to get the best value for your investment.
The Best Gray Anti Fatigue Kitchen Mat Options
At Greatmats, we have many anti fatigue kitchen mats that are available in gray. Whether you're looking to buy a mat in a light or dark color, or even a marble print, you'll have multiple products to choose from.
1. K-Marble Foot 2x3 Feet
The K-Marble Foot 2x3 Feet mat features a marbleized PVC surface that makes it a durable addition to your work stations. That surface is easy to clean and is available with an anti-microbial treatment.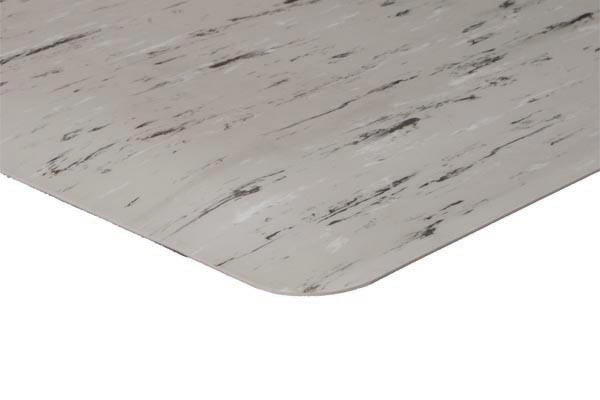 The solid mat offers anti-slip traction to help to prevent falls, while the closed-cell vinyl foam helps to keep staff comfortable when standing.
Backed by a three-year limited warranty against wear and de-lamination, this mat is ideal for use in a home kitchen.
2. Cushion Comfort Fatigue Mat
The Cushion Comfort Fatigue Mat helps to maximize worker comfort by adding cushion to work stations and behind counters. The vinyl surface is highly durable, and it's bonded to a foam cushion layer.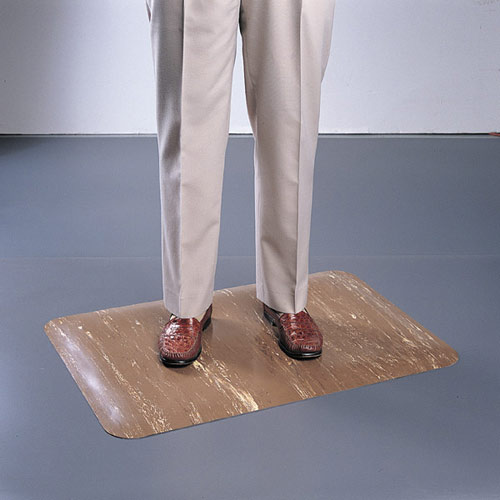 The mat features beveled edges that make for a safe transition onto and off of the mat, helping to prevent tripping hazards. THe mat is also just ½-inch thick, so it can fit underneath swinging doors.
Weighing 24 pounds, the mat provides a sturdy feel. It's backed by a one-year limited manufacturer warranty and is easy to clean.
3. Airug Anti-Fatigue Mat
The Airug Anti-Fatigue Mat features a ribbed top surface with air bubbles, so it not only improves staff comfort, but also maximizes traction. Those air bubbles help to relieve leg and back discomfort, while also creating a barrier between staff and cold, hard floors.
The mat features beveled edges to help prevent tripping, and its wear-resistant and tear-resistant construction makes it a durable addition to a kitchen.
It's economically priced, so it makes a great solution for areas where you need light duty anti-fatigue relief but are working on a budget.
4. Marble Tuff Anti-Fatigue Mat
The Marble Tuff Anti-Fatigue Mat is a heavy-duty mat designed for commercial spaces where it will see lots of use. The industrial mat features a durable vinyl surface that's easy to clean.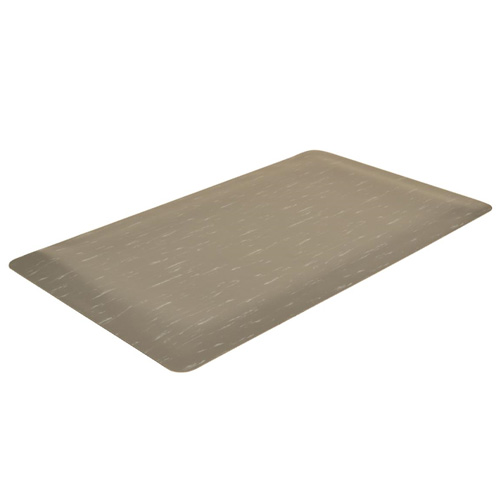 The slip-resistant surface and beveled edges contribute to staff safety. The compressed closed cell foam base helps to maximize cushion for more comfortable lower legs and backs.
The mat is available in multiple colors, each with a marble finish that will make an attractive addition to your kitchen space.
5. Apachestat Soft Foot 3x5 Feet Mat
The Apachestat Soft Foot 3x5 Feet Mat offers extreme anti-fatigue relief to maximize worker comfort. It's designed for industrial settings and features a pebbled texture to maximize traction.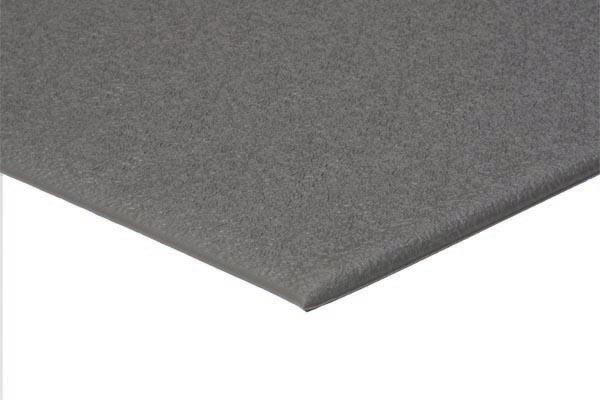 The mat is also water-repellant and resistant, so you can use it in kitchen settings. Beveled edges increase safety, and you can cut the mat to fit around corners and into workstations.
6. Bubble Trax Ultra Anti-Fatigue Mat 2x3 Ft
The Bubble Trax Ultra Anti-Fatigue Mat is designed for use in dry areas, so it's suitable for restaurants, workstations, and more. This heavy-duty mat features a bubble top vinyl shell that makes it highly durable.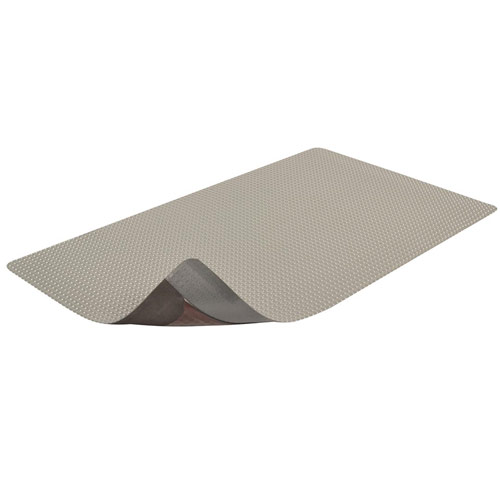 The RedStop backing helps to keep the mat securely in place on surfaces like tile and concrete. Beveled edges help to prevent tripping hazards, and the mat is easy to clean.