What's The Best Faux Granite Flooring?
By Paige Cerulli Created: October, 2021 - Modified: October, 2021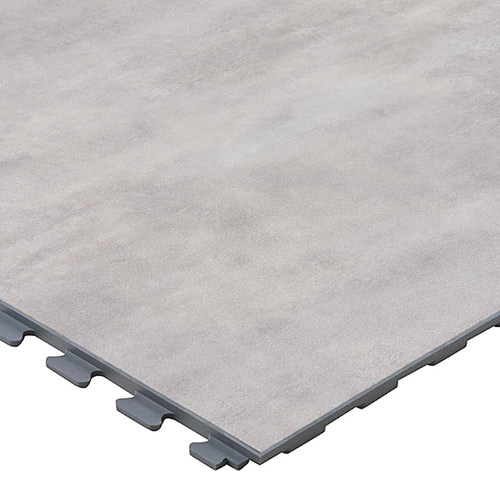 Granite flooring adds class and elegance to any space, but it isn't always the most practical flooring choice. In many instances, opting for a top-quality faux granite flooring can be a better option, and can contribute to your flooring project's success.
Reasons to Choose Faux Granite Flooring
Traditional granite can be highly appealing. It's distinctive, beautiful to look at, and can make for a stunning addition to a home or even a commercial space.
But real granite has some downsides, too. Installing it is expensive and time-consuming, which can delay your renovation or building project.
When granite is polished, it looks beautiful but can be very slippery. This can make it a dangerous surface for kids and seniors, and you'll need to reseal it occasionally to protect it.
Granite can also be very cold, especially in the winter, so a granite kitchen floor might sound appealing but be impractical in colder months. Granite is also one of the more expensive flooring products, and investing in granite just might not be in your budget.
But faux granite flooring is an appealing alternative. It's much more affordable to purchase than granite, and faux tiles look strikingly realistic.
Faux granite flooring is also far easier to install. You can perform the installation yourself, saving money over the cost of hiring a professional.
This easy DIY installation can also save valuable time. You can install many faux granite tiles right over existing flooring, including painted floors, marble, and even asbestos tiles.
Don't forget that granite look flooring will be much lighter than genuine granite. This can save you money in shipping costs, and it can also make the installation process much easier on your back.
Greatmats' faux rock flooring doesn't require waxing and is easy to clean. There's no need to worry about resealing it, which can save you additional money long-term.
It's also a much more comfortable flooring option underfoot. Fake granite tiles aren't as cold as actual granite because they are made of vinyl, so they can make for a flooring that you enjoy more in your home or business.
The Best Faux Granite Flooring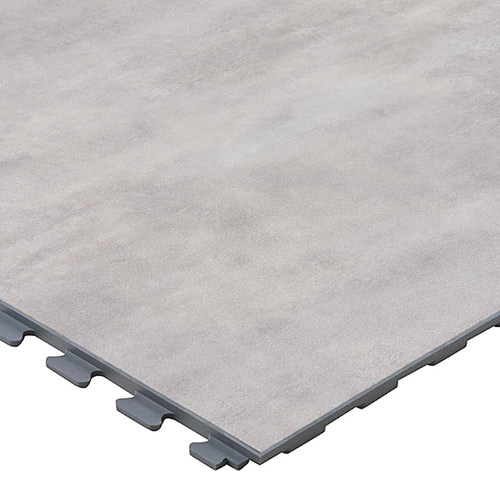 If you're looking for a top-quality faux granite flooring, the SupraTile 7 mm Designer Vinyl Top Series is an excellent choice. These tiles are available in a variety of finishes, including granite, marble, and sandstone.
The granite finish tiles are highly realistic, and they're warm and comfortable, making them ideal for offices, basements, showrooms, and galleries. They also offer superior sound absorption, especially when compared to genuine granite.
These tiles are highly water resistant and durable. They also resist oils, chemicals, mold, and mildew, creating a healthier and safer living space.
That durability extends to impacts, too. The tiles feature a rugged wear layer that resists abrasions, so they retain their beautiful finish even through regular use.
These tiles are manufactured with five different layers, and they're then bonded together under 50,000 pounds of pressure and heated for a top--quality decorative tile. The surface is bonded to the tile and coated with two protective layers, while color-coordinated edges look just like grout - you can't get closer to the real thing.
That multi-layer construction also makes the tiles incredibly strong. Each tile can support 2,000 pounds, so they're more than prepared for the demands of a commercial installation.
One of the greatest benefits that these tiles offer is their highly versatile installation. You can install the tiles yourself, and they feature an interlocking tile base for a secur, unified installation.
You can lay these tiles over existing flooring, including concrete, VCT, and painted floors. They'll even help to cover minor cracks and fissures, saving you valuable time and money on site prep.
As you install the tiles, you can easily trim them to fit the space using hand tools or small electric saws. Since you can perform the installation yourself, there's no need to worry about the time or expense involved in hiring a professional.
You'll also save time and money on maintenance. You can damp mop the tiles with hot water and a household floor cleaner. There's no need for waxing or finishing, so your maintenance department will save time and money, too.
Choosing the Right Faux Granite Flooring
With faux granite flooring, you can design your room or commercial space without worrying about some of the most common challenges of granite. You can still get that designer look in your kitchen or entryway, but you'll get it at a much lower price point than you would when working with real granite.
But all faux granite flooring isn't made the same. When choosing your flooring, look for a product that's highly realistic, durable, and easy to install. These properties can help ensure that your investment in flooring is worth the cost.
We're proud to carry the best faux granite flooring tiles here at Greatmats. Please contact us with any questions or to place your order today.