Are Padded Jail Cells Still Used?
By Paige Cerulli Created: February, 2022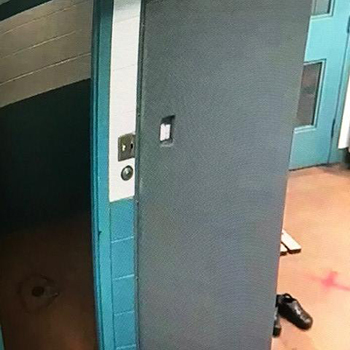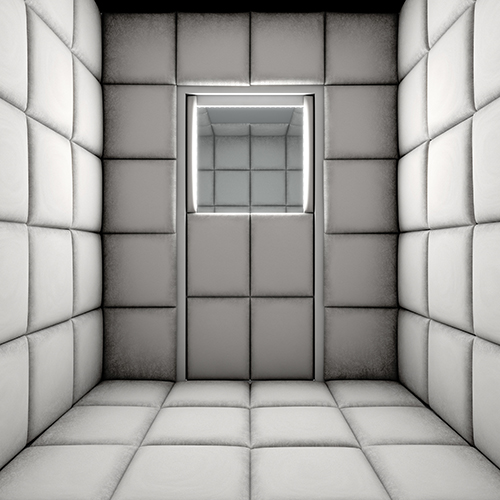 Padded jail cells have been used in correctional facilities, mental hospitals, and asylums for decades. These cells still play an important role in helping to keep inmates safe, though their design and quality has improved over time.
Are Padded Jail Cells Still Used?
Padded jail cells remain an essential tool in helping to keep inmates safe all over the world. These cells are also sometimes called seclusion rooms, violent rooms, de-escalation rooms, and cool down rooms.
Padded cells work by removing all distractions and helping to prevent inmates from harming themselves or staff. Rather than risking staff safety to restrain an inmate in a standard cell which is full of hard surfaces, a padded cell creates a space where staff can safely work with an inmate while reducing the risk of harm to everyone involved.
Padded cells can be used for several different situations, including for keeping suicidal inmates, detoxing inmates, violent inmates, and more safe. The cells remove the risks of standard cells, including hard walls and furniture.
If your facility doesn't yet have a padded cell, or if you're looking to upgrade padded cells, you can do so with relatively minimal investment. You can create a padded cell by applying safety wall padding to a cell's floor, walls, and door.
How to Choose the Right Pads for Your Jail Cell
Since wall padding is the key element of a padded cell, it's important to choose padding that's appropriate. Look for the following qualities in any padding you're considering for use in a cell.
Appropriate Thickness
The thickness of the material in a mat affects its shock absorption properties. You may find some mats that measure just an inch thick, but these thinner options don't offer significant shock absorption.
A better option is to choose a two-inch-thick mat made with a quality foam. These thicker mats can better absorb impact and offer better injury prevention qualities.
Durability
Mats in padded jail cells are often exposed to significant use and wear. Choosing a more durable, quality mat initially can help to ensure that it lasts for years, reducing the repairs and replacement costs you might face.
Several qualities affect a mat's durability. Look for a heavyweight mat with a quality foam interior.
It's also important to choose a mat with a strong vinyl exterior. Many of our mats are made with an 18-ounce vinyl cover that offers superior strength compared to lightweight vinyl options.
Be sure to also pay attention to the stitching of each mat. Most of our mats are double stitched, which adds increased durability.
Easy to Clean
You'll need to be prepared to clean your padded cell, and the mats that you choose can affect how easily you can accomplish that task. Mats designed to be repeatedly cleaned are also going to be a more durable choice.
Look for mats with a vinyl cover that you can wipe down and sanitize after each use. The ability to easily clean the mats means you can keep the cell hygienic and safe.
Custom Options
For pads to be effective, they need to fit your walls appropriately and provide full coverage. That can be difficult to achieve when you're ordering standard size wall pads that may be available in just a few dimensions.
A better option is to order mats that are available in custom sizes. By ordering custom mats, you can ensure that they'll fully cover your room's walls and floor without leaving any gaps that could be dangerous.
Custom mats are also available with cutout options, so you can access lightswitches, conduits, and electrical outlets. You'll need to measure your wall and room dimensions and identify the location of these elements that need to be accessible, and then the mats will be custom created to the dimensions that you need.
Ordering custom mats can take longer, but it often results in a better finished cell, and makes for an easier installation process.
Easy Installation
You'll also need to consider how you can secure the mats within the cell. If you're buying a basic wall padding product, you may need to modify that product so it can be installed within a cell.
At Greatmats, we offer wall padding products that can be attached directly to concrete blocks or wooden studs. Our products are available with upper and lower lip options for the most secure form of installation.
These easy installation options also make it simple to temporarily remove the padding as needed for cleaning or repair. Most of our mats can be installed by your maintenance department, meaning you can quickly complete the padded cell and save on the cost of hiring professional installers.
Choosing the Right Greatmats Wall Pads for Your Padded Cell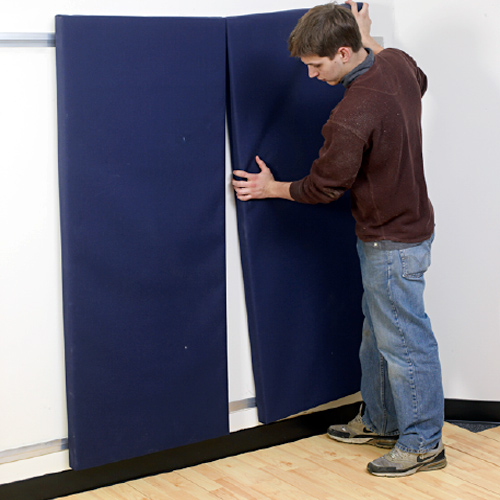 At Greatmats, we offer a variety of wall padding options that are suitable for use in padded jail cells. These mats come in various designs, thicknesses, and installation options, and we also offer plenty of custom products, too.
Please contact our Greatmats customer service team with any questions. We're happy to provide shipping quotes, additional product details, and help you to decide which product is right for your needs.