Amanda Leve 2019 Grappling Martial Arts Instructor of the Year
By Brett Hart Created: December, 2019 - Modified: November, 2022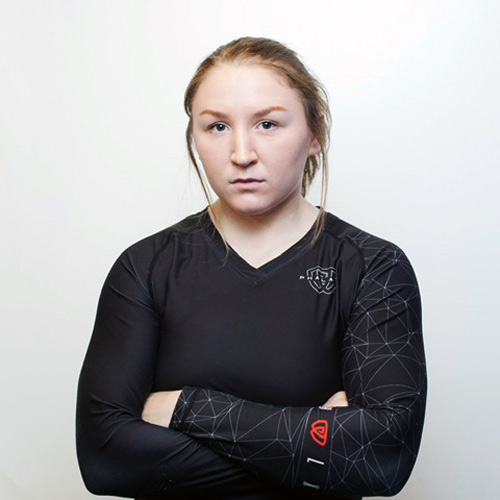 Jiu Jitsu has been
Amanda Leve's
life since the age of 11 and on her 23rd birthday, Leve was named as the 2019 Greatmats National Grappling Martial Arts Instructor of the Year for the impact she's had on her community.
Leve was nominated for the award by a family of dedicated students at her gym in Philadelphia, (Leve BJJ) that wanted to show her their appreciation for helping them "elevate their confidence and determination to be the best."
As an accomplished female competitor and coach in a male dominated sport, Leve has proven to be an inspiration and role model for girls across the country and the world.
She recently represented the USA when she competed in the 2019 ADCC Submission Wrestling World Championships.
"Being an instructor and being able to win the trials to earn my spot for the United States in that tournament was the greatest thing ever for me," Amanda said. "Instructing has actually helped me look at jiu jitsu in a different light other than just being a practitioner of it. I think that helped me earn my spot.
"I was in such a groove with teaching, it just carried over into my tournament. I was the only one in my division from the United States. It made me proud."
And clearly she wasn't the only one proud of her accomplishments as she tallied more than 12,000 of the 27,700 total votes in the National Grappling Martial Arts Instructor of the Year Contest, edging out Avery Richard (who had nearly 9,800 votes) of Indian Land MMA for the title.
"Growing up in the jiu jitsu community was probably one of the best things that's ever happened to me in my life," Amanda said. "The different people you meet from all different backgrounds. Everyone has a different influence on you. It's something I'm very grateful for. The fact that so many people were so supportive of me. It meant the world to me."
While she's only been an instructor now for about two years, Leve says she can definitely feel a difference as a role model, stating that she didn't feel she deserved that title as a competitor.
"When I became an instructor and had an impact on other people, that's when I felt like more of a role model," She said. "It definitely means a lot to me. I understand the benefits of competing and putting yourself out there. And I understand the benefits of self defense more. … I can see why hobbyists do it and why competitors do it and the different benefits you get from jiu jitsu in general."
With the increased understanding of jitsu's role in self defense, she now teams up with a former police officer offering safety tips for women in the form of free self defense seminars.
With her background in jiu jitsu, boxing and kickboxing, Amanda is now working on transitioning to MMA, and it just so happens that one of her MMA coaches, Leandro Hernandez of Dante Rivera Brazilian Jiu Jitsu Academy was also nominated for the Instructor of the Year Award and finished fourth with more than 1,200 votes.
While Amanda and Leandro found themselves competing against each other, it was a light hearted rivalry, considering the type of competition involved.
"We were laughing about it," Amanda said.
With all that Amanda has accomplished competitively, the impact that she's having on her students is having just as big of an impact on her.
"Seeing what they wrote about me made my whole year," she said of her students' nomination letter.
Amanda Leve
Leve BJJ
Philadelphia PA 19154