Marlee Ramirez-Santana Wins 2018 National Instructor of the Year
By Brett Hart Created: December, 2018 - Modified: October, 2019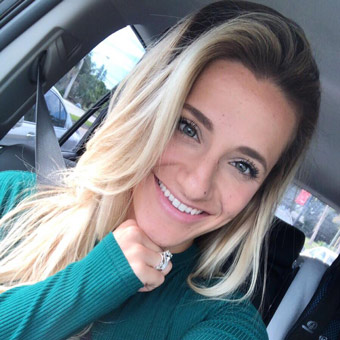 With the largest class of nominees in the four-year history of the annual Greatmats National Dance Instructor of the Year Contest, two instructors shot to the top of the field. Marlee Ramirez-Santana of Sunrise, Florida, and Tiffany Pleus of Jefferson City, Missouri, combined to tally nearly 13,000 of the 16,400 total votes in the 2018 dance instructor division of Greatmats National Award series, which honors professionals who have served as positive influences in their communities.
Marlee Ramirez-Santana
Due to strong community support and outreach efforts, Ramirez-Santana has earned the honor of 2018 Greatmats National Dance Instructor of the Year. Known as the teacher that ''always has a smile on,'' Marlee, age 29, has been with Encore Dance Theatre since she was two-and-a-half years old.
Her first experience helping at the school came at a young age when the staff at Encore asked for her assistance helping a student with Down Syndrome. Marlee quickly formed a bond with that student and was told ''This is what you need to be doing.''
After traveling for a while and BalletMet, turning down an opportunity with Rockettes Christmas Spectacular, and earning a master's degree in education, Marlee returned to Encore Dance Theatre full time where she heads all of the performance teams.
''Our performance team only does non-profit community events,'' Marlee said. Those events include everything from performances at art festivals to senior centers to Christmas tree lightings.
After learning of her nomination for the Greatmats National Dance Instructor of the Year award, Marlee says she had parents coming up to her and saying, ''This is you to a T!''
While maintaining a her positive approach to teaching, Marlee says she disagrees with the direction social media and television are directing the industry.
''Typically in dance, it is focused on competition. They're always being judged,'' she said. ''To me, that's not what is important. It's important to teach children that you're coming to dance for yourself and to make you happy - not what social media thinks of you, or even the person next to you. It's about what makes you feel good on the inside, not what picture is posted of you or what video.
Marlee attributes much of the bullying and self esteem issues in kids today to social media and TV - especially in dance.
''You're in front of a mirror, and the girls are looking at their bodies all of the time,'' she says. ''Just dance. Who cares?''
Marlee puts her focus on teaching the kids to work hard and have fun at the same time, and to be recognized for doing what many consider ''the smaller things,'' makes her step back and realize ''Wow! What I'm doing really matters.''
As the winner of Greatmats 2018 National Dance Instructor of the Year Award, Marlee will be able to choose between $250 in Greatmats dance flooring or $150 in cash for Encore Dance Theatre.
Tiffany Pleus
This year's runner up, Tiffany Pleus, also began dance lessons very young, starting at the age of 3, competing by the age of 4 and continuing to dance ever since. Now 33, Pleus says, ''Dance has just been my thing forever. It's nice to be able to share my love for dance.''
She and her students participate in parades, work with local boys and girls clubs and even perform for a local ladies group.
''We hardly ever turn down a performance opportunity,'' Pleus said. ''It's good for my dancers and good for the community to see what we're doing and offer the kids.''
She even offers a free class for students with disabilities.
She was very thankful for the heartfelt nomination put together by her dance parents.
''I've gotten a lot of messages saying congratulations and letting me know that what I do is appreciated, and that they are grateful for having me. I'm really taken back and really surprised, but very pleased that they would even think about nominating me. It makes me understand that what I'm doing is actually being heard, being seen, being appreciated. It's just such an honor.''
Founded in 2015, the Greatmats National Award Series is the first of its kind to recognize such a diverse group of individuals for both their positive professional and community influence. Learn more about the
Greatmats National Award Series
, including this year's nominees and past year winners.
Greatmats.com is a national specialty flooring industry leader based in Milltown, Wisconsin, since 1999. Greatmats gives back to its local community by donating 5% of its annual profits to local non-profit organizations. It also supports green initiatives through the use of solar energy at its Wisconsin headquarters and by offering a large variety of products made from recycled and renewable resources.
Marlee Ramirez-Santana
Encore Dance Theatre
Sunrise FL 33351