The Best Stair Tread Covers
By Lisa Hobbie Created: August, 2020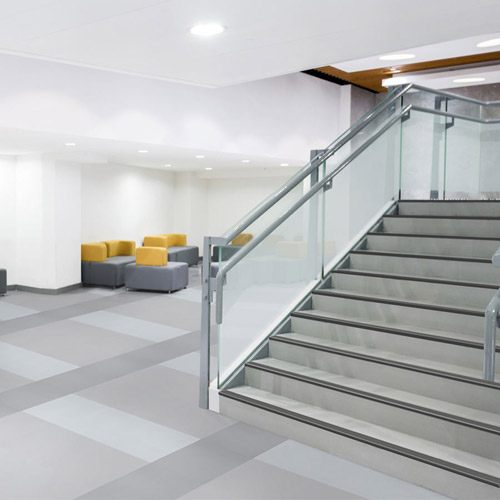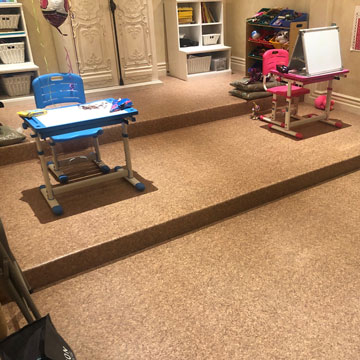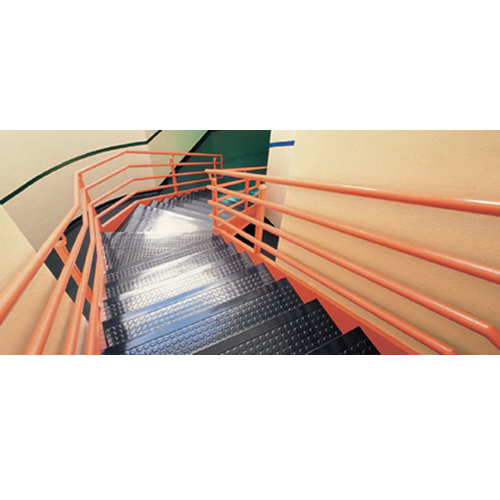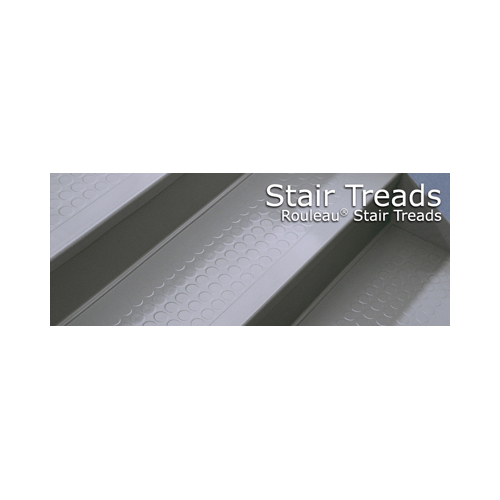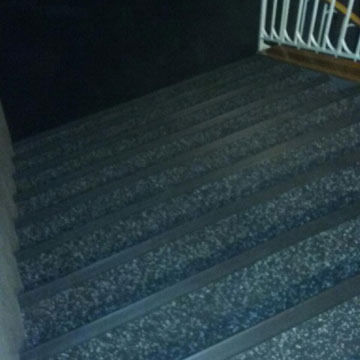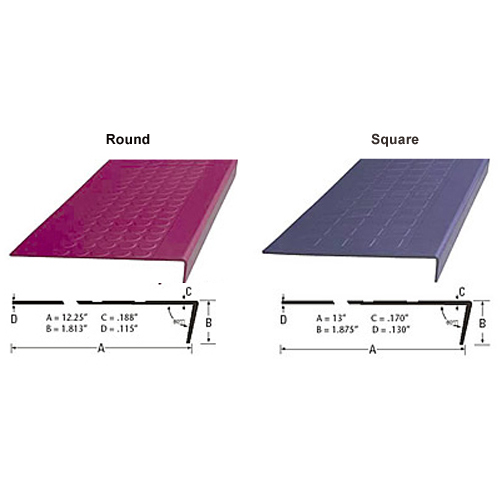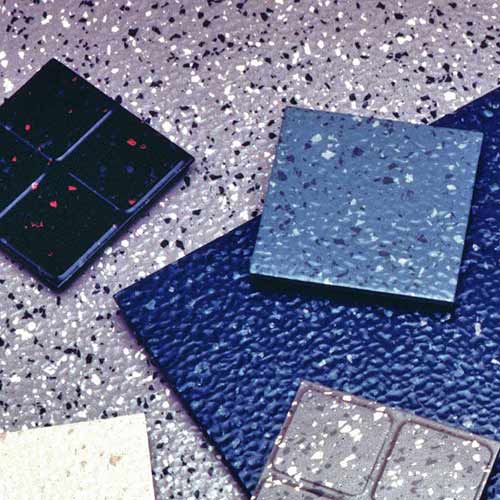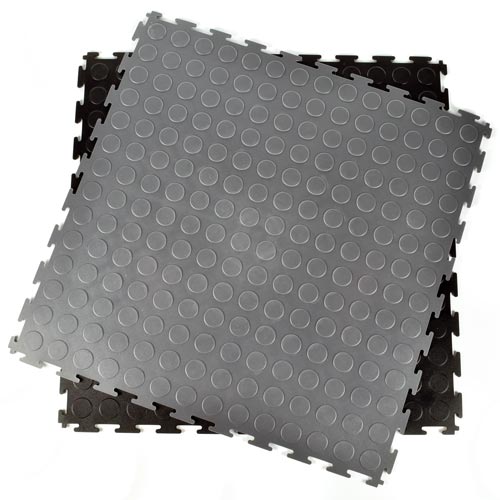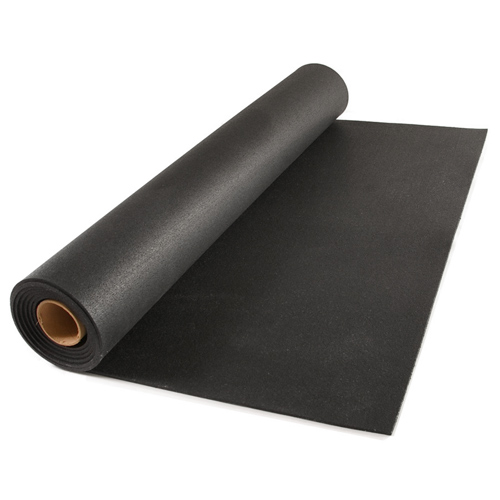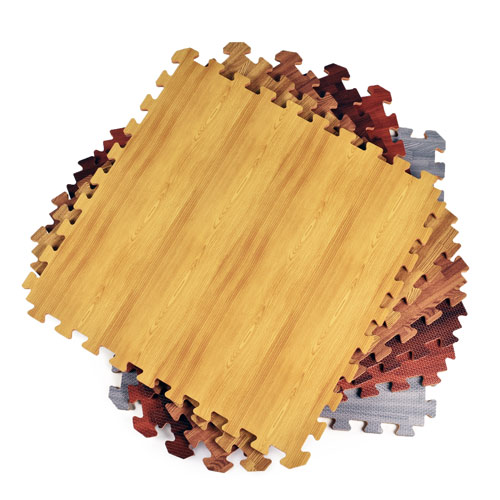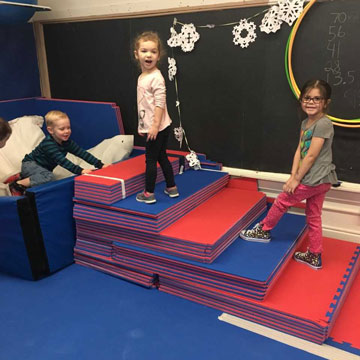 If you have a staircase in your home or office, you may have considered adding stair tread covers to the steps. These stair overlays sometimes improve the look of the staircase, and almost always help increase slip protection and protect the stairs from heavy foot traffic.
They will reduce the amount of scratches and stains that damage the surface of the wood stairs, and they help to therefore minimize maintenance costs on the stairs. If you're looking for stair tread covers that will improve safety and protect the stairs, Greatmats offers a number of great solutions, many of which will satisfy building code regulations.
Endura Flecksibles 4 Foot Stair Treads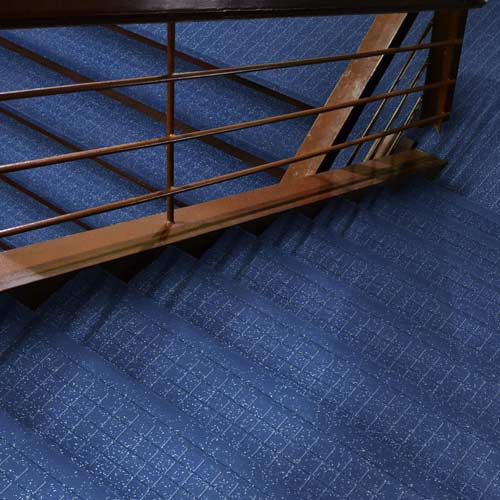 These 4 foot stair tread covers are commercial, slip-resistant treads. They provide consistent durability and comfort on your home or business stairs. Sculptured or LVS Square surface profile available in 17 color options provide a 10 year limited warranty.
This product contains a built in wax that emerges over the life of the product - reducing soiling and the need for repeated waxing and stripping. These rubber tiles do require glue down installation, but are extremely low maintenance once installed. This product is one of the best values you can buy and is used worldwide.
Endura Solid Color 4 Foot Stair Treads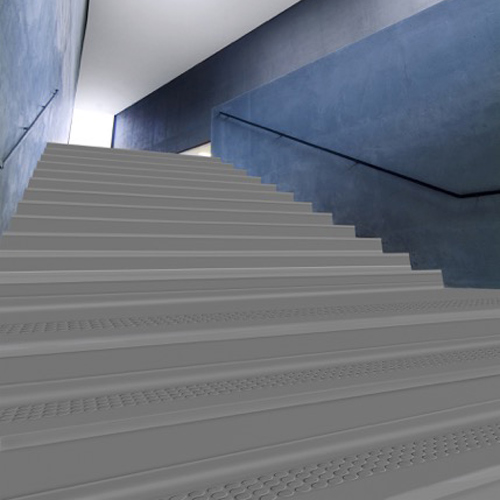 For clean, classic, solid color stair tread covers, this product is perfect. These commercial grade rubber stair tread covers are available in 20 color options with either round or square surface pattern choices.
They are stable, firm, and slip-resistant. They are also very easy to clean and maintain and never need refinishing or waxing due to the built in wax that produces a natural luster throughout the lifespan of the tread.
This product matches tiles, risers, and skirting, and comes with an optional visually impaired strip. This is an excellent option for any commercial space.
Rubber and Vinyl Stair Treads
For stair tread covers with round and square nosing options, these commercial grade treads are an excellent choice. This adds a beautiful, professional look that provides insulation and cushion for walking comfort.
These stair tread covers resist scuffing, gouging, cigarette burns, and most chemicals. They are attractive and are offered in rubber or vinyl options. Once installed with a glue-down process, this product is very durable and long lasting.
PVC Garage Stair Covers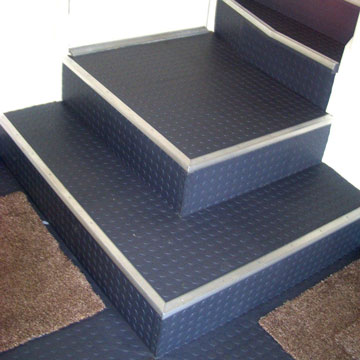 PVC garage floor tiles perform well very well in automotive setting and can be cut to fit as stair tread covers that match your garage floor.
They are made from top quality recycled material and are very easy to install with their interlocking sides. They feature a raised coin top surface for added traction and create a very clean and fresh appearance while adding safety to the depth of the stairs.
These tiles will hold up really well in a variety of settings and temperatures, as they are resistant to the effects of heat, cold, or humidity. They are also very easy to clean and maintain. Since they are resistant to oils, gas, and chemicals, they are among the best options for a staircase in a shop or other commercial building.
Rubber Roll Stair Tread Covers
Rubber flooring rolls also make excellent stair tread covers. The Geneva rubber roll option can be purchased by the square foot, in any roll length from 25 to 100 foot long. One linear foot of material is equal to 4 square feet as the rolls are 4 ft wide.
This type of resilient rubber flooring product is very durable and long lasting and would provide numerous benefits as a stair covering. Made from recycled rubber material, this rubber roll is considered a green product and may contribute to LEED points in green buildings.
It will act as a sound dampener and as a floor protector, as well as a layer of safety and slip protection.
Wood Grain Stair Treads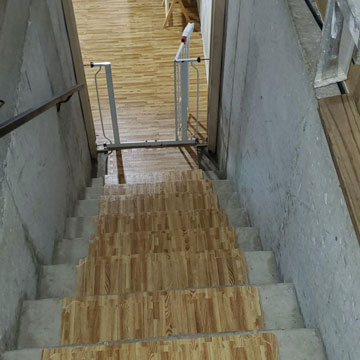 If you want a cushioned stair covering that resembles the same realistic, rich hardwood as your cushioned hardwood floor, choose Greatmats reversible wood grain foam tiles for both applications.
These tiles are the perfect blend of quality, comfort, and beauty, and would cap off a residential staircase beautifully with a little ingenuity. They are waterproof, lead free, and latex free. They are available in a variety of colors and wood grains, and they present a cushioned feel.
The tiles come in 2x2 foot squares, and they are fast and easy to install. Regardless of the decor in the rest of your home, this product has a high end appearance that matches virtually any interior style.
Keep in mind that while these won't have the same level of durability as the above options, you'll find them to be a much more comfortable option.
Greatmats for your flooring needs!
When it comes to stair tread covers and flooring, Greatmats offers a wide variety of products that would perform really well. Regardless of the setting or space your staircase is in, Greatmats has the perfect solution for you. Simply reach out to a knowledgeable agent who will help you determine which flooring solution is right for you.
For more on this topic please review our
Stair Treads
product page.