The Purpose Of An Aluminum Work Platform
By Lisa Hobbie Created: October, 2021 - Modified: November, 2021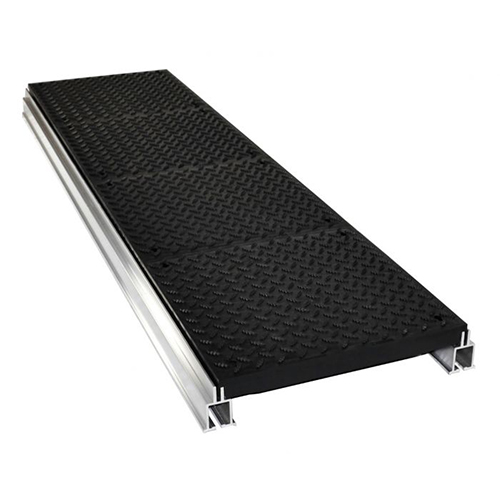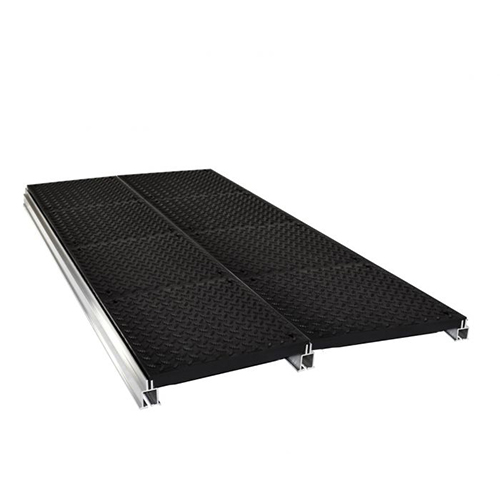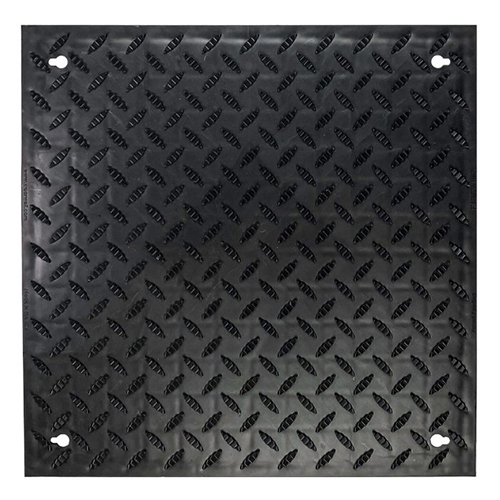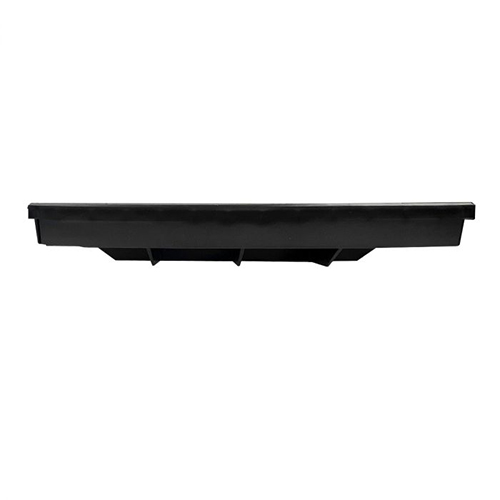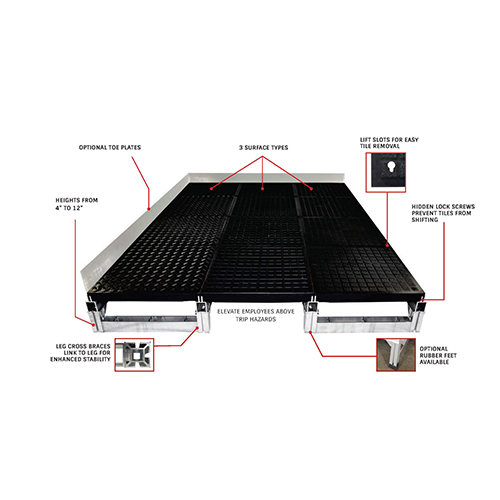 An
aluminum work platform
is a lightweight but heavy duty platform designed to provide a safe workspace used to gain access to areas otherwise unreachable.
Many aluminum work platform products have adjustable legs that fold, some are easy to transport and portable, and they are all slip proof and free of hazards. Similar to a scaffold or gangway, they must be erected from level, solid ground and be fitted with handrails while being kept clean and tidy.
It's important to know what size of aluminum work platform is needed to provide sufficient space to allow for ease of movement and room for equipment and materials. It's important to know any weight limits and to ensure the platform is never overloaded. They should frequently be inspected to ensure they are in safe, good working order.
Greatmats offers a number of
Wearwell
aluminum work platform products for sale, available in the following popular sizes:
Although each of these products represent different sizes, they all boast the same features and benefits. The ergonomic industrial flooring platforms are made in the USA and frequently used for automotive manufacturing settings, fulfillment areas, general manufacturing areas, and production environments.
Available at a portion of the cost with all of the strength of conventional platforms, these products are designed to preserve the physical health and productivity of your workers by limiting unnecessary reaching up, over, and down. Available at heights of 4 inches, 8 inches, and 12 inches, there is likely an option that is perfect for your work environment or space, and they can be used over and over again.
These aluminum work platform kits feature corrosion resistant frames. They deliver superior support in a lightweight design for a safe and more comfortable work experience for your team. The platform tiles are made from 100 percent post consumer polypropylene and 100 percent recyclable aluminum. Because they are made in the USA, the environmental impact of cross continental emissions is greatly reduced.
The platforms have a diamond pattern with ridges, and they are capable of bearing a lot of weight. They resist a wide range of chemicals, and they are extremely easy to assemble on a standard bench or other work space.
These platforms can be placed over cables, hoses, and other potential hazards that employees could encounter. Each kit contains 6 tiles with 3 legs/beams. There are additional accessories available for making a platform larger or anchoring the platform to the floor. The tiles are available in 3 surface styles, which include open, smooth, or diamond-plate, so you can choose the style that is best suited for your specific workstation. They are very easy to clean using a detergent and water solution, but they can also be pressure washed, if needed.
These platforms all come with a 1 year warranty, but if well maintained and used properly, will last much longer. These platforms deliver outstanding value and are priced, as follows:
Greatmats - For The Very Best & Most Affordable Work Platform Kits
Like all of the products available at Greatmats, these work platforms are truly among the best available anywhere. They are eco-friendly, affordable, durable, easy to assemble, simple to use, dependable, and of tremendous value. The ridged diamond plate option delivers added traction for extra safety, and they are chemical and corrosion resistant.
With a 400-pound load capacity per tile, just about anyone can use these platforms. You can save time, reduce costs, and increase productivity when you employ these platforms in industrial, automotive, fulfillment, or production settings or environments. They work great indoors on any flat, level surface, and they can be easily stored when not needed.
If you need more information about these platforms, feel free to reach out to the team at Greatmats. They can answer questions you may have and help you decide which size is best for your workspace. They can even help you place your order!
When you're ready to put work platforms to work, let the team at Greatmats go to work for you. Rest assured, you'll enjoy the best service, quality, and pricing available anywhere.