Commercial Door Mat Materials
By Lisa Hobbie Created: October, 2021 - Modified: December, 2021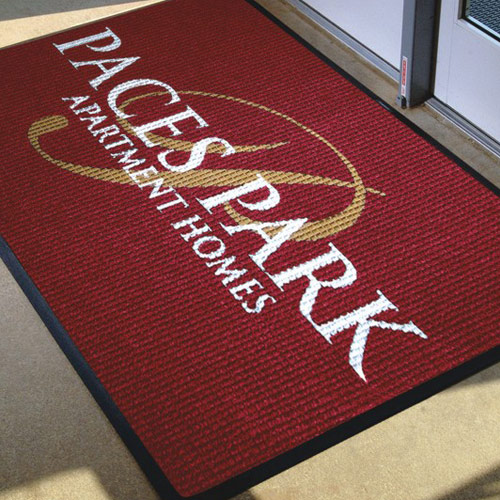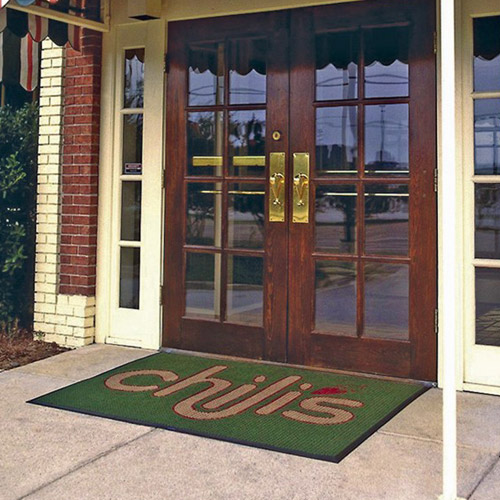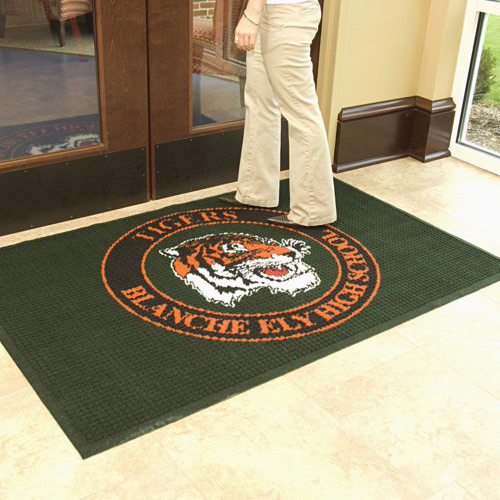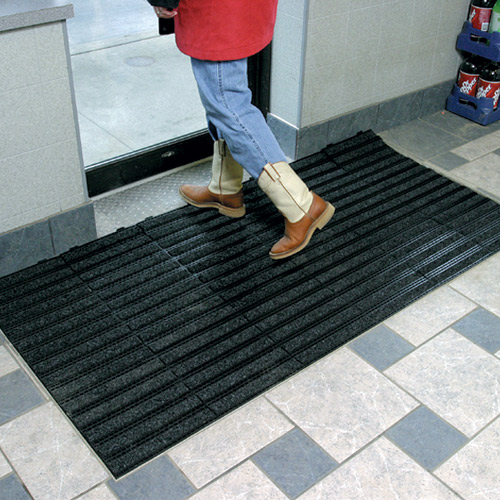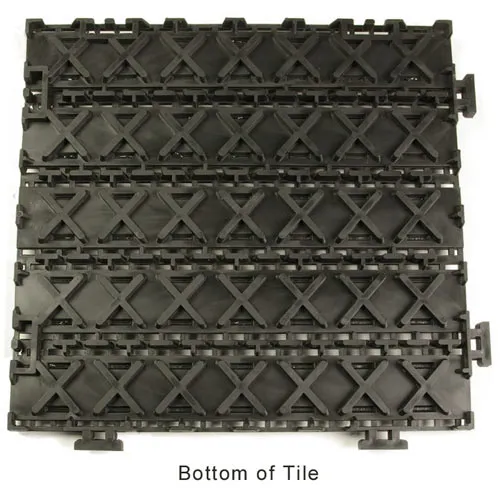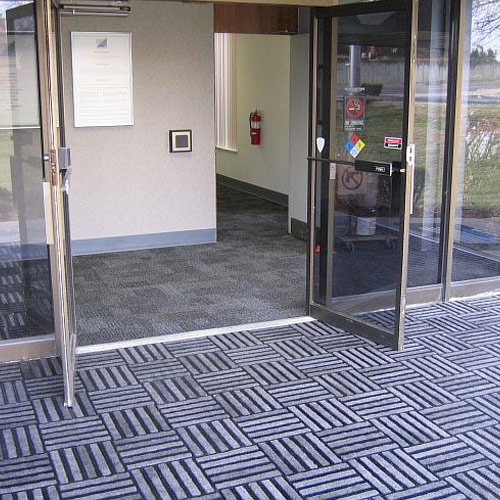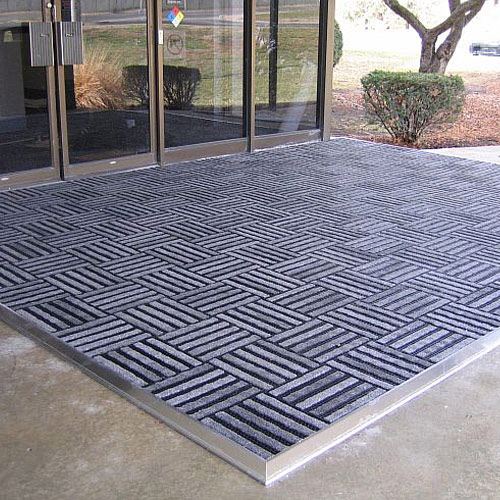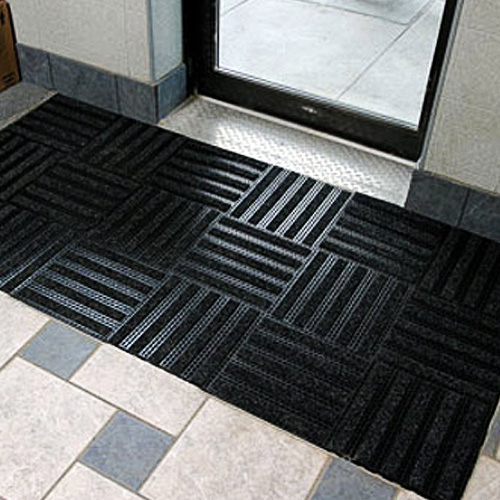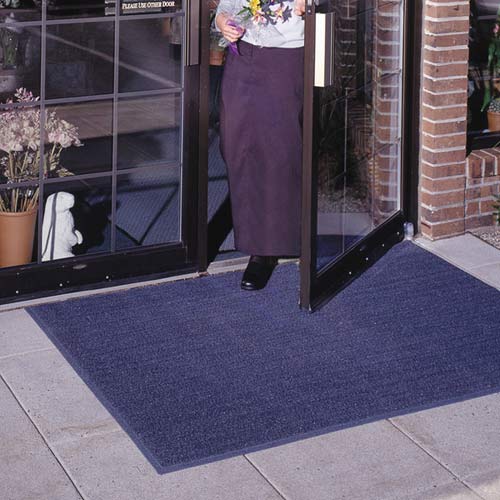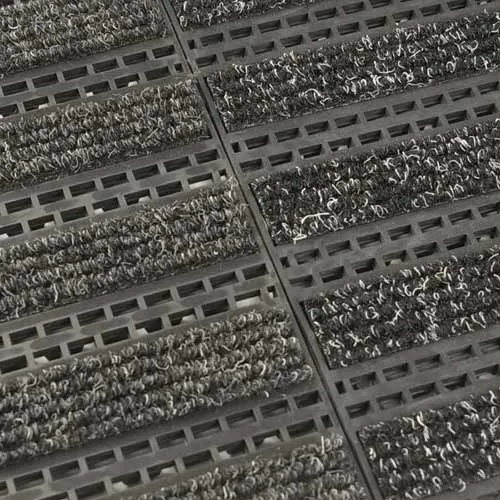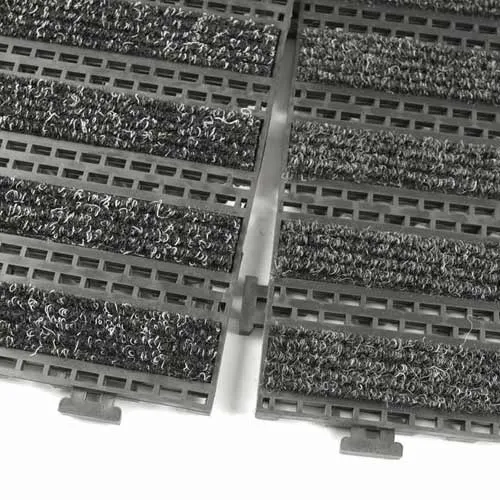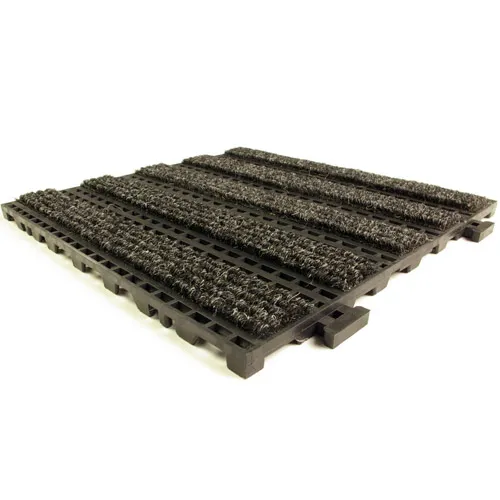 There are many different indoor and outdoor sizes and types of
commercial door mats,
and they are made of plastic, rubber, vinyl, and/or carpet.
Whether you're shopping for a large welcome mat to greet customers coming in your front door, or if you're interested in purchasing a custom mat with a personalized fall, Christmas, or other holiday message on it, Greatmats offers the very best options, with the following 5 items representing a great selection of them:
The 5 featured products are among the best commercial door mats available anywhere. They are durable, versatile, and designed to last. They will keep your customers safe and the inside of your business clean and dry. They each deliver some additional features and benefits, as well.
Rubber Entrance Mat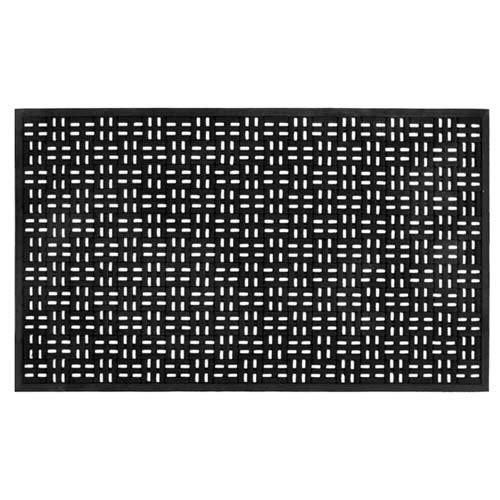 AquaFlow Outdoor Entrance Mat is a rubber mat with effective drain holes to eliminate water, dirt, mud, and snow. It has a double wiper blade and nib design that offers superior cleaning action.
Made from 60 percent recycled rubber materials, this is an eco-friendly mat that is suitable for all climates and weather conditions. It offers water and wear resistance, as well as anti-slip traction. When it needs a good cleaning, you can just shake it off or hosing it down.
Carpeted Entrance Mats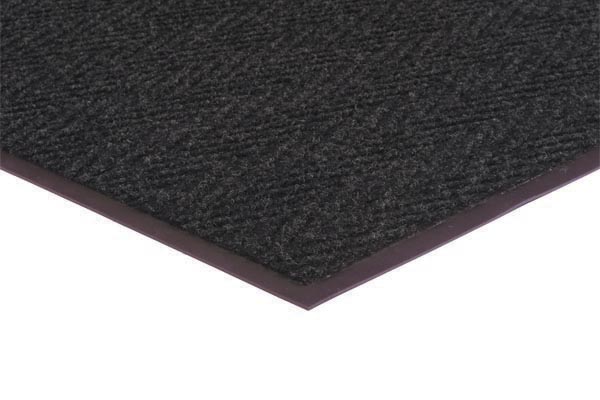 Chevron Rib Carpet Mat is a great choice if you're shopping for a carpeted door mat. It's available in custom sizes, making it suitable for an entrance of virtually any size. It's an effective mat that's made in the USA, and it offers a slip resistant vinyl backing to guarantee it will stay in place and do its job.
This wear resistant mat is water absorbent and delivers some fabulous scraping action with its appealing Herringbone needle-punch design that cleans shoes from all directions. The ribbed carpet surface also provides the retention of moisture, and the bi-level carpet construction hides dirt and traps it in recessed channels for increased safety. It's a fade and stain resistant product that is attractive and high performing.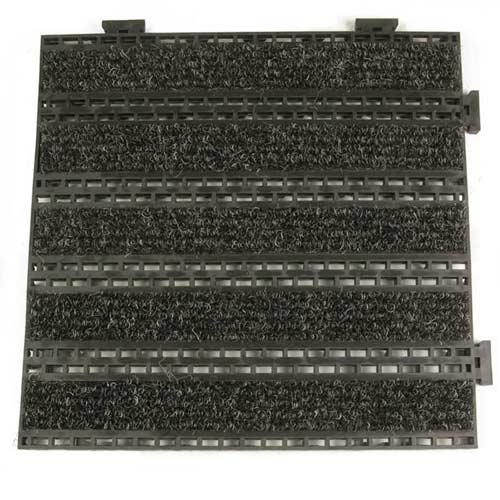 Entrance Linear Tile - 1/2 inch Black w/Charcoal Carpet is one of the best door mats for commercial buildings, school entrance ways, and retail space doorways. They do a great job keeping indoor or outdoor entrances clean and free of standing water.
Made of 100 percent recycled materials in the USA, this product can simply be laid where desired without adhesive. Each tile can easily snap together with the next one for a very easy assembly method.
Once assembled, it provides a drainage surface that is waterproof, non absorbent, non-slip, and UV resistant.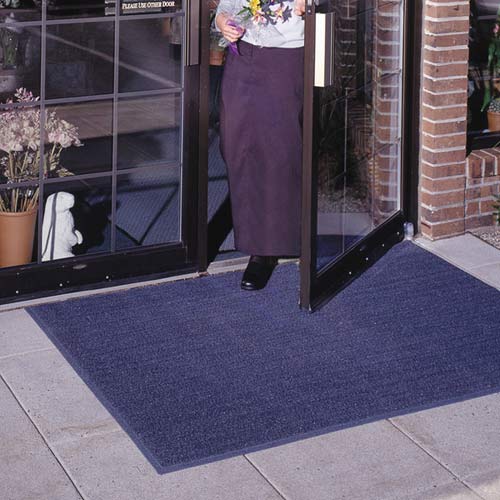 3M Nomad Scraper mats are fade resistant, easy to clean vinyl mats that can withstand temperatures ranging from negative 10 degrees up to 150 degrees fahrenheit.
These mats feature vinyl loops that scrape, trap, and hide dirt and moisture. They have a cushioned vinyl backing that protects subfloors from dirt and damage, and their flexible coils brush shoe soles. They are MFSI high traction certified and suitable for entrances, hallways, foyers, and retail shops or businesses.
Custom Entrance Mat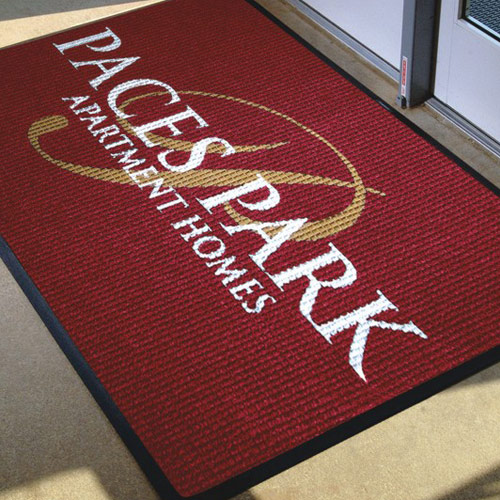 Waterhog Inlay Logo Indoor Outdoor Mat is a polypropylene plastic product that can be custom designed to compliment your business. It effectively captures soil and moisture, and it can hold up to 1.5 gallons of water per square yard.
Suitable for either outdoor or indoor use, this mat offers an affordable way to promote your business with a logo or other custom image or message. Each mat can feature up to 19 colors, and it will never crush or fade, making it ideal for areas subject to heavy foot traffic.
Greatmats - For The Best Commercial Door Mats Available In Many Sizes
The door mats highlighted are some of the best ones available and suitable for commercial buildings, office spaces, schools, churches, and even homes. They look great and perform well, and they represent a great variety of sizes, types, and styles. You can use just one or a number of mats to create a larger flooring system.
If you reach out to the staff at Greatmats, they will provide you with detailed information about the products, answer all questions you may have, send you samples, and even assist with placing an order. They will also help you decide which of the featured products may be the best for your commercial space.
If you're interested in finding the very best mats, Greatmats really does deliver. Regardless of the specific product you choose, when it is purchased from Greatmats, you can be confident that you're getting the best service, pricing, and quality available anywhere.