The Top 4 Uses of Rubber Flooring Rolls 1/4 Inch Black Geneva
By Julia Nass Created: September, 2017 - Modified: August, 2023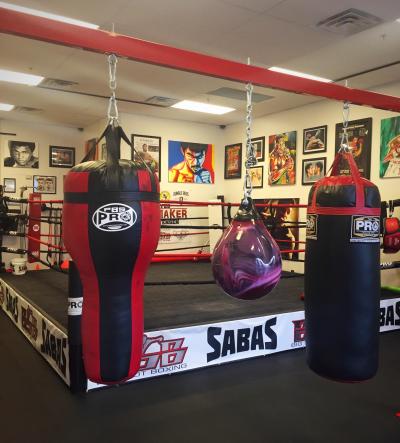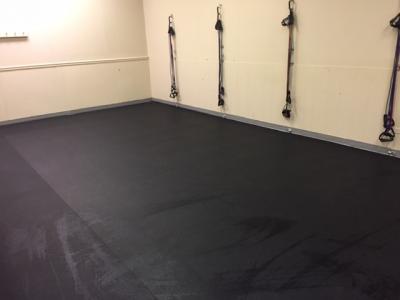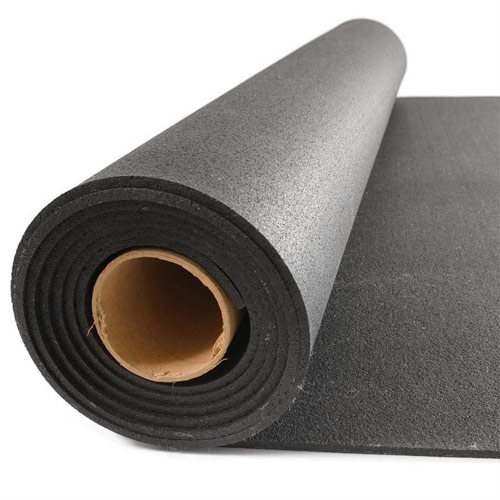 Greatmats loves to hear from customers about the ways in which their products are being put to use, especially when it's in unique and creative ways. For example, take the 1/4 Inch Black Geneva rubber roll. Greatmats typically suggests this product be used as gym flooring, but certain users thought outside of the box, usting it anywhere from boxing floors to dog grooming floors. Greatmats took some of their feedback and compromised the following list, which details customers' top four uses of Rubber Flooring Rolls 1/4 Inch Black Geneva.
1. Rubber Boxing Ring Floor
Customers find that 1/4 Inch Black Geneva rubber rolls work great as a boxing ring floor. This flooring is one of the most durable athletic floors out there. Any boxing ring floor should be able to take a beating, which is why Geneva rubber rolls are an excellent choice. These floors are built for longevity under intense usage and heavy impacts. Plus, heavy training equipment will not damage or dent floors. In addition, floors act as a sound dampener. These rubber rolls will ensure sounds do not carry as far, which is especially helpful if the boxing ring floor is in a home or a shared building. Mark from Las Vegas, Nevada, summed it up with a review of his new Black Geneva boxing ring floor: ''Great mats!''
2. Rubber Dog Grooming Floor
One user from Henrico, VA found 1/4 Inch Black Geneva rubber rolls to work perfectly as a dog grooming floor. Here's what the customer said about it:
''Easy to use and very sturdy! It has helped a lot in my classroom when we are grooming dogs! Easy to sweep clean with a straw broom.''
In addition to the fact these dog grooming floors are easy to clean by just sweeping or vacuuming, these floors do not get scratched or scuffed up by animal paws.
3. Rubber Dog Agility Flooring
Bob from North Carolina decided to install 1/4 Inch Black Geneva rubber rolls as dog agility flooring. His large space is dedicated to training dogs, and he was ultimately very pleased with his purchase. To put it into his own words,
''Everyone enjoys the new mats and they look wonderful. We installed them ourselves and they went in great. The more people you have, the easier it is to do. Thank you Paul for all of your help and your patience.''
Like Bob expresses, these rolls have fewer seams than smaller mats and tiles, which helps this dog agility flooring achieve a classy and lovely appearance. Like dog grooming floors, dog agility flooring benefits from the fact it cannot be punctured by claws while being gentle on the dogs' feet. Overall, 1/4 Inch Black Geneva rubber rolls are durable enough to maintain top-notch quality even after years of dog agility training.
4. Rubber Fitness Center Flooring
Customers also find Geneva rubber rolls to be a wonderful flooring solution for fitness centers. Floors are safe for working out as they provide excellent traction and help prevent falls. As Rick from New Jersey puts it,
''The 1/4 inch black roll out matting has proven to be a versatile, and durable flooring for our functional fitness area. Easily installed, and very easy to maintain, the surface is textured enough to provide great grip for weight training, while still smooth enough for Zumba and Cardio Jam classes. A great product.''
More about Rubber Flooring Rolls
These rubber floors are made in the USA from recycled rubber content. Therefore, this product is considered to be green and may contribute to LEED building points.
1/4 inch Black Geneva floors are not intended for super wet areas. Although these rubber rolls are non-porous, they can allow water to permeate into the rubber if submerged or power-washed repeatedly. They are also not intended for fatigue-relief purposes, as they are hard and dense like a car tire.
Whether being used as a boxing ring floor, dog grooming floor or dog agility flooring, 1/4 Inch Geneva rubber rolls can be customized to fit the space. Rolls come in lengths anywhere from 25 feet to 100 feet. Customizing roll lengths is easy to do when ordering.
Installing Rubber Flooring Rolls is a breeze. It's a DIY project, so there is not a need to hire out for installation help. This saves on costs and makes rubber rolls that much more economical. Depending on the size of the space, Rubber Flooring Rolls can either by dry laid or adhered to the subfloor with double-sided tape. Either way, rolls do not slip or slide around.
Greatmats Cares
Unlike many of the other big name companies, Greatmats is comprised of people who truly care. Greatmats prides itself on positive interactions and meaningful connections between both employees and customers. Greatmats.com is much more than a website - it is a team of people dedicated to solving your flooring problems and motivated to delivering the perfect product. If something arrives that isn't quite right, Greatmats will not hesitate to fix the mistake in a timely and hassle-free manner.