Sterling Playground Tile 3.25 Features and Benefits Video
By Greatmats Staff Created: July, 2017 - Modified: July, 2021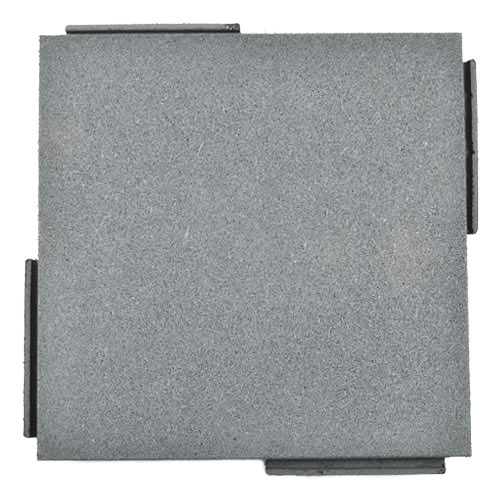 When choosing a playground flooring for commercial use, durability, safety, and ease of installation are all essential elements. Sterling Playground Tile 3.25 Inch in Green offer an ideal flooring solution for commercial playgrounds. These interlocking playground tiles are suitable for use in outdoor playgrounds, as safety surfaces, and more.
Interlocking Playground Tiles for Safety
These interlocking playground tiles offer a six-foot ASTM fall height rating that will contribute to your playground safety.
These rubber tiles are manufactured with a unique molding process. That process creates compression from three different directions, giving the tile superior shock absorbency. As a result, the tiles are better able to minimize injuries in the case of a fall, helping to keep kids safe.
Additional Benefits of Interlocking Playground Tiles
There are plenty of additional reasons to consider these mats for your playground.
They're made with recycled, top-quality materials. These eco-friendly tiles may contribute to LEED points for your outdoor playground project. Investing in them is a great way to demonstrate your commitment to the environment.
These interlocking playground tiles are designed for commercial applications, and they're highly durable. They're intended for tough, urban environments, and the tiles create a vandal-resistant surface to preserve your investment.
Sterling rubber playground pavers are backed by a 10-year warranty, so you can invest with confidence.
Because the tiles are so durable, they make for an impressive looking finish for your playground. Whether you install them under swings or other play equipment, the tiles create a cohesive, flat surface that's easily accessible.
When paired with an ADA compliant border, you can use these tiles to create an ADA-accessible playground.
The tiles are available in a variety of colors, including green, black, terra cotta, and a combination of blue, gray, and brown. You can order multiple colors to create appealing patterns, or even choose colors that reflect your school's or business' branding.
Interlocking Playground Tiles Compared to Other Surfaces
These tiles offer several advantages over other types of playground flooring.
Loose fill is a high-maintenance choice and can quickly and easily be kicked out of high-traffic areas, like beneath swings or slides. Its design makes it possible to conceal items, like trash or sharp objects, that could be dangerous to kids. Because loose fill doesn't create a solid surface, areas with loose fill won't be ADA accessible.
Pour-in playground surfaces have become popular, but they have several drawbacks, too. If they're in high-traffic areas, they can wear unevenly, and replacing an area may require replacing the entire surface.
Interlocking playground tiles are an ideal solution. The tiles create a flat surface that can be ADA-compliant. It's easy to lay slide or swing mats over the tiles for extra protection in high-traffic areas if needed. And, if a tile is worn or damaged, you can replace that one tile, rather than having to replace a large section of the surface.
These tiles are easy to install and you can save money over paying for a professional installation, giving you more financial control over your playground.
Are interlocking playground tiles waterproof?
Certain types of interlocking playground tiles are waterproof. Sterling Playground Tiles are designed specifically for outdoor use, so they can withstand water, sunlight, extreme temperatures, and other challenges of an outdoor installation.
In addition to looking for waterproof playground tiles, don't forget to consider how well a tile drains water away. The Sterling Playground Tiles let water drain down through their seams. If your playground repeatedly receives intense rain and you want it to be usable within minutes after, then you might want to consider a perforated tile that lets water drain down right through the tile's surface.
How many safety tiles do I need for my playground?
The number of tiles you'll need will depend on the size of your playground. Sterling Playground Tiles are generously sized at 24 by 24 inches, so they can quickly cover larger outdoor areas. Be sure to carefully measure your playground to determine the right number of tiles that you need.
If you need help, our Greatmats customer service team can help you determine the right number of tiles.
In addition to ordering enough tiles for your initial installation, you may want to order a few extra tiles to keep in storage. If a tile gets damaged or worn, you'll have a replacement ready to go and can keep your playground surface safe and usable.
How do you install rubber interlocking playground tiles?
One of the great benefits of rubber interlocking playground tiles is that they're easy to install, and you don't have to hire a professional installer for a smaller project. If you're ordering more than 250 tiles, then some site supervision will contribute to the success of your installation.
These tiles are best installed over cured concrete or asphalt. Greatmats provides detailed instructions that can guide you through the installation process from start to finish for each product. If you need to cut the tiles, you can do this with a utility knife. The tiles feature an interlocking design to ensure a strong connection.