Staylock Perforated Tile Uses - Playground and Patio Tiles & More
By Greatmats Staff Created: May, 2017 - Modified: April, 2023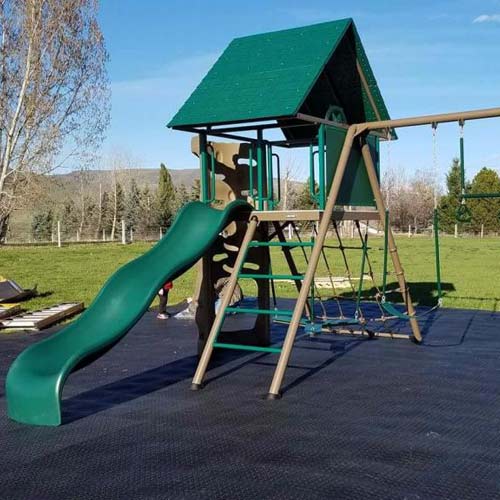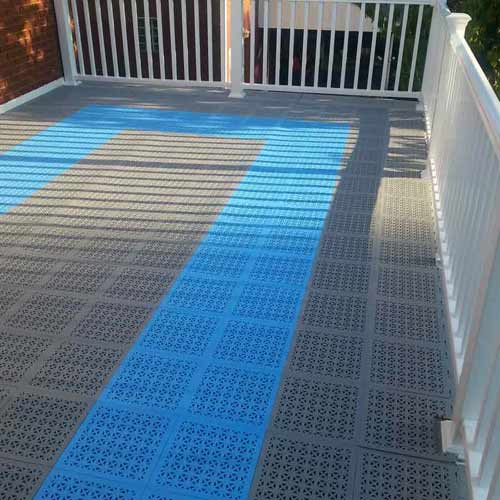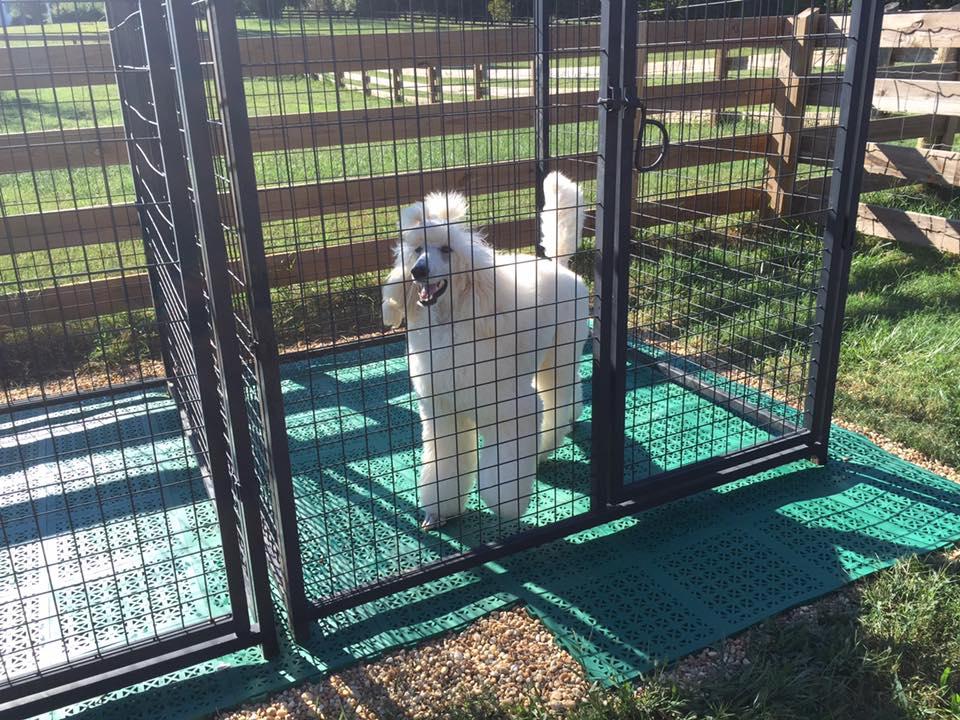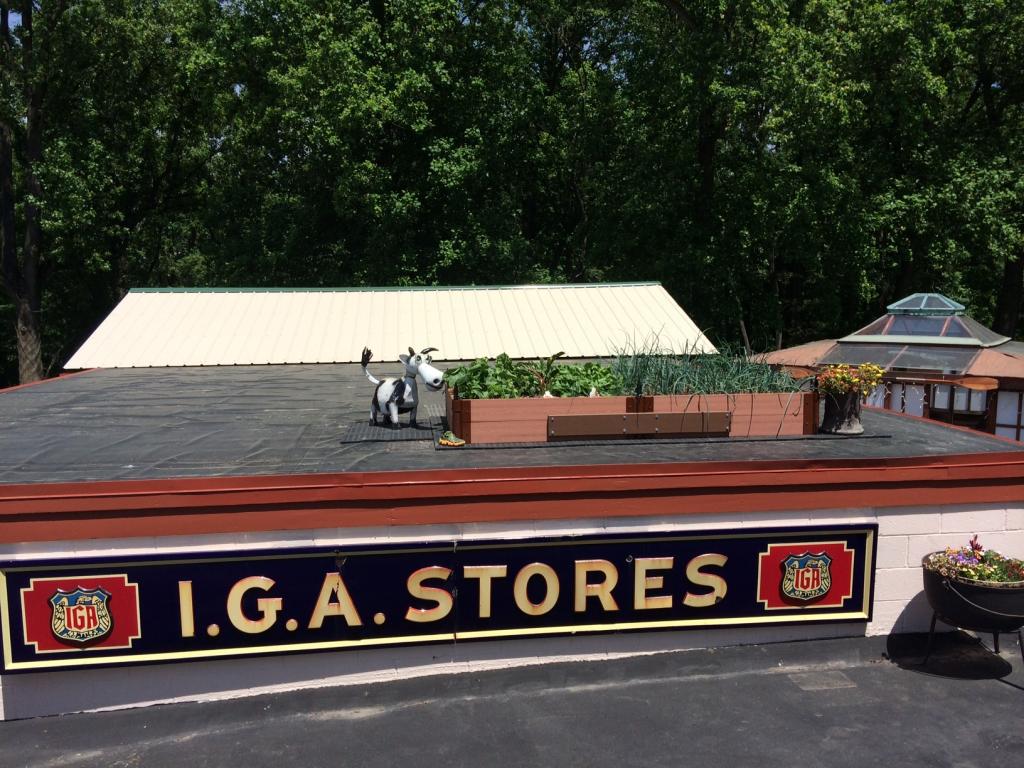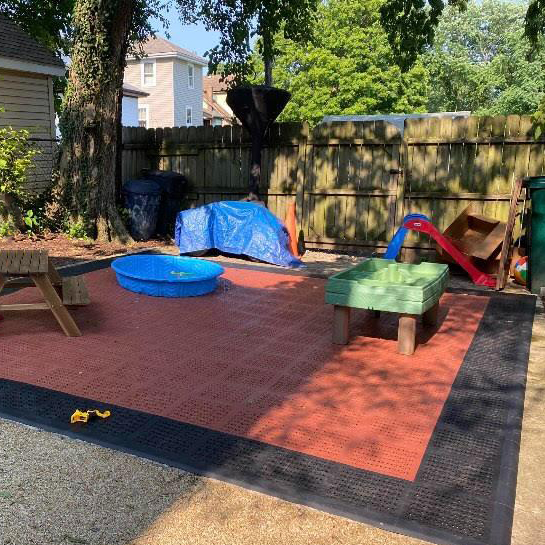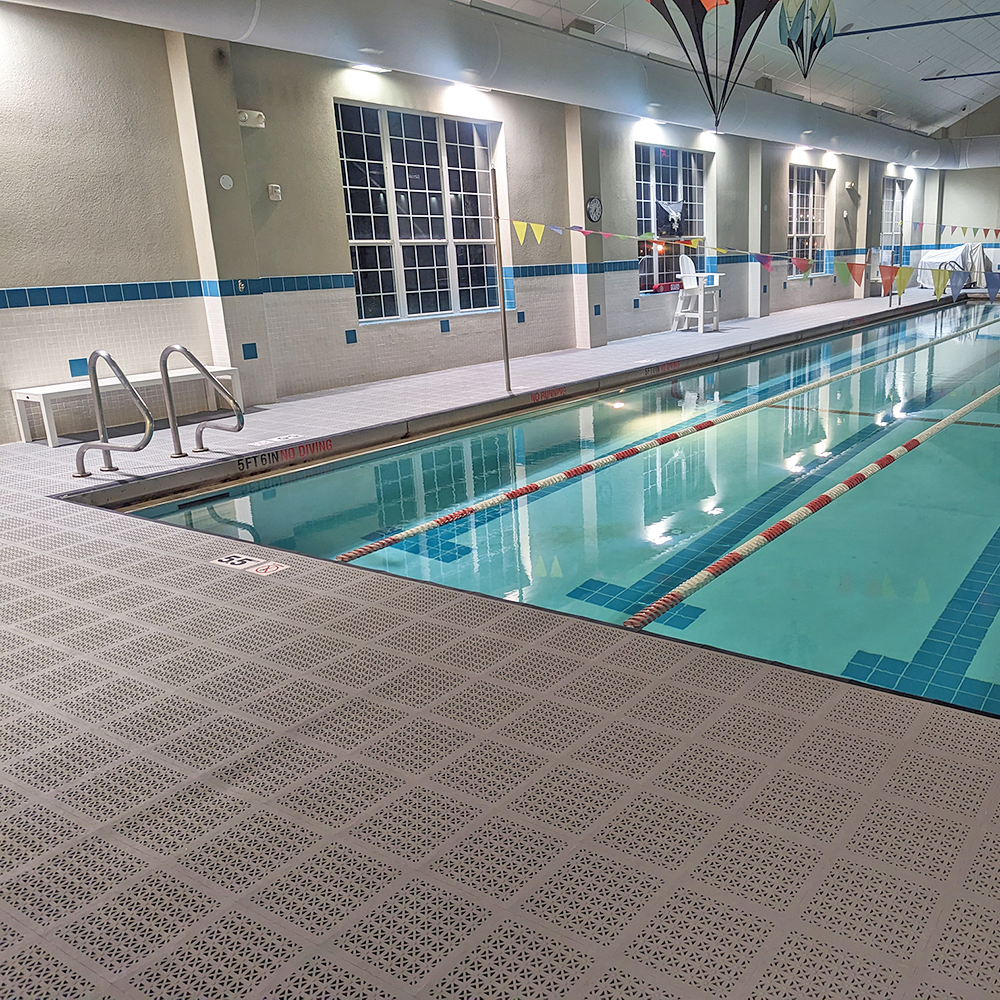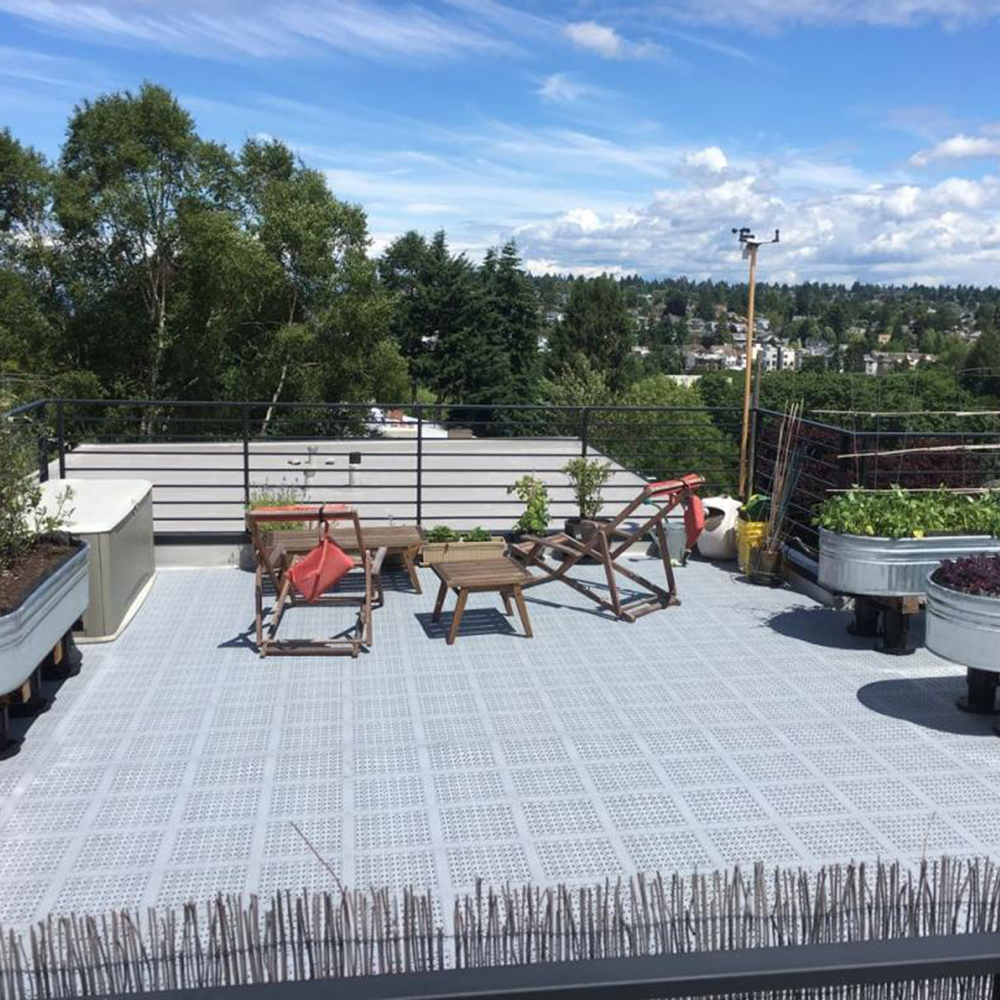 The StayLock Perforated Tiles are tough, durable, and versatile, making them some of the most popular specialty flooring tiles in our entire lineup.
Made from PVC plastic, the mats are 1-foot by 1-foot in size, with a thickness just over a half inch. While the surface edging is straight, the mats utilize a tab 'n loop connector system that clamps the tiles together firmly. They can be connected with simple pressure from a foot, and they disassemble quickly as well.
There are two popular versions of the StayLock Perforated Tiles. The first is an all-black tile, while the second is available in multiple colors.
One of the most important features for these tiles is the perforated top. This feature allows water to flow underneath the mats, preventing puddles from forming at the top. This creates better safety for anyone walking over the surface of these mats, and it's an important reason that StayLock Perforated Tiles have become so versatile.
The Many Uses of StayLock Perforated Tiles
So where can you use the StayLock Perforated Tiles? As you'll discover, you can use them for nearly any purpose. To give you an idea, here are a few of the top uses.
1. Outdoor Playgrounds
One of the best uses for these PVC deck tiles is as a play area flooring. On the playground, you'll have children running, jumping, playing, and climbing, so a qualify surface that offers excellent traction and a soft landing makes parents, teachers, and caregivers feel much better. With this outdoor PVC flooring, kids can have more fun outdoors.
2. Indoor Playgrounds
While the perforated surface makes the mats ideal for outdoor use, they can be just as effective inside. They provide traction and a softer landing surface for kids on the move, and can be extremely reliable for indoor playgrounds especially in areas such as basement where moisture may be present or rooms with a lot of sunlight. With a fall rating of 20 inches, they are much better than hard concrete, wood or tile floors.
3. Decks
Many outdoor decks hold water on the surface and can become slippery when it rains. However, when you use these perforated tiles over your deck, you'll have a reliable, slip-resistant surface that enhances your deck and lets you relax in peace. They fit into place easily, and with multiple colors available, you can choose the right design to match your outdoor style.
4. Dog Kennels
Keeping a dog healthy and happy often requires giving them plenty of space to roam and play. However, you will occasionally need to lock them inside a kennel while you are at work or on the go. To make sure the kennel has a safe, durable, and reliable flooring surface, you can use StayLock Perforated Tiles. These products are excellent for dogs feet, as the material won't be damaged by a dog's claws, but the surface is also easy on their foot pads and adds cushion where they sleep.
With non-absorbent PVC material, the pet flooring won't absorb messes left by pets - or allow it to pool, which leads to a much healthier environment for the animals.
5. Pool Deck
Pools can be a dangerous place for both kids and adults, but it's not just the pool itself that present a safety concern. The pool deck, which can become slippery, is often a place for slips and falls, leading to bumps, bruises, and even broken bones. There's a good reason why lifeguards are always telling kids to walk!
Perforated tile is the perfect addition to a pool deck. It provides a reliable surface that is slip-resistant, and thanks to the perforated surface, water that inevitably makes its way to the deck will drain underneath. There is no pooling on top and less chance of injury for everyone enjoying the pool!
6. Shower
Like pool decks, showers can become slippery and dangerous. Shower injuries are one of the top concerns, especially for elderly individuals who may have trouble with balance. While shower mats can be effective, our tiles can be extremely reliable as a wet area flooring, including inside a shower.
Once again, the surface perforation is key to the mat's success. With water flowing underneath, these mats maintain a slip-resistant and non absorbant surface while allowing people to get the warm, relaxing shower they deserve.
7. Litter Box Area
If you have a cat in the home, you understand the importance of a clean area for their litter box. Lining the surrounding area with perforated tiles creates a beneficial space for both you and your cats.
Simply place the tiles in an area where you usually keep the litter box and you'll have a non-absorbent flooring surface that you can keep clean with minimal effort. As you cat steps out of the litter box and onto the StayLock flooring, excess litter, clinging to its feet or fur can fall through the holes leaving a much cleaner floor surface. You can choose any color you desire to match your interior style, but remember to sweep under the tiles periodically.
8. Roof Deck
A roof deck is one of the best additions you can make to a home or a commercial building. It provides an outside space where people can relax, enjoy some fresh air, and take in a healthy dose of sunlight. However, roof decking needs a quality floor surface, and few products match this need like PVC deck tiles.
A roof deck will be exposed to constant sunlight. StayLock Perforated Tiles won't fade, warp or become brittle in the sun. This gives them the longevity you need while delivering traction and safety.
9. Raised Garden
Raised gardens give you a chance to grow special crops and flowers from nearly any location, and these PVC deck tiles are a perfect underneath surface. By using perforated tiles as a base underneath the raised garden, water is allowed to flow through, which prevents drowning the plant.
A raised garden can give you years of enjoyment, and our tiles can be used to enhance the quality and consistency or your plants.
10. Outdoor Porch
Similar to a roof deck, an outdoor porch needs a surface that is slip-resistant and perforated. By installing outdoor PVC flooring over your deck, you have a surface that prevents slips for both shoes and bare feet.
These flexible tiles are safe and easy to install over any relatively hard and flat surface so, when the rains come, your outdoor deck will have a high-quality surface that doesn't allow water to pool over top. This results in even better safety for your home.
11. Patio
Concrete or stone patios can become very slippery when it rains. For this reason, it's best to install a surface that is perforated and slip-resistant. PVC deck tiles can be used to enhance a wide variety of patio surfaces, creating better results for your decking. The also serve as a great way to soften otherwise hard patio surfaces.
Many outdoor areas are built to create a specific design or style, and with our perforated tile selection, you can choose from various colors to enhance your style. This means you get the quality of outdoor PVC flooring while still maintaining your design.
12. Outdoor Play Area
When kids are running around, jumping, rolling, and playing, it helps to have a slip-resistant surface that provides quality protection for your children. If you live in an area that gets lots of rain, you can count on these tiles to ensure better traction, while preventing the muddying of yards and other dirt or grassy areas, even in rainy conditions.
They are also available in vibrant colors that kids love, making them even better for outdoor play areas.
13. Boat Docks
A boat dock needs a slip-resistant surface to ensure better reliability and safety. By installing perforated PVC deck tiles over the deck flooring, you create a better space for everyone.
This is especially important if you ever have young children or elderly people walking on the dock, as slips can create potentially dangerous situations. These tiles are effective for keeping water from the surface, which inevitably creates a superior dock for everyone in your group.
14. Boat Decks
Many boats have carpet flooring that can be effective for maintaining traction in wet conditions. However, if you need to replace the flooring on your boat, or if you simply want to add surface that works less like sponge, consider installing PVC deck tiles.
This is especially effective for boats with large decks like pontoons. But even aluminum-hull fishing boats with no build-up deck finish can be improved with perforated tile that will not absorb moisture and separates you from water that may splash into your boat.
15. Gaga Pit
Ever heard of gaga? This is one of the newest and most interesting sports in the world. It's a little like dodgeball, but takes place in a smaller, enclosed areas and features only one ball.
This sport is played in many different locations, so having a mobile surface is essential. Fortunately, our outdoor PVC flooring products are perfect for any gaga pit. The provide traction and support, and can be assembled and disassembled quickly. If you are enjoying this or any other sport, consider PVC deck tiles for your playing surface.
StayLock Perforated Tiles are certainly not limited to just these uses. Because they are so tough, versatile, and reliable, they can fit many more indoor and outdoor purposes!
Find Specialized Mats for Your Exact Purpose
Need help choosing the right tiles, mats, or flooring rolls for your home? Are you looking for the perfect perforated tile for your facility?
Contact Greatmats today and we'll help you choose the right flooring for your exact needs. From outdoor play areas to industrial facilities, we have the floor mats to fit your specific needs!