Two-Time World BJJ Champion Justin Rader Passes Along Passion
By Brett Hart Created: June, 2017 - Modified: July, 2023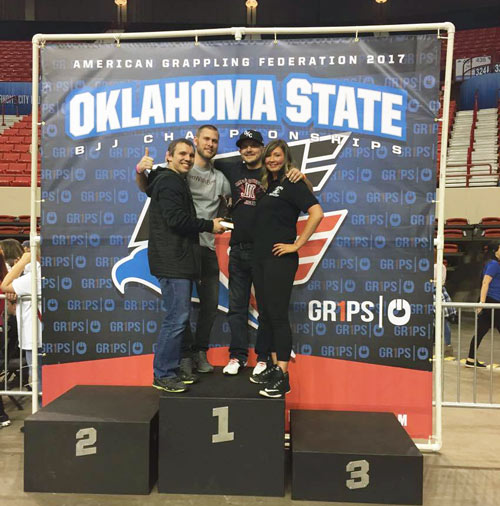 Martial arts are in the blood for two-time world champion Justin Rader. A third generation martial artist, the 30 year old has been involved in grappling arts for 26 years, nine of which he also trained in striking arts. For the past six years, he's been passing on his knowledge of Brazilian Jiu Jitsu, in which he is a second-degree black belt, as a coach for the Lovato Warriors Kids BJJ program - which recently dominated both kids divisions of the
American Grappling Federation
Oklahoma State BJJ Championships.
Rader couldn't have been happier with the tournament, from the way it was run to the way his team represented Lovato's School of MMA.
''The AGF Oklahoma Championships was probably the best, most well-run tournament AGF has put on to date, as well as one of their biggest,'' Rader said, adding, ''It was definitely one of the strongest, most solid performances by our team ever.''
Proud of how his Teens Leadership Team led by example in their preparation, Rader was happy it was able to see the results of that prep work as several of his athletes won multiple gold medals.
Sara Lau claimed gold medals in both the green belt teen and juvenile gi divisions. Ian Foster added a pair of golds in his weight class for both gi and no gi. Hannah Degand, who competed in the juvenile gi division for the first time, also grabbed two gold medals.
Others earning gold were Blake Nance (Green Belt Gi) and Madison Griffin (Green Belt Gi).
Rader was also pleased with the tenacity of 16-year-old blue belt Jacob Absher, who competed as an adult blue belt and claimed a silver medal in his no gi division.
A Lifetime of Martial Arts
Rader started wrestling and tae kwon do (at Poos Tae Kwon Do school) as a four-year-old. At the age of 12, he switched from TKD to BJJ, training at Lovato's School of BJJ and MMA, in Oklahoma City, under Professor Rafael Lovato Jr. He wrestled through high school and during that time also began and five-year run in Kyo Kushin Karate.
''I always seemed to be training multiple disciplines of martial arts throughout my entire life,'' Rader said. ''My father (who trained in martial arts with his father) got me started at a very early age. He thought martial arts was a great way to teach me self defense, build my confidence and self-esteem, as well as help instill the many values, virtues, and principles that come with learning martial arts.''
Continual Highlights
In 2010, Rader won the IBJJF No-Gi Jiu Jitsu Black Belt Featherweight World championship. Three year's later, he repeated the fight and was also a bronze medalist at the ADCC Submission Wrestling World Championships in Bejing, China.
''I really like how efficient BJJ is as a martial art, both in sport and in self-defense,'' Rader said. ''I like how it applies concepts of leverage and technique to overcome strength and athleticism (within reason). This makes it a great art for instilling confidence and self-esteem, as well as teach and instill respect and humility. ... I have seen firsthand through both myself and through others, the power martial arts has to transform and positively impact people's lives, and I wanted to help others come to realize their true potential through this art by passing on what I have learned as a coach.''
In his six years a coach, four of Rader's students have remained with him the entire time.
''I could never have imagined how rewarding and fulfilling it has been watching them grow up into the young adults they are now today,'' he said. ''They are all now strong, confident, humble, disciplined, honorable and respectful young adults with an incredible amount of potential to impact the world in a positive way with any route they choose to pursue in life.''
With that being said, Rader recognizes, ''We are never perfect, and there is always something new to be learned or something to be perfected.''
That's something both his team and the AGF have embraced.
''The AGF has, in my opinion, has done the best of any tournament organization out there right now to listen to feedback and make changes to deliver the best possible tournament experience, and not just to the paying athletes, but also to the spectators and coaches,'' Rader said, noting improvement in every area from rules to scoring to venues and refereeing.
''I want to throw a shoutout to the table workers as well, who did a solid job running clocks all day,'' Rader said. ''AGF has their crew running things very well. Overall, they put on a fantastic tournament with the AGF Oklahoma BJJ State Championships.''
To learn more about Greatmats-sponsored American Grappling Federation Tournaments and athletes visit
Greatmats' AGF Tournament Resource Page.

Justin Rader
Lovato's School of BJJ and MMA
Oklahoma City OK 73112