Martial Arts Inspiring Story - Jen Keenan - Talkeetna Freestyle MA
By Created: July, 2017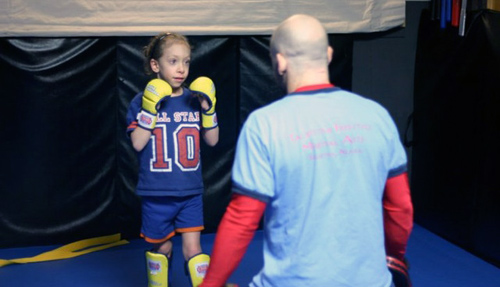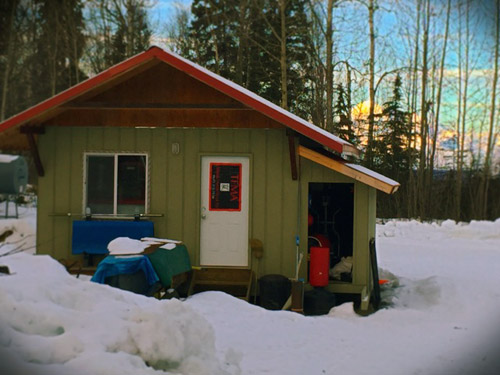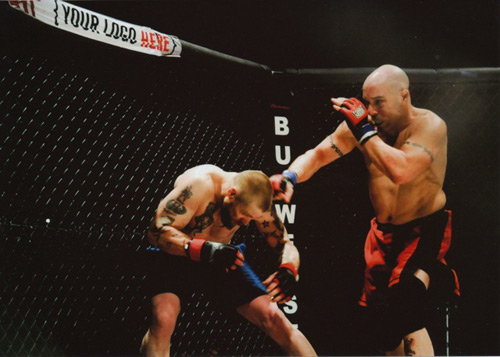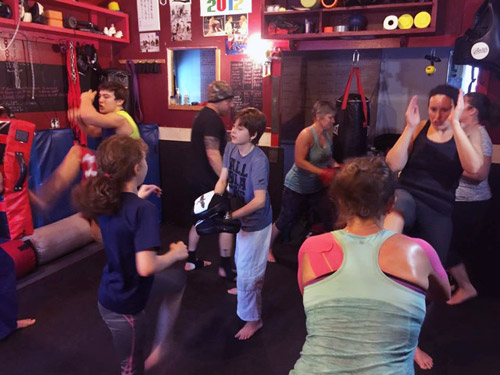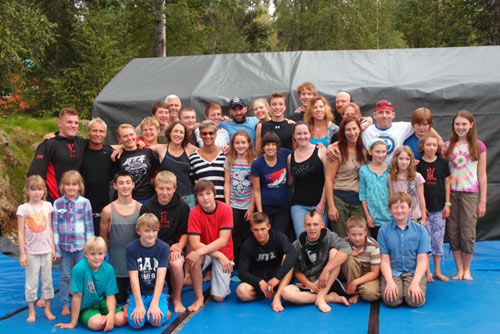 If the studs on your snow tires can cling to the ice and propel you up Madison to Freedom Hills Drive, you can come train with us. If your truck slides down backwards or sideways, don't panic it might right itself. Go back to the bottom, grab your bag and walk up. If you are lucky, another student with better four-wheel drive or on a snowmachine will give you a ride. If you are not lucky, consider the three-quarter mile hike up the 13 percent grade a warm up. Keep in mind, that although it is 20 degrees below zero, in the little cabin dojo at the top of what locals call, ''The Hill,'' the windows will be fogged with the heat and sweat of Alaska's most dedicated and talented students.
The story of Talkeetna Freestyle Martial Arts (TFMA) is not the story of one student; it is the story of a community. However at its root, TFMA is here because of one little girl. TFMA is one of America's most remote dojos. Located 120 miles north of Anchorage, Alaska, the little village of Talkeetna has none of the amenities of mainstream America. We have 20th century speed internet, a tiny grocery store with hunting trophies lining the walls, and a combination dump/espresso stand.
So when founder Peter Keenan moved here from South Florida, he had to give up formal training in an established dojo. This sacrifice was fine at first; Peter's life was filled with the work it takes to forge a home in rural Alaska. This changed when, in 2004, Peter's daughter Branwen arrived. Born with a heart condition, Branwen's cardiologist told her parents that she would be fine, but never be able to play competitive sports. This was all Peter needed to hear. Instantly, he knew he would help grow her body and mind through martial arts.
Because she was going to train with him, he could carefully monitor her in a way that would make her stronger without overtaxing her. He never imagined the impact martial arts training would have on her life as well as her community.
In his home, Peter began informally training Branwen as soon as she could be trained. Not only did he work on her toddler coordination skills for example, but he talked to her about awareness of her surroundings. Soon other parents heard about these ''lessons'' and approached him about some classes for their children.
Upon considering, the idea became more and more important to him. He believed that although Talkeetnans can do without indoor plumbing, they can not do without martial arts and fitness.
Why? Because in the winter, it gets so cold people do not want to go outside to exercise, and it gets so dark that people suffer from depression. Because sadly Alaska ranks with the national leaders in suicide rates, domestic violence incidents, and reported cases of rape. Because the schools in our area serve many students who are burdened with the debilitating symptoms of poverty. For all these reasons, and simply because of his passion for training himself and Branwen, Peter transformed his 12 by 16 foot carpentry workshop into a dojo (slowly and piece by piece, his wife didn't even notice for a few months).
That space became the TFMA dojo in 2007. The little room (connected to the kitchen) was filled mostly with eager teenage boys or elementary school kids. At night, Peter's friends would come for intense fight training to better help him hone the skills he wanted to teach. Peter's schedule began to fill with classes that went late into the evening, and no matter which class he was teaching, Branwen was there. Yes, at only three years old, her passion for martial arts consumed her. Often her mother worried as while she was cooking dinner a grappling body would fling into the windows that separate those two rooms. She'd peak into the dojo, and there Branwen would be, perched on a heavy bag out of harm's way, eagerly absorbing every lesson.
TFMA's puzzle mat flooring and cheaply padded walls belied the sophistication of the gym; the students loved what they were doing and their lives were changing. For example, one student came to TFMA because he was bullied, the next week his bully came. Within the dojo walls, they worked through their animosity and found resolution. Soon student stories filtered into the dojo, how he protected a harassed student, how she armbarred that guy at a party who tried to pull her pants down, how his grief from his mom's untimely death was assuaged because of training and because of the TFMA family.
Students' fever fueled by Peter's passion spread. TFMA became its own dynamic and supportive culture; it became and remains a family so palpably connected that new students comment on it as they first take the mat. Soon Peter was teaching men and women of all ages. Peter trained Japanese Jujitsu, Judo and kickboxing in Florida, but now he had students with an appetite for cardio fitness, Brazilian Jiu Jitsu and Muay Thai.
What he did not know from his own experiences he taught himself through books, magazines, and videos; what he learned he practiced during raucous late night training sessions with friends.
Clearly, whatever Peter was and is doing, worked for not just Branwen, but all his students. TFMA has never advertised, but it maintains a base of around 50
students. Talkeetna has a population of around 800 people. Since 2007, several hundred of them have come through the doors.
However, here is what is even more astounding; TFMA students are winners of the highest caliber. At this point TFMA students have held two national grappling championship, a dozen state championships in both Judo and BJJ, as well as an impressive record in the Alaska Fighting Championships, Alaska's premier mixed martial arts venue. This is truly a David and Goliath story!
These students, people from tiny rural Alaska, are beating martial artists who are training in the biggest, baddest schools in the state and even the nation. Some of the students have their eyes on UFC as well as the Abu Dhabi BJJ Championship, and they are training for it, and they have a shot.
And what about Branwen? Martial arts strengthened her alright. With doctor's approval, she has been able to intensify her training as she has grown. Currently, she trains five days a week in multiple disciplines. She competes every chance she gets and has won a state BJJ championship as well as several Judo tournaments.
Piled on top of all these medals and trophies, are personal victories like Branwen's. Next to that state champion BJJ medal is the joy on the face of the student who has been left deaf and legally blind by illness, and finds grappling his main physical outlet (this young man has gone on to win championships in his newly adopted home state). Across the dojo from the trophy for the state Judo tournament's ''Best Technique'' is the exhausted exhilaration of the new mother who has successfully completed all her sit ups for the first time.
These victories spring from a resilience that is the hallmark of TFMA. Peter's students train extremely hard. They have a reputation in the state for superior cardiovascular performance. They do not get tired on the mat. This is the result of grueling yet weirdly fun sessions (anywhere between one and three hours) that not only include sparring and grappling, but an insane number of pushups, burpees, agility ladders, and really anything Peter can think of that leaves puddles of student sweat on the mats.
If a student's cardio gets really stellar, watch out! Peter might make her workout with a weight vest and altitude-simulating mask. Just like he has with Branwen, Peter will take each student to physical failure, without letting him fall down its abyss. When his students finish their class, they are exhausted but filled with the accomplishment the fosters self confidence.
Although Peter and Branwen are so proud of her victories, training has been about so much more than competition. From the beginning, Peter wanted Branwen and the rest of his family to be able to defend themselves. Extending this desire out to the community, in 2012, Peter held his first free women's self defense course. Although Peter had to usher students safely through the door past the grazing moose, the class was a huge success. Fifteen students, from ages 13 to 60 learned the basics of self defense from assessing a threat to negating it. Because the feedback from this seminar was so encouraging, Peter offered it several times again. In this way, TFMA has empowered women to speak and act out when they must. Always present, Branwen heard these messages and practiced these skills, but she also grew by seeing the importance of service in her life.
Branwen extended herself further when, in January 2015, Peter realized that if students lived too far to come to TFMA, TFMA can come to them! Trapper
Creek is an even smaller and less economically fortunate town 40 miles by road from Talkeetna. Many Trapper Creek residents do not have the resources to drive those moose infested, icy miles to Talkeetna to train.
In February 2015, the elementary school contacted him about an evening seminar, and he and Branwen were thrilled. Branwen actively worked as an assistant instructor and loved it. Wonderfully, the school has been able to host Peter, Branwen, and TFMA in 2016 as well. For six consecutive Fridays, the TFMA train stops in Trapper Creek to help kids develop their nascent martial arts skills. Now even more children are exposed to Peter's message of fitness, discipline, respect, and most importantly self defense.
Branwen is a smart, funny, and happy girl. Because of martial arts, she is a girl who is well physically and emotionally. Through TFMA, she has grown
in a real sense, and through Branwen as an impetus, TFMA has likewise grown. Literally. In 2010, Peter converted the new workshop into the new dojo. This one is down near the road, where on a good day, if you step to the right, you can see Denali, North America's tallest peak. However, here we are again, needing to expand. Peter simply cannot serve all these students in this little space. At 256 square feet, a class of just 10 adults is overwhelming. So this last fall, just before freeze-up, Peter and students poured a footer by hand for an extension that will allow for cardio training as well as grappling or sparring at the same time. More space needs more mats.
This is where Greatmats comes in.
TFMA has never been about making money. It started because Branwen needed it. Peter never imagined that Branwen would root down a business that makes her community a better place. TFMA is a business built on passion, and whether or not Peter gets paid, he will train people. In fact, often he does not get paid in currency!
Instead, students offer work (building or chopping wood) or food (moose meat or salmon). Peter offers students scholarships as well. So, if TFMA does not get this grant for mats, training will go on. In fact, if you do make it up The Hill somehow, come on in, and you will train with some of the best martial artists in the state.
They might be grappling on playroom flooring, or holding pads fixed and refixed with duct tape, but none of that matters to them. You will know the second you step foot on new mats or no mats, you have walked into something very special. You have come to train with the TFMA family, and if you leave your ego at the door and come to get down, you are most welcome.
By Jen Keenan (Peter's wife and Branwen's mom)
P.S. Branwen's siblings Eilish and Enzo would like you to know that they train too!
Vote here by ''liking'' or ''commenting'' on the photo
Jennifer Keenan
Talkeetna Freestyle Martial Arts
Talkeetna AK 99676