Taekwondo Training Mats for Home Dojangs
By Greatmats Staff Created: June, 2017 - Modified: July, 2021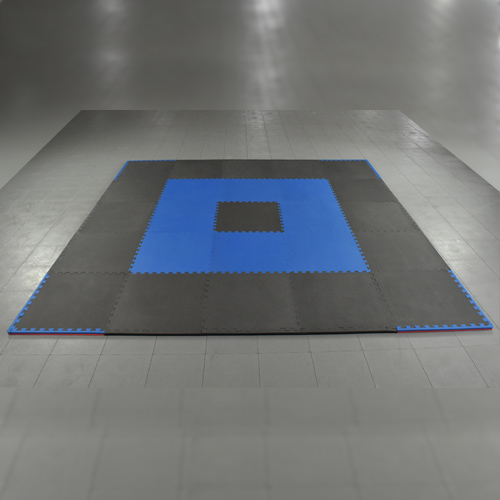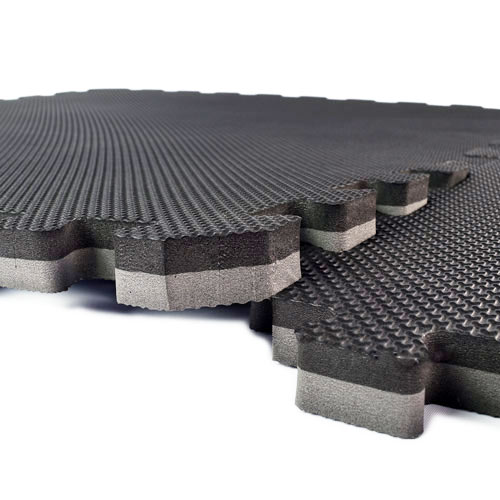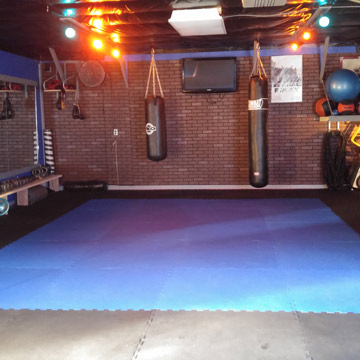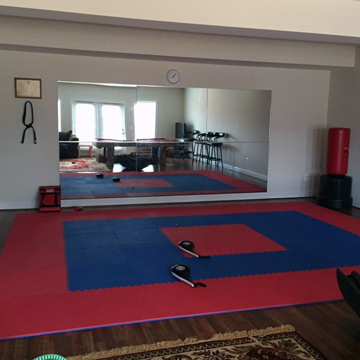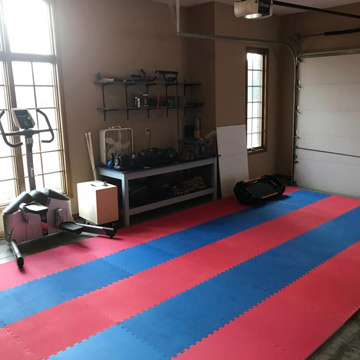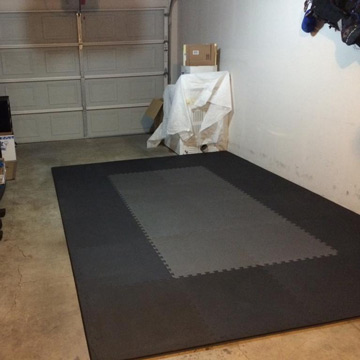 While many students travel to dojangs to learn taekwondo in person, it's also possible to learn taekwondo at home. You can set up your own home dojang to train and practice the skills you learn during your in-person classes or virtual classes, letting you advance faster and better develop your skills. Having a home dojang can also let you take advantage of taekwondo training videos to develop your skills.
Whatever your goals for your taekwondo training at home, you need to create a safe space where you can train. That safe space starts with the type of flooring you choose.
Choosing the Right Flooring for Home Taekwondo Training
Tae kwon do training requires you to be able to balance, spin, quickly reverse direction, and even tumble. The flooring that you choose needs to support you through all of those activities.
And that's exactly what our Home Sport and Play Mat 3/4 Inch was designed to do. This mat features extra-thick closed cell EVA foam material that gives you the shock absorption you need to stay safe during tumbles and falls and reduce impact from landing jumps. The commercial-quality tile is flexible and has a consistency that resembles rubber, making it extremely durable but also forgiving.
While shock absorption is important, flooring that's too soft can lead to twisted ankles and difficulty balancing when you're practicing on your feet. This flooring offers the ideal combination. It's highly supportive, so you can balance and move easily with its sturdy footing. It's strong enough to withstand martial arts shoes or bare feet, and the thatched pattern gives you a little extra traction.
This flooring also offers anti fatigue benefits. It's more forgiving on your joints than firmer flooring options. This benefit can help to reduce joint and muscle fatigue, letting you practice longer and get better results from your work.
You may be installing flooring in a basement or garage that's prone to leaks or that occasionally gets wet. These tiles won't absorb moisture, so you can safely use them in these locations. Cleaning them is easy, too – just wipe them down with a towel or mop them with a household cleaner that doesn't contain bleach.
While this tile is commercial-quality, it's affordably priced and makes a practical option for your home dojo or other workout space.
Installing Taekwondo Training Mats
When creating your home dojang, you can save money by installing the flooring on your own, and the Home Sport and Play Mat 3/4 Inch makes that easy. Each mat measuring 2 by 2 feet is conveniently sized and easy to carry into your home. One person can handle the entire installation.
These tiles feature interlocking puzzle edges so you can easily create a solid floor surface without having to worry about using adhesives and cutting large flooring rolls. To install them, just start in one corner of the room. Line up the tabs and slots on two tiles, then step on the edges to pop them into place. The edges create tight seams that won't work their way loose as you train. Gradually work your way out from the corner.
You may need to cut the mats to fit your space. You can easily do this with a sharp utility knife and a straight edge. It will take several strokes to work through the 0.79-inch-thick mat.
Alternatively, you can create an island installation where the mats are located toward the center of a room. Each mat includes edge pieces, so you can create a clean, finished edge to your installation.
These mats are double-side, featuring different colors on each side. By reversing some of the mats, you can create fun color patterns, boundaries, and designs that enhance your training space.
One of the major benefits of this flooring is that it consists of individual tiles. If a few tiles get worn or damaged, you can replace just those tiles, rather than having to replace all of your flooring. This can save you money and time over working with traditional, single-piece flooring options or large rolls.
Can taekwondo training be done virtually?
Thanks to taekwondo video training, you can train and learn taekwondo right at home to a limited extent. Before starting any video training program, be sure that you're choosing a program taught by a qualified, reputable instructor. Your own in-person instructor might even give virtual classes, letting you conveniently train from the comfort of your own home. Contact and reaction training is always best done in-person.
Is taekwondo good for discipline?
Training for taekwondo requires discipline, strength, and focus, and it's a great way to build character and confidence and your own self-discipline. This is particularly true when you're training at home, because you'll need to be motivated and disciplined enough to start your training sessions, to assess and critique your own progress, and to monitor yourself to make sure you're making those changes that will help you to improve.
What is the best age to learn taekwondo?
Dojos have many different opinions about the best age to learn taekwondo. Generally speaking, it's recommended to start training when children are younger, so they can develop the coordination and basic lessons they'll need as they advance in the sport. Some dojangs will start training children as young as three years of age, while others prefer to wait until a child is six or seven. If you have a trusted dojang where you would like your child to train, ask the instructors about their recommendations.
Don't forget that you can start training in taekwondo as an adult, too. While there are plenty of benefits to starting taekwondo as a child, you can still enjoy it when you're an adult. It's a great way to improve balance, coordination, stamina and flexibility.