Armbar Escape on the Mount: Comprido BJJ Technique
By Rodrigo ''Comprido'' Medeiros Created: August, 2017 - Modified: August, 2021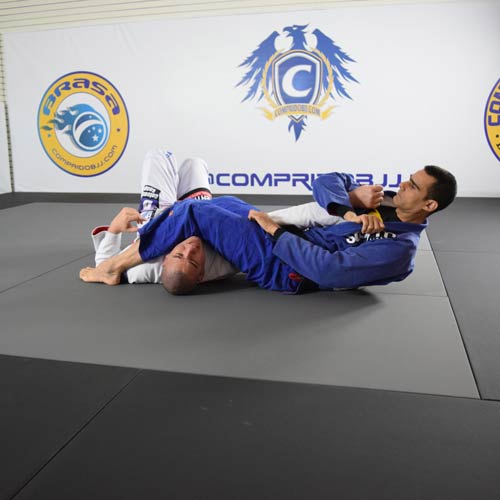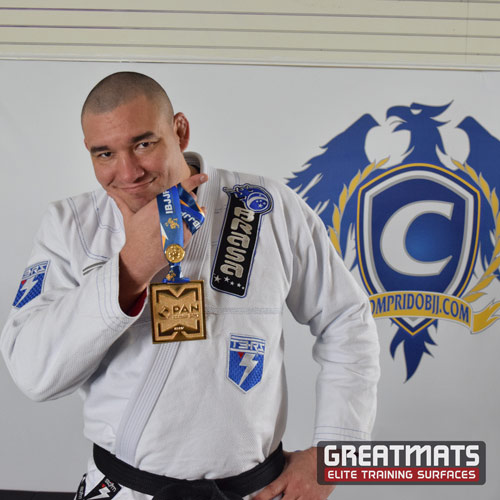 Legendary BJJ and MMA Coach and competitor Rodrigo Comprido Medeiros and training partner, 4th degree BJJ black belt Marcelo Cazuza Kropotkin show an armbar escape as part 3 of the 12 part Greatmats BJJ Instruction series.
''Hi. I'm Rodrigo Comprido. That's Marcelo Cazuza. We are here for the Greatmats Series.
Now I want to show you guys an arm bar escape on the mount.
My opponent mounts me, and then goes for the arm bar. I will try to hold my hand and bring it close to my lapel.
I make a grip on my lapel and I can use this hand here almost like a safety. I control my wrist or pull my elbow close or kind of close a rear naked choke to make it harder for him to break my grip.
As I'm doing that, I move my hip towards his leg. And then I'm going to slide my hand to his foot and push his leg to the half guard.
Control his leg on the half guard and then bring my hand to his knee. Now, I'm going to push his leg over my head at the same time that I'm going to escape my hip under him.
Push here. Head on top of him. Shoulder walk over him. At this point I'm almost safe.
But I have to I have to move away from him to stop him from coming to my back. So I hip escape backward, push his chest and pull my elbow outside. Just then, I go to the top and finish my position.''
See all 12 parts of the
Greatmats BJJ Training Series with Rodrigo ''Comprido'' Medeiros
.

Rodrigo Comprido Medeiros
Comprido BJJ
Bloomingdale IL 60108
For more on this topic please review our
MMA Mats
product page.