Marley Floor for Home Use - Braylan Enscoe Testimonial
By Brett Hart Created: May, 2020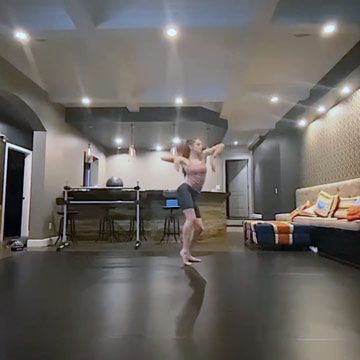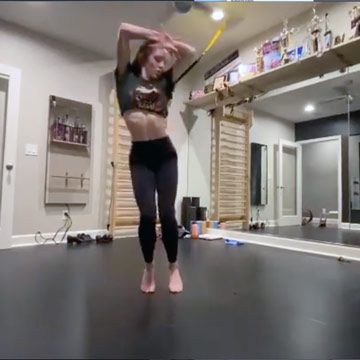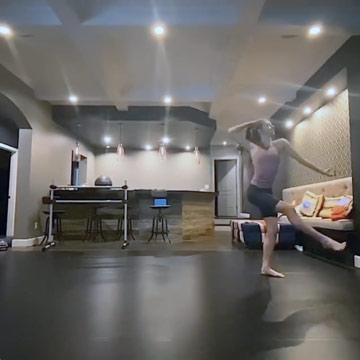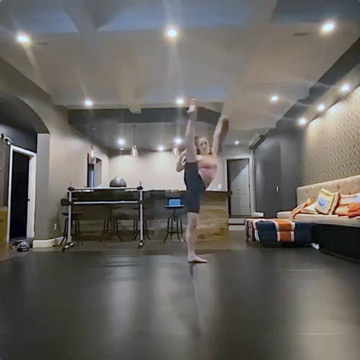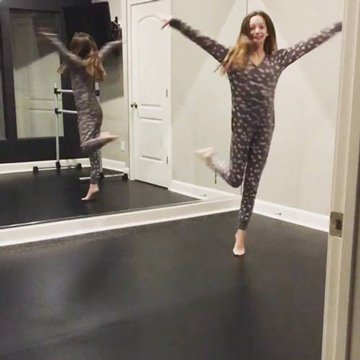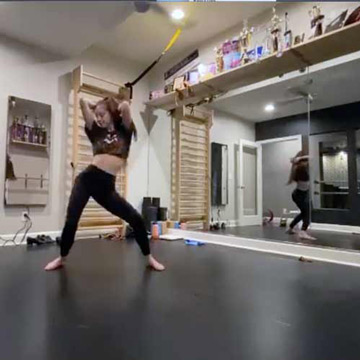 Sixteen-year-old Braylan Enscoe has been dancing as long as she can remember. Starting with ballet at the age of 3, Braylan expanded to other genres when she joined a competition studio at age 9.
She has continued her ballet training and as part of a homeschool ballet program at Cincinnati's De La Dance Center and works on jazz, contemporary, tap, acro, hip hop, musical theater, modern technique, pointe and Latin ballroom dancing at Just Off Broadway - also in Cincinnati. All the while, she's been traveling the country to participate in competitions and conventions.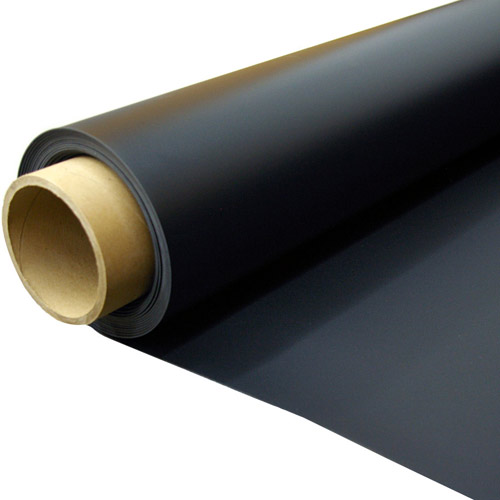 In 2016, Braylan's mother, Jennifer, ordered some Rosco Adagio Marley dance flooring from Greatmats to equip her home with a small area for Braylan to practice her dancing.
However, over the past 4 years, Braylan has grown close to 5' 6" and that space has really only been large enough for her to practice her tap and ballroom dance without feeling cramped for space.
"We were able to clear out our lower level and turn it into a temporary 15x15 dance area with high ceilings," Jennifer said, noting that as soon as Braylan had enough room to move, she realized she also needed another good floor.
Having already done the research to find the best marley before that was strong, thick and durable, they decided to order more of the same Rosco Adagio Marley Dance Flooring.
"Braylan has one body and she needs it to be in good condition forever, so she can dance as long as she chooses to," Jennifer said. "I needed and wanted what would be best for her body - no slipping; no moving. Marley is not something I suggest skimping on."
Braylan added, "When social distancing started and I started taking classes on (Instagram) Live and Zoom, the hardest part was my floor. I am lucky to have plenty of space, but I was dancing in stained concrete floors in my basement. After just a few weeks I felt it in my ankles and knees, and it wasn't smart or safe. I also found because I was scared to fall on the concrete, I wasn't really giving my all. The Great Mats floor changed everything.
I decided on this type of Marley because I wanted a Marley I could dance barefoot or in my ballroom or tap shoes. This floor is strong enough and thick enough for any type of dance and will hold up long term. We put it down over performance subfloor squares due to the concrete floors to provide shock absorption."
Braylan was also impressed with the speed in which her flooring was delivered, noting that it took just a week and a half to get her newest marley amid the 2020 COVID-19 quarantine period.
She now practices on her home dance floor 5-6 hours per day most days of the week, which she finds to be therapeutic.
"Ballet is my first love and what I spend most time training in," Braylan said. "Ballet is so challenging and takes discipline and repetition. Jazz is where I feel most myself when I am dancing. I can let loose and be anyone I want to be in that moment. I really vibe off the energy that jazz brings."
Jennifer and Braylan Enscoe
Just Off Broadway
Cincinnati OH 45244