How to Saddle Your Barrel Horse: Training Series with Kelly Alley
By Greatmats Staff Created: June, 2018 - Modified: July, 2021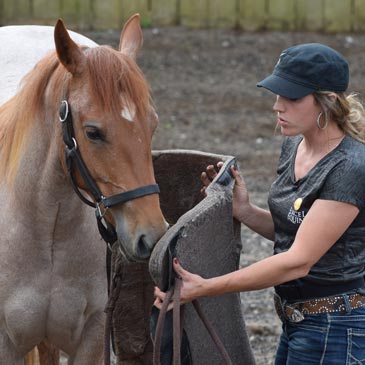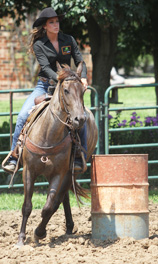 Barrel racing expert Kelly Murphy-Alley of
Striking KMA Performance Horses
in Wilmore, Kentucky, guides you through the process of saddling a barrel horse in the first installment of the Greatmats Horse Training Series.
1. Let's start with the saddle pad. Make sure you have a saddle pad that will provide support for both your horse and saddle. Use an underpad to keep the sweat and hair off your good saddle pad. You don't want to see any wear spots. That's the first sign that it is fitting correctly.
When you put in on your horses back, make sure it supports his withers and shoulders and is out of the way of the girth area. Also make sure it is lined up with his back.
2. When choosing your barrel racing saddle, pay special attention to the gullet measurement. This is where their withers will go under the saddle. Make sure it doesn't pinch their shoulders or cause discomfort. That will really affect your turns and the amount of run that you have on your horse. There are also different seat sizes. Make sure you have room to move, but not too much room.
3. Make sure everything is out of the way when you go to put your saddle on your horse. Stand in front by the shoulder and place the saddle on his back, making sure the pad is off his withers and shoulders and you have a proper line to put the girth. Check placement from both sides of the horse. You can either tie the girth or put it through the hole in your latigo strap. Tying will help ensure it doesn't pop out of the hole when you're running. Snug it up slowly. You'll finish this at a later time.
4. The breast collar will keep the saddle from sliding back if your horse happens to jump. Make sure the breast collar sits just above and not on the horse's shoulder because it could restrict your movement, making your times slower.
5. Finish tightening the girth. While you don't need to have your saddled tightened all of the way when you warm up, always make sure your saddle is tight before you run.
That's how you saddle your barrel horse.
Kelly Murphy-Alley
Striking KMA Performance Horses
Wilmore KY