Frances Carbonnel - 2017 Horse Trainer of the Year Nominee
By Created: October, 2017 - Modified: January, 2018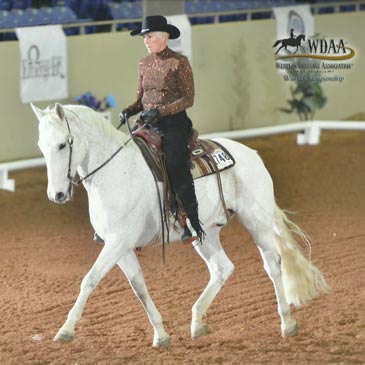 (If the ballot does not load, please visit https://www.facebook.com/Greatmats/ - Look for the voting photo album and like the photo of the person you'd like to vote for.)
Five-time defending Western Dressage world champion Frances Carbonnel is well-deserving of the title of National Horse Trainer of the Year. This amazing woman is defying age and gender barriers as she takes on, and defeats, the best Western Dressage horse trainers in the world at the age of 68!
At the 2017 Western Dressage World Championship show in Guthrie, Oklahoma, in September, Carbonnel led an 18-year-old Andalusian stallion to two world championships and added another four reserve championships with another horse.
A Grand Prix level goal medal recipient from the United States Dressage Federation, Frances is one of the founding members of The Western Dressage Association of America, designed to balance dressage and Western riding.
Frances not only trains horses but riders and other instructors as well, passing along her knowledge and legacy to future generations of horse enthusiasts.
Learn more about Greatmats
National Horse Trainer of the Year Award
or
3rd Annual National Award Series.

Frances Carbonnel
Mariah Farms
Castle Rock CO 80104